A Beautiful Demonstration of Real Science in Action, and How Political Correctness Prevents Obvious Correlations and Causations From Being Seen by Monetarily Dependent Scientists
---
Being "Sherlock Holmes" is easy, when everybody else in mainstream science has turned into a character from "The Muppets" or "Sesame Street".
Except for Dr. Charles Hoffe, plus a bunch of other physicians and scientists who our media calls "The Dirty Dozen", that "Count" guy is my only real competition now.
Of course, when he counts 57 genders, he will leave our little group of truth-tellers, but until then he can probably count protons and neutrons reliably.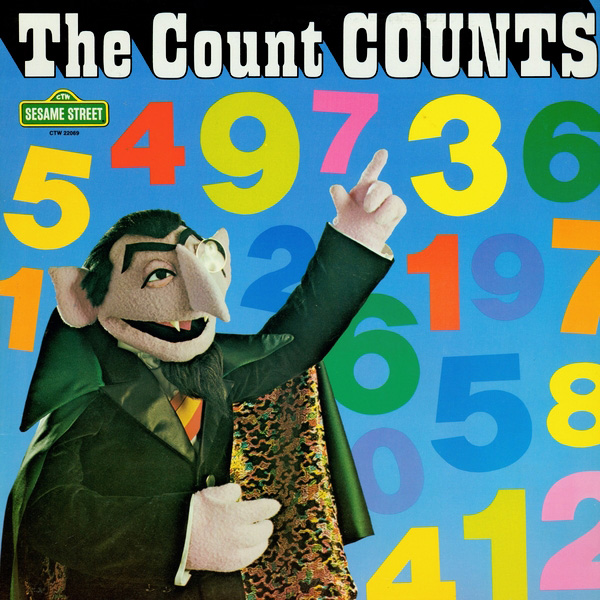 Thankfully, I'm retired. I can speak the truth. "The Count" is still employed by the dirty establishment.
---
Consider a basic idea of vaccination known from literally centuries of science – from even BEFORE the first vaccination in the 1790s, when people used WEAKENED smallpox to gain immunity to NORMAL smallpox (a process called "inoculation" or "variolation").
Here is that bedrock idea. A principle so simple, it borders on "an obvious trend in a collection of observations".
---
"Immunity conferred by catching a disease naturally and recovering is strong, and any form of preventing the disease by inoculation (including variolation and vaccination) attempts to live up to that level of immunity. Some vaccines will give life-long immunity, if that is possible, or for as long as the disease itself gives immunity, if lucky, but in many if not most cases,
the durability of immunity conferred by a vaccine is LESS than the durability of immunity conferred by the disease itself

."
---
So I repeat – this simple idea is something that "everybody knew" from roughly 1790 to 2019, and even before 1790, when vaccination wasn't even called vaccination.
But then – suddenly – in 2020, the media talked us out of centuries of knowledge about how immunity works, by a kind of hand-waving authority – allegedly from "the experts" at CDC and NIH.
Fauci and Scarf Lady went along with the media hoax. They didn't have to say a lot. It was mostly by leaving OPEN the question of natural immunity, when it should NOT have been left open, that damage to science and society was done.
Of course, after enough results poured in from laboratories around the world, noting how much stronger natural immunity to COVID-19 appeared to be, we were relieved to discover that – Yes, Virginia – immunity is still behaving just like it did before COVID-19.
(The feds will certainly have to do some "funding mechanics" to fix all those people reporting "incorrect science", won't they?)
And THAT is when Rand Paul began taking Anthony Fauci to the woodshed over natural immunity.
So why the heck did we ever suspect or believe otherwise?
No good reason, except the Fake News.
Think about it.
If this does not prove to you that the media controls science, and not the other way around, then wait for the next example.
---
I'm going to replay parts of a conversation some of us has on October 1 of this year.
It's in images, but I will also provide a link and the text.
Focus on Tonawanda's friend.
---
LINK: HERE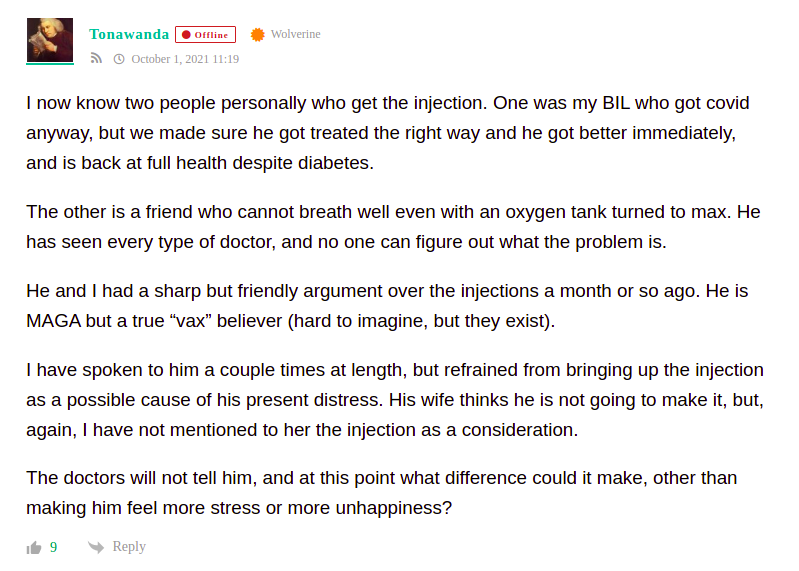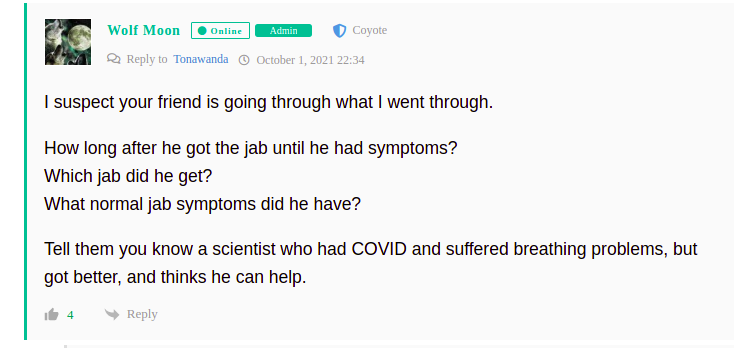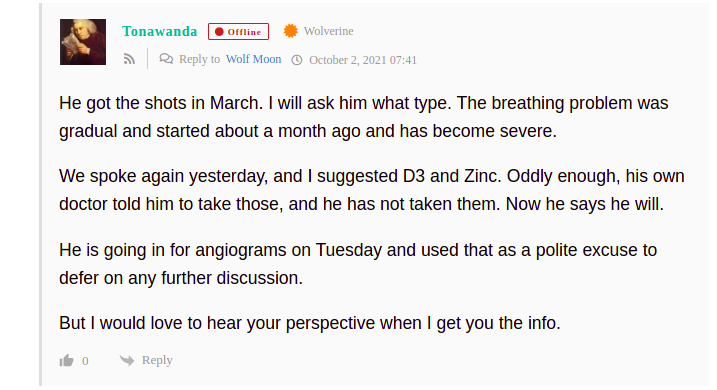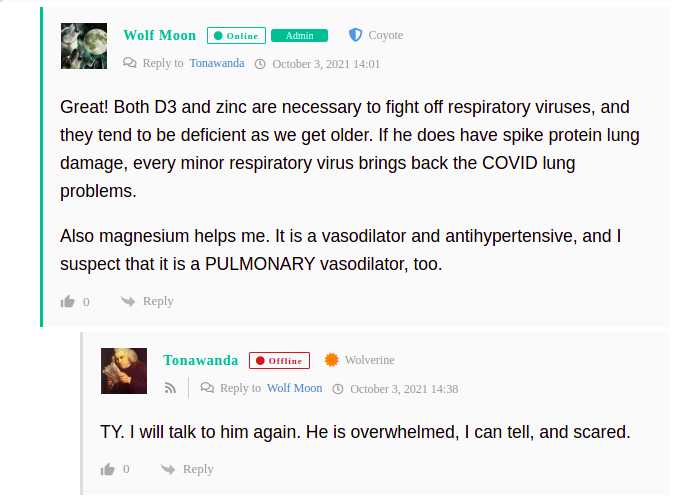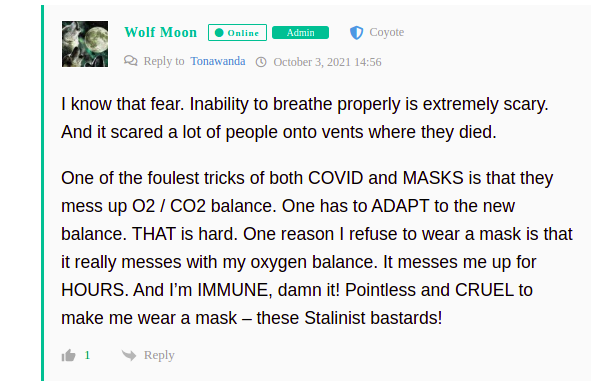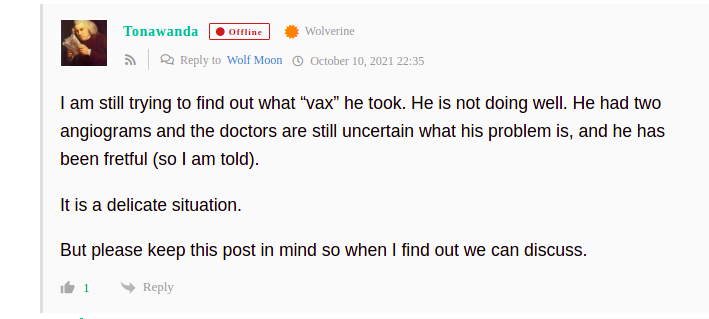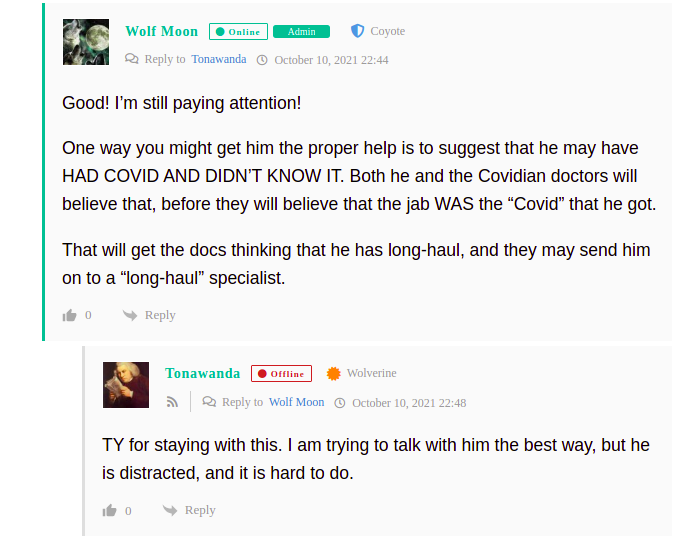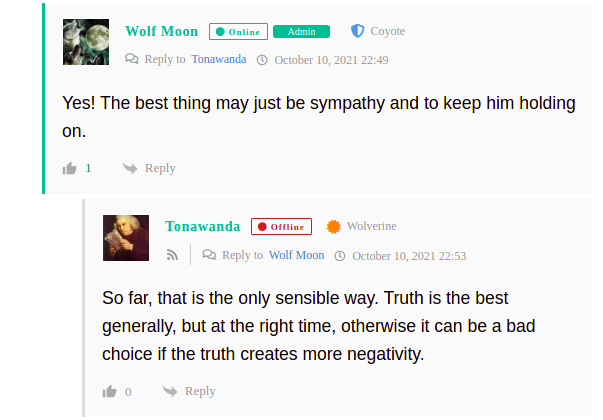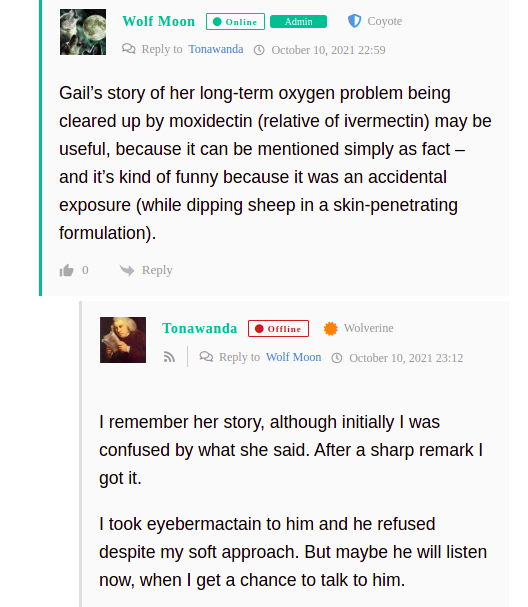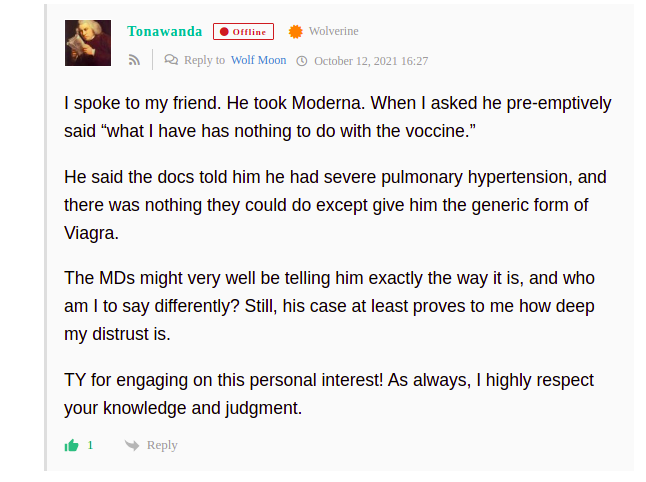 Now, I will include the text as well. This is the ENTIRE conversation after the initial post, including additional participants.
---
Tonawanda Wolverine October 1, 2021 11:19
I now know two people personally who get the injection. One was my BIL who got covid anyway, but we made sure he got treated the right way and he got better immediately, and is back at full health despite diabetes.
The other is a friend who cannot breath well even with an oxygen tank turned to max. He has seen every type of doctor, and no one can figure out what the problem is.
He and I had a sharp but friendly argument over the injections a month or so ago. He is MAGA but a true "vax" believer (hard to imagine, but they exist).
I have spoken to him a couple times at length, but refrained from bringing up the injection as a possible cause of his present distress. His wife thinks he is not going to make it, but, again, I have not mentioned to her the injection as a consideration.
The doctors will not tell him, and at this point what difference could it make, other than making him feel more stress or more unhappiness?
Deplorable Patriot Coyote Reply to Tonawanda October 1, 2021 11:34
I feel like this all the time. No one in my circles will listen. It's pointless, and would end up splintering relationships that will be needed as these people all go down sick.
I actually feel this way about ALL vaccines to an extent, and I still think that my younger nephew is actually vaccine injured. No one will listen to me on that, either, given there is another diagnosis that fits. They didn't listen to me about the one drug he was on, and I turned out to be right. I was the first one to call that the drug was the problem, and eventually it could not be ignored.
This is no different. All the research won't change minds when all the people in family want to be able to do is travel, and that was the driver for the decision.
ROBERT BAKER Reply to Deplorable Patriot October 1, 2021 12:36
You are a real life Cassandra. The fact that you endure this psychological burden because you know at some point in the future those people will need you is admirable. You are demonstrating the true character of a disciple of the Lord. Your faith is obviously sustaining you.
Deplorable Patriot Coyote Reply to ROBERT BAKER October 1, 2021 12:41
I have no choice.
rayzorback Wolverine Reply to Deplorable Patriot October 1, 2021 23:37
Nor do any of us……
Like I've been saying (not recently here) for years…
GOD… is in COMPLETE control of EVERYTHING.
gil00 Coyote Reply to Tonawanda October 1, 2021 11:34
He's in total denial. Like an addict you can force a revelation. When his wife asks for help you can talk to her. Otherwise id just let them go.
gil00 Coyote Reply to gil00 October 1, 2021 11:57
I meant can't force…
Emeraldstar Reply to Tonawanda October 1, 2021 11:40
>>"I have spoken to him a couple times at length"<<
Would it be more productive to focus on the potential REMEDIES, first, than on the likely CAUSES?
For months now, posters here have been *extraordinarily* helpful in suggesting many means to offset the adverse effects.
Right to try?
Survivor-mectin, perhaps?
As has been established, it ISN'T a lack of oxygen in the lungs, it's instead the lack of TRANSFER of the oxygen in the lungs to the bloodstream.
Get better first, and only THEN figure out the likely cause.
Am I missing something here?
I hope this helps …
Emeraldstar Reply to Tonawanda October 1, 2021 11:41
>>"I have spoken to him a couple times at length"<<
Would it be more productive to focus on the potential REMEDIES, first, than on the likely CAUSES?
For months now, posters here have been *extraordinarily* helpful in suggesting many means to offset the adverse effects.
Right to try?
Survivor-mectin, perhaps?
As has been established, it ISN'T a lack of oxygen in the lungs, it's instead the lack of TRANSFER of the oxygen in the lungs to the bloodstream.
Get better first, and only THEN figure out the likely cause.
Am I missing something here?
I hope this helps …
[mistyped my login …]
Wolf Moon Admin Coyote Reply to Tonawanda October 1, 2021 22:34
I suspect your friend is going through what I went through.
How long after he got the jab until he had symptoms?
Which jab did he get?
What normal jab symptoms did he have?
Tell them you know a scientist who had COVID and suffered breathing problems, but got better, and thinks he can help.
Tonawanda Wolverine Reply to Wolf Moon October 2, 2021 07:41
He got the shots in March. I will ask him what type. The breathing problem was gradual and started about a month ago and has become severe.
We spoke again yesterday, and I suggested D3 and Zinc. Oddly enough, his own doctor told him to take those, and he has not taken them. Now he says he will.
He is going in for angiograms on Tuesday and used that as a polite excuse to defer on any further discussion.
But I would love to hear your perspective when I get you the info.
Wolf Moon Admin Coyote Reply to Tonawanda October 3, 2021 14:01
Great! Both D3 and zinc are necessary to fight off respiratory viruses, and they tend to be deficient as we get older. If he does have spike protein lung damage, every minor respiratory virus brings back the COVID lung problems.
Also magnesium helps me. It is a vasodilator and antihypertensive, and I suspect that it is a PULMONARY vasodilator, too.
Tonawanda Wolverine Reply to Wolf Moon October 3, 2021 14:38
TY. I will talk to him again. He is overwhelmed, I can tell, and scared.
Wolf Moon Admin Coyote Reply to Tonawanda October 3, 2021 14:56
I know that fear. Inability to breathe properly is extremely scary. And it scared a lot of people onto vents where they died.
One of the foulest tricks of both COVID and MASKS is that they mess up O2 / CO2 balance. One has to ADAPT to the new balance. THAT is hard. One reason I refuse to wear a mask is that it really messes with my oxygen balance. It messes me up for HOURS. And I'm IMMUNE, damn it! Pointless and CRUEL to make me wear a mask – these Stalinist bastards!
Tonawanda Wolverine Reply to Wolf Moon October 10, 2021 22:35
I am still trying to find out what "vax" he took. He is not doing well. He had two angiograms and the doctors are still uncertain what his problem is, and he has been fretful (so I am told).
It is a delicate situation.
But please keep this post in mind so when I find out we can discuss.
Wolf Moon Admin Coyote Reply to Tonawanda October 10, 2021 22:44
Good! I'm still paying attention!
One way you might get him the proper help is to suggest that he may have HAD COVID AND DIDN'T KNOW IT. Both he and the Covidian doctors will believe that, before they will believe that the jab WAS the "Covid" that he got.
That will get the docs thinking that he has long-haul, and they may send him on to a "long-haul" specialist.
Tonawanda Wolverine Reply to Wolf Moon October 10, 2021 22:48
TY for staying with this. I am trying to talk with him the best way, but he is distracted, and it is hard to do.
Wolf Moon Admin Coyote Reply to Tonawanda October 10, 2021 22:49
Yes! The best thing may just be sympathy and to keep him holding on.
Tonawanda Wolverine Reply to Wolf Moon October 10, 2021 22:53
So far, that is the only sensible way. Truth is the best generally, but at the right time, otherwise it can be a bad choice if the truth creates more negativity.
Wolf Moon Admin Coyote Reply to Tonawanda October 10, 2021 22:59
Gail's story of her long-term oxygen problem being cleared up by moxidectin (relative of ivermectin) may be useful, because it can be mentioned simply as fact – and it's kind of funny because it was an accidental exposure (while dipping sheep in a skin-penetrating formulation).
Tonawanda Wolverine Reply to Wolf Moon October 10, 2021 23:12
I remember her story, although initially I was confused by what she said. After a sharp remark I got it.
I took eyebermactain to him and he refused despite my soft approach. But maybe he will listen now, when I get a chance to talk to him.
Tonawanda Wolverine Reply to Wolf Moon October 12, 2021 16:27
I spoke to my friend. He took Moderna. When I asked he pre-emptively said "what I have has nothing to do with the voccine."
He said the docs told him he had severe pulmonary hypertension, and there was nothing they could do except give him the generic form of Viagra.
The MDs might very well be telling him exactly the way it is, and who am I to say differently? Still, his case at least proves to me how deep my distrust is.
TY for engaging on this personal interest! As always, I highly respect your knowledge and judgment.
---
Wolf again…..
Now – if you follow through that conversation, you will see that Tona's friend started off with vaccination, followed later by persistent shortness of breath. You can see that I suspected he might need magnesium as a pulmonary vasodilator – that his case might be similar to mine, which was from COVID itself, only his seems to be much WORSE.
Later, you see that he's getting an angiogram – meaning, they're going to look at his blood vessels. This is heading exactly where I thought it was going.
Finally, you see that it is verified that Tona's friend took the Moderna vaccine, and has pulmonary hypertension.
This confirmed everything that I suspected.
Now – WHY did I suspect that this man had pulmonary hypertension?
FIRST, because I have LONG been following the story of endothelial damage in the capillaries of the lungs by SARS-CoV-2 – more specifically by the spike protein – and resultant pulmonary symptomology (including shortness of breath), from all the way back in March and April of 2020, when Dr. Cameron Kyle-Sidell realized that the ARDS vent strategy "imported from China" was ALL WRONG. He started looking at high-altitude sickness as a better (though still flawed) model of the disease, and quickly understood the endothelial and pulmonary capillary thrombotic nature of SARS-COV-2 infections.
See, for example:
---
LINK: https://pubmed.ncbi.nlm.nih.gov/32665939/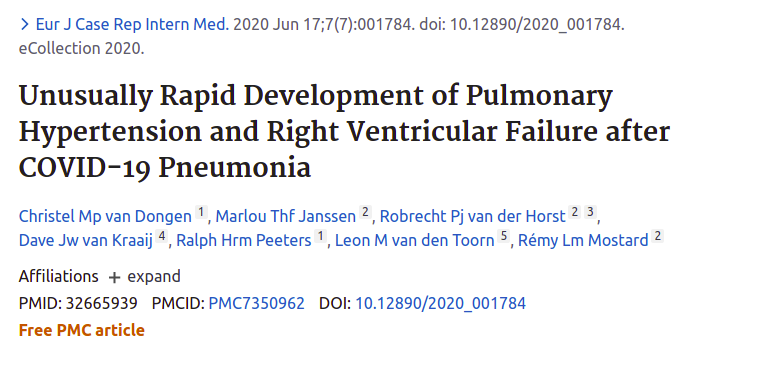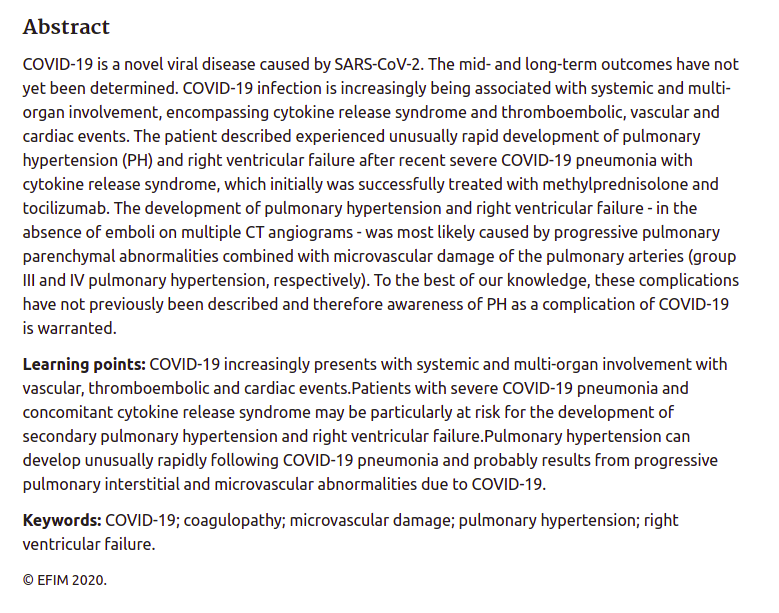 ---
As you can see, by the middle of 2020, the DISEASE was already well understood in terms of being a provoker of coagulopathy and the sequelae of that.
It was this coagulopathy, that was causing shortness of breath.
And THAT leads to the SECOND reason I suspected pulmonary hypertension. Something I had seen HERE, actually, in various postings on our site. Thank you to all posters here, who brought this information.
But THIS information was not about the disease. This was about the VACCINE.
Please listen to the video below – it will not only explain what is happening – it will assure you of this good doctor's credibility.
---
Canadian doctor warns the worst is 'yet to come' from blood clotting damage linked to COVID-19 shots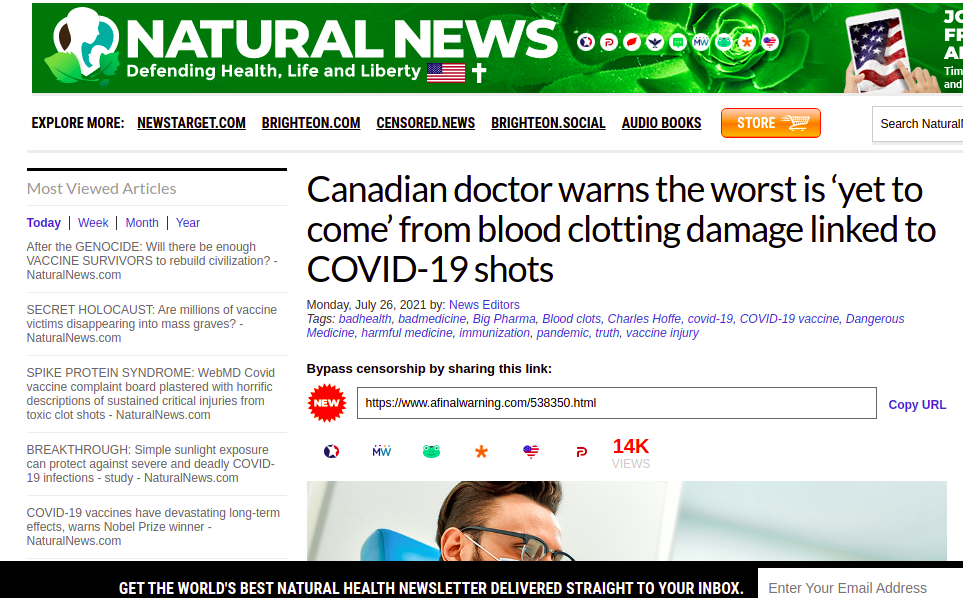 LINK 1: https://www.naturalnews.com/2021-07-26-canadian-doctor-warns-worst-yet-to-come.html
LINK 2: https://www.lifesitenews.com/news/canadian-doctor-warns-the-worst-is-yet-to-come-from-blood-clotting-damage-linked-to-covid-19-shots/
LINK 3: https(colon)//www.bitchute(dot)com/video/A6GbcUl6blpJ/
There is also a LARGER video which includes the above video – but it ALSO includes additional information – priceless information – about how Chinese crypto-kinetic warfare is used as part of "reality shaping" to support Chinese sociobiological warfare. See if you can arrive independently at the same understanding, and explain it to me in the comments. You will need to listen to the longer video to see it.
LINK 4: https(colon)//www.bitchute(dot)com/video/zAw0Pzg27RTo/
---
Everything Dr. Hoffe says is – sadly – bad news for "yours truly", but it MASSIVELY confirms my "hunch" that COVID took at least a DECADE off my life.
This is just a gut-level assessment of the damage to my health, but everything that I've seen in my medical test data seems to confirm it. My respiratory, pulmonary, cardiac, vascular, and immune functions are all noticeably impaired after COVID. I do not know if I have pulmonary hypertension, but I suspect that if I do NOT have it, it is only because I have very successfully prevented systemic hypertension. My blood pressure is low, and I have kept it low, thanks to magnesium.
This is part of the reason I have been so adamantly opposed to vaccinating our troops, and regard that action as TREASONOUS. The only people who are helped by medical turnover of our military are the communists – both foreign and domestic.
But let's not talk about me. Let's not talk about the US Military.
Let's talk about Tonawanda's friend.
The fact that he had the Moderna vaccine is – in my opinion – very important.
Why?
This gets into the observed and known differences between the vaccines, which I have watched VERY CAREFULLY from the very beginning. I very CLOSELY watched the Phase One trials for both Pfizer and Moderna.
The Moderna vaccine was NOTORIOUS for causing symptoms VERY similar to the disease, including fever, exhaustion, headaches, muscular and kidney aches. Worse than that, the Moderna systemic effects were extremely common in the trial group.
If I had to describe my "non-taker" impression of the Moderna shot like a "gourmet" might, it would be like the Shingrix shingles vaccine first shot, only more systemic like the second shot.
A shingles vaccine "gourmet" sidebar:
---


---
Yes – I was "pro-vax" before all the industry, media, and government LIES built up to an intolerable level.
Back to the story on Moderna and Pfizer.
Here is a typical example of a Moderna recipient – economist and actor Ben Stein.
LINK: https://www.thegatewaypundit.com/2021/03/ben-stein-issues-warning-suffers-severe-side-effects-covid-vaccine-days-getting-shot-video/
The symptoms Ben describes are VERY MUCH like COVID-19 itself.
The Pfizer vaccine – surprisingly – did not have strong observable and immediate effects like Moderna. The incidence of anything more than a bit of local swelling was almost non-existent in the Phase One trial group.
The Pfizer vaccine moved up near the top of my "I might take this one" list.
Thus, it was very surprising that LATER, lots of problems with the Pfizer "clot shot" came into view, as the vaccine was being delivered to people. To some extent, I believe that the NUMBERS of many side effects simply don't appear in trials, but THAT is not the whole story. I am now convinced that Pfizer is led by incredibly dishonest people, and that they very likely gamed the trials to hide problems.
And very ironically, there is some SCIENCE to back that up. The GAMING begins with the vaccine itself.
What's interesting there, is that Pfizer's data on biological distribution of their vaccine in test animals – which we had to get from the Japanese government – not only explained the nature and biodistribution of side effects seen in vaccine recipients – it explained the SHEDDING of VACCINE to others in close contact with the recipient.
This was, IMO, phenomenal detective work by the people who got that data. The Pfizer vaccine's array of issues was due to the PERSISTENCE and SLOW RELEASE of the vaccine – as well as the obvious LIPID MOBILITY of the LIPID NANOPARTICLES. It took DAYS for the vaccine to release most of the mRNA into cells. The vaccine had plenty of time to move around in bodily lipids. It even had time to be EXCRETED in bodily lipids.
But NOW, I can ALSO use this same explanation for the difference between Pfizer and Moderna in the trials.
Pfizer basically created what is essentially a slow-release vaccine without telling people it was slow-release. VERY beneficial in trials – no?
Moderna's vaccine also uses lipid nanoparticles, BUT their vaccine clearly deploys FASTER into cells. There is significant overlap, nonetheless, in cardiovascular deployment, as Dr. Hoffe notes. Moderna is likewise distributing throughout the body, and producing systemic vascular endothelium-centered effects much like COVID itself does, but Moderna produces symptoms FASTER than Pfizer. The vaccine effects of Moderna are thus much more noticeable – in some ways like the new shingles vaccine, which is a recombinant antigen vaccine, not an mRNA vaccine, and does NOT employ time-delaying lipid encapsulation technology.
Shingrix tends to produce rapid LOCAL symptoms on the first shot, and systemic symptoms on the booster, exactly as we might expect for two fundamentally different immune reactions (naive locally generated to injected antigen on shot 1, and immune secondary cytokine reaction to same on shot 2).
SO – back to Tona's friend. He got MODERNA. Moderna SHOWS that it produces symptoms similar to COVID. Just ask Ben Stein. We have covered these "whole spike protein" vaccines.
Dr. Hoffe encountered his results using the MODERNA vaccine.
LINK: https://www.worldtribune.com/doctor-who-vaccinated-900-calls-blood-clots-at-capillary-level-an-absolutely-new-phenomenon/
Dr. Hoffe – at the time of the video – had 9 out of roughly 900 Moderna-receiving patients who were significantly (medically) damaged by the vaccine – and that did not count the 62% of ALL patients (estimated from a smaller sample) who showed signs of microscopic clotting.
Of those 9 patients clinically damaged by the vaccine, SIX of them are described as having "reduced effort tolerance" indicative of pulmonary hypertension. That is exactly what I have from COVID itself. I'm just lucky that my prior health was SO GOOD – far better than most others my age, particularly with my set of comorbidities like "former smoker" – that I was simply "knocked back" to somewhat below normal levels of health for my age.
Others may choose not to believe that Tonawanda's friend was a victim of side effects of the Moderna vaccine, but in my opinion it is IMPOSSIBLE to dismiss this possibility. In fact, I believe that this case is an exemplary fulfillment of Dr. Hoffe's warning.
---
In my opinion, mRNA vaccines are a fundamentally flawed approach, relative to a carefully metered and controlled ANTIGEN vaccine. mRNA vaccines have a "sexy" mechanism, but the whole concept is SCIENCE-CENTERED – not PATIENT-CENTERED.
Science-centered vaccines are a perfect fit for BRUTAL Stalinist socialized medicine, which treats people coldly and unsympathetically.
And THAT is why the Faucist conspirators and Bidenazis are deploying it.
What would Obama do, if nobody could stop him?
THIS is Obamacare – the REALITY. Brutal, corrupt, industrialized medicine.
Ironically – so ironically – profit-centered and capitalist to the core – only the negotiation with the corrupt capitalists is run by Soviet-style bureaucrats. An interesting mix of communism and fascism.
Reject it. Turn away from it. Refuse it.
W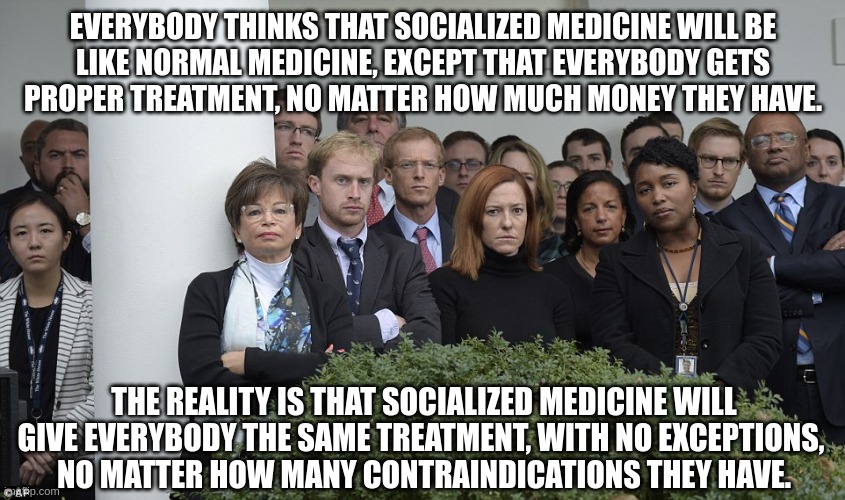 The Obama future. It ain't Star Trek.