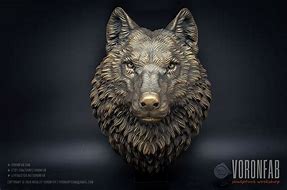 The Pub is OPEN!
It's GALLERY NIGHT, wherein our intrepid "print screen photographer" and "substitute bartender" presents his "artistic screen shots" of the
Defeat The Mandates

rally in Washington, DC.

While our beloved REAL bartender takes a needed break of unknown duration, we will continue to ENDEAVOR TO PERSEVERE.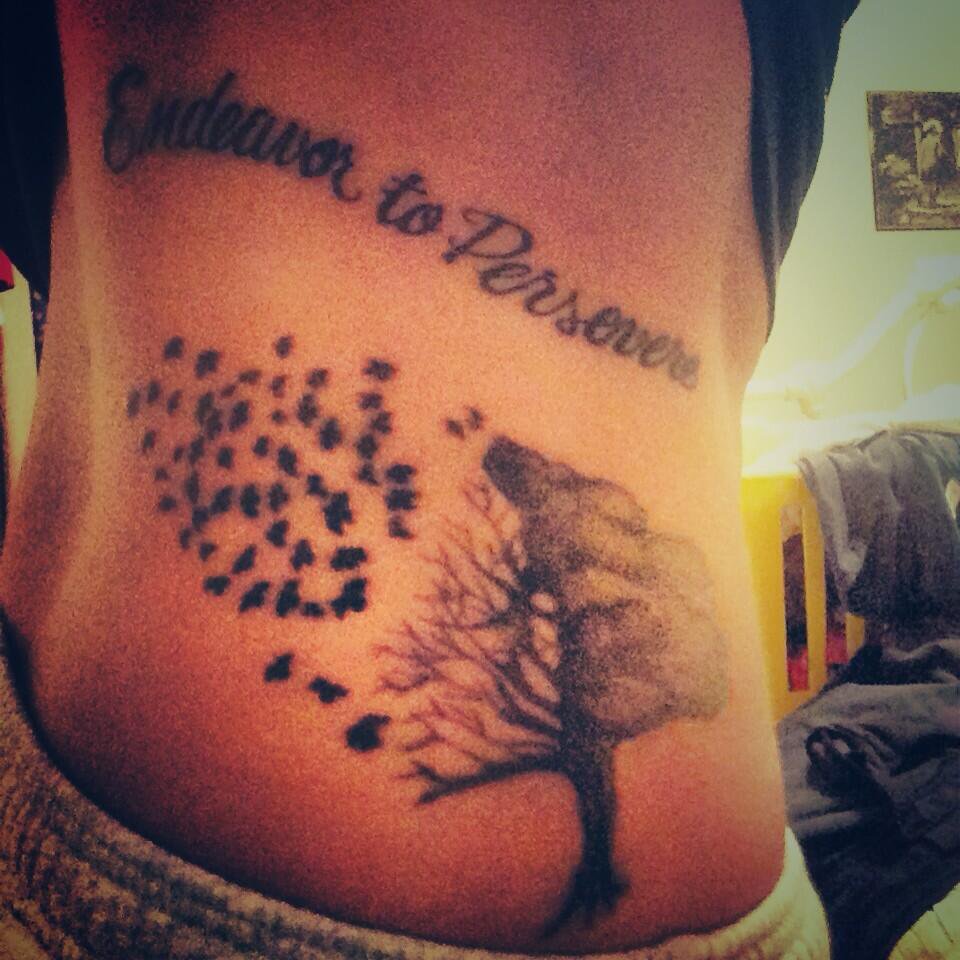 Tonight's drink special is not ethanol, but rather a different alcohol – epinephrine – a.k.a. – ADRENALINE.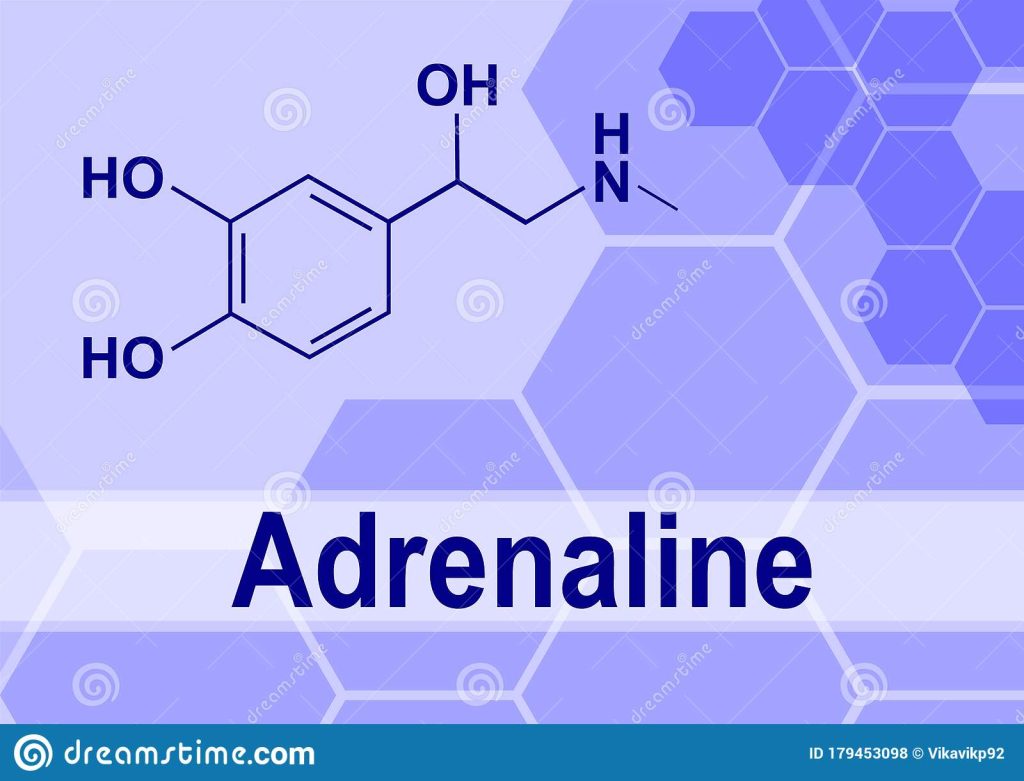 Stay tuned! We'll explain later!
---
Christmas Spirit
It looks like SANTA is still somewhere NORTH of the border, but he's bringing FREEDOM!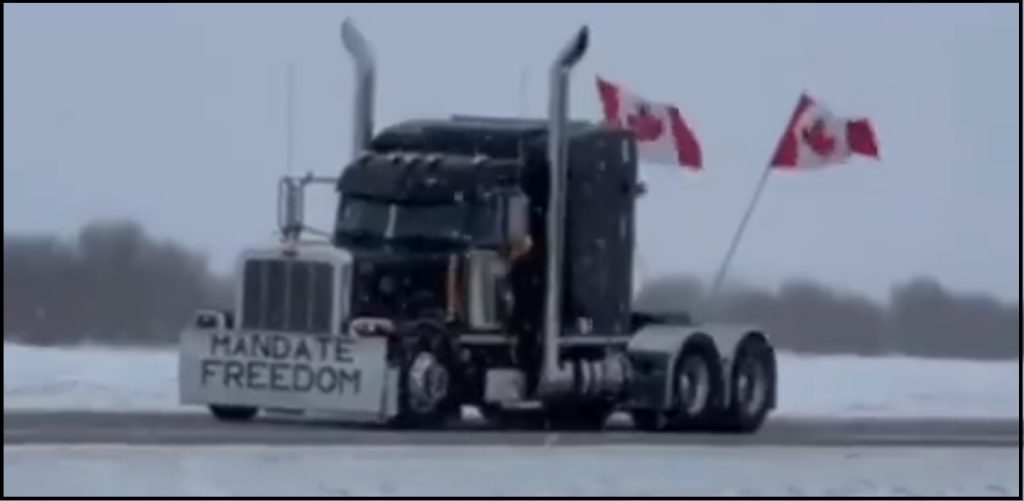 ---
Playing on the Jukebox
Well, we were looking for some stuff that was COMPLETELY DIFFERENT on the persnickety jukebox, and look what we found near the end of the last slider…..
EPIC COWBOY/WESTERN ROCK.
What the FREAKIN' 'ELL.
Not sure what's wrong enough with me to like this, but if you don't enjoy this crazed version of cowboy, try an even crazier version of "Indian".
And I mean that BOTH WAYS.
This stuff looks straight out of Burning Man.
And while that's kind of interesting, it's not about the kind of FREEDOM that goes with the ART on the wall tonight.
SO – we add some EPIC FREEDOM MOOD MUSIC for your GALLERY TOUR tonight.
That's more like it.
And now, the rules of the pub.
---
HOUSE RULES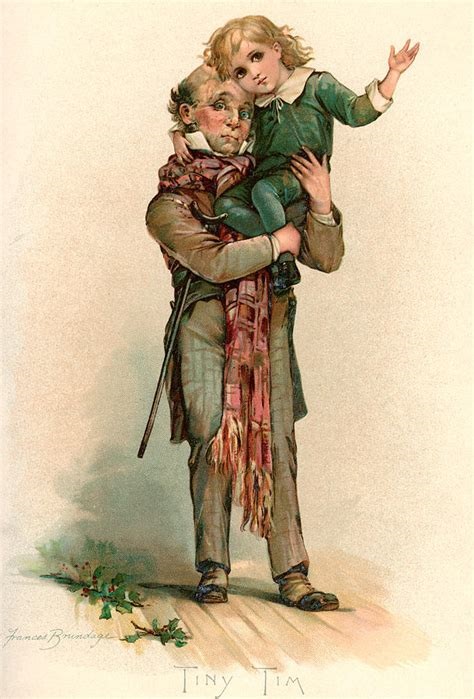 God bless us, every one! Tiny Tim had such a beautiful soul. He hadn't a mean bone in his body…unlike most of us. But in keeping with Christmas, we promise to honor Wolf's rules and keep Scrooge at bay. The Utree is where the Ghost of Christmas Present will conduct you should you need to rattle some chains. Another option, should all hell break loose is here.
Now, back to business.
---
AMEN!
FREE the JANUARY BROTHERS
And in the following video, you can actually hear the HOWL of WOLF MOON, telling MAFIA NAN exactly how he felt, when her Praetorian guard fired GRENADES upon a crowd filled with GRANDPARENTS, WOMEN and CHILDREN on January 6.
Source: Capitol Offense: The Ugly Truth Behind The Five Deaths From January 6th and 7th – https://taylerhansen.substack.com/p/capitol-offense-the-ugly-truth-behind
Hat Tip GA/FL who made me aware of this excellent research.
My experience (including my WOLF HOWL) was documented in Section 4 of the following post, entitled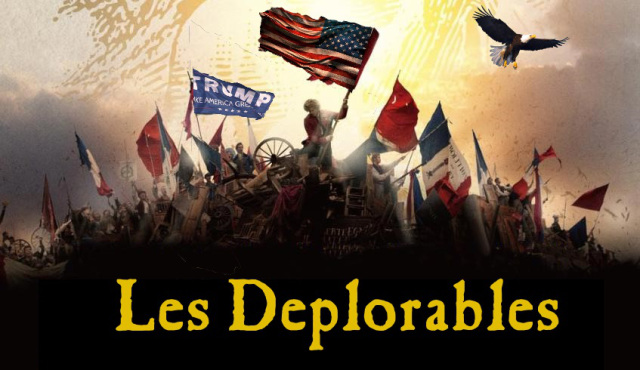 The Truth About Our January Sixth Protest I was there, and I am PROUD of it. I am proud of the thousands and thousands of patriots who showed up to make an historic statement that the other side could only TRY to stop, by besmirching its beauty with their LIES and TRICKERY. Yes, their LIES …
---
Current Art On The Wall
We have a really interesting PHOTOGRAPHY exhibit in the bar this week. Consider this to be "gallery night".
Prints are available FREE by right-clicking – or whatever you need to do on your device.
We have more pictures than just this collection, but these are some of the best. Enjoy a selection of magical moments from the DEFEAT THE MANDATES rally in Washington, DC last Sunday.
---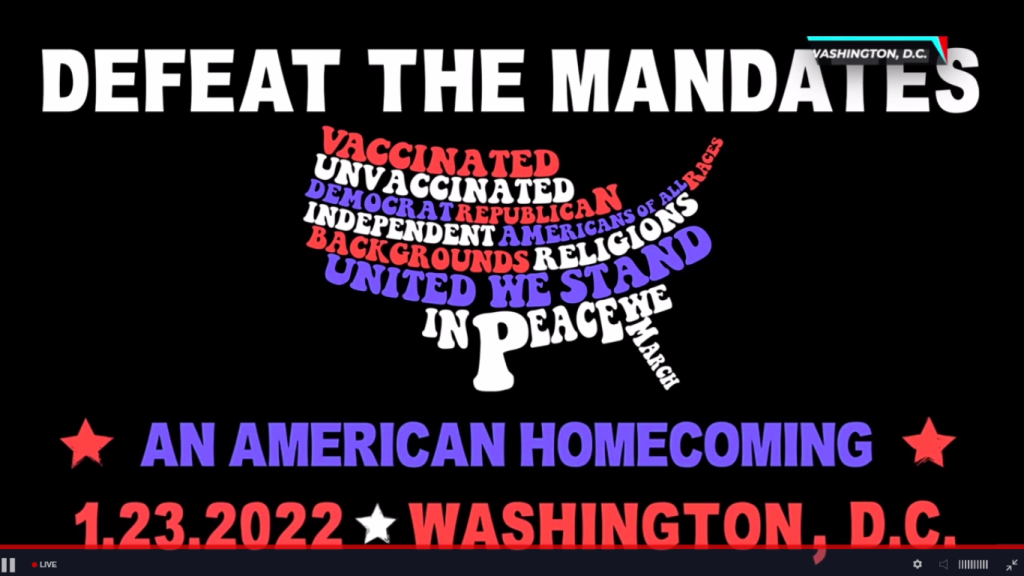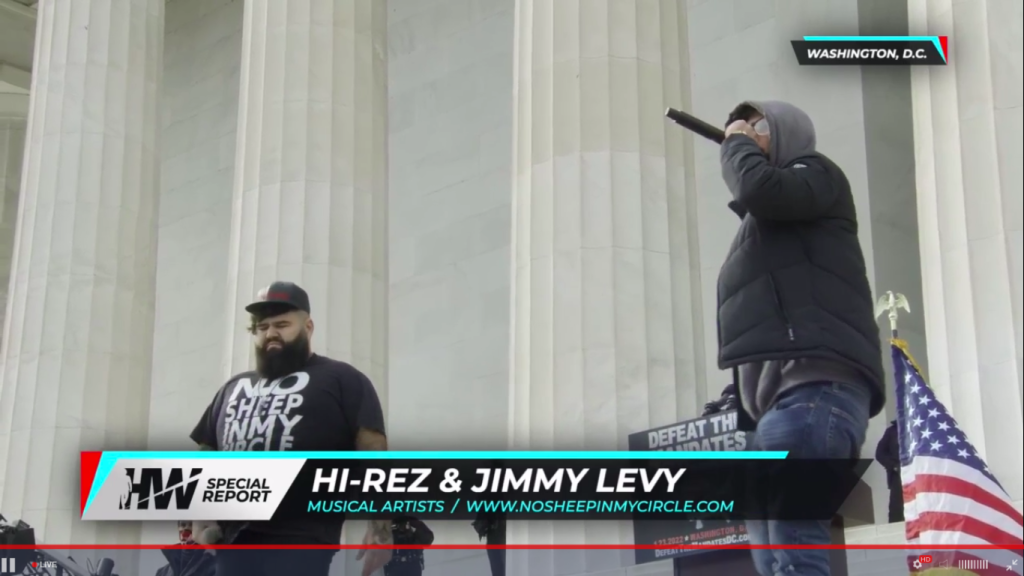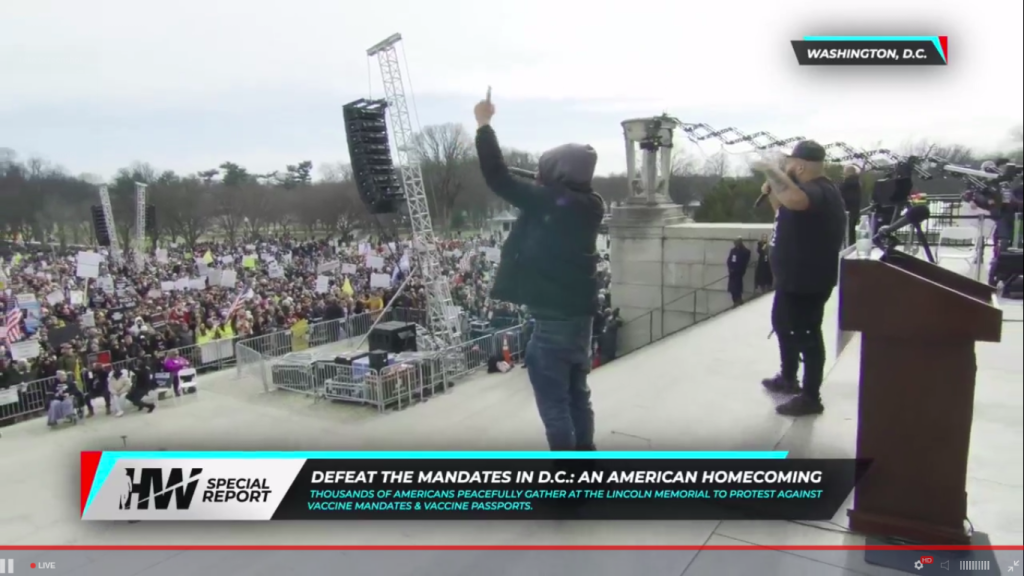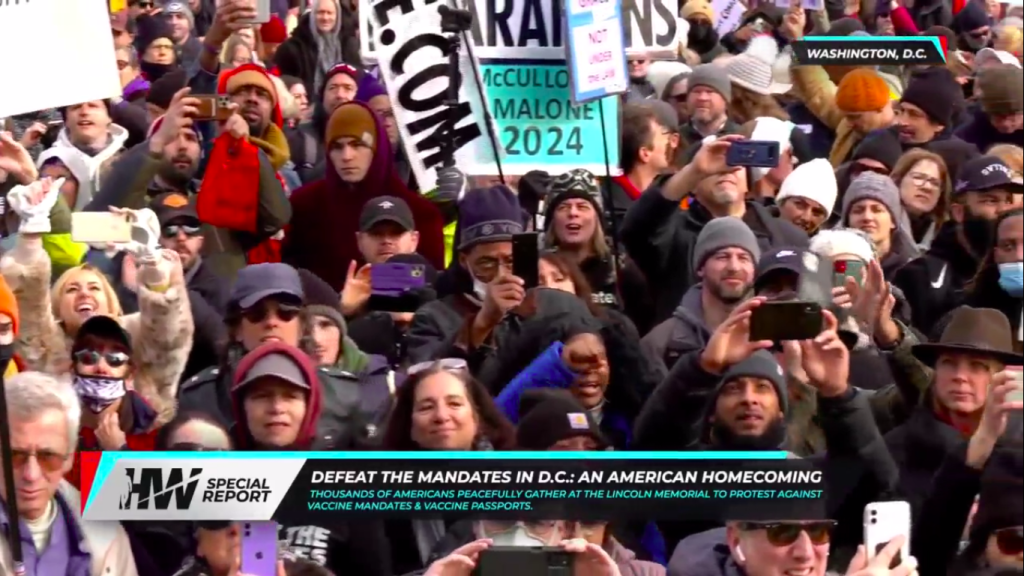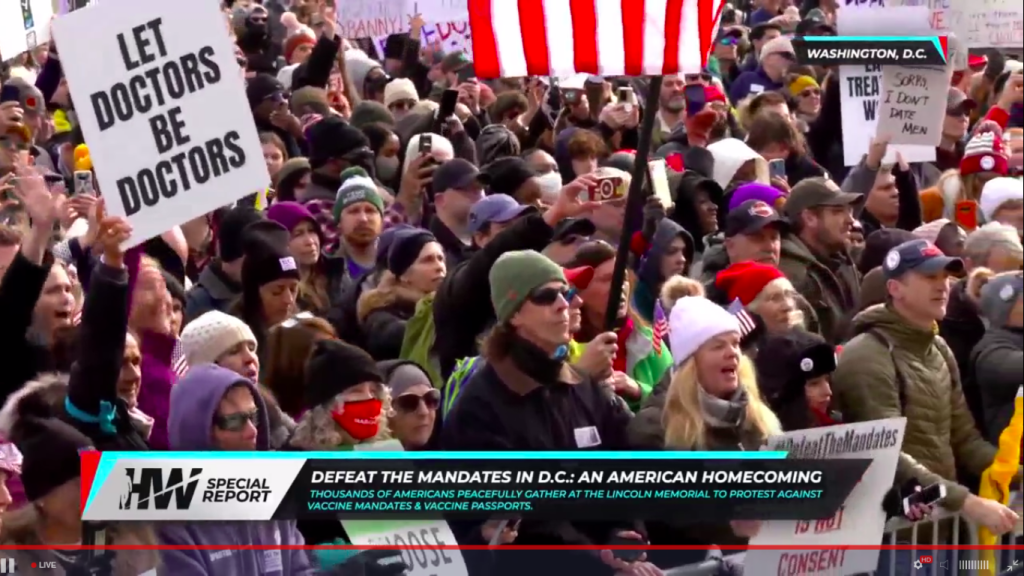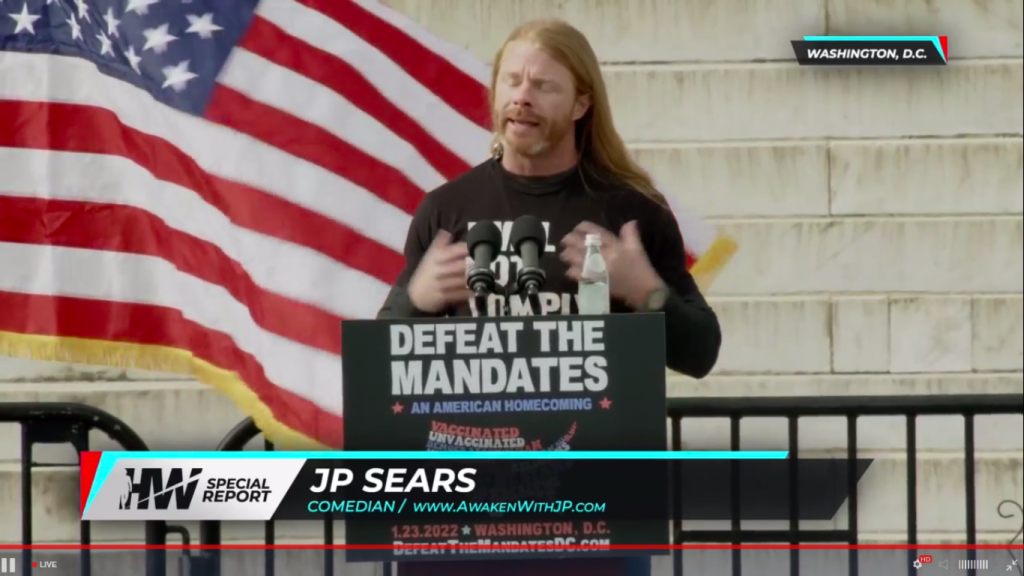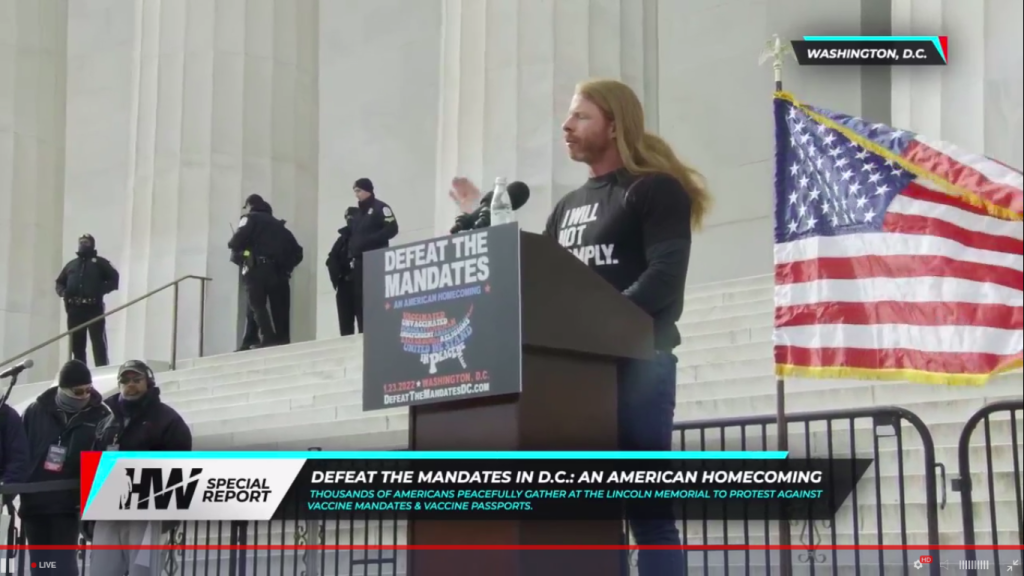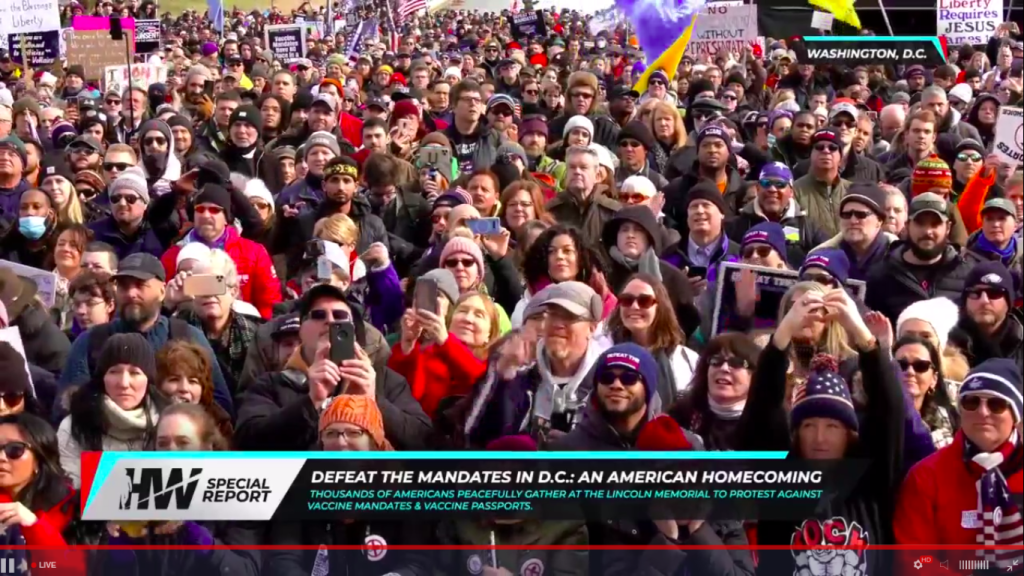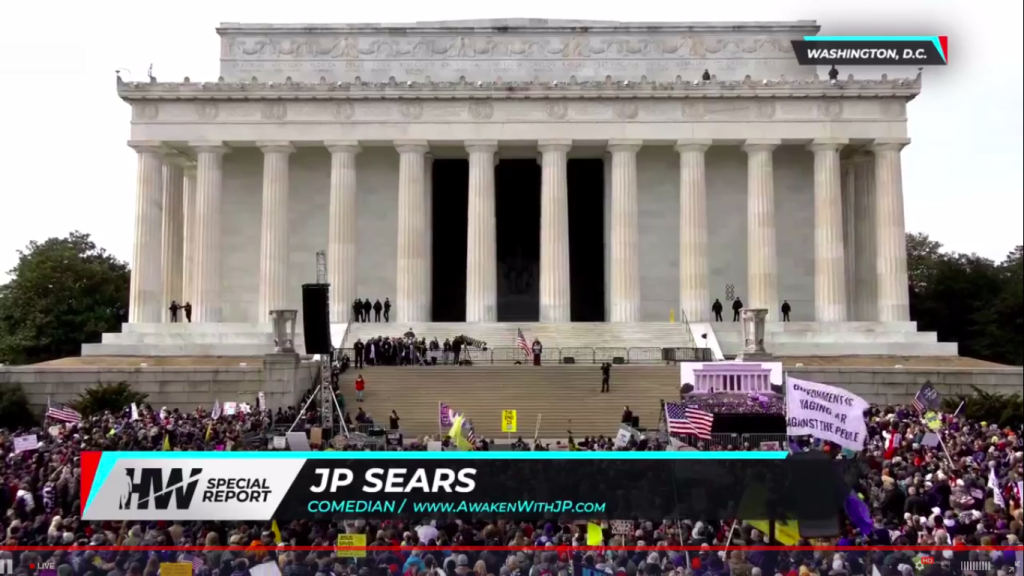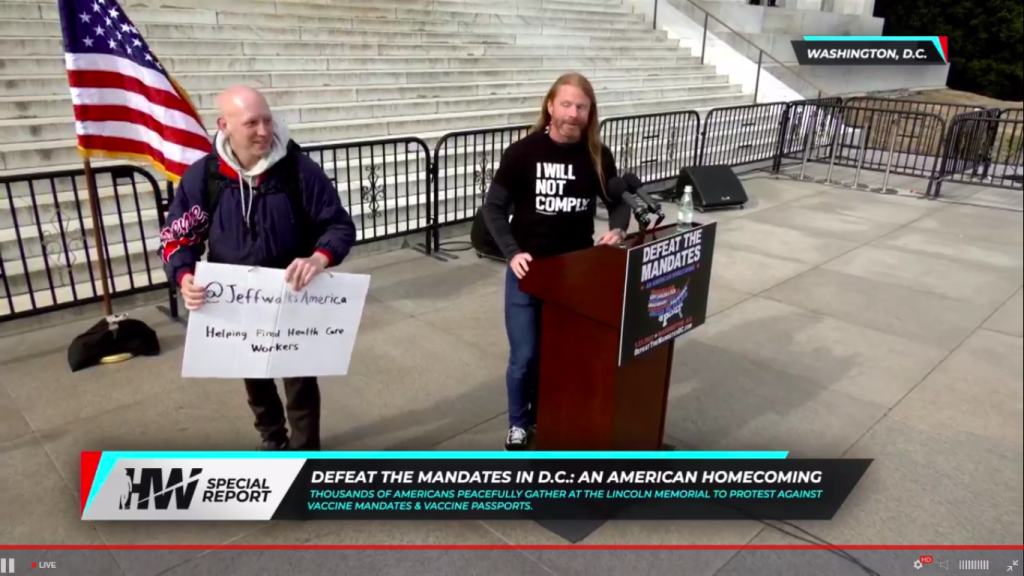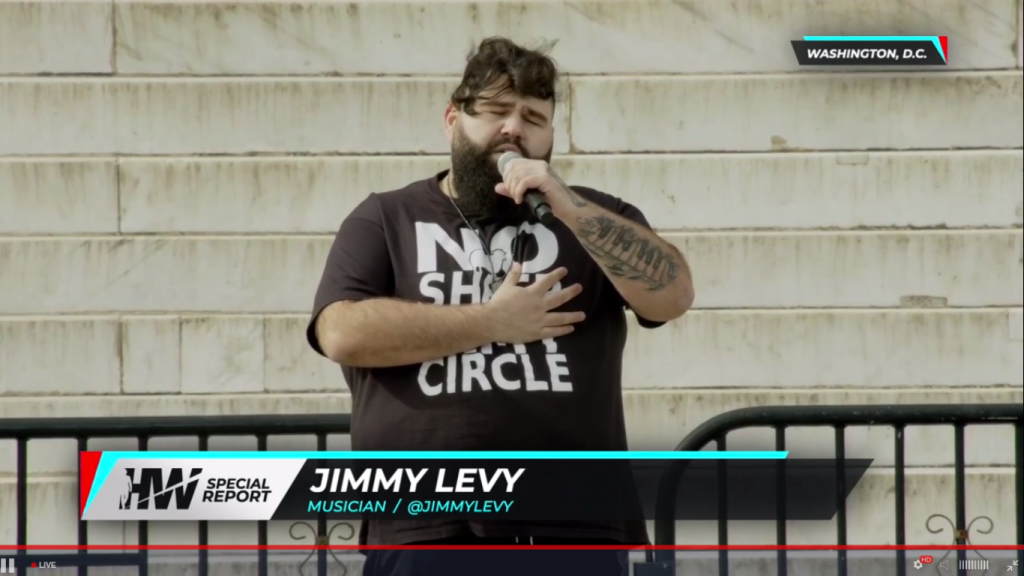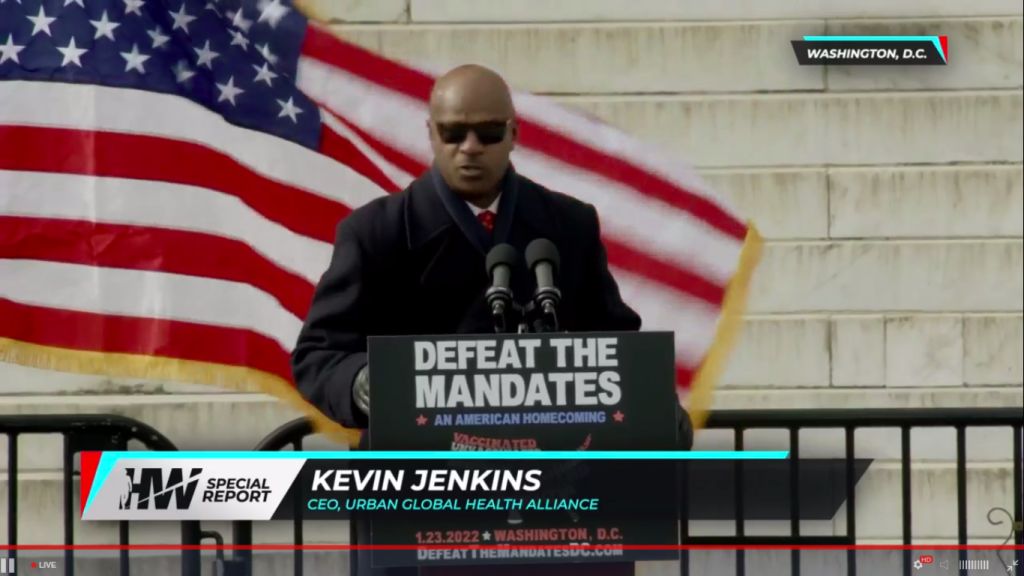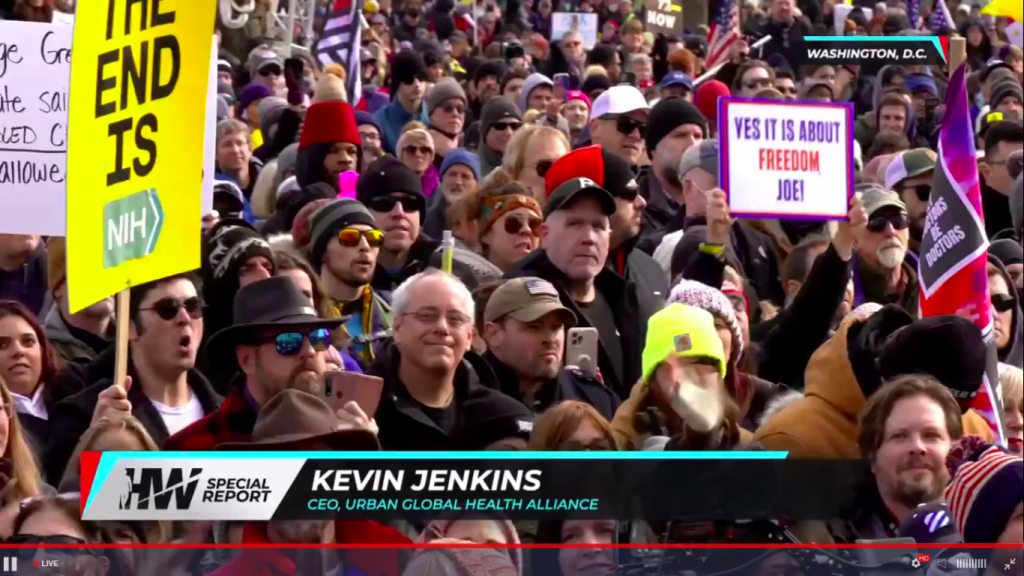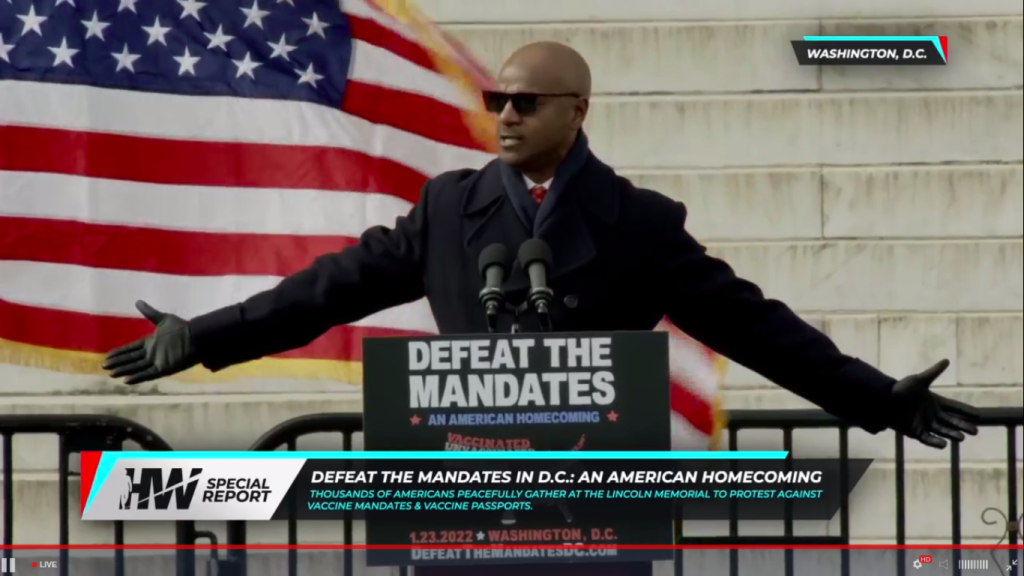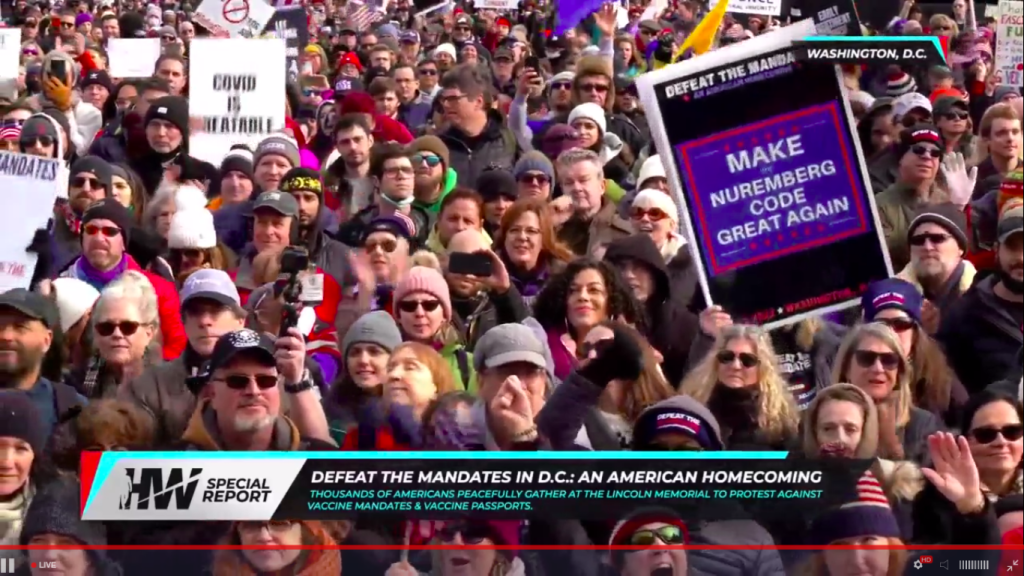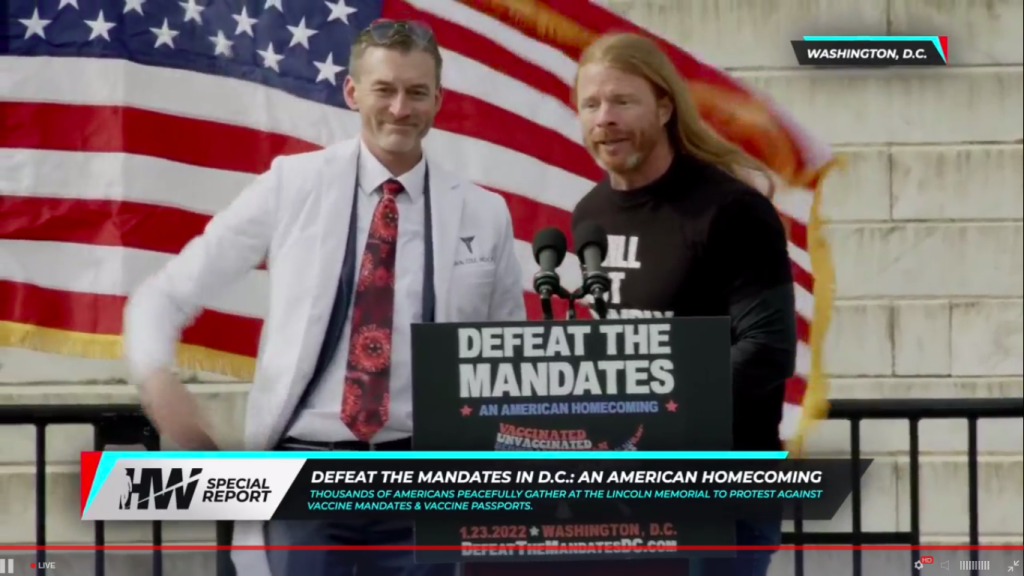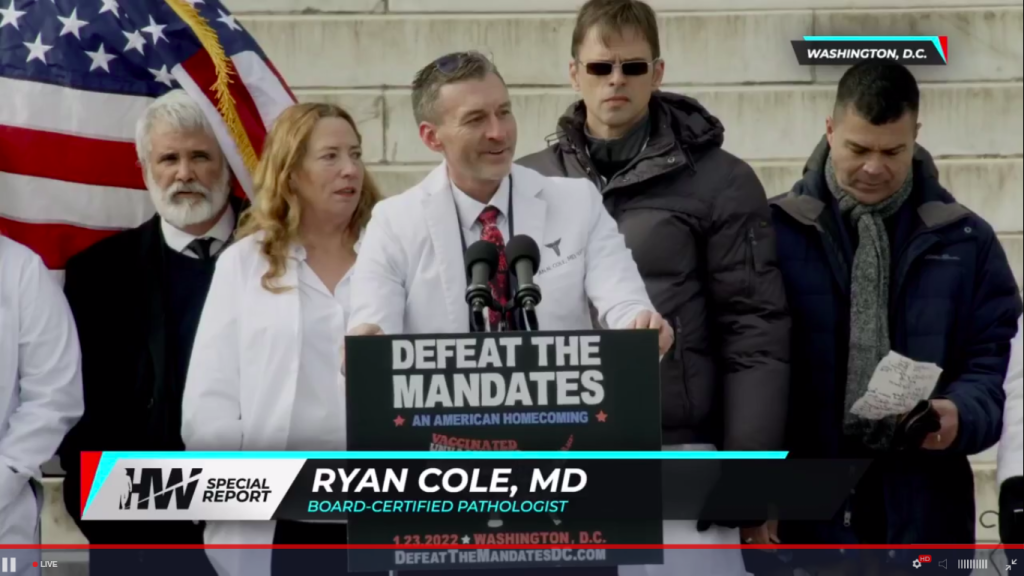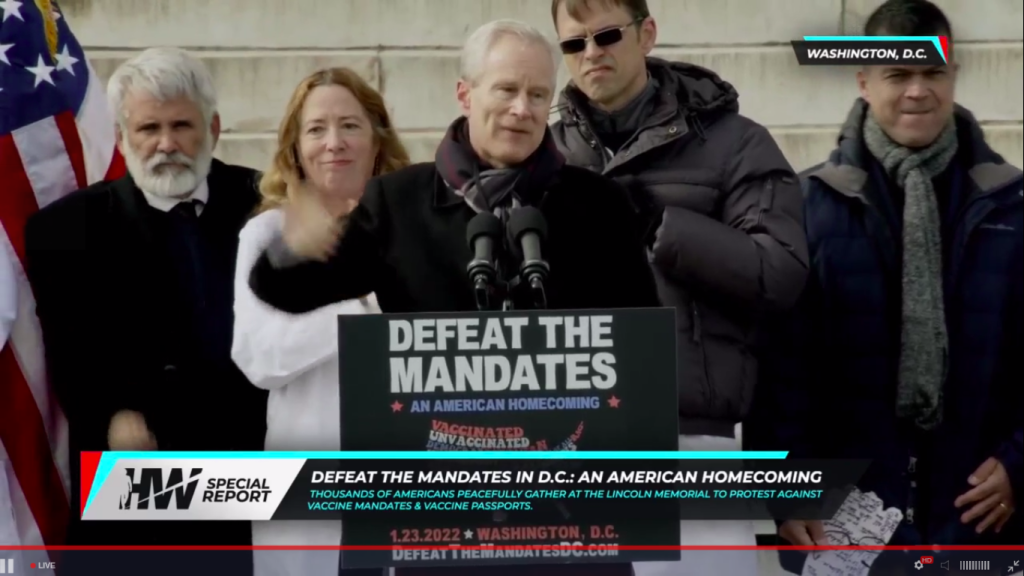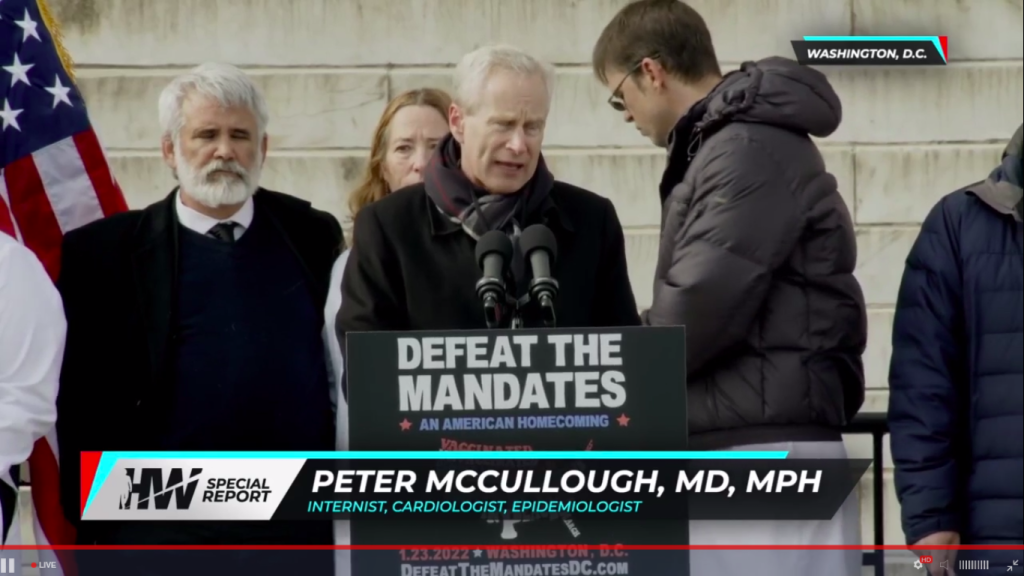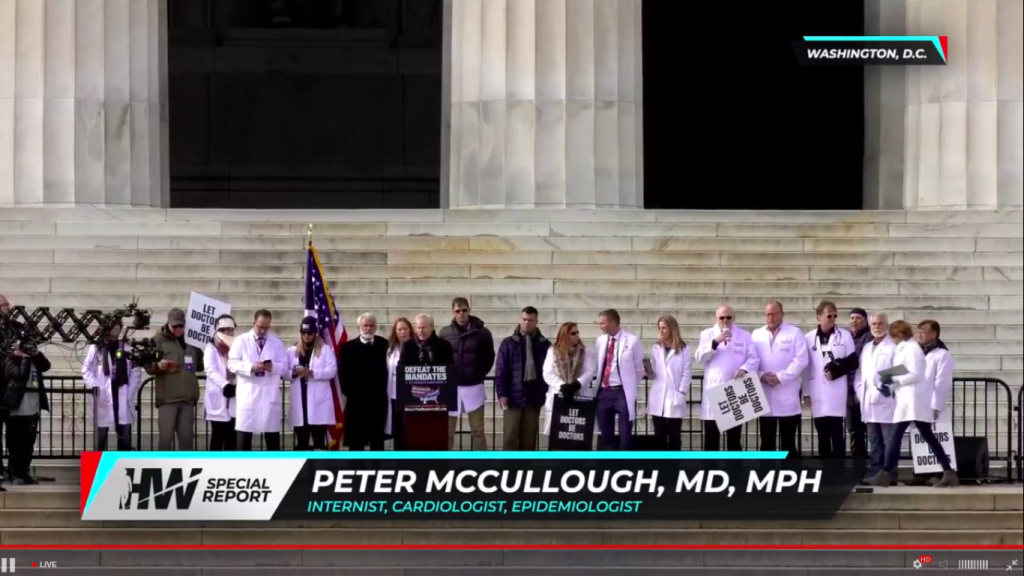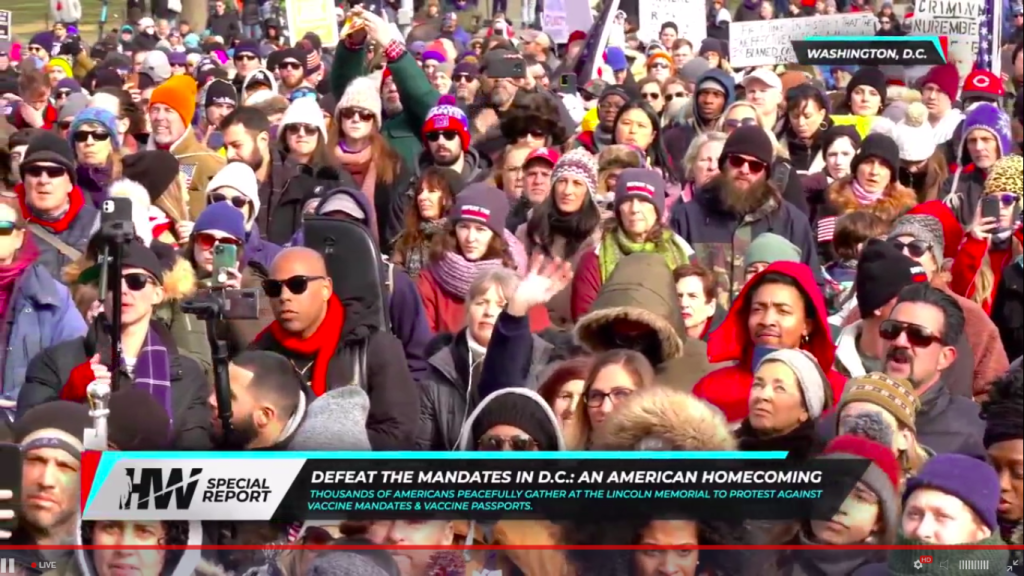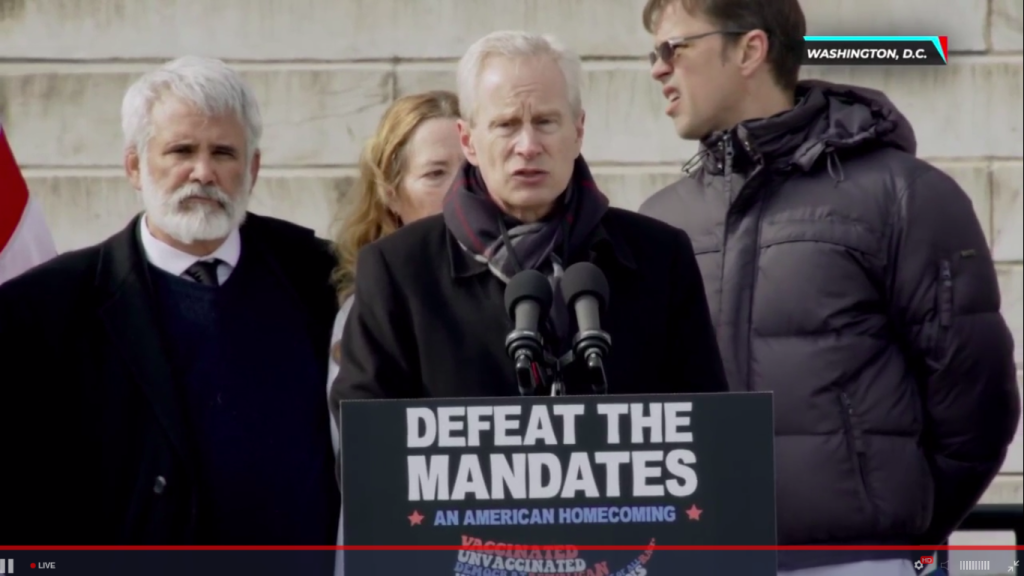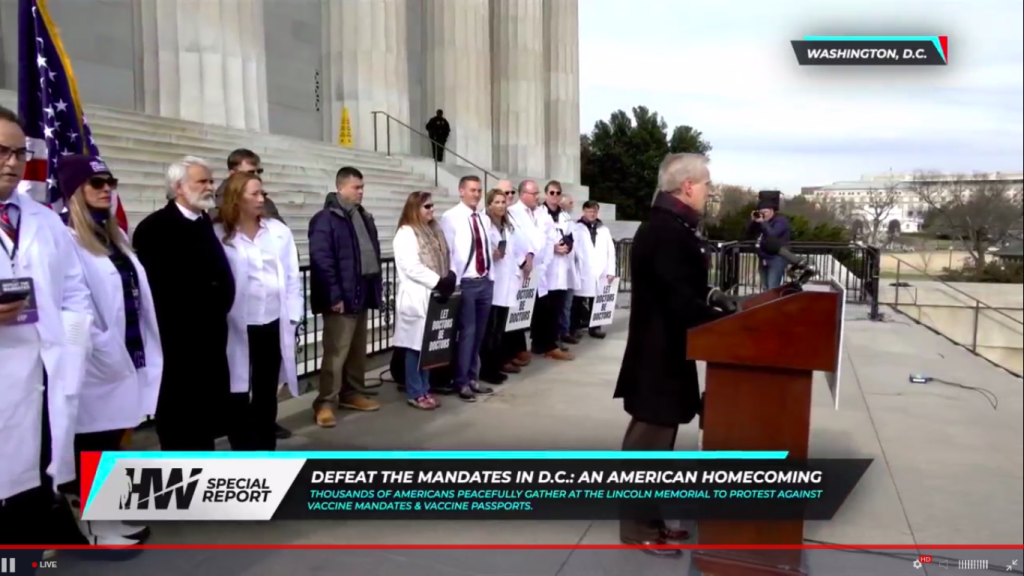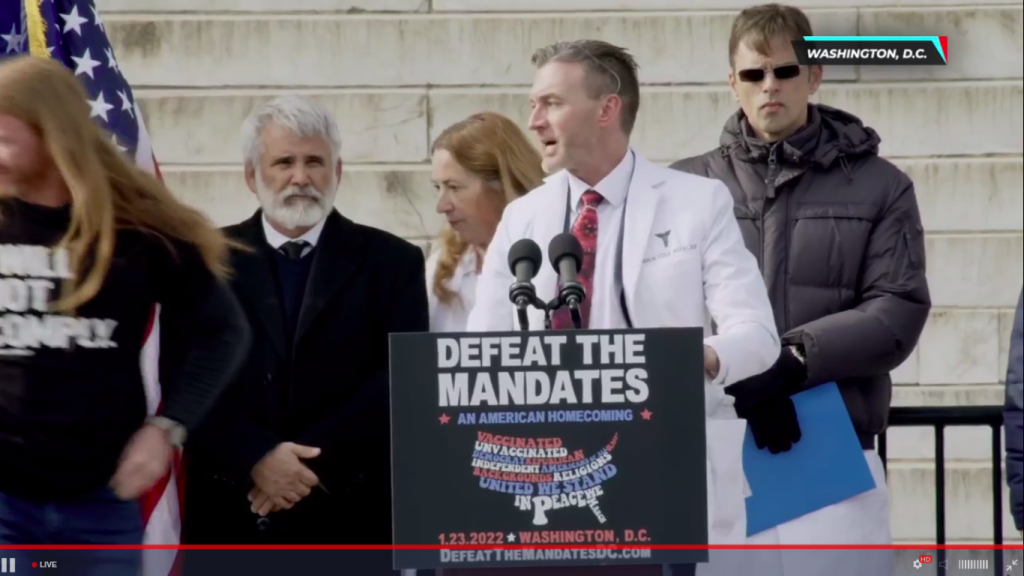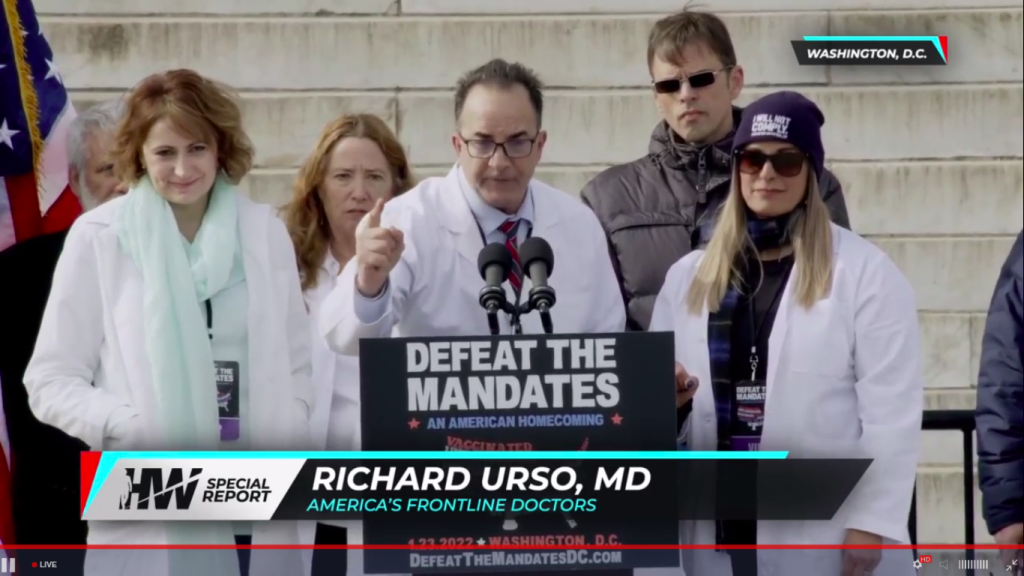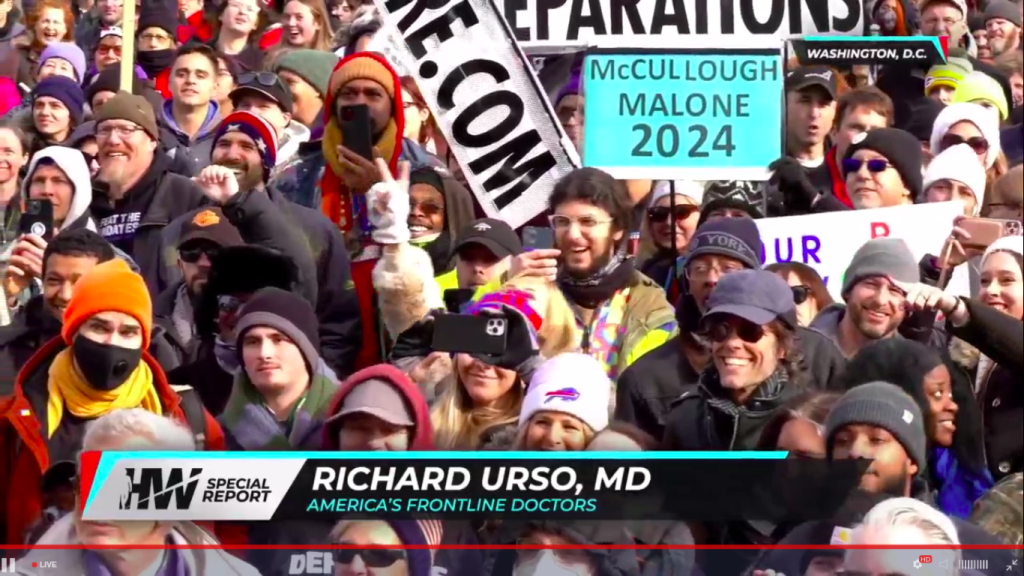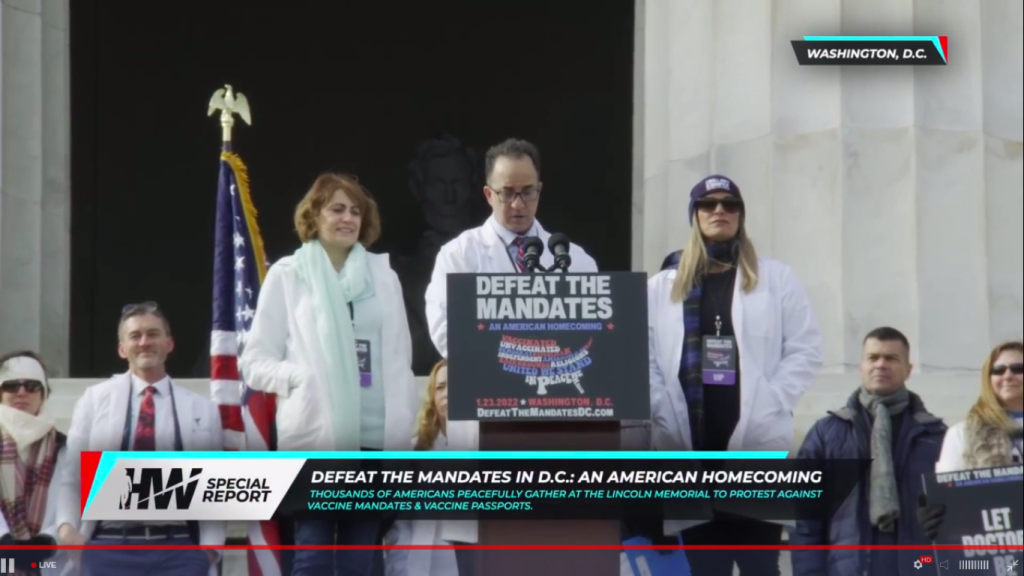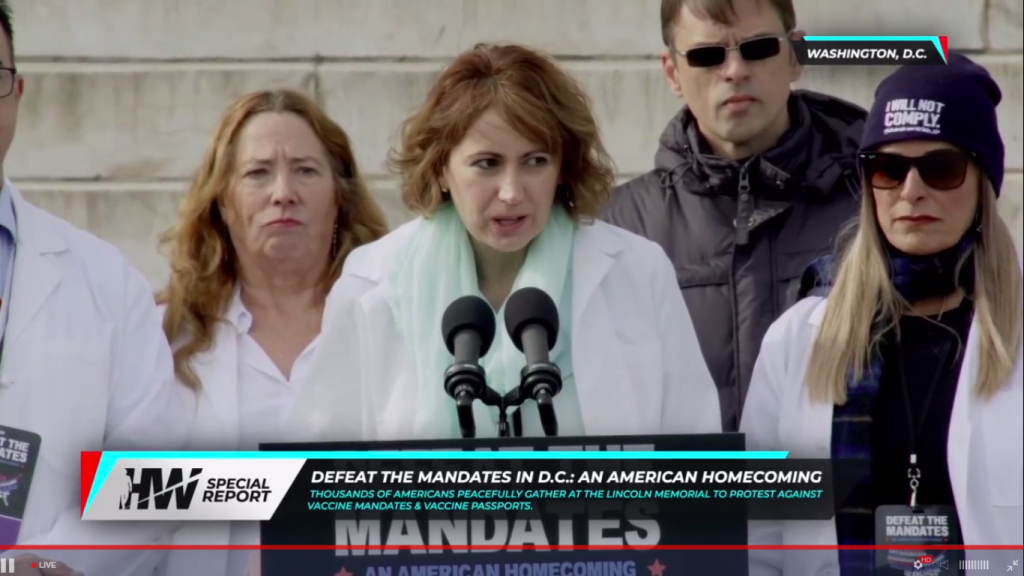 Dr. Heather Gessling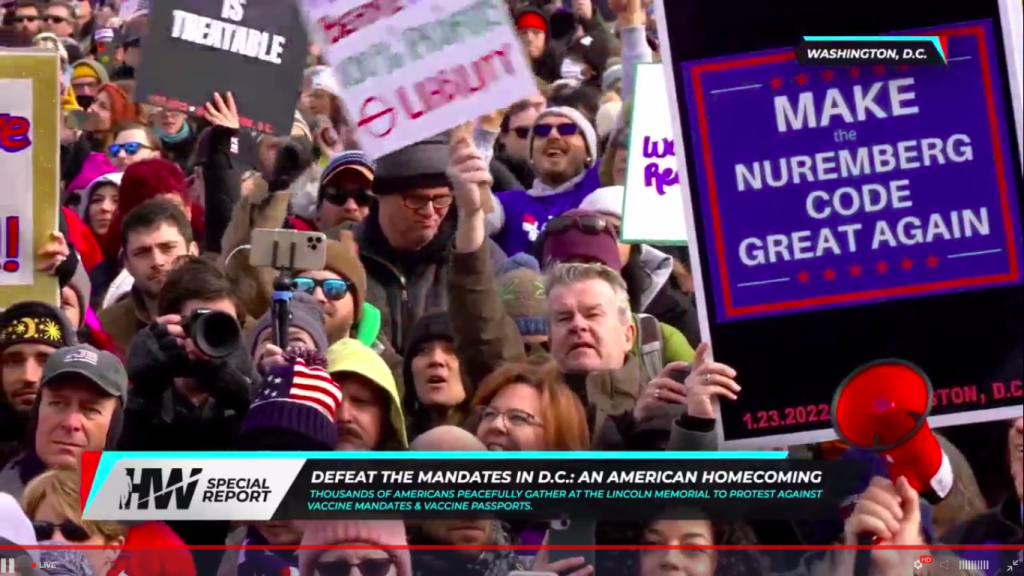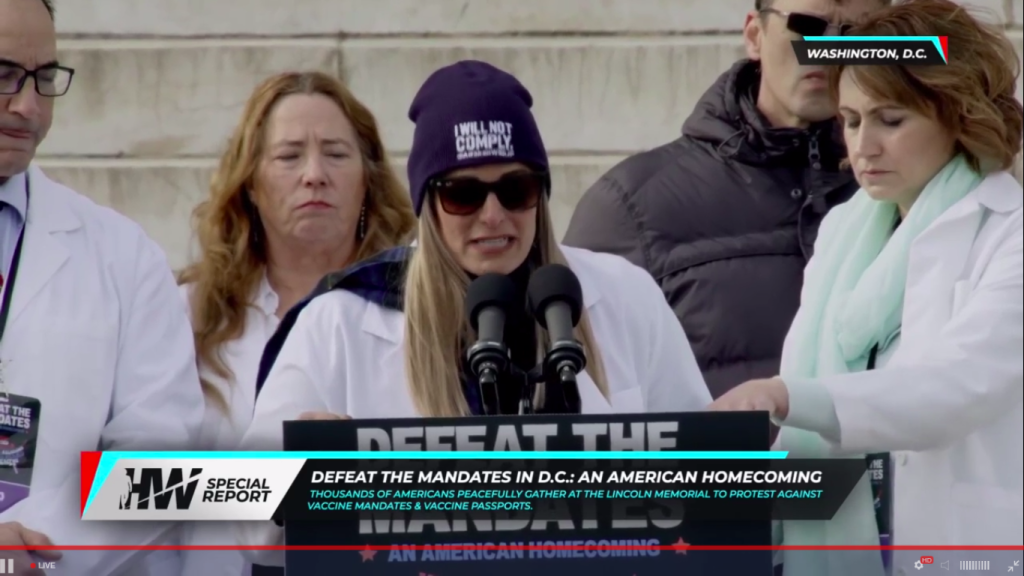 Dr. Lynn Flynn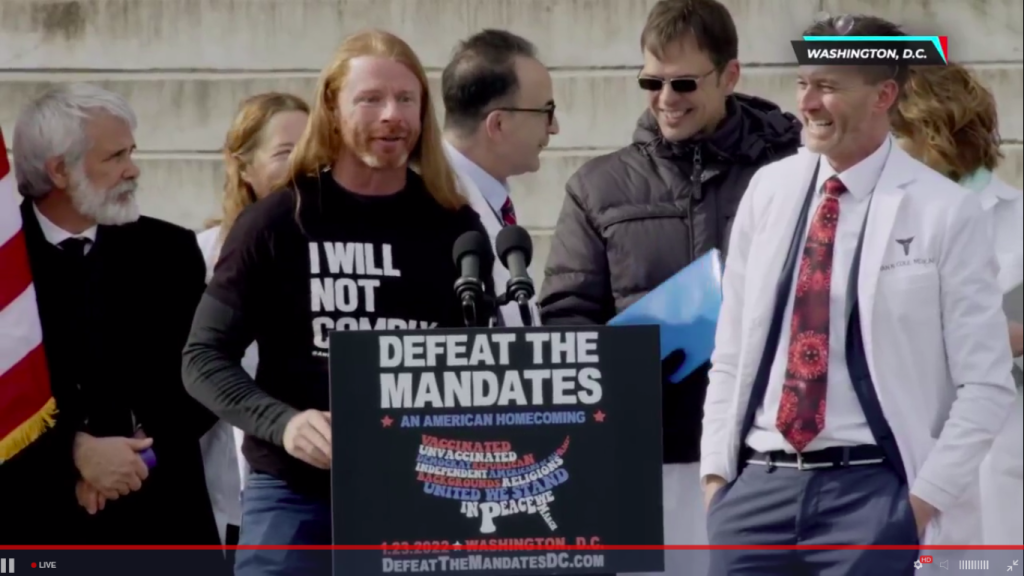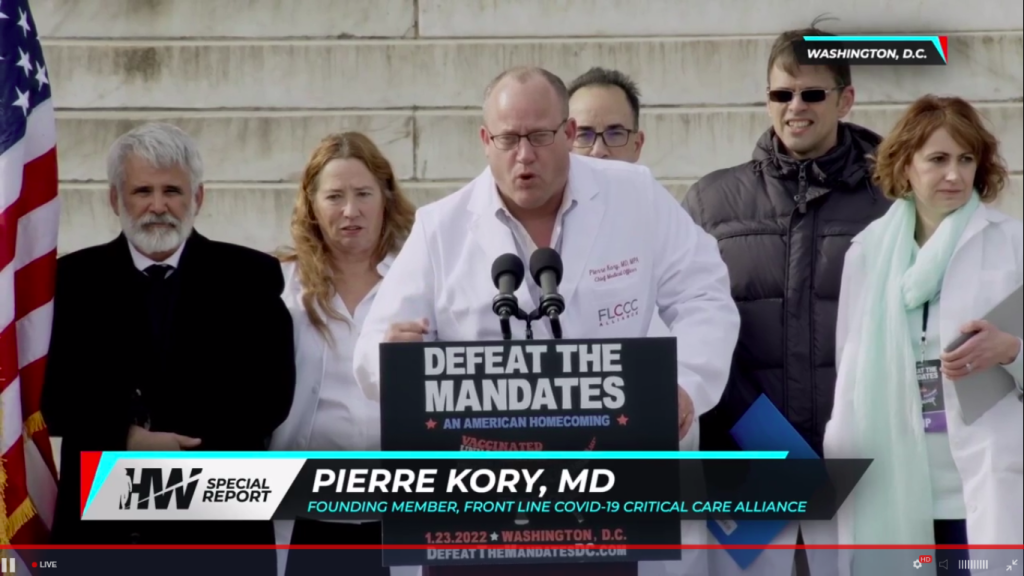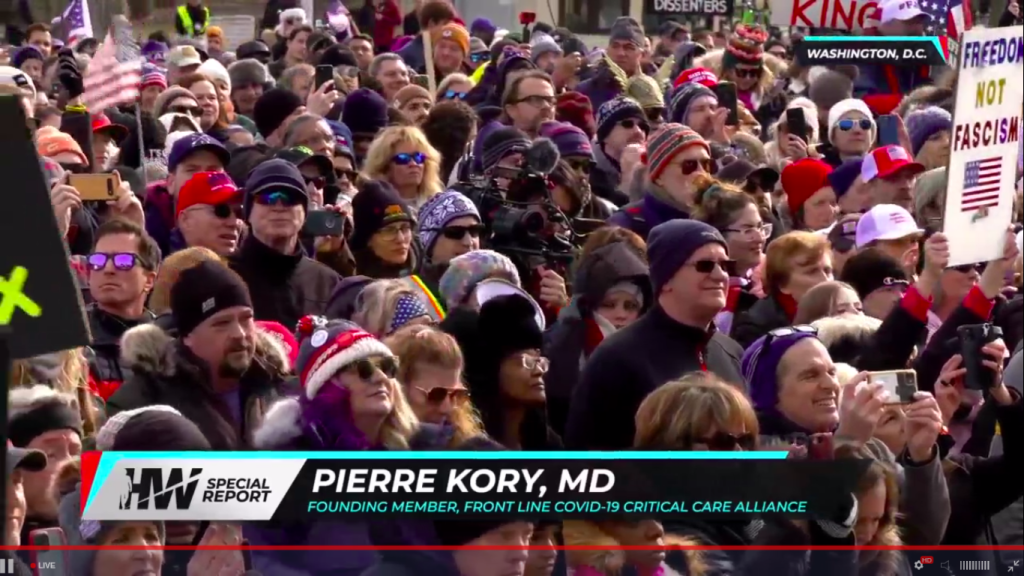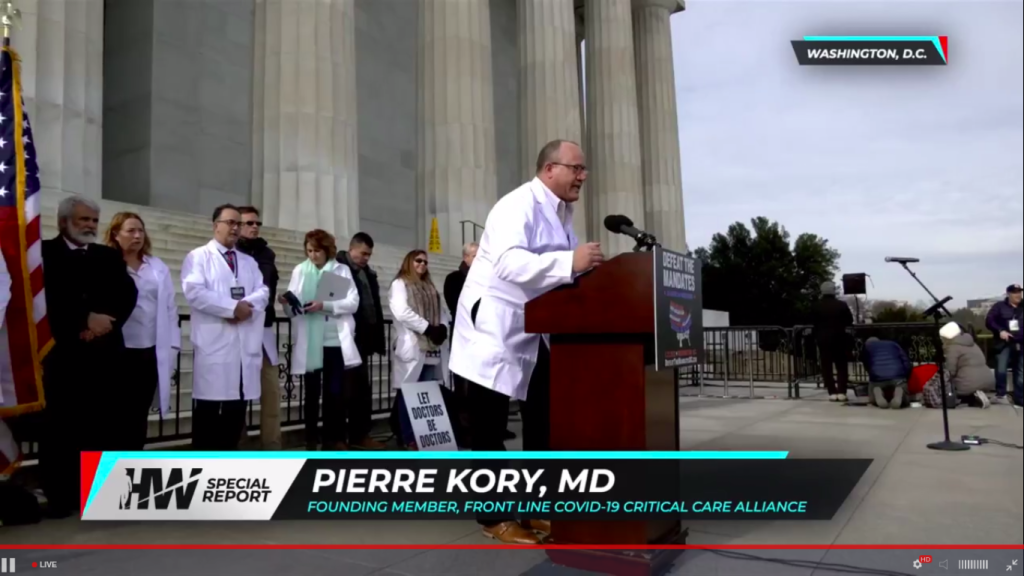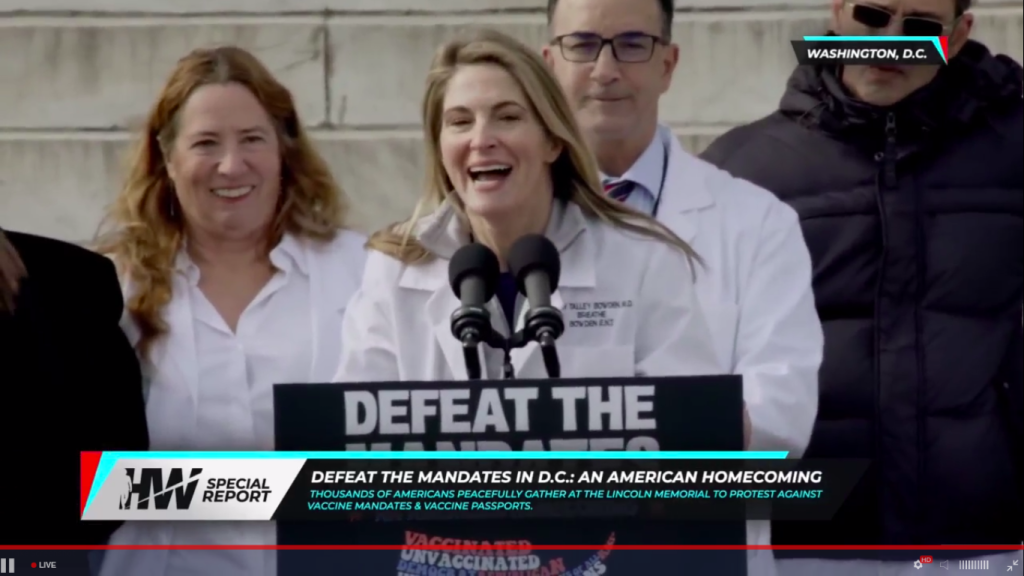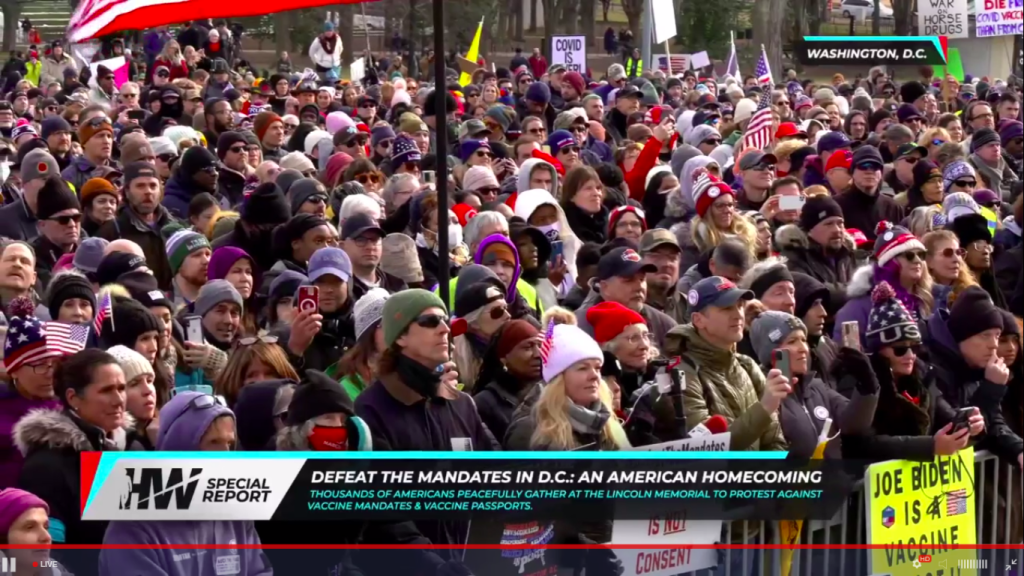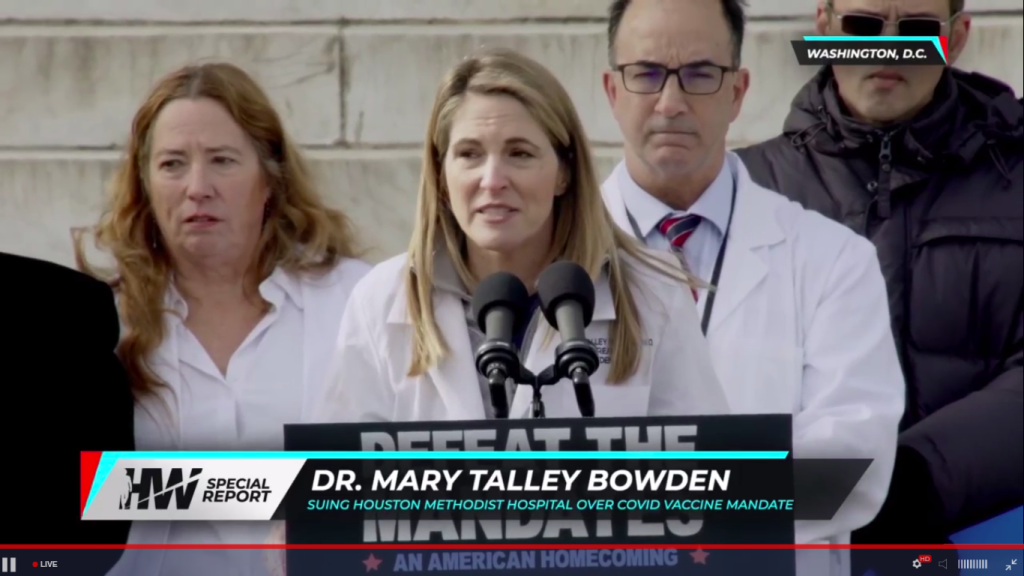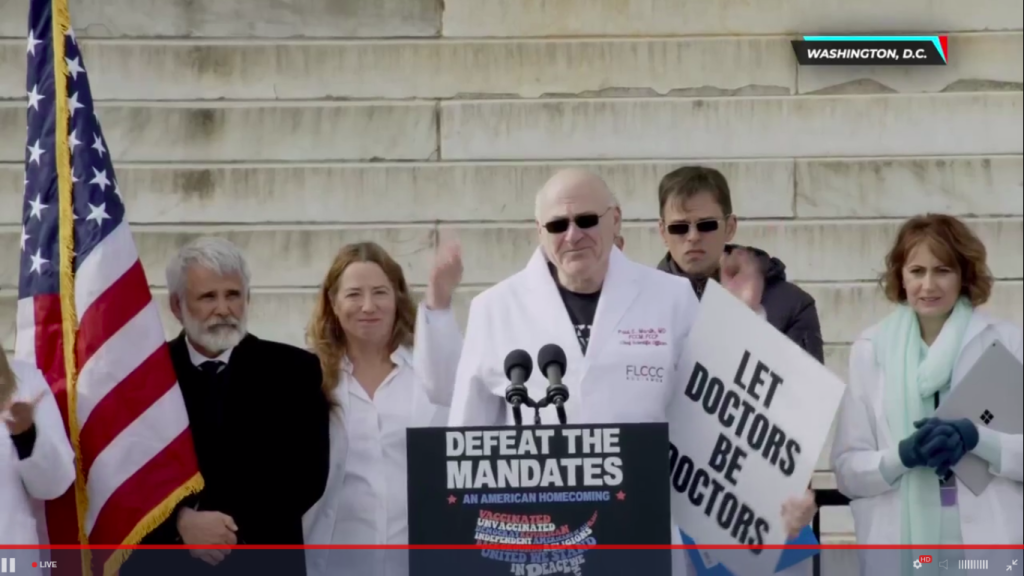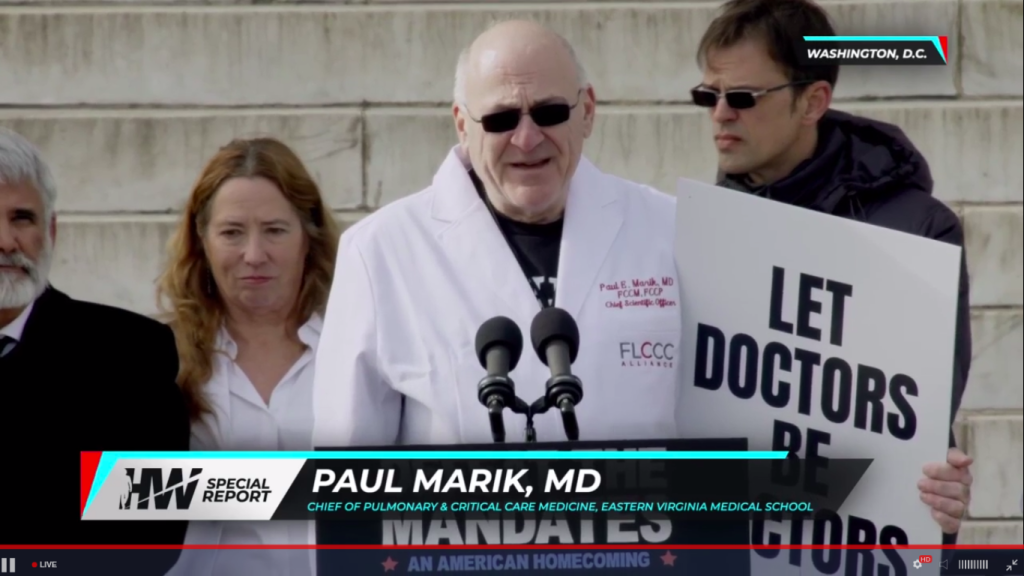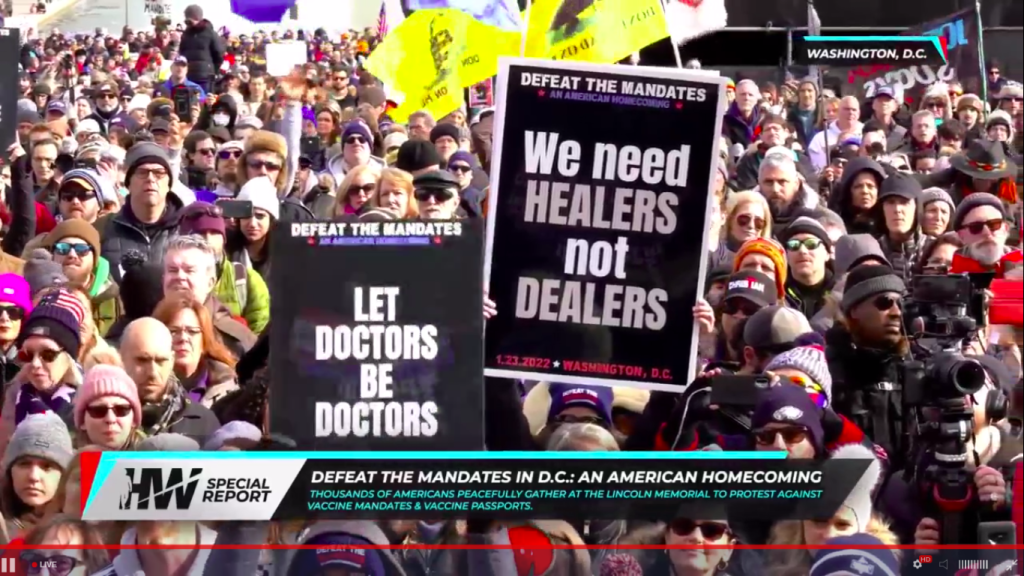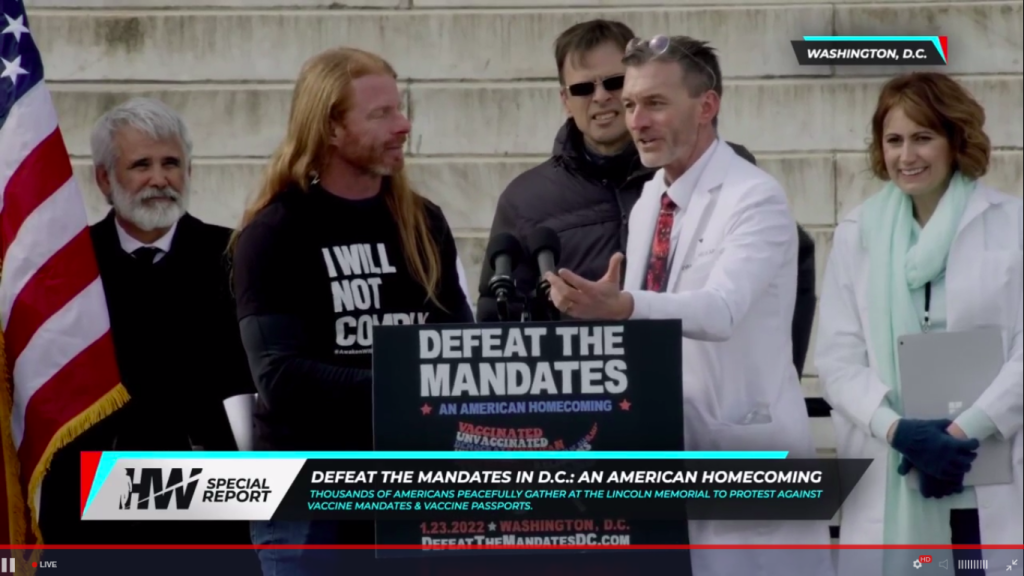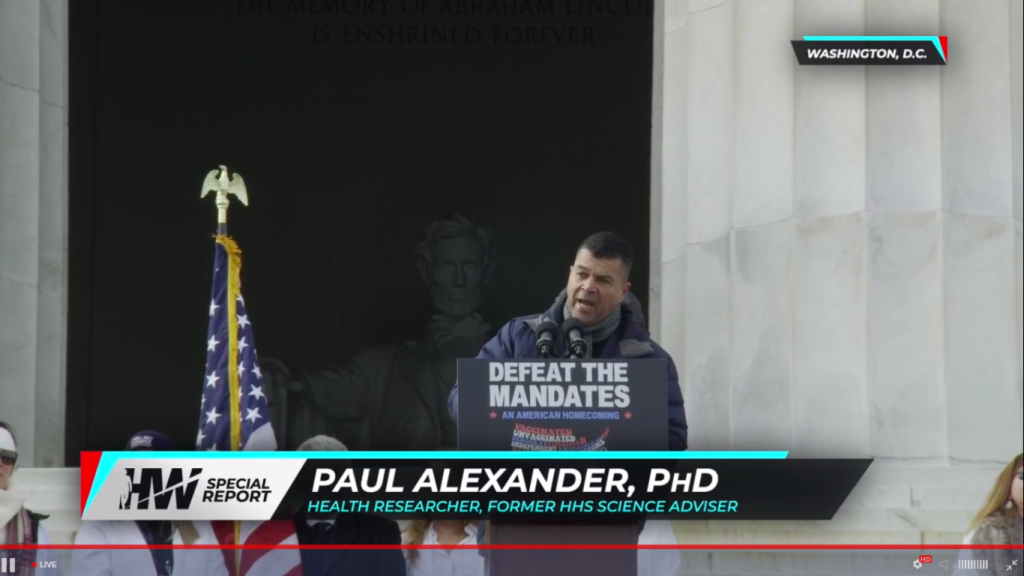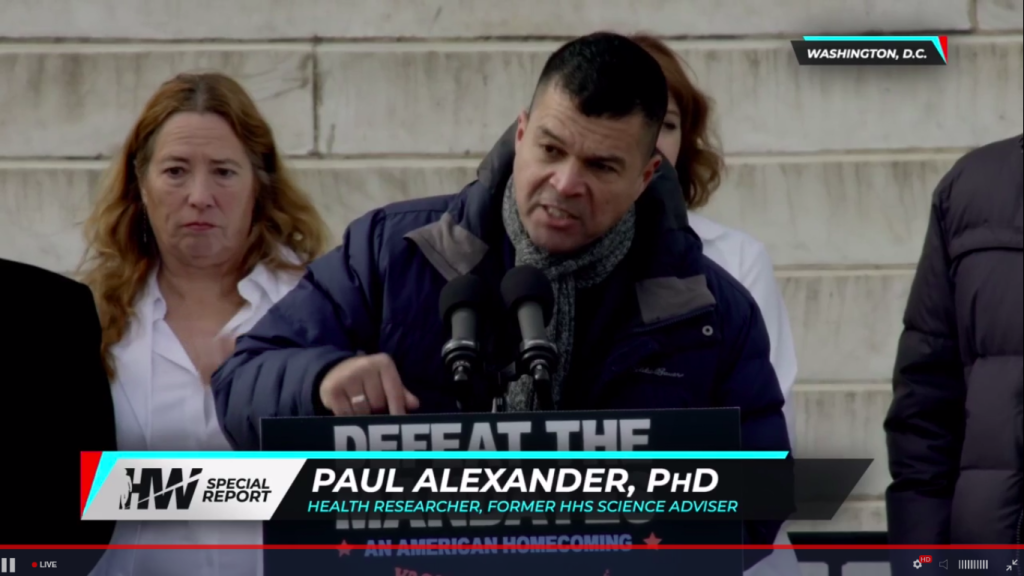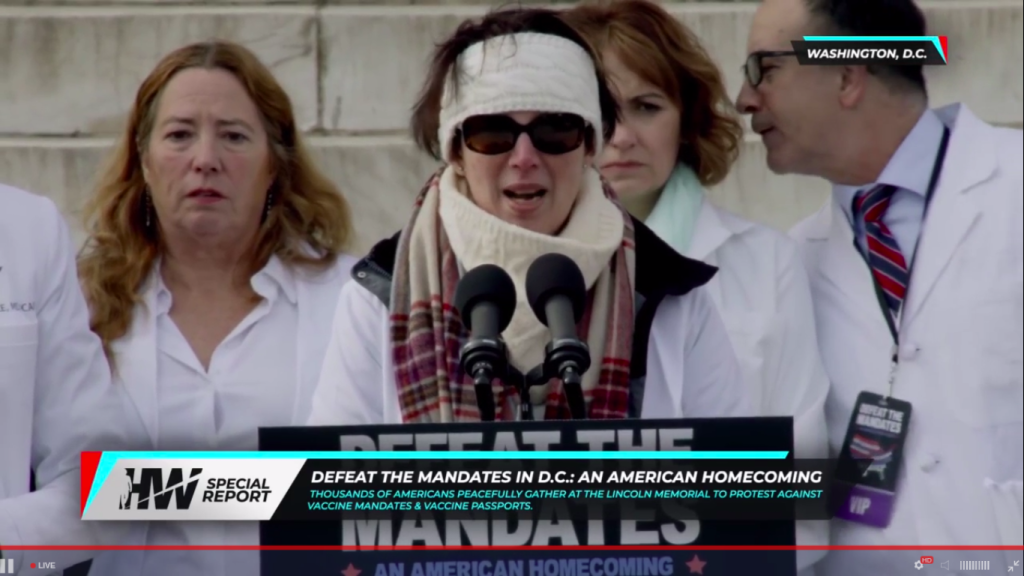 Looking for this lady's name!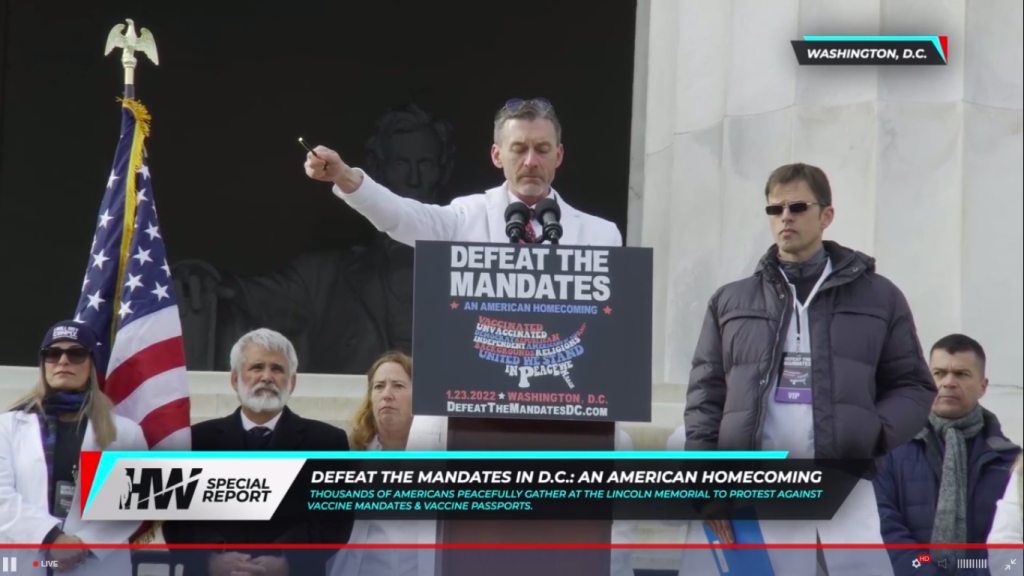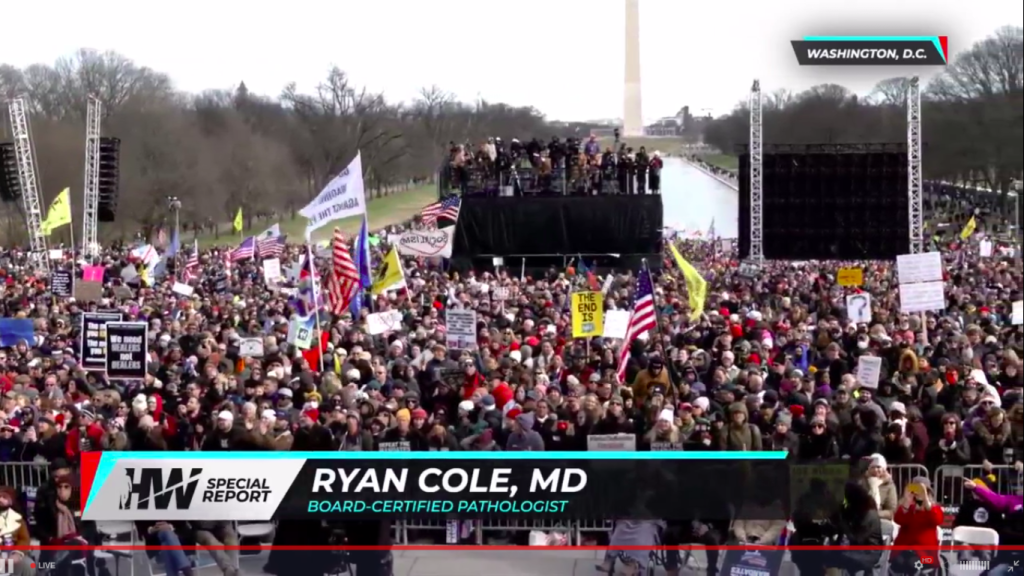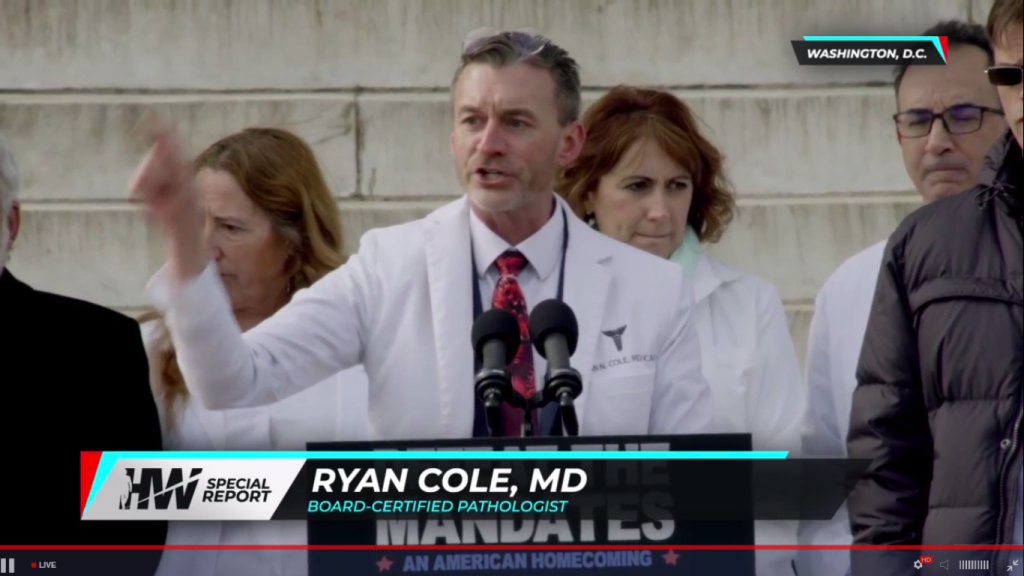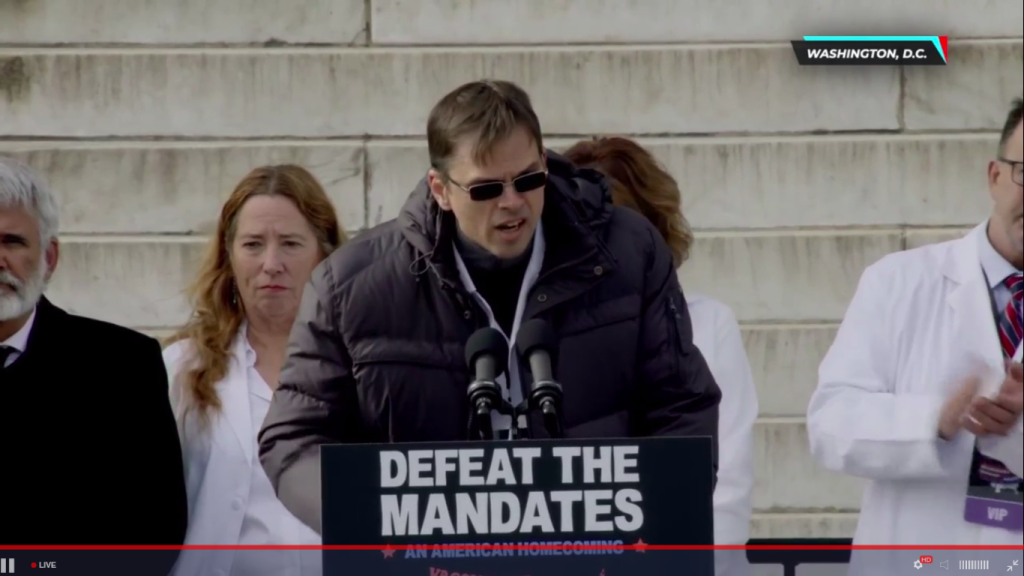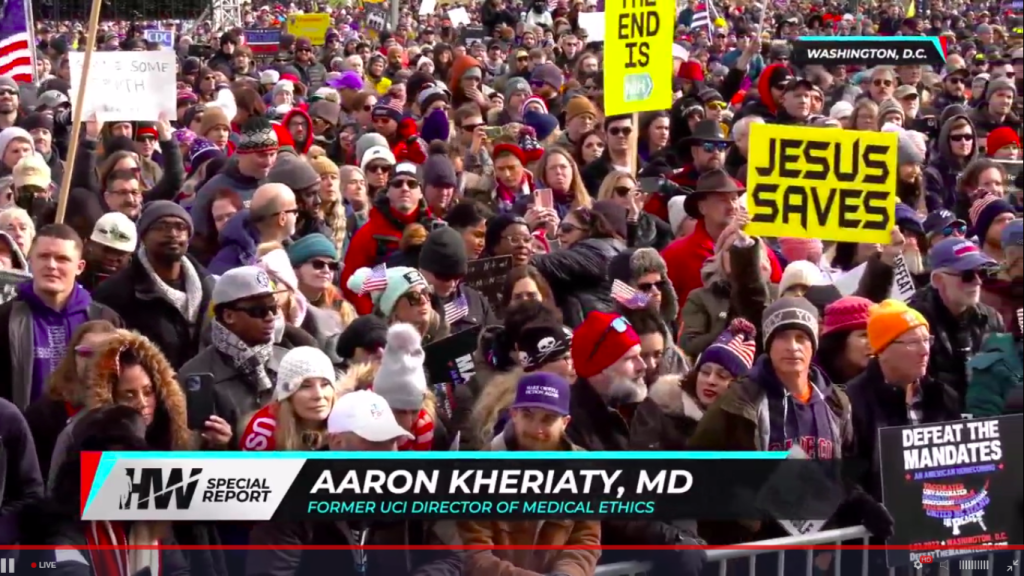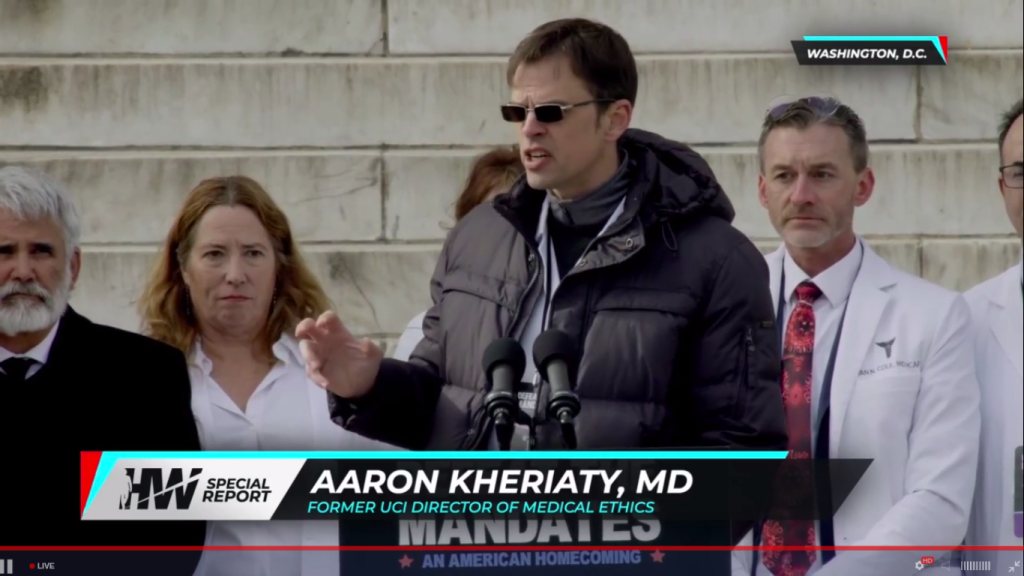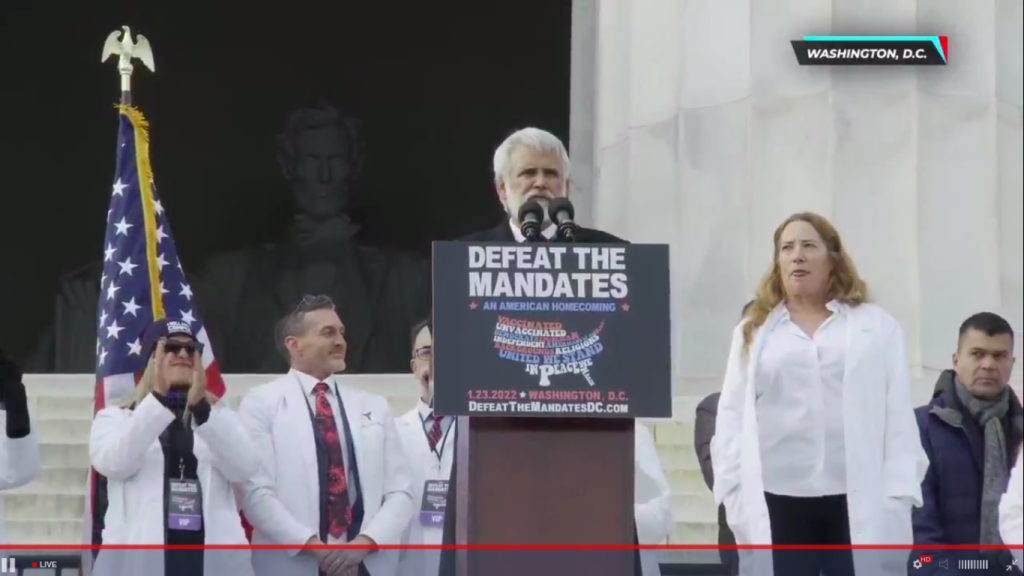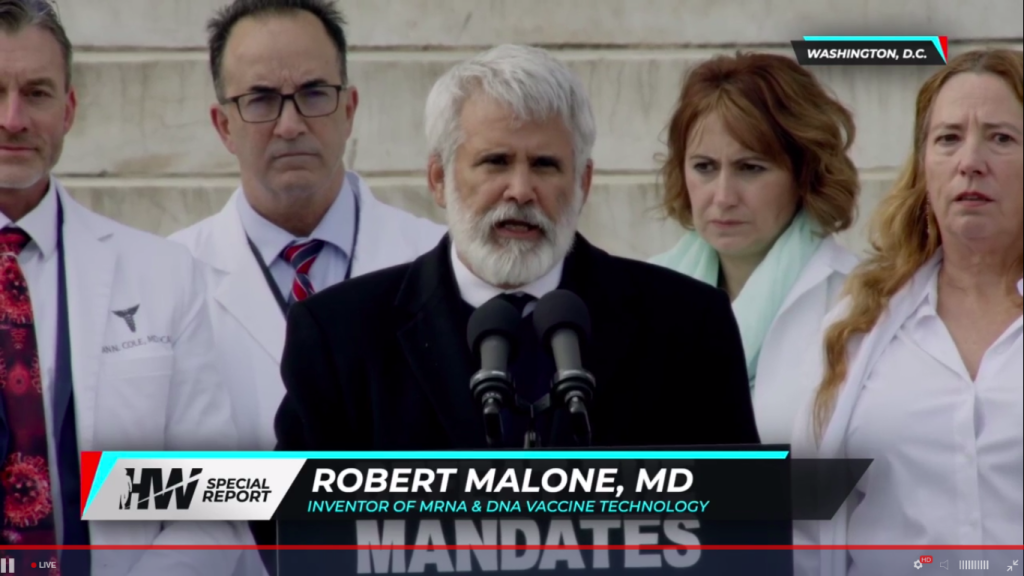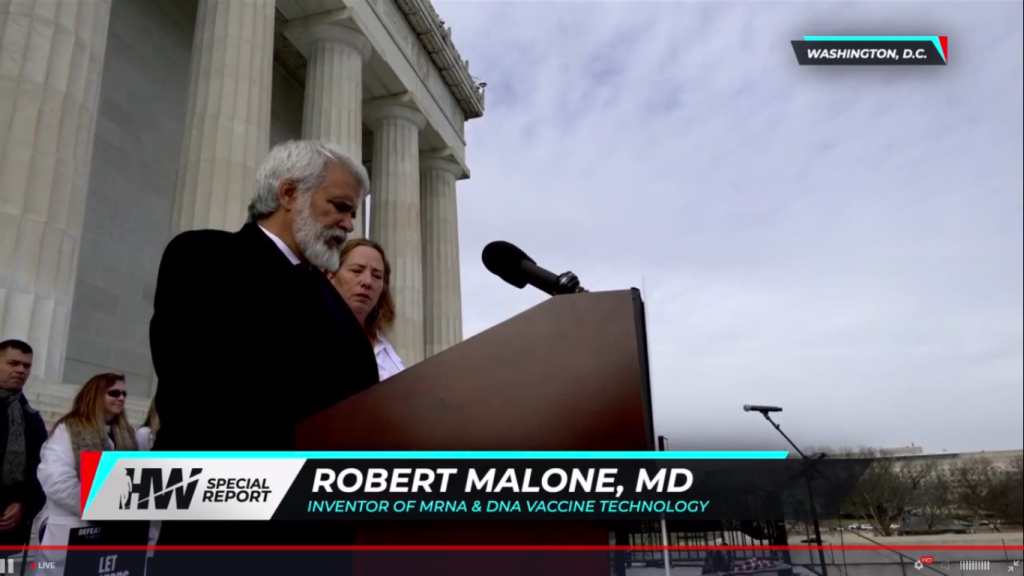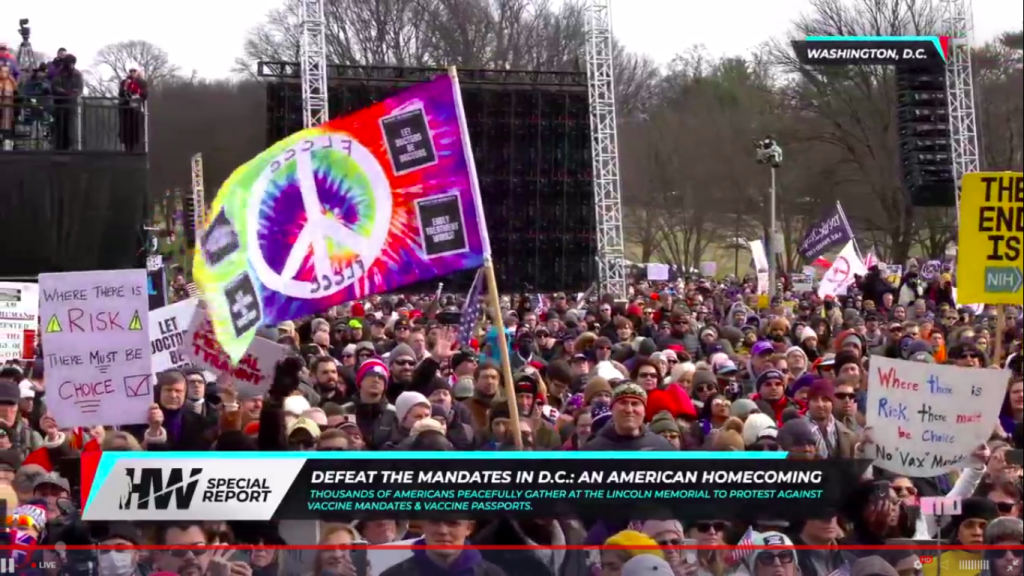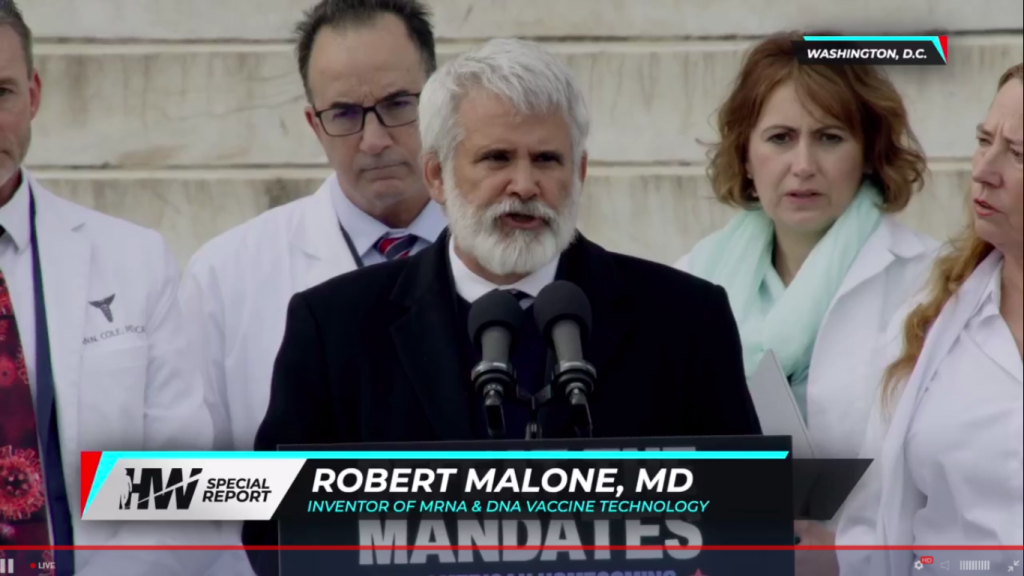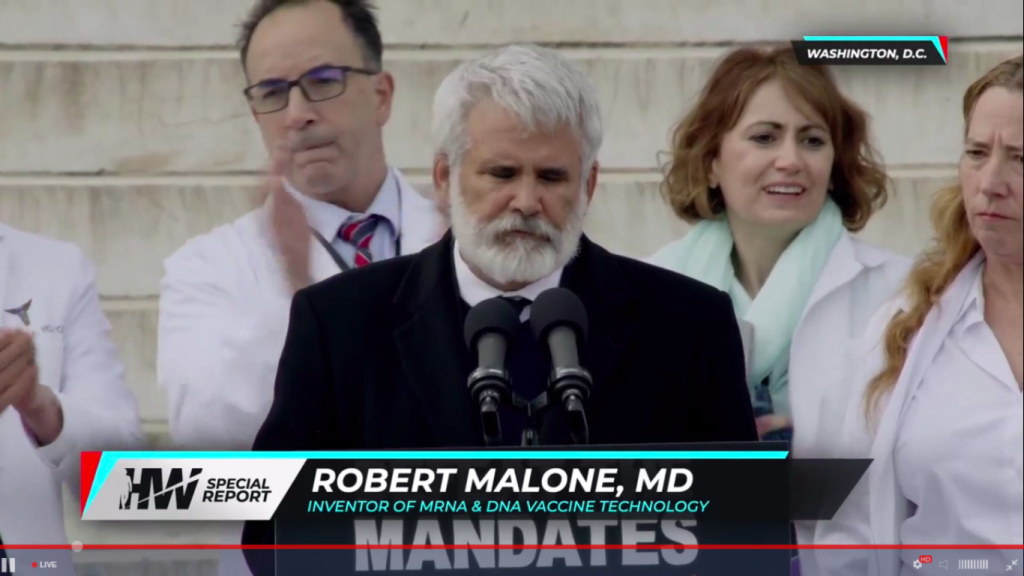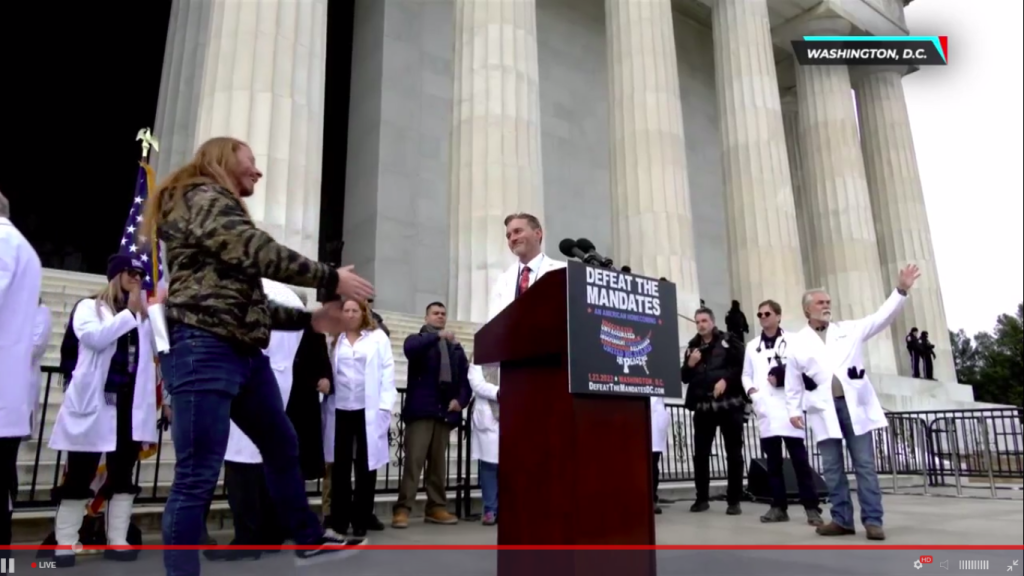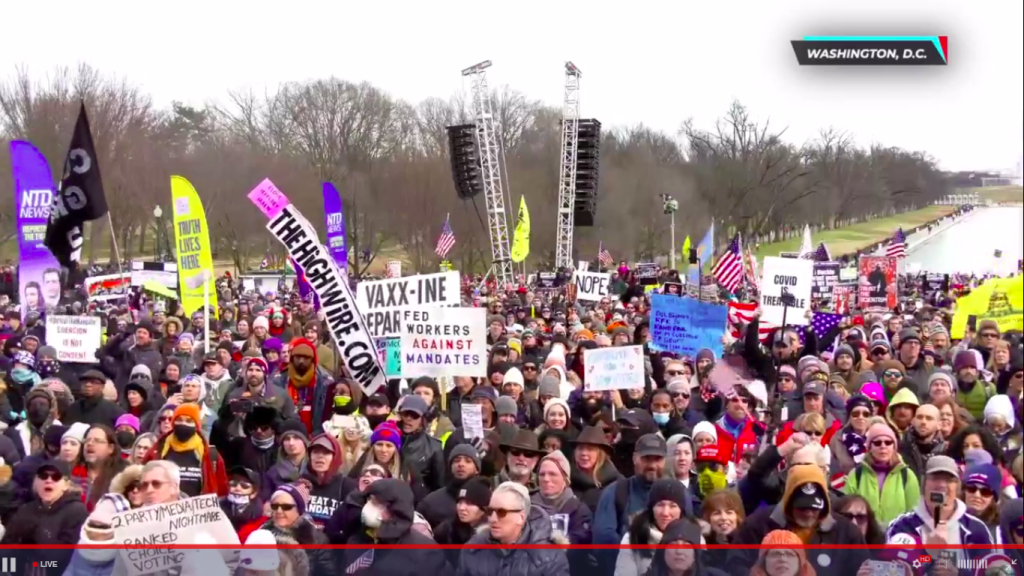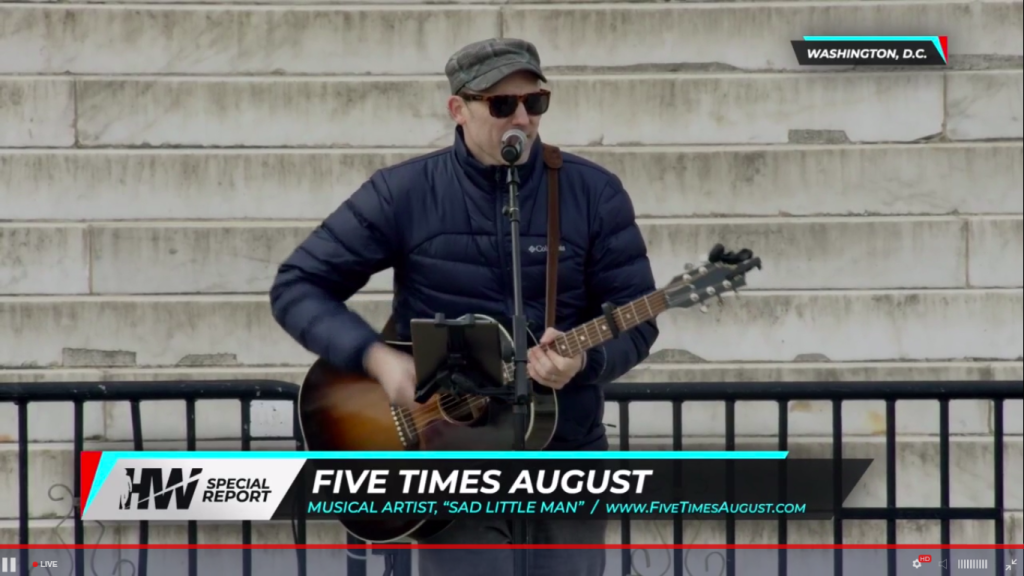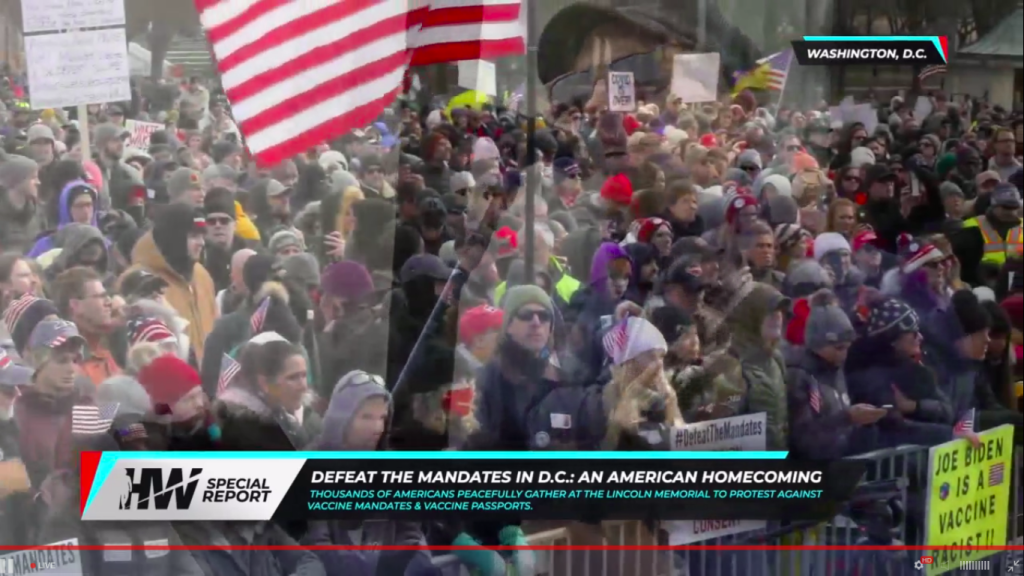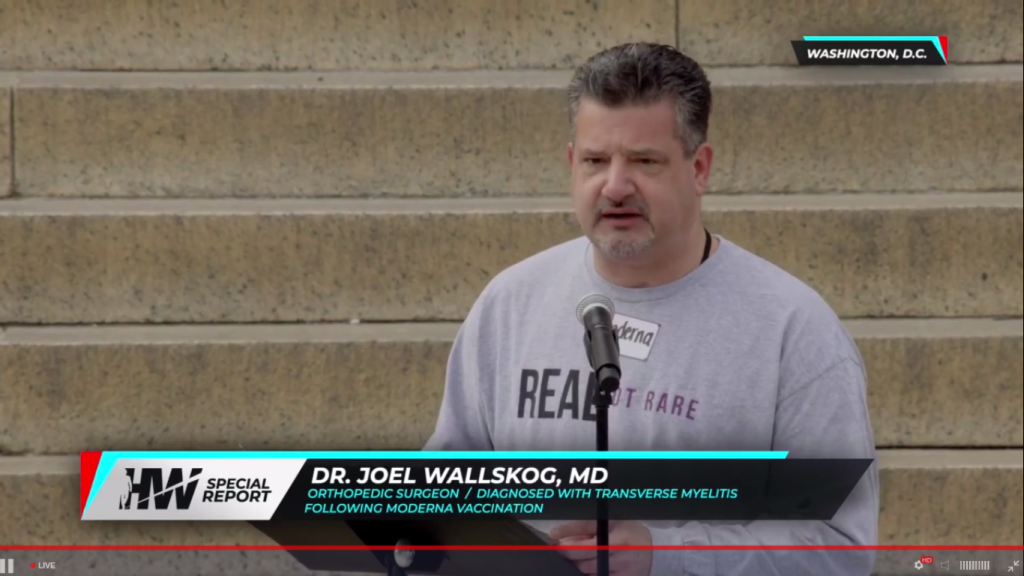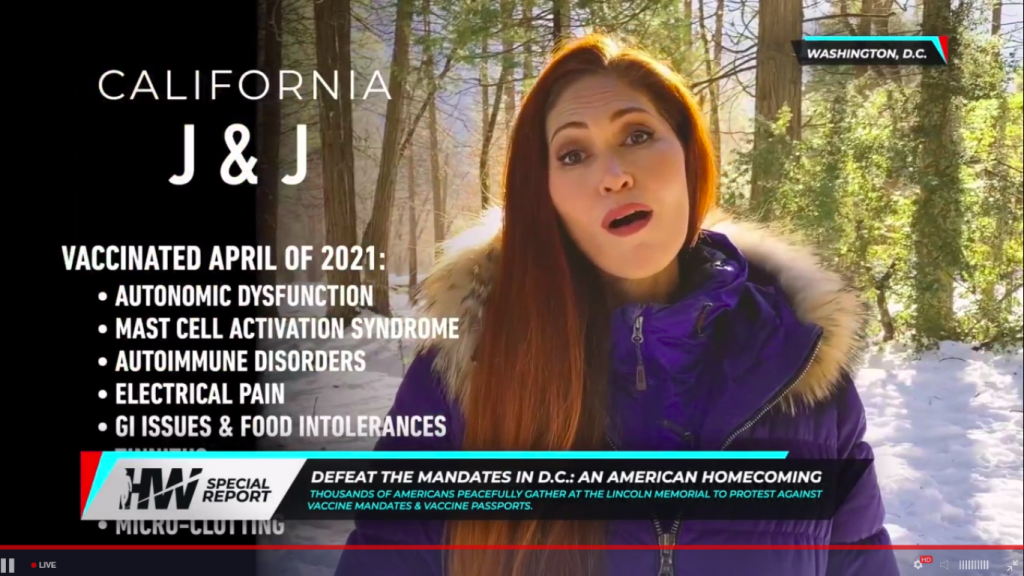 Looking for this gal's name, too!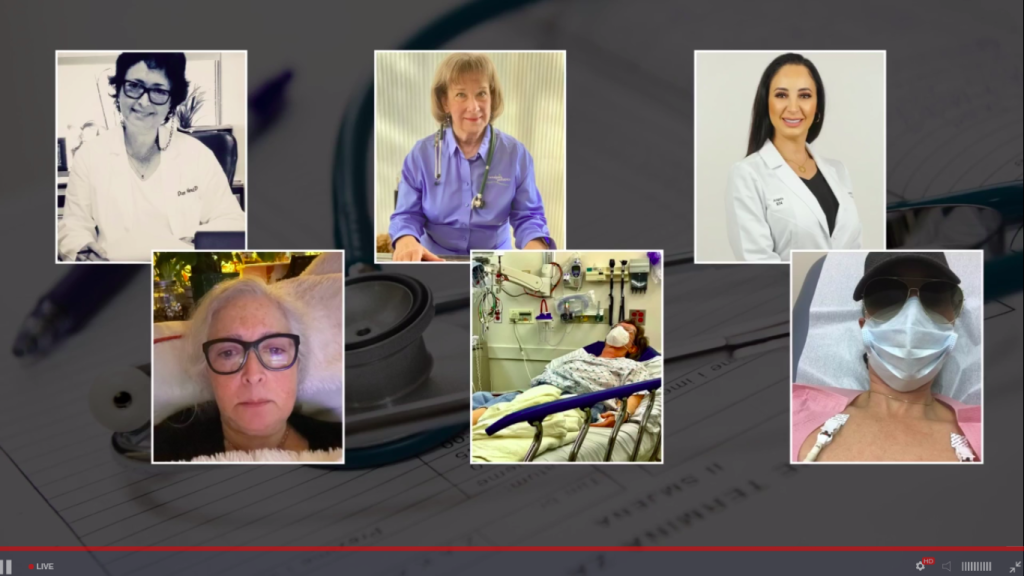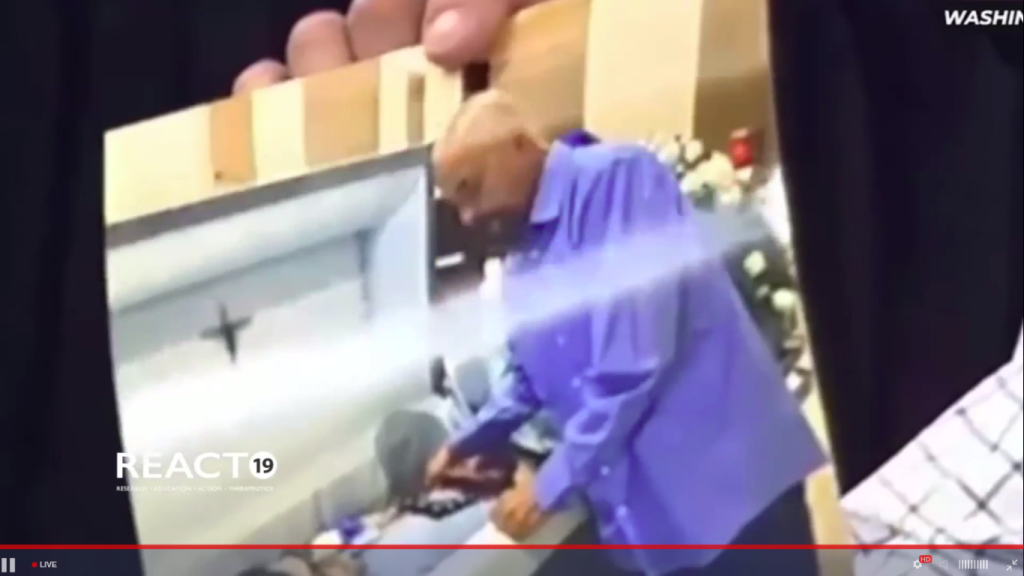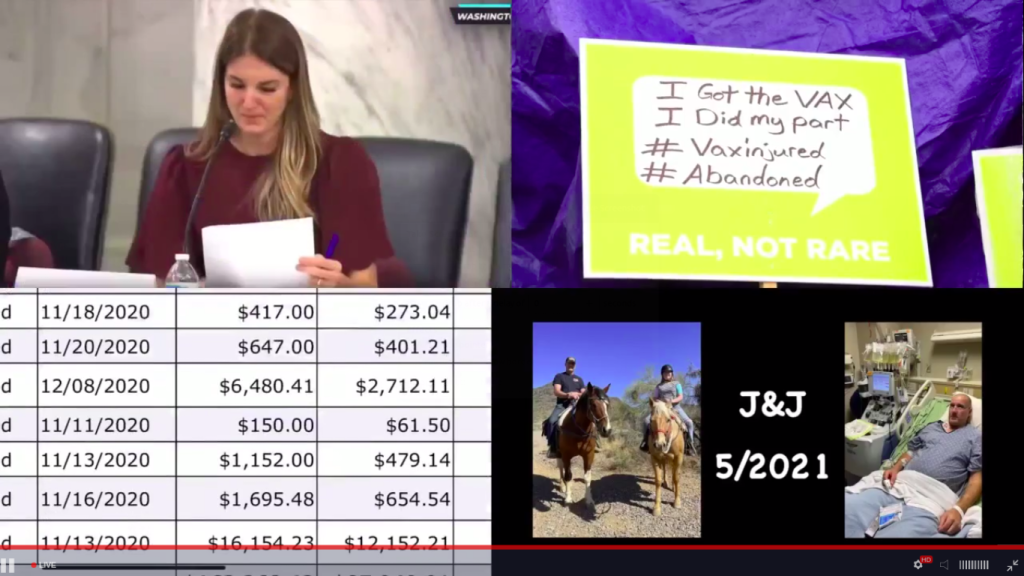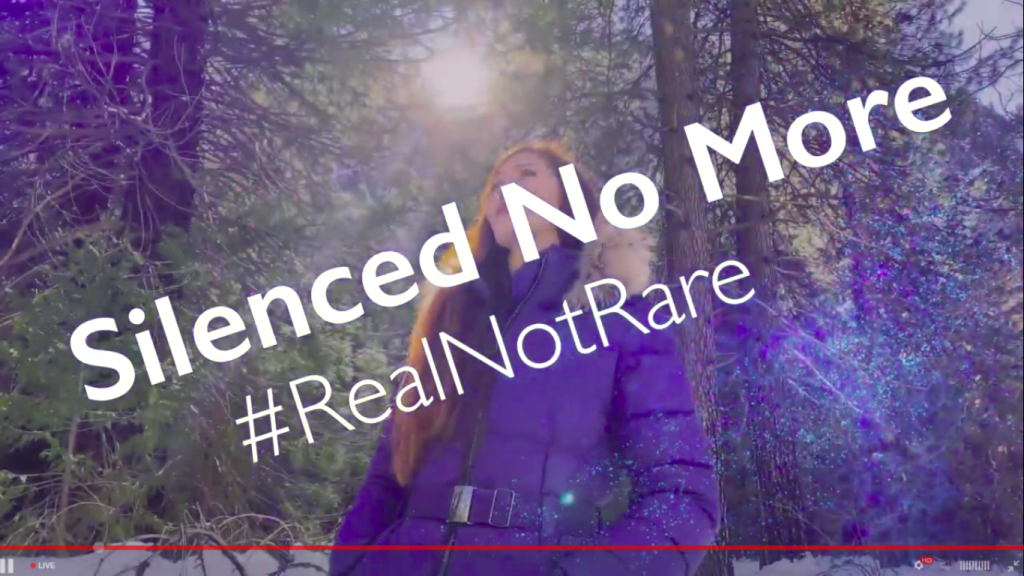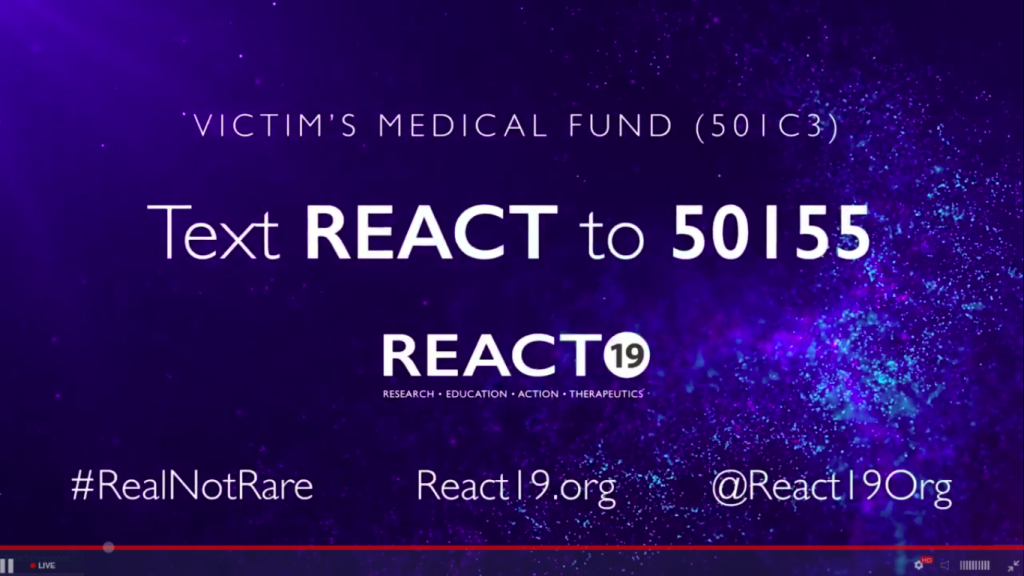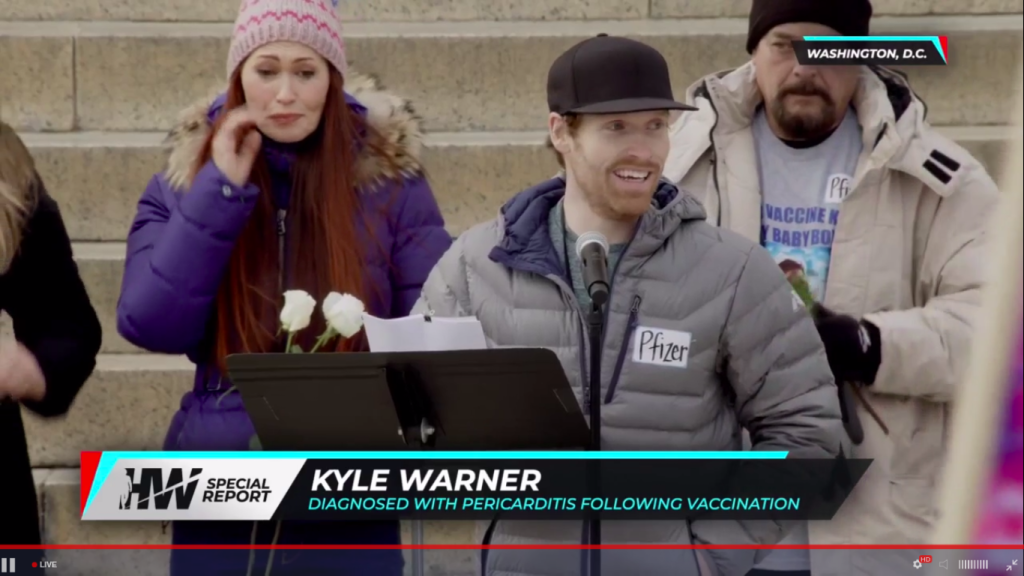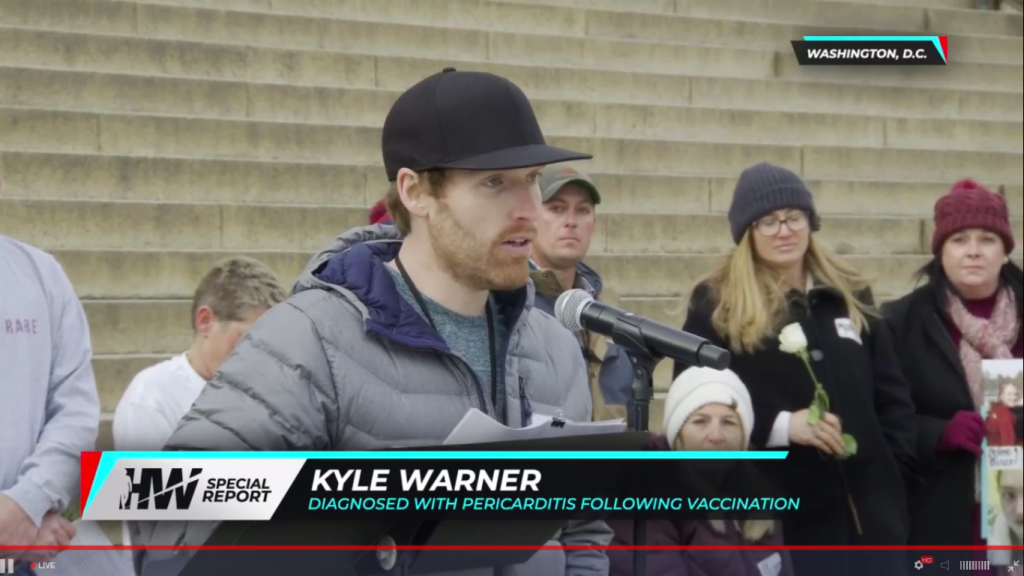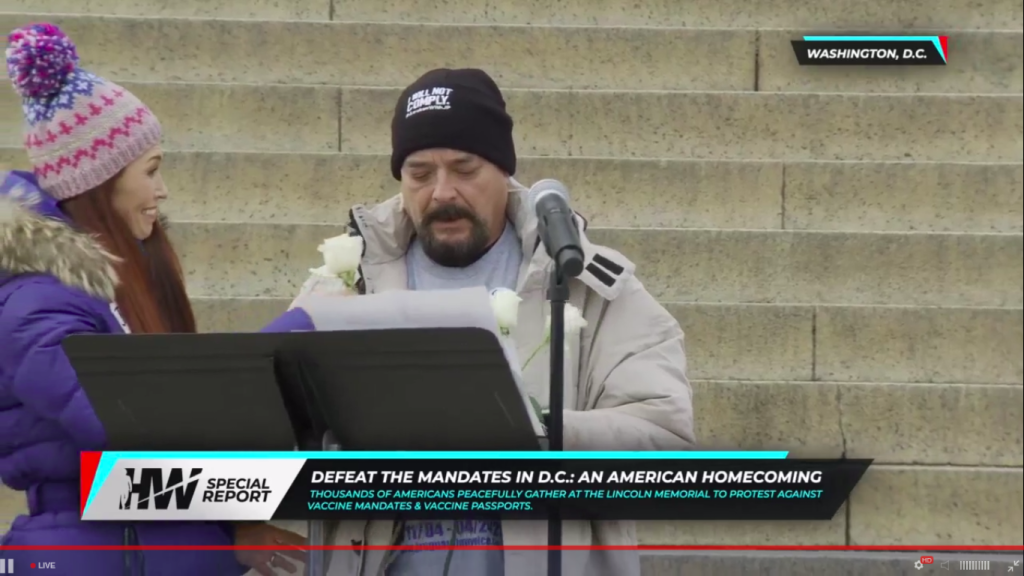 Ernest Ramirez (vaccine injured and lost son)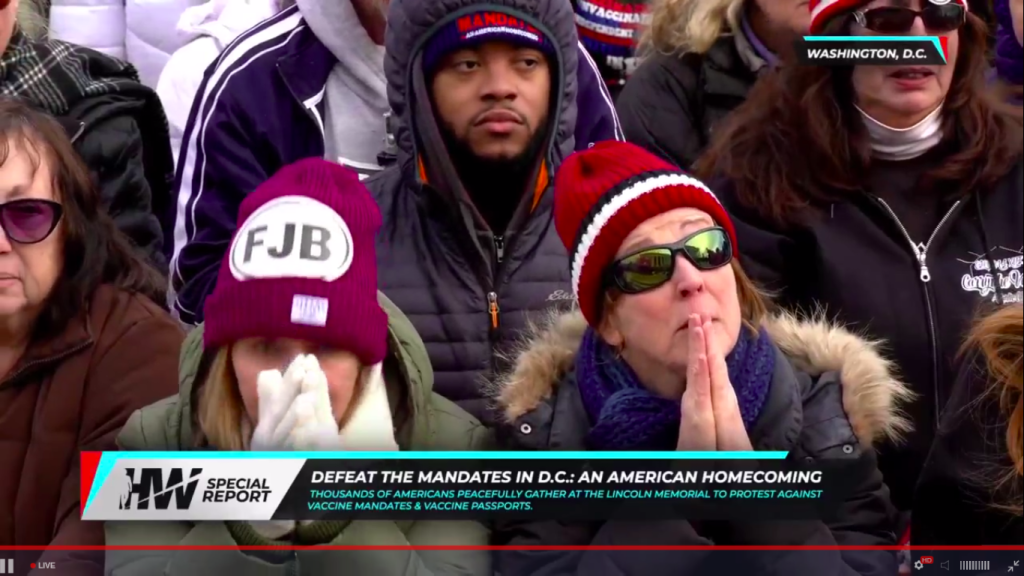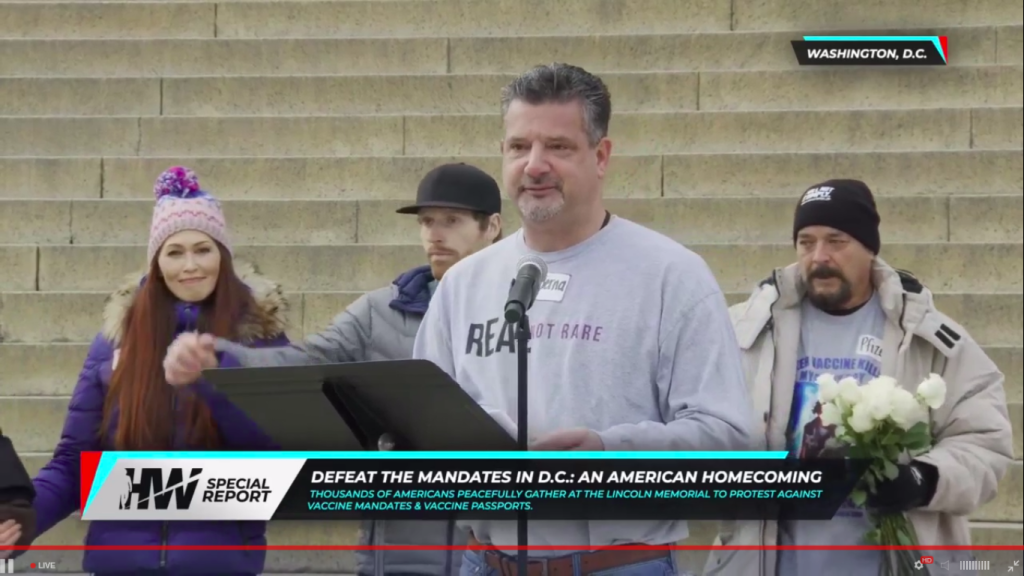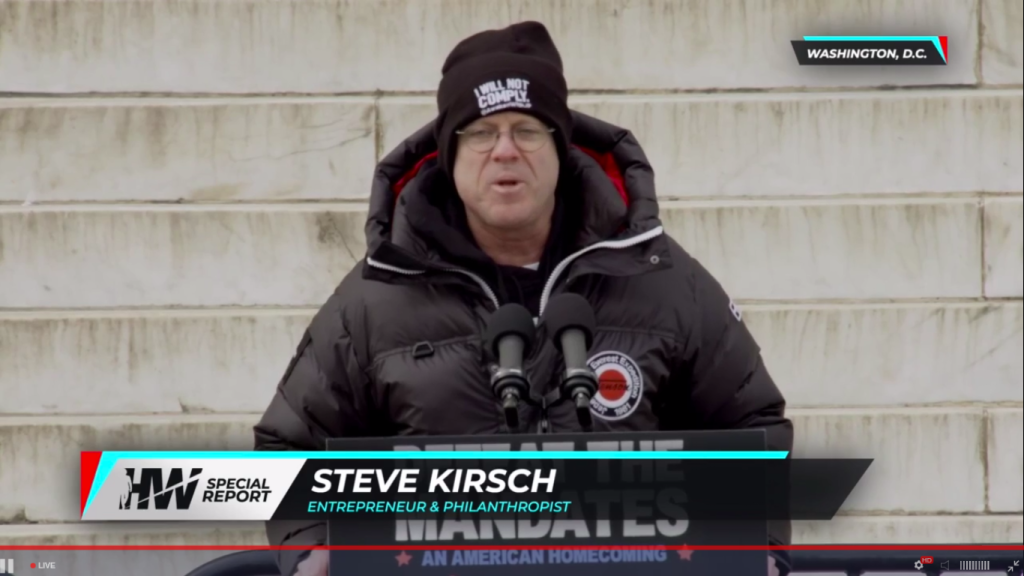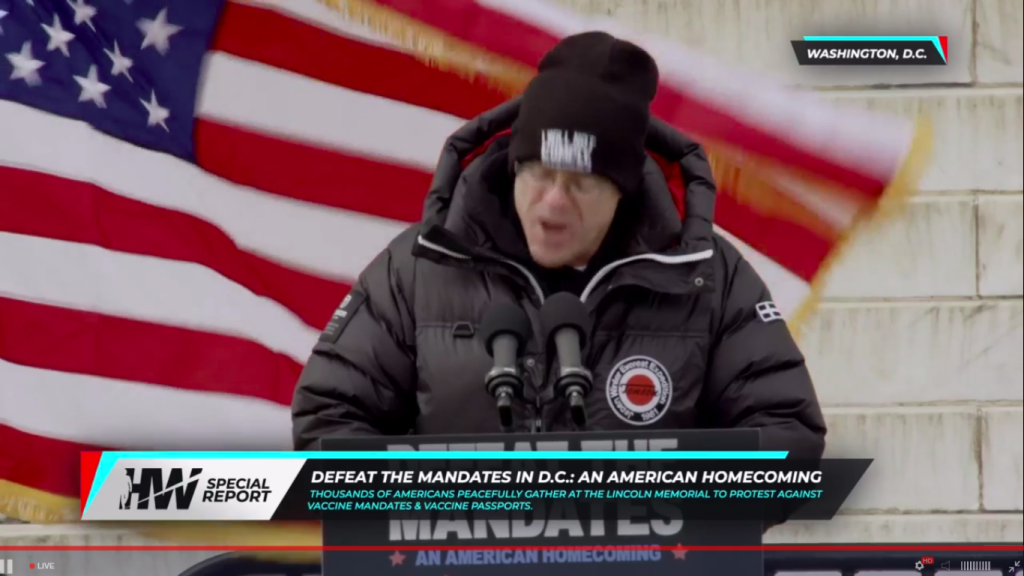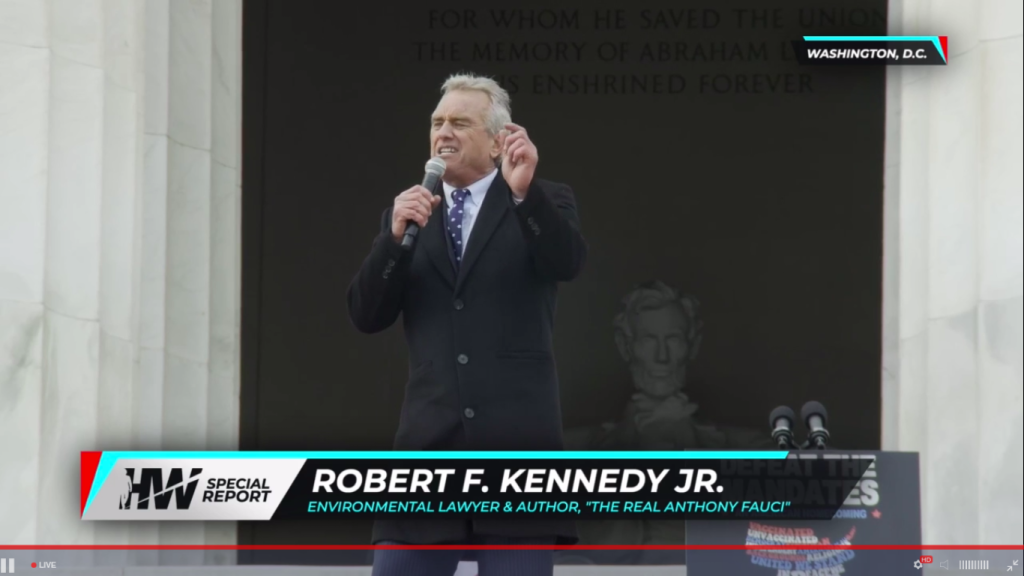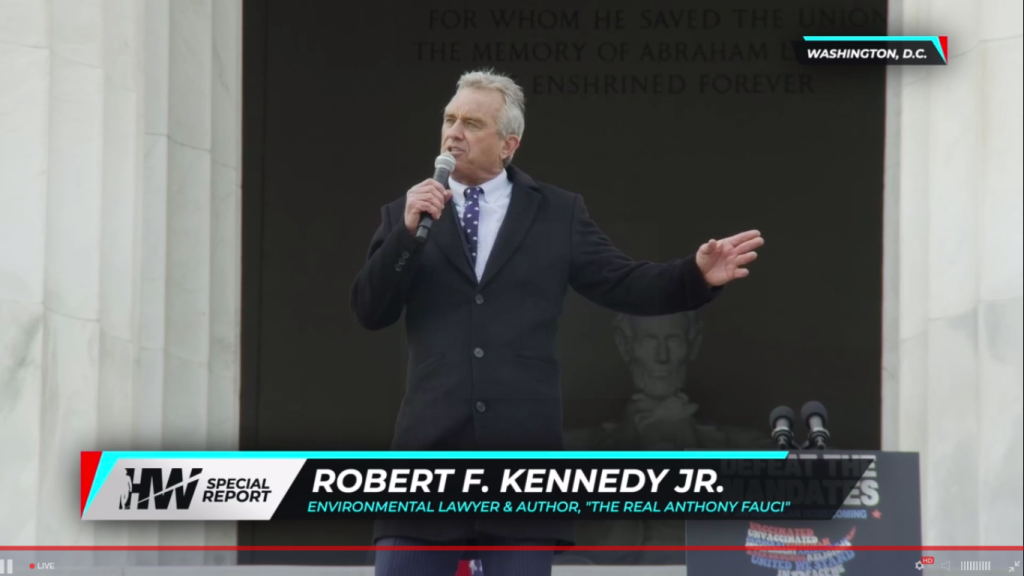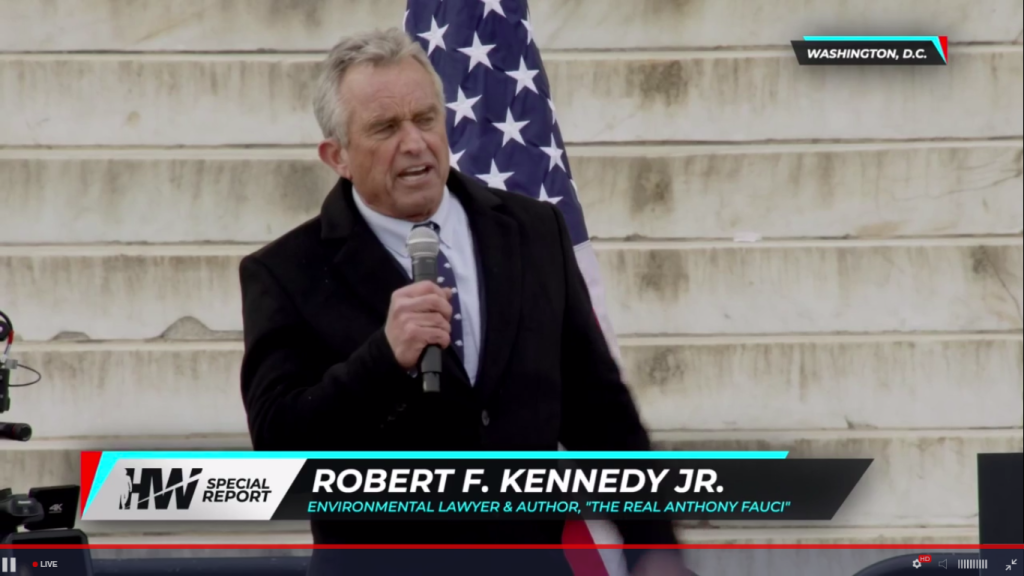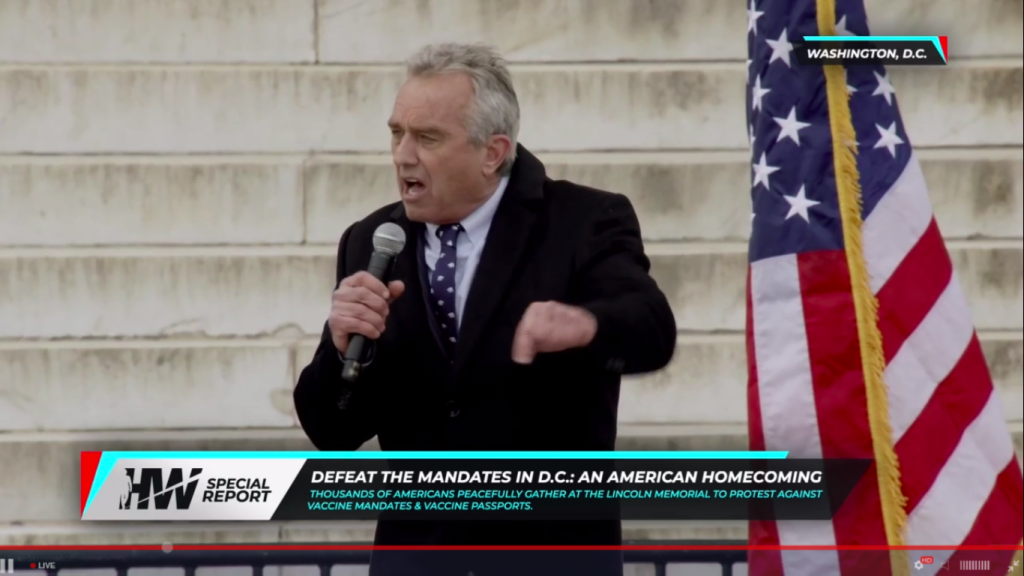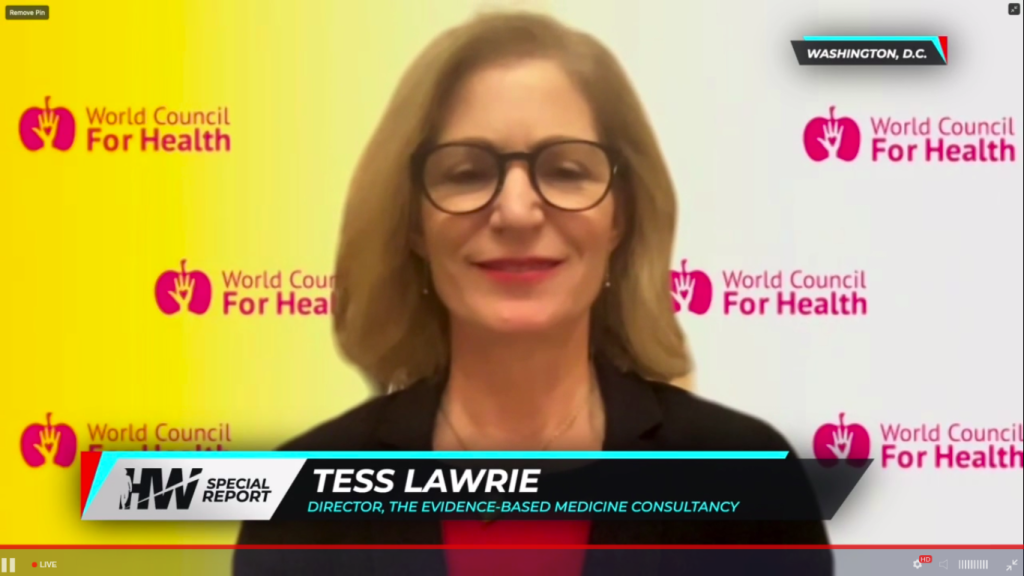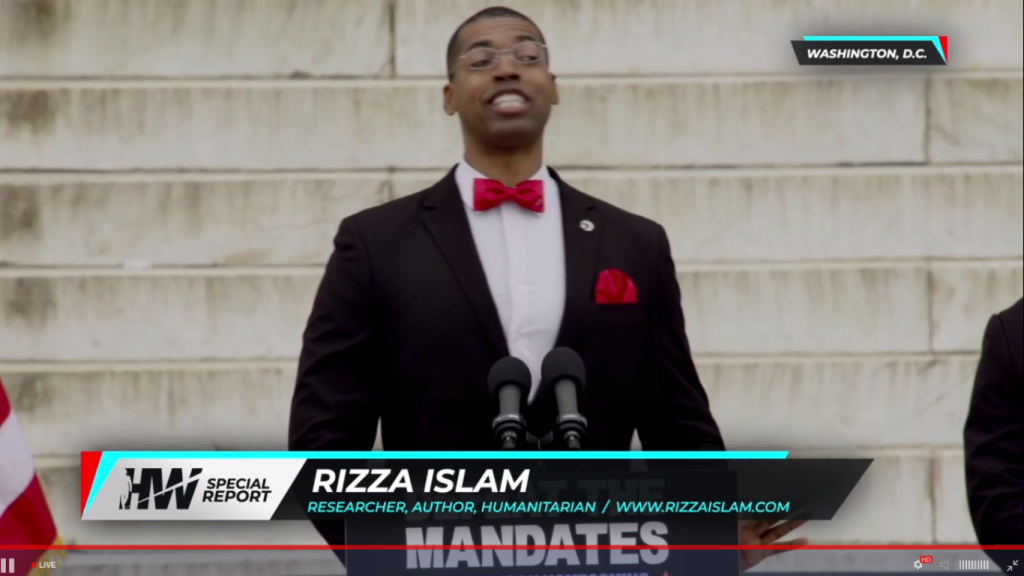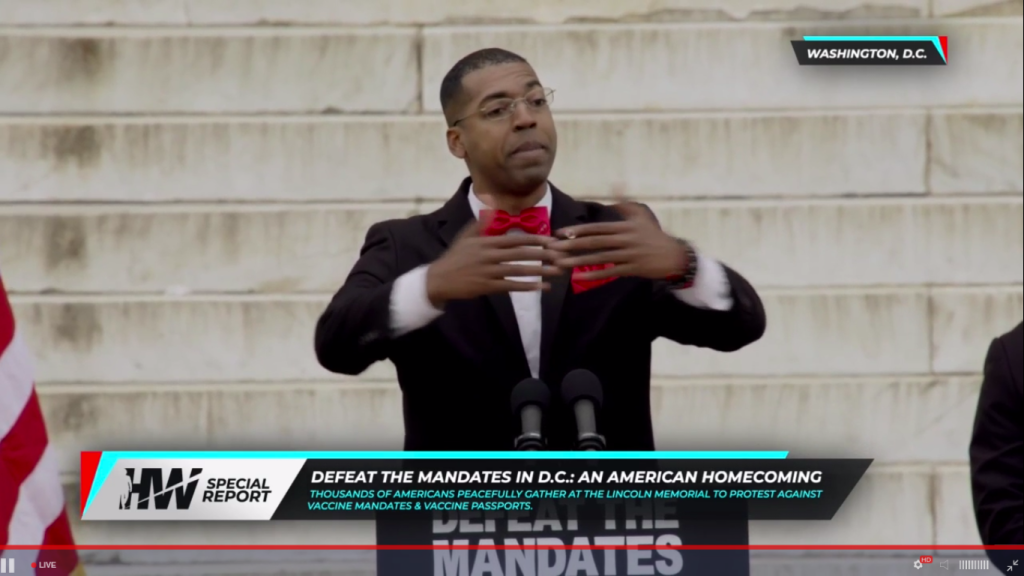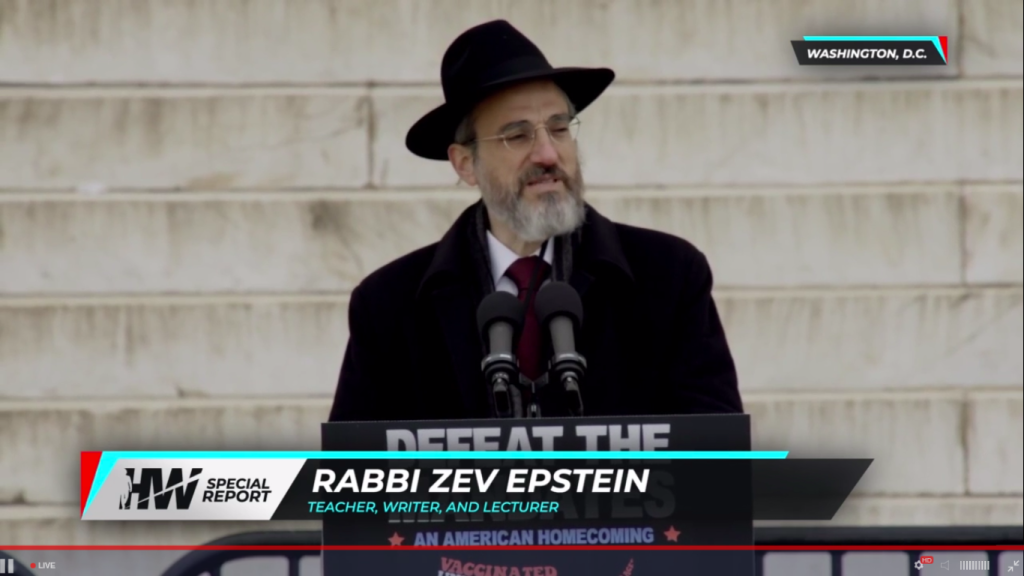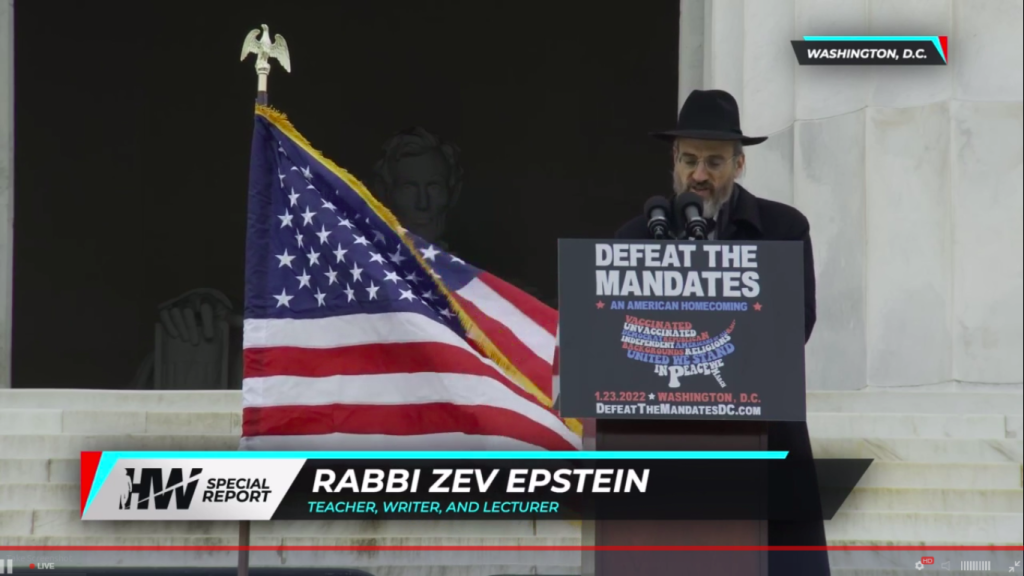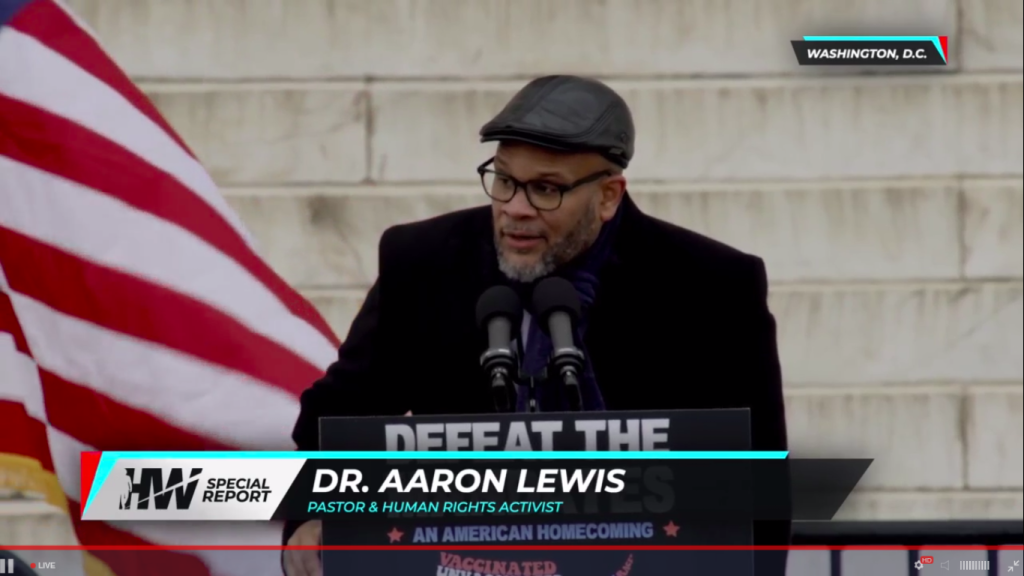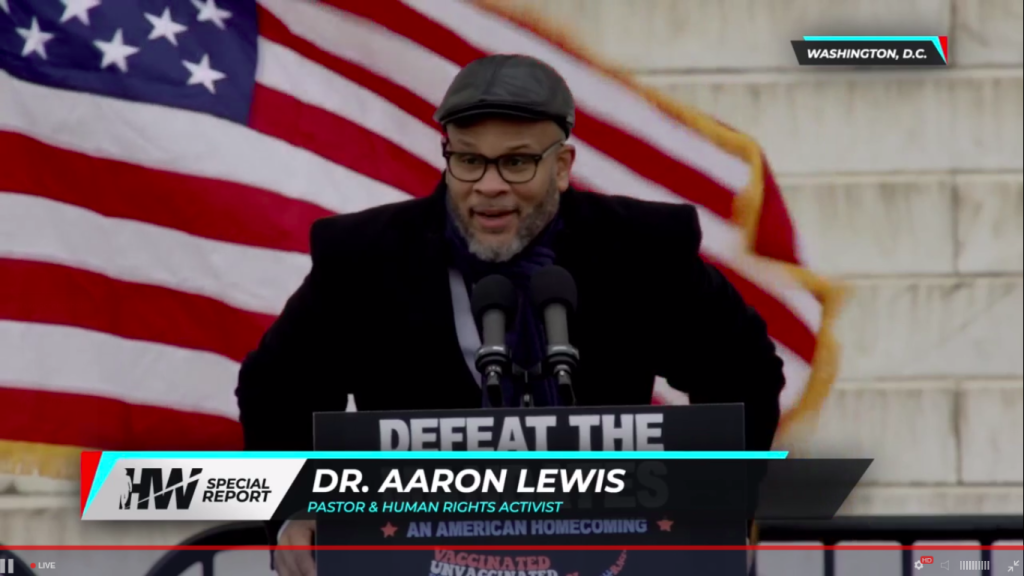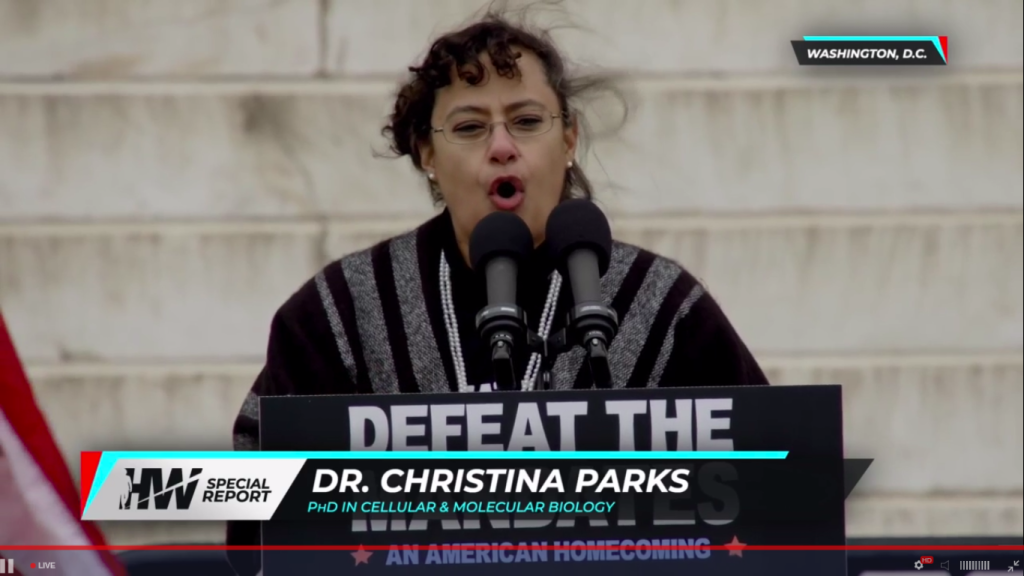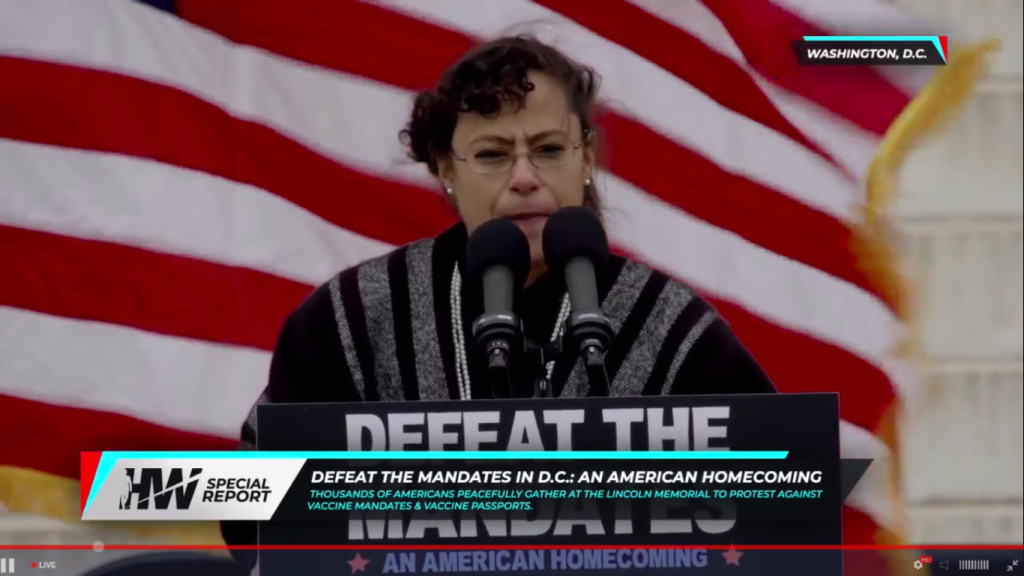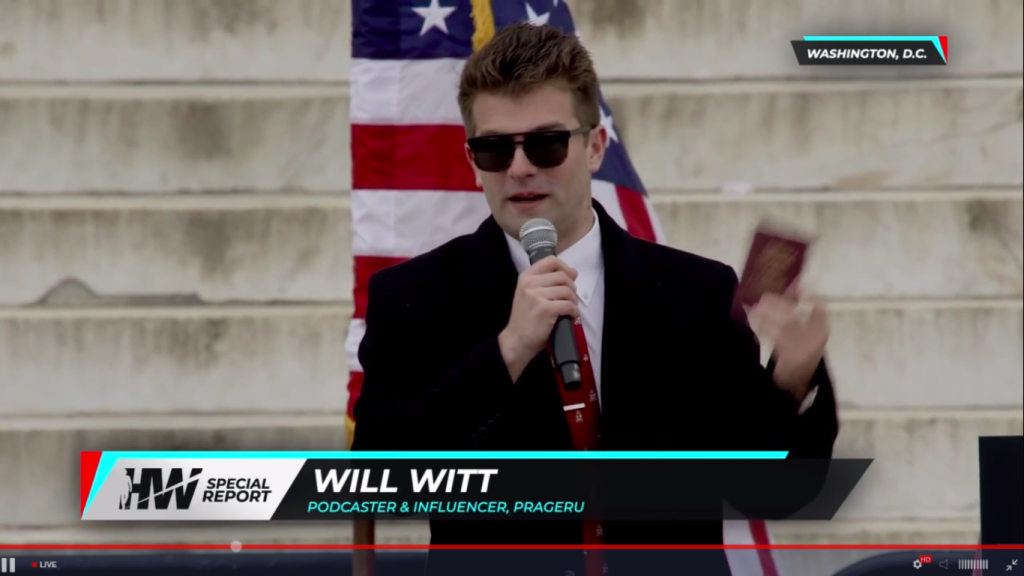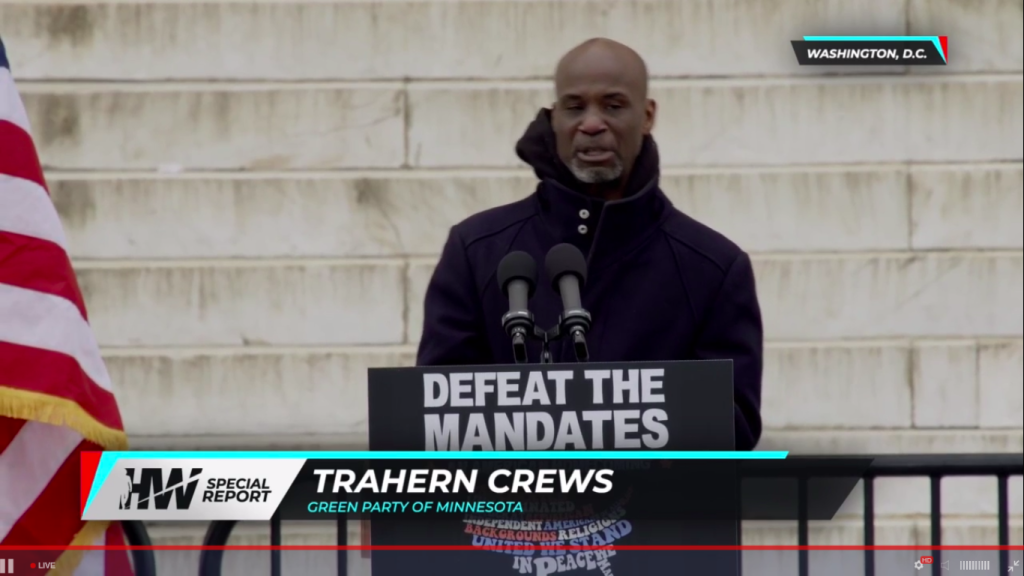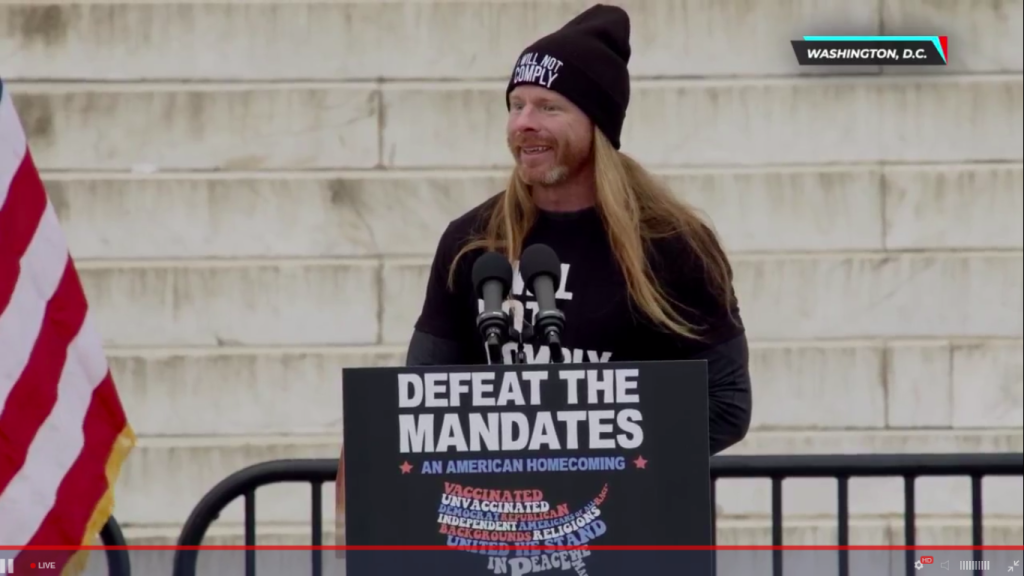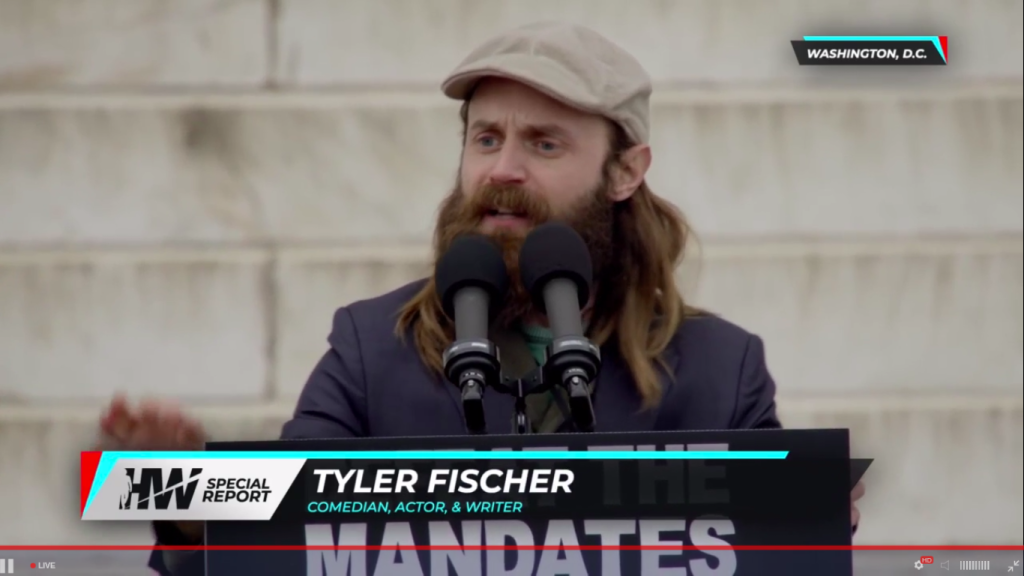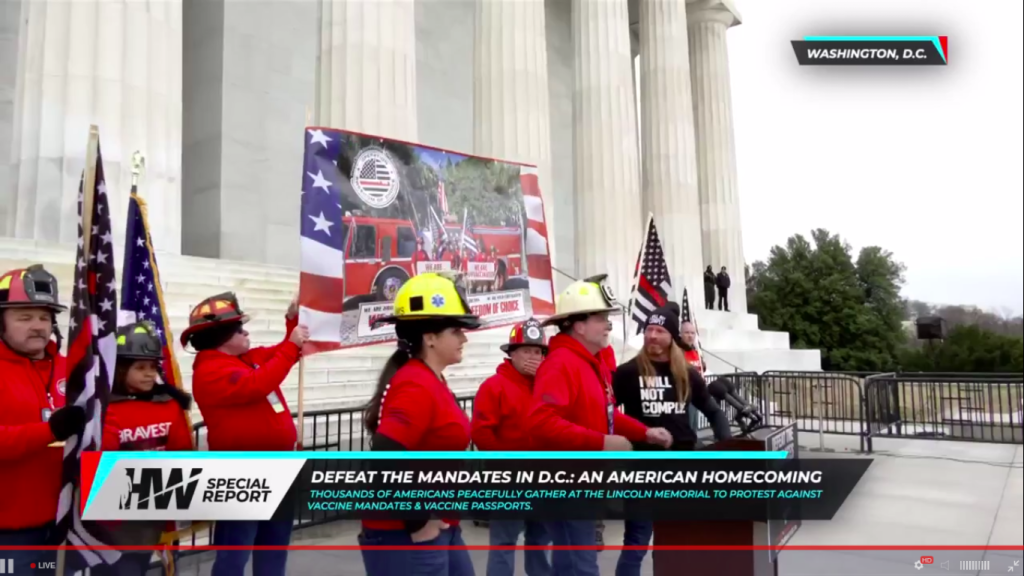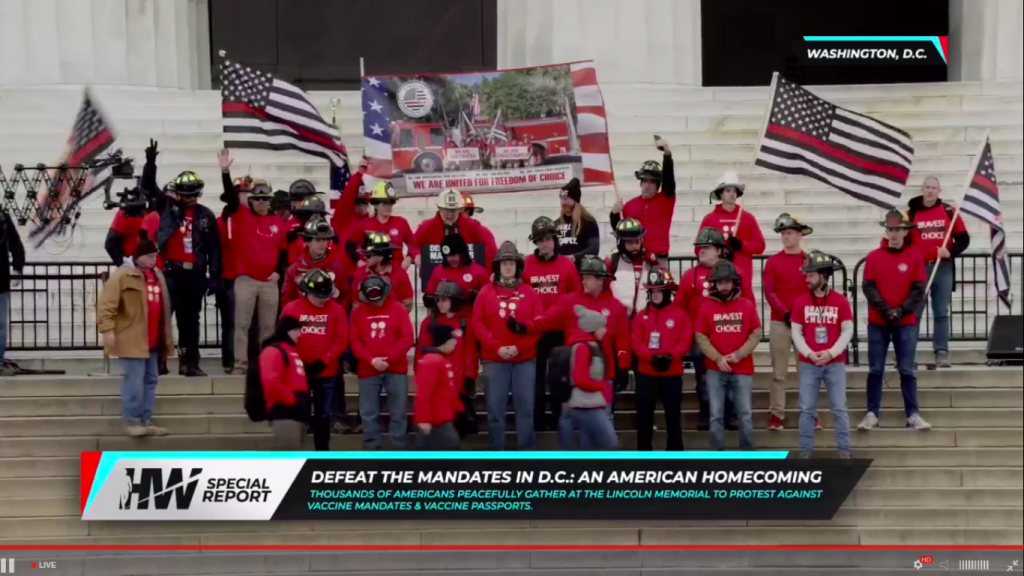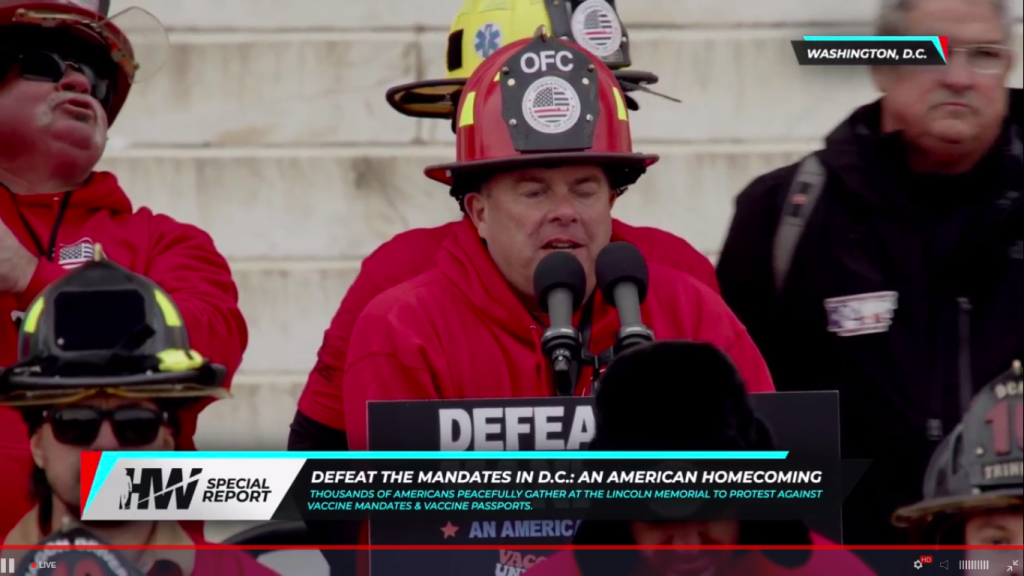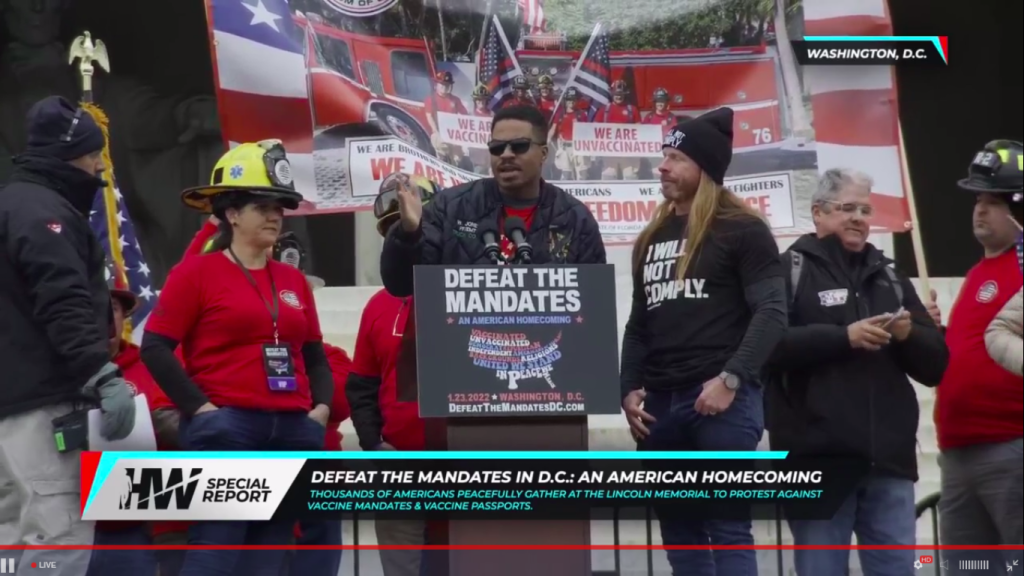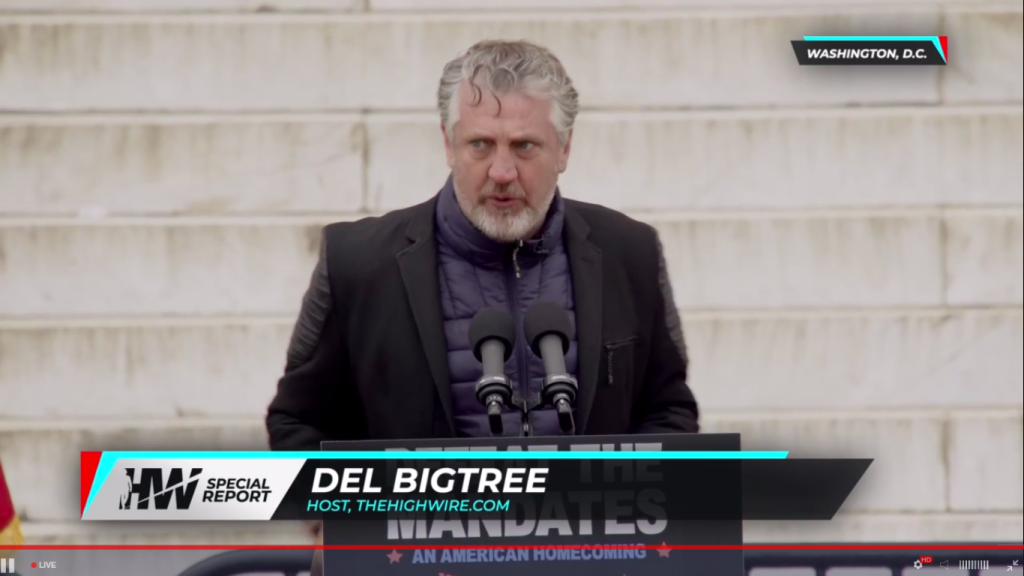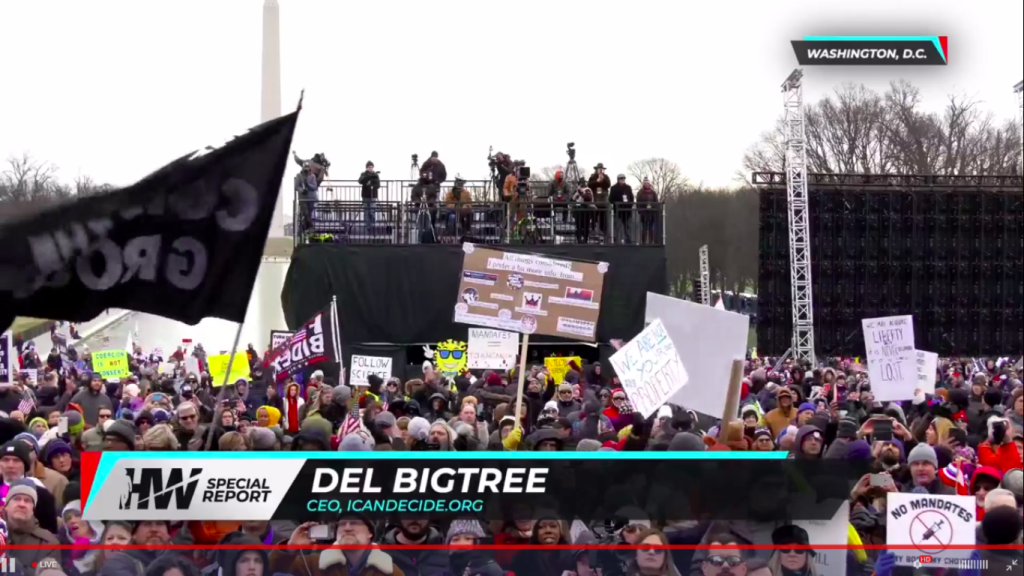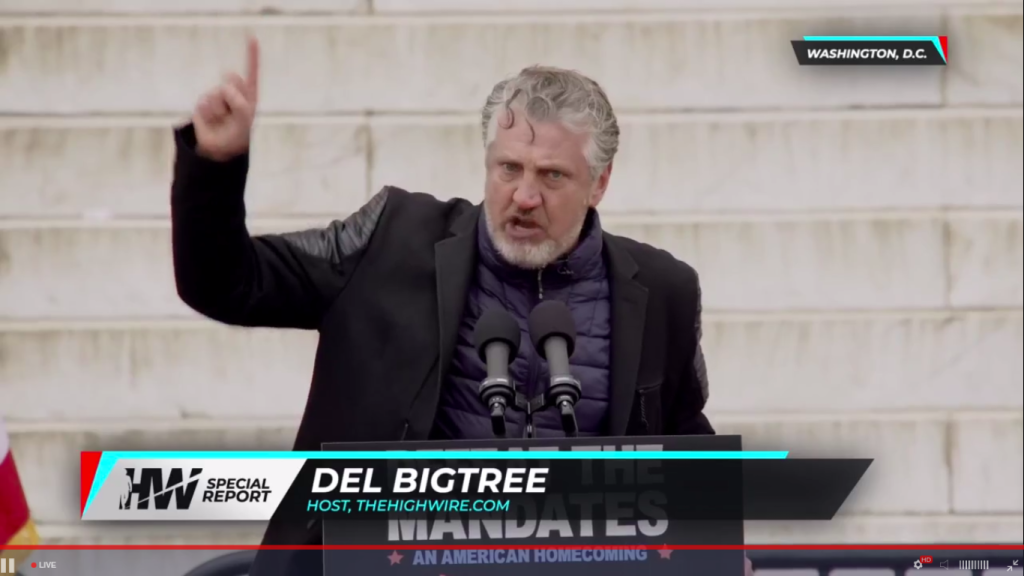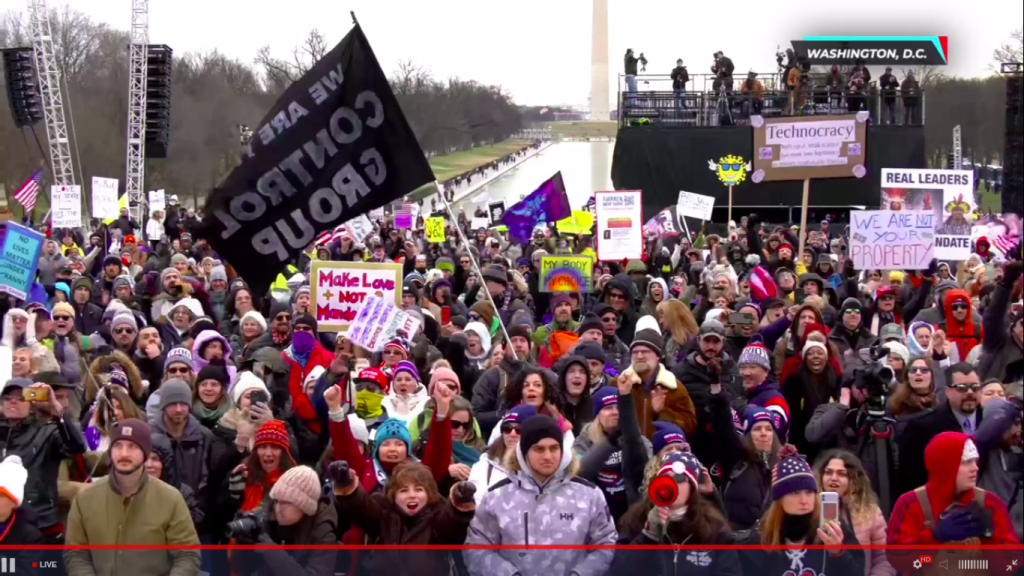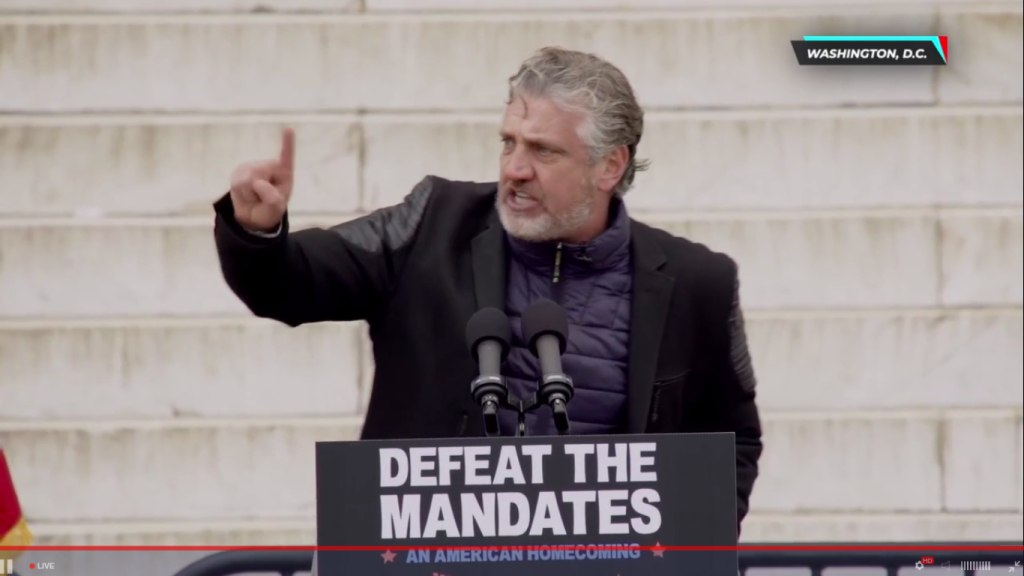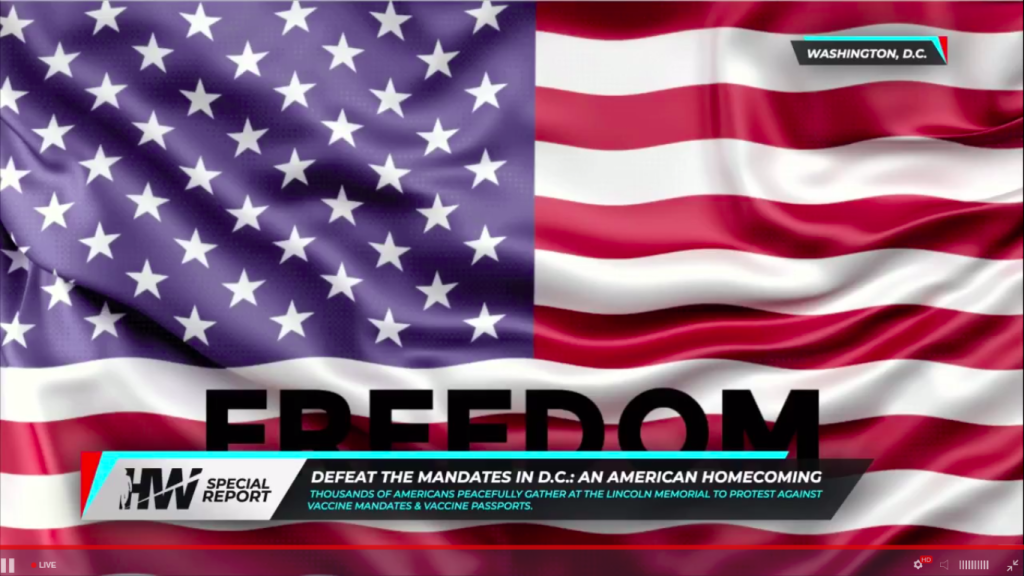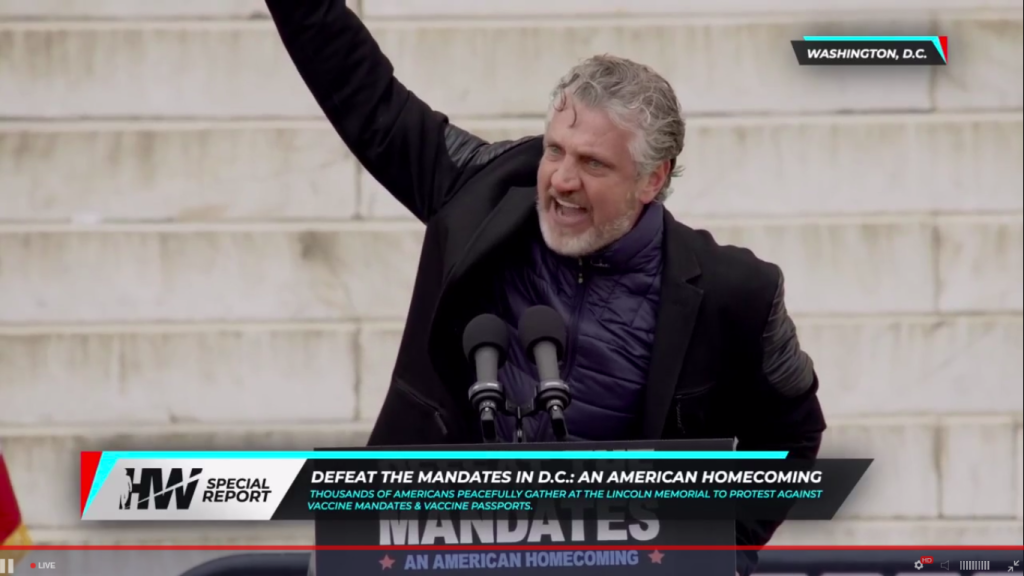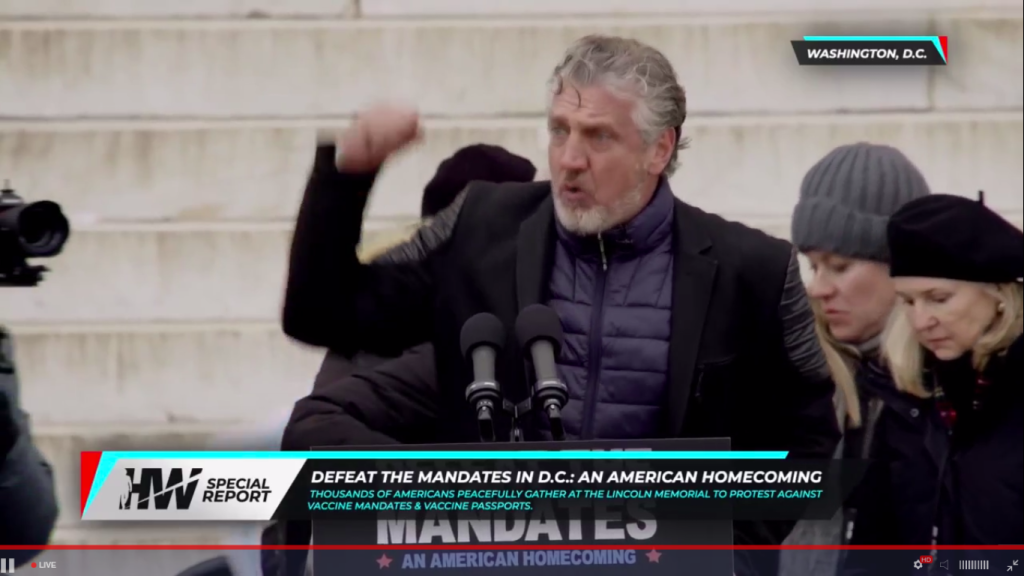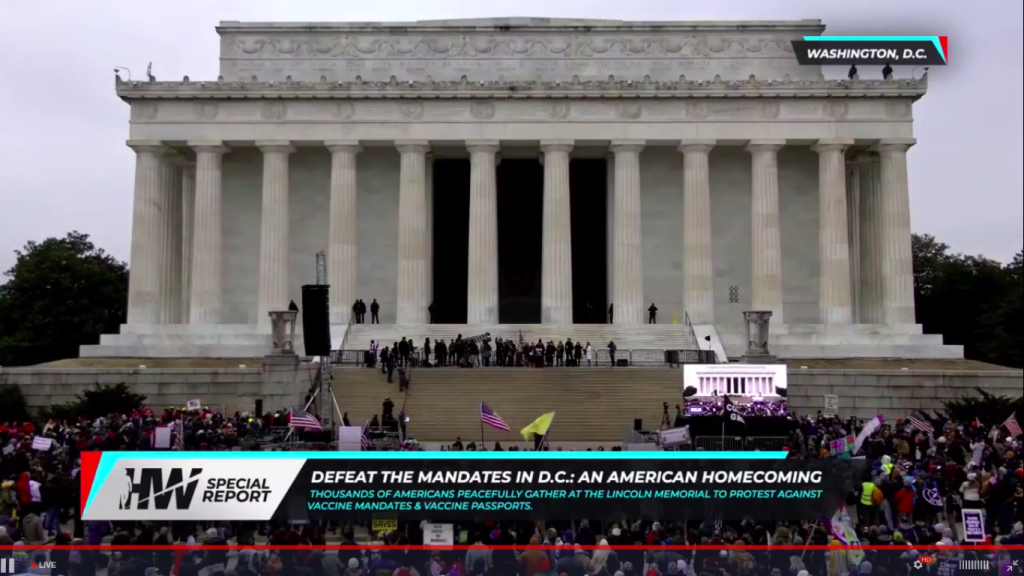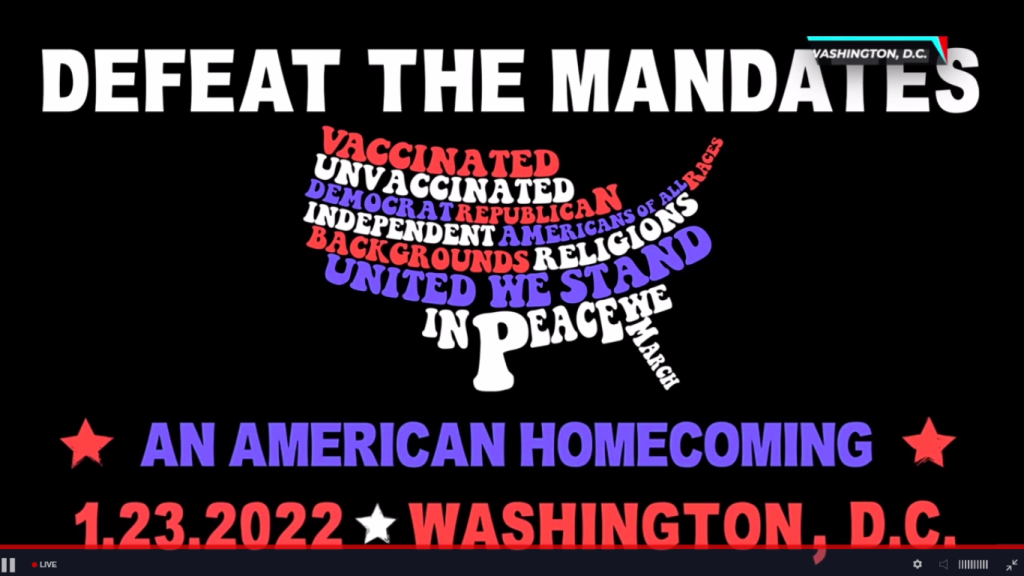 ---
And over in the corner, THIS RIGHTEOUS RANT is playing on a loop on our FREEDOM TV.
If you haven't seen it, watch it. If you have seen it, watch it AGAIN!
Finally, you can watch the entire video HERE:
From: https://thehighwire.com/watch/
And now for our feature presentation…..
---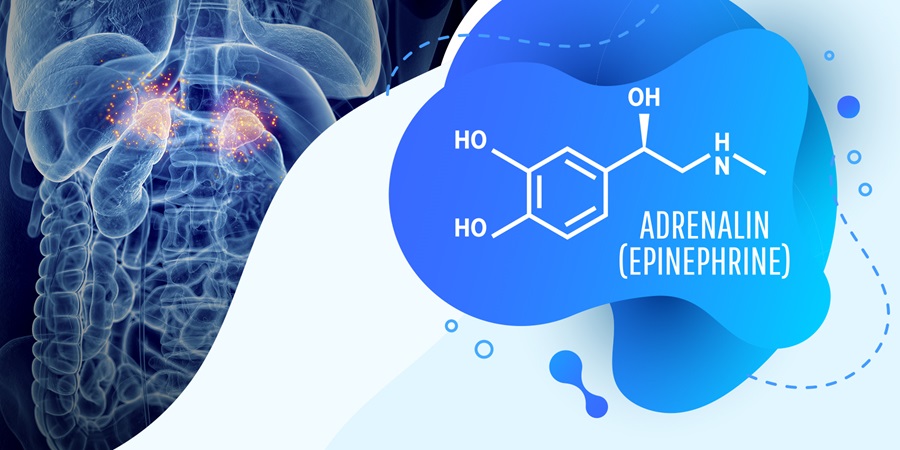 Why Isn't Vaccine Localization a Thing?
One of the thing that tells me science is really out of whack right now, is the fact that scientists are discouraged from doing simple, plain-Jane things that would actually make vaccines safer for the general public, but are instead encouraged to go off in other, riskier, sexier, more profitable directions, while protected by a kind of "media umbrella of propaganda" which justifies, and rationalizes, but does not convince the HONEST skeptic and investigator.
In a sense, we still have the same sort of "patent medicine killers" of the late 19th century, with their poisonous potions – we've just changed WHO it is who is allowed to kill people and make money with bad medicines.
The fact that the very first COVID vaccines were of a risky, barely understood, and rather experimental type (mRNA or viral vector, i.e. genetic, full spike, in humans), while EASIER, FASTER, CHEAPER, SAFER, and much more familiar and better-understood vaccine types (protein or glycoprotein antigen, subunit) were IGNORED and SLOW-WALKED until later – well, it would have boggled my mind a long time ago, but no longer.
In my opinion, the "science", if you can call it that, was guided by FAUCI PATENTS, rather than by what would have been best for patients AND for vaccine science.
The point about damage to vaccine science ITSELF is a point that Robert Malone often makes, which is critical. The people behind the bad, biased, self-interested, money-making vaccine choices, didn't just screw THE PEOPLE – they screwed up the SCIENCE.
Let me be blunt. When people LIKE ME attack Tony Fauci, we're not attacking science.
We're attacking ABUSE OF SCIENCE by an OUT-OF-CONTROL BUREAUCRAT, aided by MERCENARY GLOBAL CORPORATIONS.
Tony Fauci is biased and corrupted by many sick and damaging compromises and ties to the industry he is SUPPOSED to be countering when necessary on America's behalf – NOT coddling at every personally beneficial turn.
And all of this WRONGNESS was created under the cover of Francis Collins, who was used as a very phony TOTEM of "ethics" and "morality". The man was pimped to the masses as a great Christian, as if that meant he WOULD and COULD do something about bureaucratic ethics and morality, while those very virtues he was meant to represent but not interfere with, were UNDONE by a series of corrupt administrations.
There is a LOT that is wrong with government regulation of science and medicine right now, and we need to talk about it.
---
Tonight, I'd like to talk about just ONE point of vaccine science which is weirdly out of whack, and protected ONLY by propaganda – and that is vaccine localization.
That means MAKING THE VACCINE STAY PUT WHERE YOU INJECT IT.
Obviously this is not working. OK? I'll just be blunt.
One of the points frequently made against actual science on social media, mostly by CCP propagandists, IMO, is that vaccines simply do not leave the injection site, and thus all these systemic and distant effects which people allege to have been caused by vaccines, could not possibly have been caused by the vaccines. I saw this canard far more often than I should have, because people, generally, are not prepared to debate it.
Even when people just argue the evidence back and forth, because the reality is fuzzy and moves around between "localizes" and "migrates", the argument itself is a fantastic deflection by the "protectors of vaccines". Instead of talking about the very real problems caused by even LIMITED MIGRATION of vaccines, we're one step removed from the problems.
These sorts of arguments – that the spike protein vaccines could NOT be migrating from the injection site – were completely undone by the Pfizer data obtained from Japan.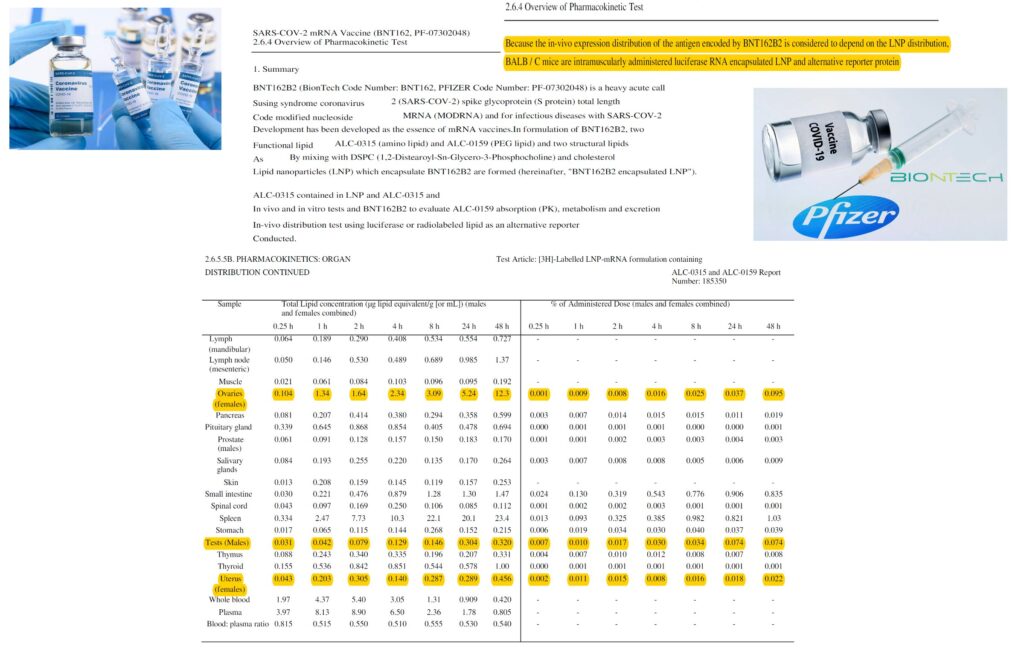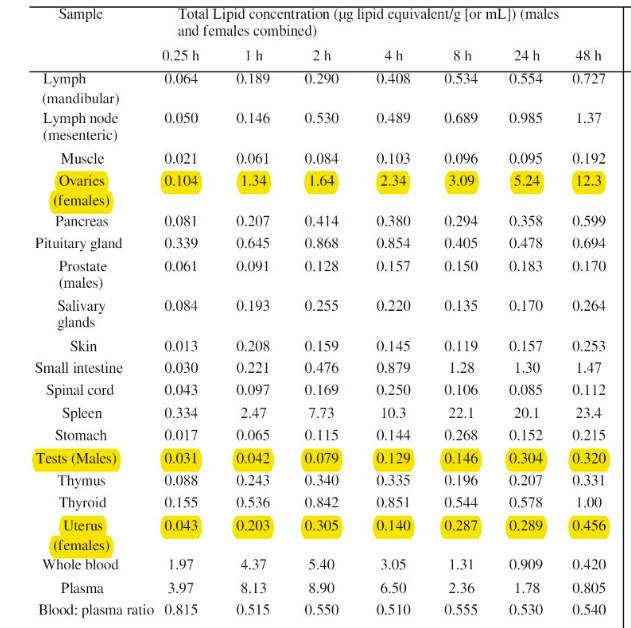 Yes, it was animals, and yes, it was perhaps at an over-sized dose, but the numbers themselves were SO substantial that these kinds of factors basically "factor out". There is NO DOUBT from this data that there is a RISK of migration of "vaccine which infects cells and cranks out [highly pathogenic] spike protein which is HOPEFULLY dealt with cleanly by the immune system".
The propaganda that vaccines don't migrate was CLEARLY violated by the case at hand. That propaganda disappeared rather quickly, although I still hear it from nurses, and just bite my tongue.
Further – shockingly – the idea that the lipid nanoparticles containing the vaccine mRNA (basically what are called "virus-like particles" when injected as part of wasp venom) could actually have time to persist as part of skin lipids and BE SHED – well, it's rather obvious from the data that this is a very real possibility.
The SKIN is an organ just like everything else. Everything else meaning all the OTHER organs that were getting the vaccine mixed into THEIR lipids in shocking amounts for a very long period of time.
Suddenly the CRAZIEST of the conspiracy theories about the mRNA vaccines was LITERALLY – and I mean LITERALLY – biophysically possible.
I had previously come up with a marginally feasible idea that maybe the spike protein itself was not just toxic, but HORMONE-LEVEL ACTIVE, to explain what people were reporting. But with the Pfizer data, I didn't need any of that. The VACCINE ITSELF was ready to be shed.
And Pfizer hid this. Yeah. I can kinda see why.
So – if I may – let's just set aside this foolishness that vaccines don't migrate, and never have systemic or distant effects, because they do. It's VARIABLE, but it's REAL.
So why don't people DO anything about this?
Why not do things that would absolutely ensure that vaccines CANNOT leave the injection site?
I can imagine a lot of things that MIGHT do this, but had never heard about any adjuvants or additives or vaccine designs that could effectively localize vaccines to arm or shoulder muscle, and simply make sure they didn't migrate to even the slightest degree.
Solve THAT problem and pericarditis is GONE – RIGHT?
So why not do it? And why not BRAG about it if you CAN do it? Why not say how it's done?
CRICKETS.
FAST FORWARD to a recent bit of knowledge that I happened upon IN REAL LIFE.
I noticed that I was somewhat jittery after having some minor dental work done. I was quite numb for the work, but later, after leaving the dentist's office, with the numbness now faded, I noticed that I was shaky, edgy, and "wired". That went away over the rest of the day. I just assumed that it was a side effect of the anesthetic.
I mentioned this to an anesthesiologist and a nurse, who both explained to me that it was NOT due to the anesthetic, but rather to epinephrine, which is sometimes ADDED to an injectable anesthetic in order to LOCALIZE it.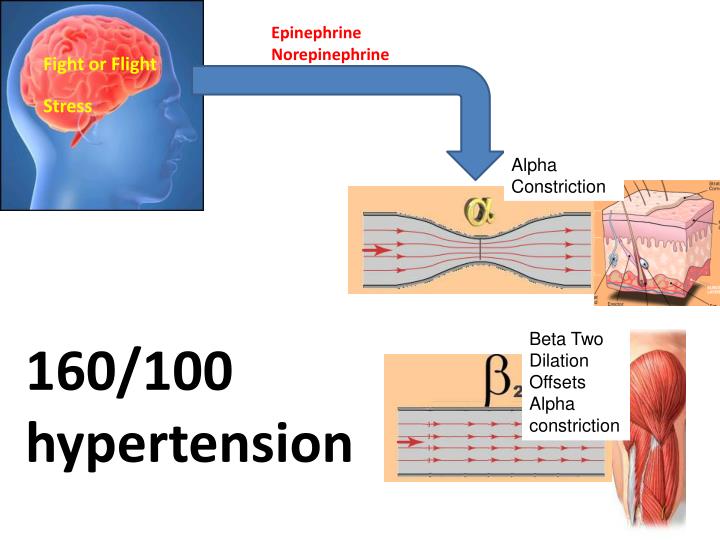 They explained to me that by epinephrine constricting the blood vessels in the region where the anesthetic is injected, the body removes less of the anesthetic by drawing it away in the blood stream – so the anesthetic STAYS at the site of the injection, giving a longer duration of anesthesia.
Sure enough, when I looked this up online, I found out it is quite real.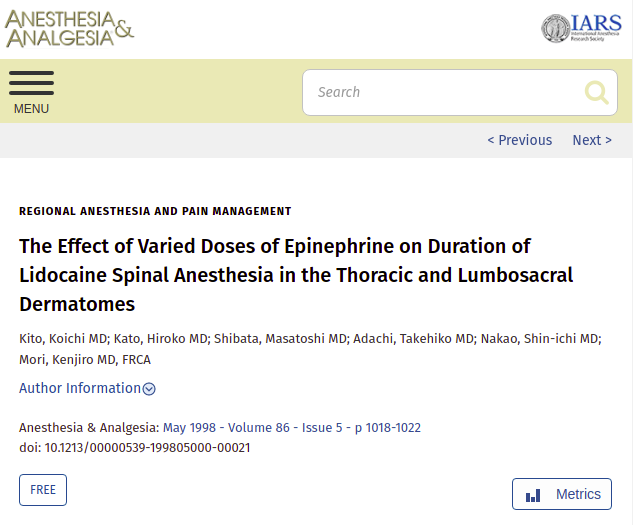 So I immediately thought to myself – why not do the same thing with vaccines?
Why not try to localize them with something like epinephrine?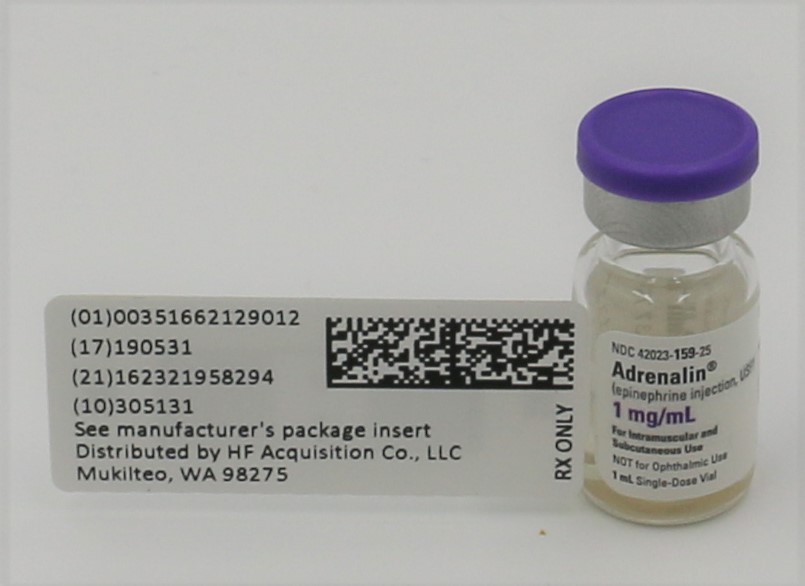 But when I looked THAT up, the only results that I got, were for use of epinephrine (you know, as in the EPI PEN) in treating anaphylactic reactions TO vaccines. I probably didn't look hard enough, but I'm not trying to get a patent or anything like that.
So who knows? It may be that adding epinephrine to vaccines could actually be GOOD in terms of reducing the severity of anaphylactic reactions – in addition to localizing the vaccine.
However, the possible technical feasibility of doing something isn't my point.
My main point is simply ADMITTING THERE IS A PROBLEM.
If you could simply make these DAMN mRNA vaccines STAY where you put them, and if they didn't crank out a bunch of bad stuff into the blood stream, then perhaps the only long-term risk would be something like cancer AT THE SITE OF INJECTION.
However, let's be real. Nobody even TALKS about the problem. The media just DENIES IT.
In my opinion, "they" aren't addressing this problem, because it gets on the way of "their" real purpose or purposes.
Vaccine localization is the last thing that these people wanted to "solve" here.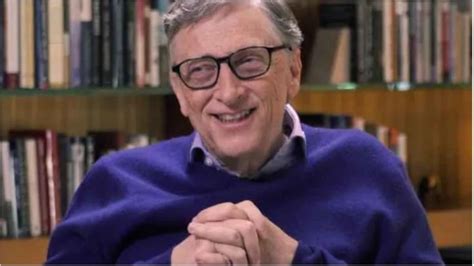 The people who CONTROL science and medicine don't have to tell us about their entire agenda. They only have to tell us things that are somewhat plausible and rational.
In my opinion, mandatory vaccination is a PLATFORM for SOCIALISTS to do whatever they want to whomever they want. It gives them cart blanche to change society without accountability. That is the big picture, and has been their objective for well over 100 years.
Look at what communists are doing to Uighurs in Communist China RIGHT NOW.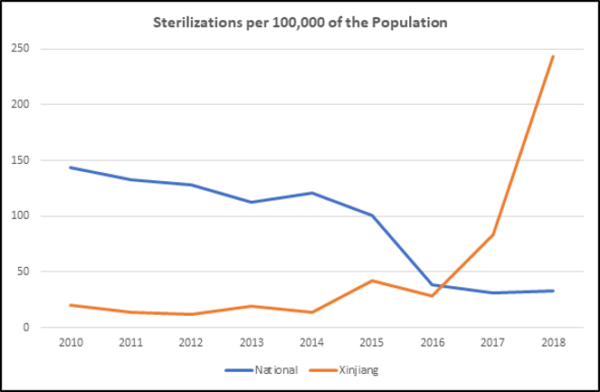 Changing PEOPLE directly changes society FASTER.
They want to keep you alive, they keep you alive.
They want to sterilize you, they sterilize you.
They want to experiment on you, they experiment on you.
They want to kill you, they kill you.
Doing things which do not contribute to, or which would actually IMPEDE their "unholy grail" goal of direct control over humans, is simply NOT going to happen, if THEY can help it.
But that doesn't mean that WE can't give them a BAD HAIR DAY, EVERY SINGLE DAY, and fight for WHAT IS RIGHT in science and medicine.
defederalization of science
destalinization of medicine (de-obamatization in practice)
force ethics and transparency where socialists don't want them
bring anti-deception tools and language INTO science itself
chase politics out of science, acting in both of them
increase citizen science literacy outside compromised institutions
work toward a BOR-compatible medical freedom amendment
many more
SO – just remember this.
Science and medicine won't change when THEY do something about it.
Science and medicine will change when WE do something about it.
---
ENJOY THE SHOW.
W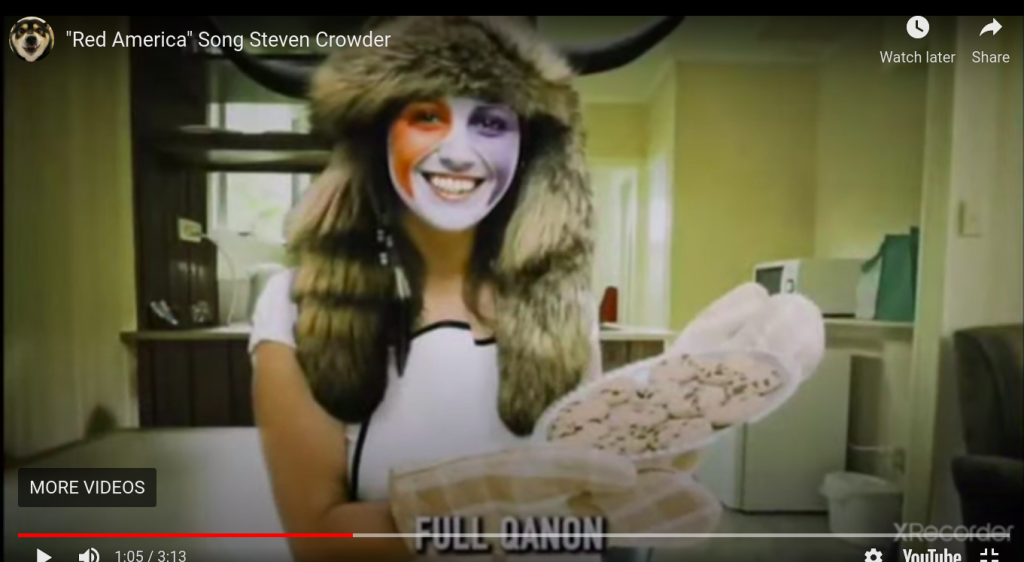 WE HAVE THE COOKIES!
7136ad67c6068a95c5577c9397afad2b