Great stuff – get on board the Trump Train and roll right over those Chi-Spies and Canadian useful hostages! Here we go, with our patented "We understand the VLWC" map-handkerchief that we took off John Podesta at his future booking!
You needed a navigator – you got him! 😎
First, the situation. Canada snags Chinese criminal Huawei Meng for the US.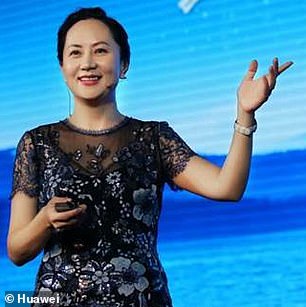 Watch out for arms numbers 3 and 4 – they're headed for your wallet and your intellectual property!
But then the Chinazis strike back, not at the US, but at their Canadian puppets COUGH I mean "friends". Interesting.
OH, BUT DO THEY HAVE A PLAN. And you know they do, because we're dealing with MAPLE LEAF COMMIES.
Yeah, she's cute and cushiony, but she's as globalist as they come. Watch out, boys! My flavorite femme fatale will sell you exquisitely lethal fake Chinese auto bumpers and "le horreur" Obamacare website coding in a heartbeat!
Before you even attempt to solve this one, GET REAL ON CHINA with Suspicious Cat Bartiromo and "maximally Chinaware" Peter Navarro, who actually GETS the reality of the Panda & Dragon Empire:
It's the same old story – CHINA BEING CHINA.
Bombs starting to fall? Check out the big hearing yesterday. BILL PRIESTAP let loose with a lot of uncomfortable truths.
Notice CHI-FI trying to act all tough now. HA-HA-HA. Yeah, right.
This thing is over 2 hours long. But no matter where you click, it's gold.
Talk about CYA!!! Also, watch how Chi-Fi does the same thing that I have caught April Ryan (at White House press briefings) and Ms. Norton (at the Clinton Foundation hearing) doing – fishing for specific information that becomes useful to the enemy (KGB-CIA, Clintons, CHINA, RUSSIA, Euro-globo-nazis) when published openly.
Did they figure out who did the Stingrays in DC? No? (*RELIEF IN BEIJING*)
No, she is NOT showing how smart and "granular" she is. She is asking things her treasonous aides wanted asked for THEIR Chinese handlers. AS IF!
Good grief! The only time this lying witch is transparent is when she's transparently against us.
Let's try to embed a different version without Chi-Fi as the fake face of toughness on China:
https://www.c-span.org/video/standalone/?455665-1/judiciary-fbi-homeland-officials-testify-chinese-espionage
Looks like it won't work. But you can visit the page with that one.
Let's try the embedding HTML:
https://www.c-span.org/video/standalone/?455665-1/judiciary-fbi-homeland-officials-testify-chinese-espionage
Hooray! It worked. (Maybe – probably not – very unreliable, it turns out.)
More links for context on the hearing and whatnot.
https://weatherinternal.com/2018/12/13/navarro-affirms-arrests-of-canadian-citizens-in-china-was-retaliation-for-huawei-cfo/
https://www.stripes.com/news/pacific/fbi-warns-of-economic-and-other-espionage-from-china-which-seeks-to-upend-us-lead-1.560406
https://www.breitbart.com/national-security/2018/12/12/doj-90-federal-economic-espionage-cases-linked-nation-states-involve-china/
https://www.c-span.org/video/?455665-1/judiciary-fbi-homeland-officials-testify-chinese-espionage
So what is my take on this thing?
I think China and the Maple-Leaf Commies have a plan. And it ain't OUR PLAN.
Turns out that one of these boys they pulled in is a SOROS SPUD. Not just that, but every bad guy in FISAgate shows up, too. WHAT ARE THE ODDS???
https://threadreaderapp.com/thread/1072572965894668290.html
The hostage is as close to a co-conspirator of China as one could possibly find. So they take a FRIEND hostage? FAKE HOSTAGE.
My read is that they pulled him in to strategize and transmit information – perhaps all the way to Cankles and the DNC, so China's traitors in America know what to expect from their allies in Beijing when we arrive at SHTF.
Well, I post my theory out where the ChiComs can see it, so what do they do? Pull in a SECOND Maple Leaf for cover. Betting that this one won't have the Chi-Can simpatico attributes of the first.
COVER. Total cover.
Are we falling for this crap? I hope not.
Baby Castro and Princess Sparkle Socks have knifed us in the back time and time again on this trade stuff. This case is NO DIFFERENT. Beware the urge to let China win this hand though their puppet.
TRUST THE PLAN. And stick with it.
W
PS – wheatietoo and I discuss the SCAM, and I propose a solution in the comments HERE.