Let me put the KILL SHOT on these "red flag laws" right up front.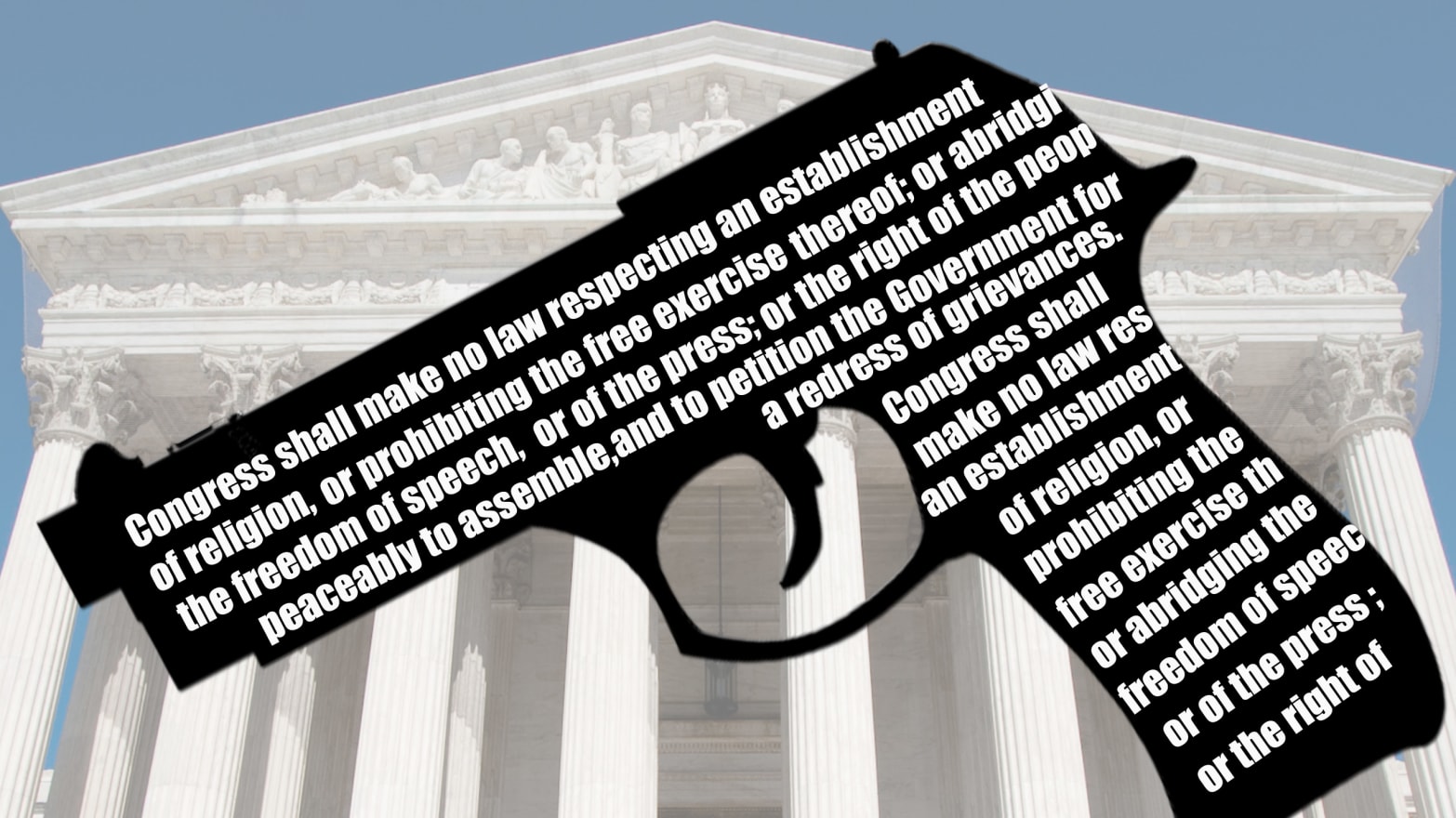 Hard to read that graphic. Let's make things just a bit more clear.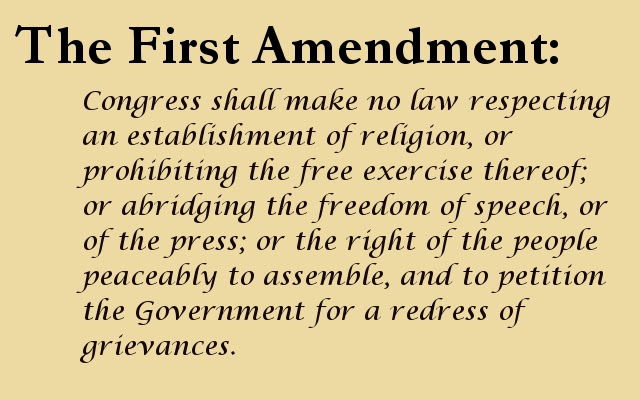 Now you MAY be saying "BUT WOLF – THAT'S NOT THE SECOND AMENDMENT – THAT'S THE *FIRST* AMENDMENT!"
To which I say "EXACTLY."
Here is the explanation. It is, for lack of a better metaphor, how the Second Amendment and the First Amendment PEACEFULLY protect each other – by saying WWG1WGA.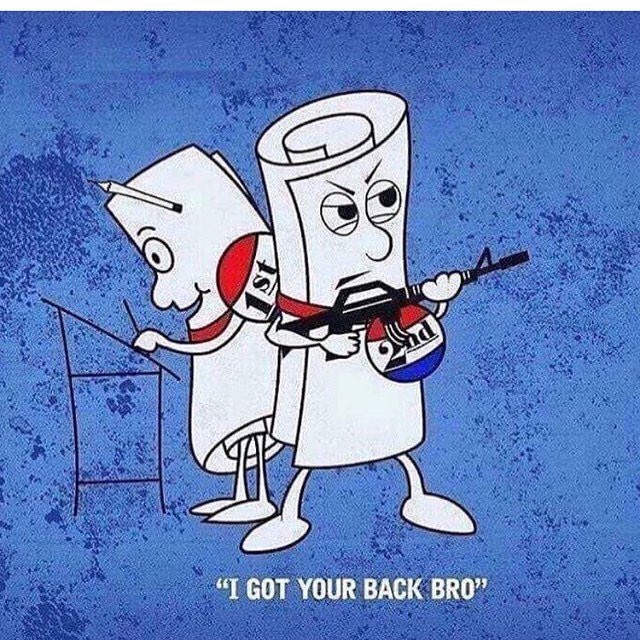 Any "red flag law" that doesn't EXPLICITLY PROTECT – better still EXCLUDE – all Constitutionally protected speech, beliefs, associations, and assembly, is not worth the paper that it's written on.
The reason is that, absent explicit protections and exclusions, such laws may be interpreted in practice to deny citizens of their First Amendment freedoms – particularly SPEECH – by construing protected activities to be in conflict with other rights – specifically our SECOND AMENDMENT RIGHTS.

(This stuff used to be common knowledge before American crypto-Sovietism, by the way.)

This has often been referred to as a "chilling effect" – a sneaky form of infringement which is typically brought forth under the guise of laws utterly unrelated to speech, religion, or other First Amendment-protected activities. Enemies of First Amendment exercise will "hold other rights hostage" in a way that "chills" our claim to those First Amendment rights, lest we see the OTHER rights denied or potentially infringed. In almost ALL these cases, the parties backing such laws desire to infringe on BOTH freedoms, but will take either one, by constructing a FAILED law which puts them into apparent conflict.

The Constitution says NO – there IS no valid conflict, and if you are attempting to create one, even accidentally, then you are creating UNCONSTITUTIONAL LAW.

Wolf Moon, Annoying Patriot, and Son of the American Revolution
SO BTFO, COMMUNISTS!
Republican lawmakers who think it necessary to have such "red flag" laws should TAKE NOTE before signing them. An ABSENCE of explicit Constitutional protections of SPEECH is, in my humble opinion, sufficient reason to veto ANY such legislation.
Our GENIUS President, Donald J. Trump, has personally given a demonstration of how this works, in a joking (well…. who knows…..) tweet. AND I QUOTE:
BOOM!
There you have it – the REALITY of "red flag" laws for millions of wonderful, trustworthy, but perhaps "not careful with their tongues" Americans. INCLUDING CHRIS CUOMO! Who I don't particularly like, but whose rights to angrily argue and own a gun I will defend to the DEATH!
And what does this mean?
The responses were uniformly BRUTAL for red flag laws.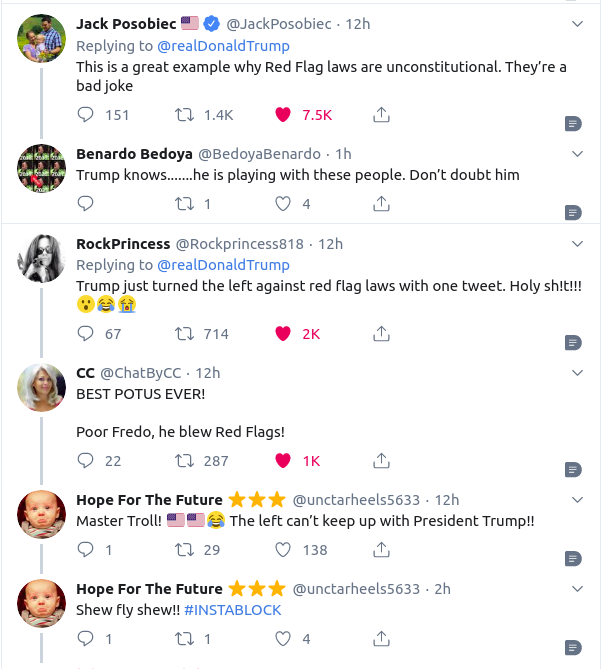 ---
SO – let's look at this more closely.
Is Jack Posobiec right? Are "red flag" laws unconstitutional?
In my opinion, red flag laws CAN be constitutional. But I am not even sure if ANY of the existing ones are. And THAT is scary.
Ohio is proposing a red flag law which is designed to avoid many of the pitfalls of existing red flag laws. But even the proposed Ohio law really "needs some work", in my opinion.
First of all, red flag laws need to respect both the SECOND and FOURTH Amendments.
Here is Dick Heller, of the famous Heller case, talking to OAN about this:
The SECOND Amendment is rather obvious. The FOURTH Amendment is more concerned with warrants, seizure of property, and probable cause – all of which are made more sketchy in red flag laws, when a JUDGE has not actually reviewed the evidence with opposing counsel present. THINK FISA COURT. Gun SEIZURE without the ability to challenge it IMMEDIATELY or better still BEFOREHAND is an idea that does not sit well with this here critter.
Now WOLF MOON – who thinks SCOTUS got the "gay marriage" thing all wrong by not using the FIRST AMENDMENT to protect both gay marriage AND polygamy, is often in the habit of picking DIFFERENT Amendments to defend freedoms. This time is NO DIFFERENT.
Yes, I agree with the Second and the Fourth, but I believe that the SIXTH and the FIRST are also very important here. We've talked about the FIRST – what about the SIXTH?
Some people might be A-OK with the idea of just giving up their guns, not being arrested, and arguing about it all later, but NOT THIS HERE WOLF.
"I WANT AN ARRESS!"
In fact. to be completely clear, I want an arrest, and a hearing with MY LAWYER and a JUDGE, and I want it BEFORE my guns are taken. This gives me my MAXIMUM rights under BOTH the Fourth and the Sixth Amendments.
Trust me – THIS OPTION is the most Constitutional of all. I will have WAIVED NO RIGHTS in picking this option.
SO – let me summarize. In my opinion, a potentially Constitutional red flag law must:
not take away my stringently guaranteed 2nd Amendment rights without due cause
respect the due processes of the 4th Amendment in a HUGE and optimal way
explicitly guarantee my FULL 1st Amendment rights, NEVER using protected speech, beliefs, or activities in any fashion to take away my 2nd Amendment rights
better still, EXPLICITLY EXCLUDE all 1st Amendment protected things, including speech, writings, religion, beliefs, assembly, associations, and memberships
allow arrest without seizure and a prompt hearing with legal representation, for MAXIMUM 4th and 6th Amendment rights
include strong deterrents for abuse in BOTH criminal AND civil law
Are you starting to see how much difference current red flag laws have from this ideal, with the ideal probably passing review by SCOTUS, and current laws actually being somewhat doubtful?
I'm kinda thinking Jack Posobiec is right.
NOW – let's look at an example. This will demonstrate both the Constitutional requirements AND how SAFE a properly constructed "red flag" law could actually be – if enforced HONESTLY by HONEST law enforcement, including an HONEST FBI (cough, cough, COUGH, COUGH).
---
I have a person who believes in a CRAZY RELIGION. The crazy religion says that in order to go to heaven, one has to defend the religion violently against all non-believers, cutting off their heads. This person goes online and AGREES WITH ALL THIS, repeats it, and argues vociferously and ANGRILY for it, because he is a MUSLIM.
But in real life, he's a nice guy, and has never even struck anybody.
Sorry – according to WOLF'S version of a CONSTITUTIONAL red flag law, this guy cannot even be "red-flagged", and if anybody tries it, Peaceful Angry Muslim has grounds to SUE.
Like it or not, what YOU consider "crazy beliefs" are PROTECTED by the First Amendment.
Even VIOLENT BELIEFS are protected by the First Amendment.
EVEN HATE SPEECH and ANGRY SPEECH are protected by the First Amendment.
Even HATE GROUP ASSOCIATIONS and MEMBERSHIPS are protected by the First Amendment.
EVEN CRAZY SPEECH AND BELIEFS ARE PROTECTED BY THE FIRST AMENDMENT.
Violent actions are NOT protected.
So Violent-Talking Angry Muslim who never hurts anybody gets his gun.
---
Are we done yet? Can we still SAFELY have "red flag" laws with all these Constitutional protections and restraints?
Sadly, the answer is NO.
No, because the HOLDER/MUELLER/LYNCH/COMEY FBI – still politicized as hell, is DESPERATELY pushing for those unconstitutional, Nazi-style laws of the LEFT…..
Here is the article. I URGE YOU TO READ IT – especially between the lines. You will see how this is 99% propaganda of the moment. Digging up old posts to push for NAZI gun laws.
https://www.nbcnews.com/news/us-news/fbi-arrest-ohio-teen-online-threats-find-25-firearms-10-n1042036
They took this kid's PARENTS' GUNS to spice up the numbers, took his posts to paint him as a danger, and DESPERATELY tried to create a SECOND PUNCH after DUBIOUS DAYTON.
Only – well – it's kind of a FAIL.
This is exactly the political stuff that the now-ruined CLINTON-OBAMA FBI pulled on President Trump. So do you know what I think now?
I think there is excellent reason to believe that the HOLDER FBI has been pulling ALL of these sketchy gun-ban propaganda mass shootings. The only difference here is that they're running low on "MK specials" who can be manipulated into pulling off their shit. So they're resorting to backing up their DAYTON SATAN mass shooter with a KID who – wonder of wonders – lives in the same state.
SAD, SAD, SAD.
This is why red flag laws are communist bullshit. They are not only of sketchy probable FBI / Deep State origin and definite FBI propaganda backing – they are simply TOO ABUSABLE.
Sorry – even if I saw a red flag law that EXCEEDED my recommendations here, I tend to believe that it would STILL BE ABUSED by political elements in the FBI.
Convince me that I'm wrong.
W