Wherein we explain – at three different levels of scientific and political understanding – how ADE-mediated vaccine slavery works.
---
This post is to PREPARE YOU to watch what the other side is doing RIGHT NOW, so you can spot the deceptions. Right now they are DESPERATELY trying to make a FAILING PLAN work.
Their plan was designed to make you COMPLY with communism.
To prepare you to counter them – to CATCH them – to spot the con job – I am going to explain things at 3 levels of understanding.
The first level is designed for people with common sense, but not too much knowledge of science or politics. Likewise, it's good for people without much time. It's TL;DR. What is vaccine slavery and how does it work?
The second level is for people who are savvy to current events, and get the basics of science, but are not interested in getting any deeper in the weeds than "watching a Sherlock Holmes movie". This is vaccine slavery at a high level. This is very basic arguments about the case theory and why it makes sense.
The third level is for those who not only have common sense, but are skilled in making common-sense observations and predictions about science and politics, and who hold enlightened opinions, and are thus likely to find their own proofs or disproofs of what I will be discussing. This gets down in the weeds – particularly Fauci and Walensky's most recent "artful dodges", where they are trying to keep their plan going when the wheels are clearly falling off.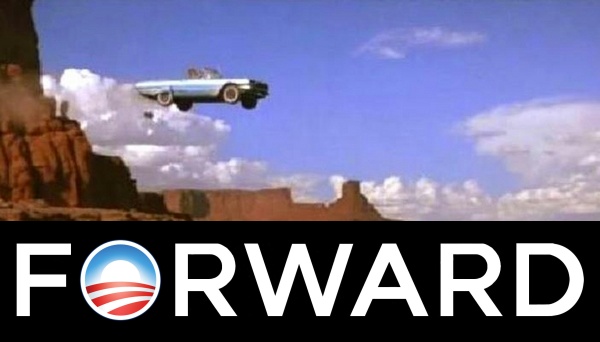 Here we go!
---
1. Vaccine Slavery – The TL;DR+ Version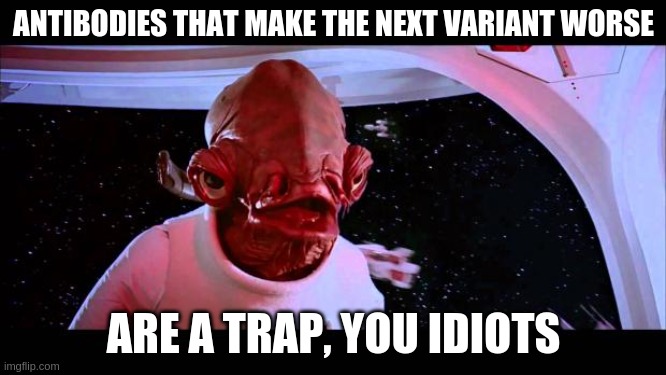 The above meme says it all. That's the "TL;DR" version. It's all you really need to know, to begin to have a LIFE-SAVING SUSPICION. It shows the "bad vaccine addiction loop" at the core of the problem.
If you're in a real rush, you can go. Otherwise, a little more might help. What follows is "TL;DR+".
---
If you took the COVID vaccine, and are now shocked and disappointed to learn that you can catch the disease, and you're going WHAT THE HELL, then this is the information that could save your life. You need to SERIOUSLY think about NOT getting the booster. If you've had enough lies by now, we may be able to save you. If you think "maybe I should be getting off this train", listen up. We, the real resistance, can get you out of the boxcar.
You need to know about something called ADE. It stands for antibody-dependent enhancement – as in enhancement OF THE DISEASE. There is a video below (wait for it) that will explain it to you.
An "ADE" vaccine is one that creates reasonable protection from the current version of the virus, but when the immunity wanes AND/OR the virus mutates, it actually makes the disease WORSE than if the patient had simply never gotten the vaccine.
An ADE vaccine is a BAD vaccine. It's even worse than a non-working vaccine.
Unnamed government officials told NBC news something which vaccine scientist Robert Malone spotted immediately as evidence that the current COVID vaccines are causing ADE. Other whistleblowers and sources have since confirmed that information, according to Malone.
In a normal world, we would be STOPPING vaccination, and then going back to the drawing board on these vaccines. But that is not happening.
WHY NOT?
Fauci keeps saying MORE ANTIBODIES. MORE ANTIBODIES. MORE ANTIBODIES. Boosters! Boosters! Boosters!
Why?
One of the ways that an ADE vaccine does its bad thing, is that the vaccine-produced antibodies which FOUGHT the virus the first time, now HELP the virus, because the virus has evolved, and the mutants that were HELPED by the old antibodies WON.
This is precisely how an ADE vaccine drives evolution of the mutants to become dangerous specifically
to the vaccinated

.

Please read that last sentence again. This is VERY MUCH like bacterial resistance, only perhaps a bit worse. Now, read this equivalent sentence.
TAKING the bad ADE vaccine is what CREATES the mutants that attack the vaccinated. The only way to win, is not to play the game.
Don't believe me? Watch this video. Ten minutes that could SAVE YOUR LIFE.
---
The Vaccine Causes The Virus To Be More Dangerous
LINK: https://rumble.com/vkfz1v-the-vaccine-causes-the-virus-to-be-more-dangerous.html
MONEY QUOTE:
"If the data are consistent with ADE, we have to stop the vaccine campaign."
---
This is totally analogous to air-dropping crates of weapons to weak moderate Syrians, and ISIS gets the weapons and becomes stronger. A BAD PLAN is worse than NO PLAN AT ALL.
But it is NOT "worse" for somebody who WANTS the bad thing to happen.
Remember. OBAMA CREATED ISIS ON PURPOSE.
This is why the Obama-commies feign stupidity, but deliver calculated evil, and get away with it – time and time and time again.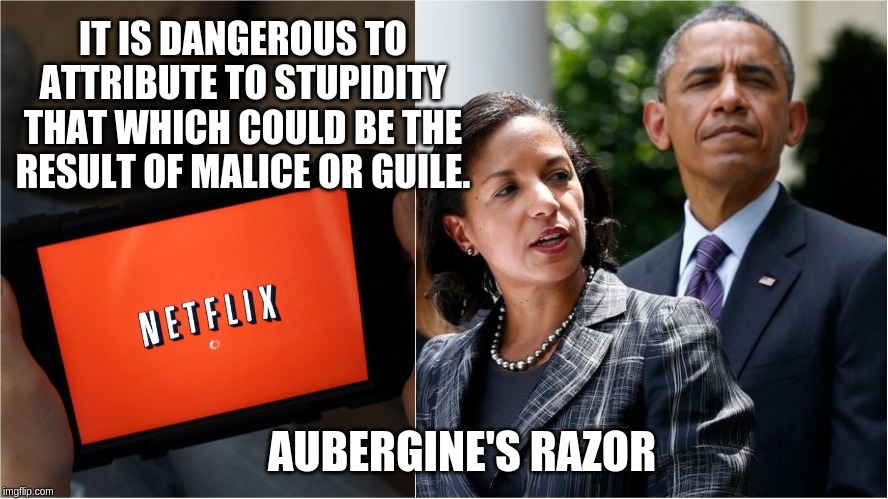 Obama PRETENDED to fight ISIS, but made ISIS worse. This is EXACTLY analogous. The Democrats PRETEND to fight COVID-19, but they are in fact trying to make it WORSE. FOR YOU. The vaccine-takers.
Why would they do this? Why would the communist Democrats and their globalist and communist friends do this?
Let's ask John Podesta's friend, Bill Ivey, who had this comment on Trump's popularity.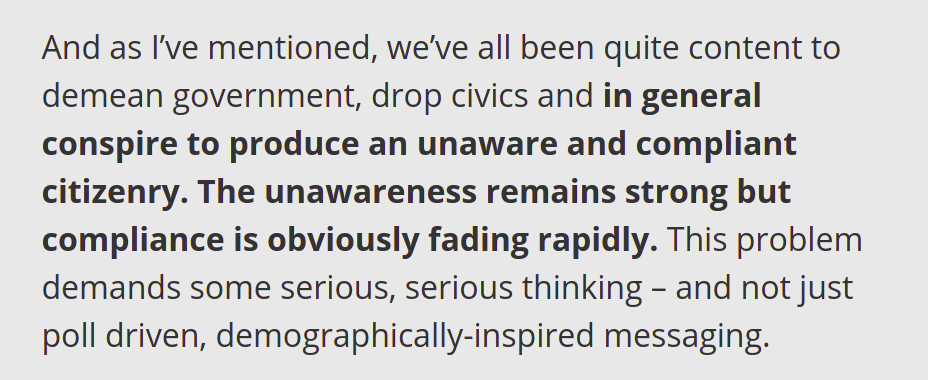 Is there a way to assure compliance?
Yes, there is.
Consider this scenario.
Take a cold virus, that normally does not kill people, except the very old, very weak, and very frail.
Make it new and "catchy" using gain of function.
Make sure it's a coronavirus, notorious for vaccines failing due to ADE.
Release it, and create a phony crisis using the idiot media and LIES.
Make a vaccine that is likely to exhibit ADE.
Give people the vaccine, which works until the virus mutates.
Force the vaccine on as many people as possible using lies, mandates, coercion, and tricks on influencers.
When the vaccine fails on the new variant, tell people they need a booster which creates EVEN MORE antibodies for the NEW VARIANT.
Don't tell people that these very same MORE GOOD antibodies will become MORE BAD antibodies in a matter of months, for the NEXT VARIANT.
Don't tell people that EACH BOOSTER increases the danger from ADE if they catch the disease.
Rinse and repeat, until people cannot quit the vaccines without dying.
The authorities can now kill you by simply not giving you the next vaccine in time.
You are DEPENDENT for your very LIFE on the government, and you had better COMPLY WITH IT – OR ELSE.
Your vaccine passport FLIPS from merely being proof of vaccination that allows you into society, to a kind of license to live. It is now your social credit card for PERMISSION TO LIVE. It's Nazi papers with the power of life or death.
The trick is that it's not just the disease killing you – it's the combination of the disease and your own antibodies.
The vaccine is biological fentanyl that lets you keep working and producing, SLAVE.
The cure literally IS the disease.
That's it. The vaccines become an ADDICTION TO TEMPORARY IMMUNITY WITH DEADLY WITHDRAWAL. If you don't get the vaccine, and you catch the next variant, you will be ambushed by all of your other antibodies to all the other variants.
You take the vaccine, each time, you live, but you are WINDING UP YOUR DEATH LIKE A CLOCK.
And you don't really KNOW if you'll live or die, so the FEAR motivates you to stay on the good side of the authorities who can end your life if you don't get the vaccine.
And worse than that, we have no idea if the whole scheme will catch up to you by the 5th or 6th booster. It may not even be possible to survive the 'rona after a certain number of injections, because the trail of inappropriate antibodies from prior injections may make ANY new variant deadly.
Based on what Cuomo did to seniors in nursing homes, how can you trust these people?
We have already seen, that the commies will deny you FOOD and SERVICES if you don't wear a mask, or don't get a vaccine. The point is, at some point this flips.
If you don't do what they want, you don't get the vaccine, and you die.
That's how the game works.
It's my belief that the best way out is not to take the third shot. Catch the disease, treat it as much as you can, get strong natural immunity, and EXIT the ADE RIDE TO HELL.
Next, we look more broadly at vaccine slavery.
---
2. Vaccine Slavery – Compliance as the End That Justifies Their Means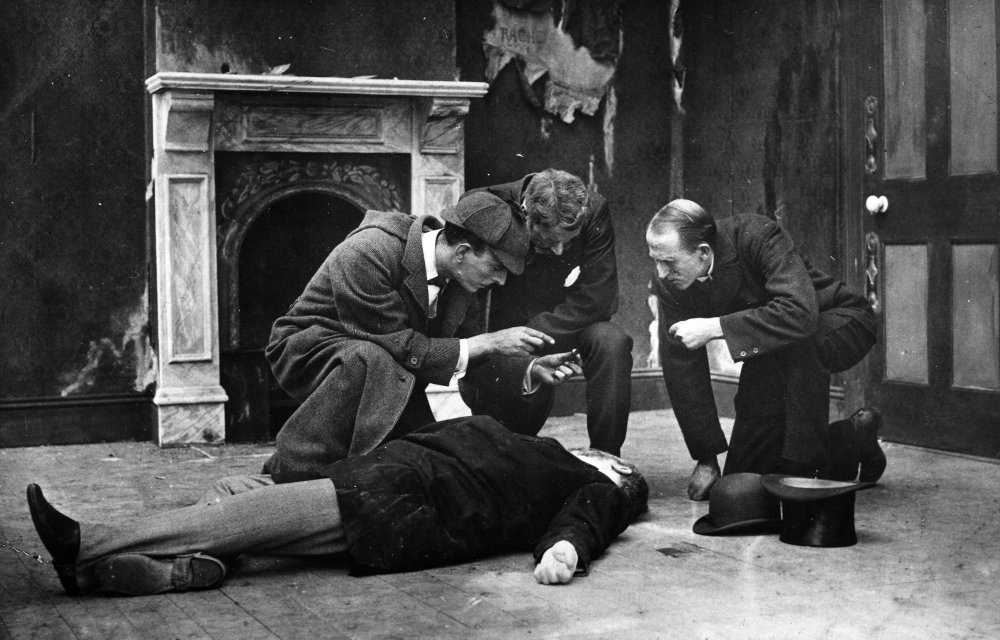 Once you understand the ENDPOINT – control and compliance – you can see that everything they are doing leads there.
I know this sounds rather fantastic, but once you see how VACCINE SLAVERY works, and realize that certain people have actively pushed humanity down many WRONG paths that just happen to get us there, you will – like me – be unable to "unsee" it.
Communism and a way to ENFORCE COMPLIANCE were a match made in HELL.
Not everybody needed to be conscious of it – that's not how conspiracies actually work. Conspiracies work by multiple, if not MAXIMAL levels of deception, each layer of "guilty dupes" doing their part, often reinforced by self-deception, but always reinforced by self-interest.
Let's back up a bit. Maybe back to Sherlock Holmes. ForGodandCountry dropped this yesterday, and even in the perfect context. It's just TOO perfect. I simply had to share the significance.
---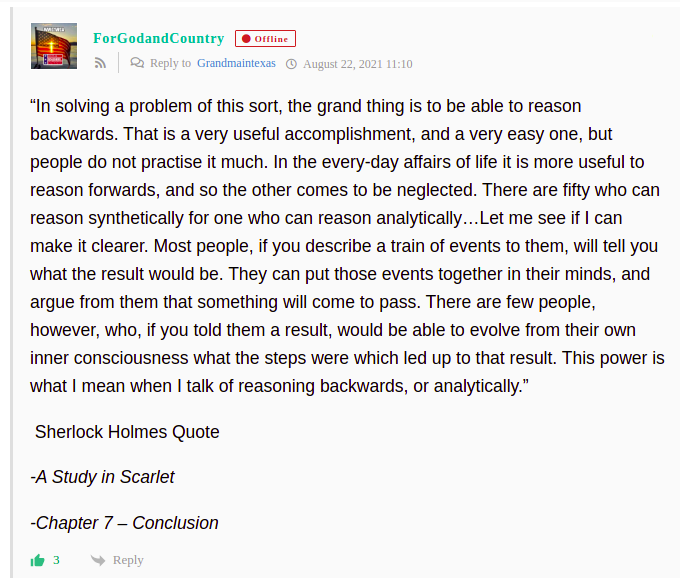 Let's just put that into text so that EVERYBODY can see it.
"In solving a problem of this sort, the grand thing is to be able to reason backwards. That is a very useful accomplishment, and a very easy one, but people do not practise it much. In the every-day affairs of life it is more useful to reason forwards, and so the other comes to be neglected. There are fifty who can reason synthetically for one who can reason analytically…Let me see if I can make it clearer. Most people, if you describe a train of events to them, will tell you what the result would be. They can put those events together in their minds, and argue from them that something will come to pass. There are few people, however, who, if you told them a result, would be able to evolve from their own inner consciousness what the steps were which led up to that result. This power is what I mean when I talk of reasoning backwards, or analytically."
Sherlock Holmes Quote
-A Study in Scarlet
-Chapter 7 – Conclusion
---
Now I'm not saying that I'm Sherlock Holmes, or even that this site is Sherlock Holmes. But I will say that WE THE PEOPLE are pretty darn close.
By all of us reasoning together, we approach a Holmesian ability to unveil and unearth.
So let me do a bit of explanation of what WE THE PEOPLE have found.
---
Let's start out with a goal – communism with complete control over the individual. LIFE OR DEATH control. So people simply have to go along. So that freedom is no longer a RIGHT, but a GRANTED PRIVILEGE.
Not in REALITY, but "in practice".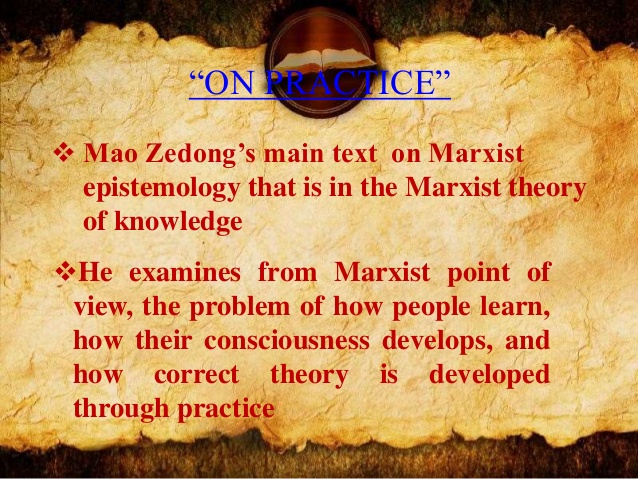 Communists have used every weapon in the past to gain control over individuals. They've used FOOD. They've used CHILDREN. If those evil "oxygen thieves" could use oxygen, they would. They've tried carbon dioxide as practice for that one, it would seem.
But the point is, what they really need is ENDPOINT CONTROL on the INDIVIDUAL. A way that INDIVIDUALS can be made to live or die at communist whim, and then be forced to COMPLY TO LIVE, or SIMPLY DIE OTHERWISE.
Frank Herbert saw this and used it for his example of ultimate tyranny in DUNE. Note that TWO METHODS are demonstrated here. The vulnerability of the HEART PLUG, and the enslavement of POISON AND ANTIDOTE.
This is nothing new – it's just higher technology applied to an old crime – extortion.
It's still the STONE-AGE LOGIC of a new chief threatening the children of the old chief he just killed, unless the widows of the old chief provide him what he wants. It's ANIMAL CRUELTY, but one step above ANIMAL MURDER, where the new leader of the pack simply KILLS THE CUBS of the old leader first, and THEN forces the females into submission.
And OH YES – people do that, too. History is filled with such examples.
The trouble is, none of this is elegant. It's sloppy. It's messy. It's CRUDE.
But what if there was a really elegant way of TRAPPING humanity – at the individual level – in a never-ending cycle of control?
This is where ADE – antibody-dependent enhancement (of disease) – is not actually a PROBLEM for communists. It's a wicked and elegant tool of control and compliance.
Viewed another way, problematic vaccines are only a problem for US – not for THEM.
I first began thinking about this when some anon revealed that our vaccination strategy might be leading us into a situation analogous to Marek's disease in chickens.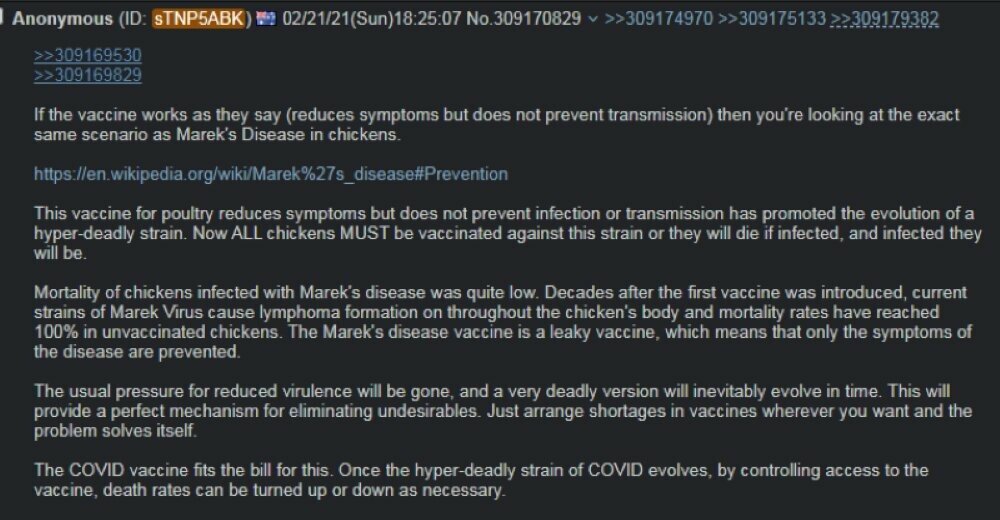 This sounded fantastic when I first heard about this theory, but things actually seem to be bearing it out.
In the third section of this post, I will get into showing you the evidence that certain people – including Fauci and Walensky – have been and still are pushing us, conning us, threatening us, scaring us, and cajoling us into vaccine slavery.
First, I simply want to explain how vaccine slavery works, as a kind of case theory. From there, you can see just how well we are tracking toward it, by pushing vaccines that fulfill the agenda.
---
What is Needed for Vaccine Slavery?
At its most basic, for vaccine slavery to work, there needs to be an endemic disease which kills people, and a vaccine which cures it TEMPORARILY, which can be meted out judiciously by the authorities, to gain compliance by the masses, or if desired, withheld from individuals, groups, nations, or all of the above. Withholding the vaccine allows people to be threatened, or if non-compliance continues, to be eliminated.
If the TECHNOLOGY of the temporary vaccine is sufficiently advanced that average people and groups – even smaller nations – cannot make the vaccine, then this demonstrates WHY vaccine slavery is so much more efficient than food slavery. People can grow food. They can work with nature. They cannot be "de-wilded" if they still maintain those connections.
The trouble is, introduction of such a REAL disease and withholding of the vaccine is quite obvious, and quite obviously evil. The people of the world would be outraged.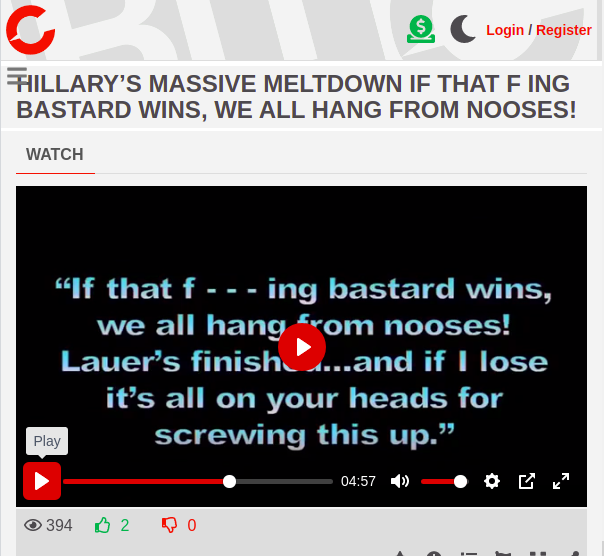 In the DUNE world, people in a free area simply have their threatening heart plug REMOVED. In a free world, people either get the temporary vaccine as a basic human right, and maybe even get a CURING vaccine that ends the threat. AND – in the process – communism (or whatever tried to enslave them) is completely discredited.
So if you're a communist, that's not good. How do you FIX that?
One way is to follow what NATURE does, and have the disease EVOLVE – either naturally or artificially. If the disease keeps CHANGING, then defenses against it have to change, too. And if the AUTHORITIES are the ones who dispense the needed changes in the defenses – in the vaccines – then THEY retain control of the situation.
I don't have to posit whether nature, man, or BOTH are changing the virus. THAT is immaterial. One simply needs a changing virus, which viruses all do, to varying extents, and which they can now be coaxed to do at ANY desired rate of speed, thanks to molecular biology, which can CREATE mutations willy-nilly by machine.
So let's say that we have a changing virus which kills people at some rate.
If that death rate is too high, nature takes care of it, and the virus dies out quickly. Not just that – the virus will naturally attenuate its virulence, to survive. People will gain natural immunity when they do survive. And people will pay lots of attention to it. They will know if the vaccines are working or not, and will DEMAND working vaccines.
It's not a very good slavery. This is smallpox. We just beat that into submission. The vaccines for smallpox are excellent, easy and fast. They last for a lifetime. New vaccines for new variants of smallpox would be easy, but in reality, one vaccine would likely cure ALL the smallpox variants.
BOO-HOO, say the communists. Not a very good model at all, to create slavery.
In fact, this failed example – trying to enslave with smallpox variants – shows us that SNEAKING IN vaccine slavery is very desirable. A FAKE pandemic is better than a REAL one, to sneak in vaccine slavery.
On the other end, what if the death rate is too low – like most influenzas? Same thing. it's not a threat. Catch it, survive it, forget it. Catch it AGAIN, survive, forget.
But HERE is where the commies hit PAY DIRT.
What about a NON-FLU of the same sort? What about a coronavirus? These things are NOT slow evolvers like smallpox, and they're not rapid evolvers like influenza.
The fact is, however, that their lethality is simply not threatening. Again, catch it, survive it, forget it.
Influenza-like illnesses are no better for vaccine slavery than influenza itself.
HOWEVER, there is a CRUCIAL DIFFERENCE.
ADE.
Antibody-dependent enhancement.
The vaccines not only don't work on the next variant – they produce antibodies which actually become a liability toward that next variant.
BOOM! THAT is the key. THAT is where we move the lethality from the disease to the "cure". It becomes a misdirection – a magic trick. A deception.
A human ability to ESCALATE THE EXTORTION.
It doesn't matter where the next variant comes from – nature – China – or even pencilneck in saucers over Chile dumping some crap into the atmosphere.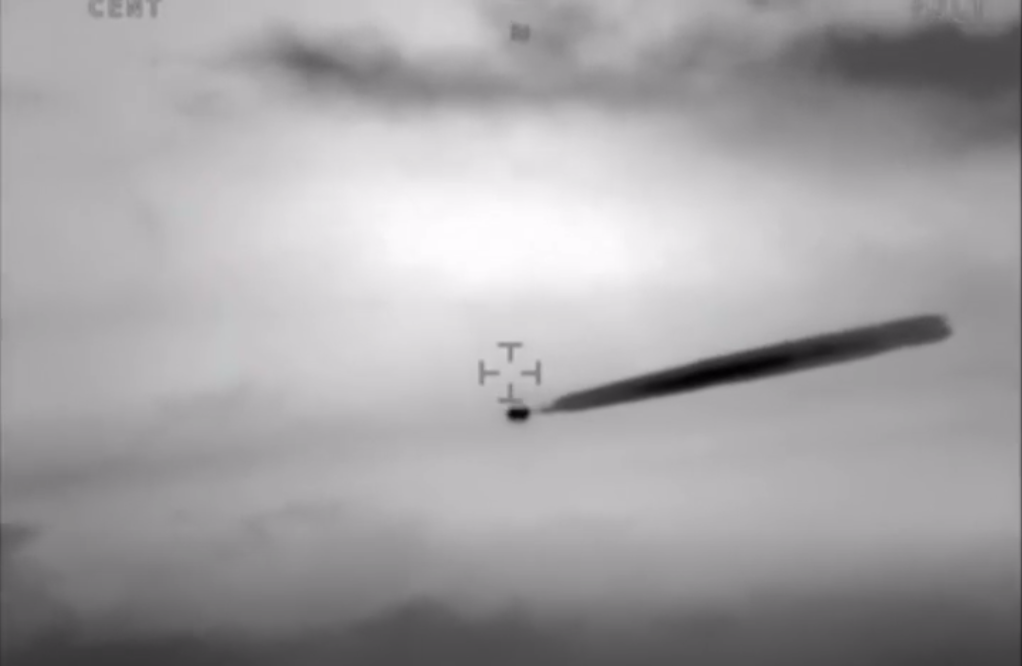 In a sense, it's ALL NATURE.
Yeah. "Green New Deal".
The TRICK isn't the disease. The TRICK is the VACCINE.
THIS is why you don't push ADE vaccines. THEY MAKE THINGS WORSE.
Bad is bad, but worse is worse.
Sometimes you have to TRY and then DISCOVER "worse", but it was WORTH A TRY.
But as Trump said…..
"The cure can't be worse than the disease."
We knew there was a problem with ADE. WE KNEW.
Read this, knowing that "immune enhancement" = ADE.
So what do we do now?
Thankfully, the failover – the fallback – from these failed ADE vaccines, is not that bad.
NATURAL IMMUNITY. The "Swedish vaccine".
Left to their own devices – thanks to OUR WONDERFUL NATURAL IMMUNITY MECHANISMS – humanity and COVID-19 will simply learn to coexist, just like humanity did with the last 4 weak beta coronaviruses that became endemic in humans, thousands of years ago.
There are even some surprisingly effective treatments – hydroxychloroquine, ivermectin, Regeneron, molnupiravir (remdesivir has been proven conclusively to be useless, sadly).
BUT COMMUNISM LOVES TO MAKE THINGS WORSE.
This is where we run into problems. Crisis is opportunity, so communists CREATE crises.
Let's look at what they did, and are doing.
Let's get down in the weeds.
---
3. Vaccine Slavery – The Antibody Pushers
I've been watching and waiting. I KNEW that the "Faucists" would have to react to Dr. Malone's diagnosis of ADE in some way.
Malone noted that they were pushing the boosters. That was his first hint. Then he learned about the blood titers, and the CDC misleading on nasal titers, when BLOOD TITERS would have the evidence of ADE – and DID have the evidence of ADE.
So what did CDC do?
CDC is now spinning the vaccine ADE dangers as a kind of time-based need for boosters.
They are saying that EARLY vaccine recipients are in need of boosters.
But the WAY they're saying it, contains a technical admission of ADE, without actually saying it's ADE. It's one of the slickest "escape clauses" I've ever seen.
---
August 19, 2021, 1:48pm
by Cristina Laila 2506 comments
Hat Tip: https://theconservativetreehouse.com/blog/2021/08/19/cdc-director-rochelle-walensky-announces-benefit-of-covid-vaccination-diminishes-states-there-is-increased-risk-of-severe-illness-for-previously-vaccinated/
---
Did you catch the subtle wording? "Severe disease?" "Increased risk?" How severe? And relative to WHAT?
Could it be…..
…..increased risk of MORE SEVERE DISEASE relative to those who did not vaccinate?
In other words…… ADE?
Indeed, it makes me wonder if she could have just DROPPED the "early" part.
Is there…. eventually…. an increased risk of severe disease among those who vaccinated…. PERIOD?
Let me put this in very simple terms. The CDC is STARTING to tell the truth. But they're doing it in a way that will both "save face" and continue upon the same dangerous course they've been going.
They want to vaccinate everybody with vaccines that produce more and more "soon-to be dangerous antibodies".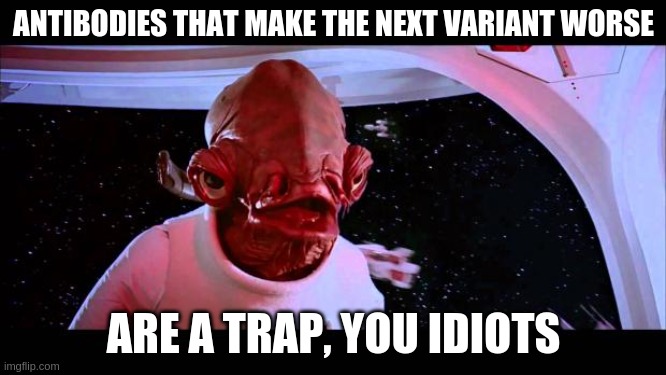 Why would anybody do that?
It's an interesting question. Watch THIS GREAT VIDEO to see that something is VERY, VERY WRONG.
People are starting to see it now. Something is VERY, VERY, WRONG.
LINK: https://rumble.com/vlf012-powerful-the-narrative-is-crumbling.-resist-covid-1984..html
---
And they did this most recent "call to inappropriate vaccination while half-admitting ADE" under the cover of Afghanistan falling apart.
Afghanistan is designed to get the Bidenoids out of TWO problems. The AUDITS and the VACCINES.
---
I want to go back to the beginning of the story on ADE. Gail Combs has been reminding us since the VERY beginning of the COVID release by CHINA, that ADE was a RISK for ANY coronavirus and ANY coronavirus vaccine.
Fauci and Walensky and Gates NEVER talk about ADE. WHY NOT?
Listen to it ONCE AGAIN. Every word of Malone's talk here is GOLD.
---
The Vaccine Causes The Virus To Be More Dangerous
"If the data are consistent with ADE, we have to stop the vaccine campaign."
LINK: https://rumble.com/vkfz1v-the-vaccine-causes-the-virus-to-be-more-dangerous.html
---
And it gets worse. Even WITHOUT the point about ADE, non-sterilizing jabs are just BAD. This is OLD SCHOOL VACCINE KNOWLEDGE, which we are reminded of, by Karl Denninger.
LINK: https://market-ticker.org/akcs-www?post=243127
This quote here is the kicker.
It was ridiculously and grossly negligent entering into the territory of depraved indifference to mass-vaccinate the population with non-sterilizing jabs. We knew very early on that eradicating Covid-19 was impossible; there are animal reservoirs, specifically felines (of all sorts), ferrets and likely others (now believed to include deer.) We have never eradicated rabies and never will for this reason; as long as there are animal reservoirs you cannot eradicate a virus as it always has a host and a means of transmission outside of human control.

As such there was never, and will never be, a safe means to use non-sterilizing vaccines against this virus or any other coronavirus and the more jabs we deliver and attempt to compel the use of the worse the problem will get.
---
At this point, I just have to say, don't do it. Now that we KNOW, you should NOT get the jab.
"It is not just your duty to yourself to refuse the anthrocide jabs – it is your duty to your fellow humans." -Wolf Moon
---
Now – let's drill down on this just a bit.
---
ADE is a problem with coronaviruses IN GENERAL, and SARS-CoV-1 is no exception.
EXAMPLE:
---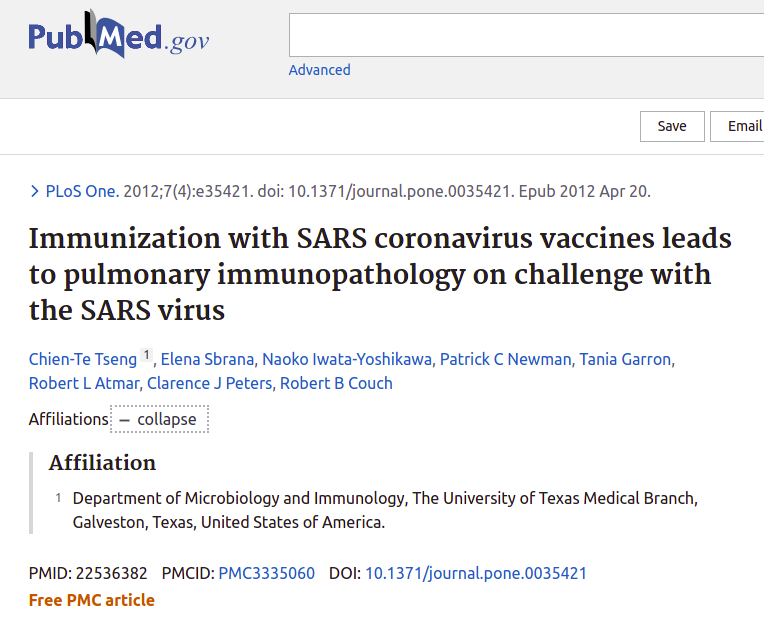 LINK: https://pubmed.ncbi.nlm.nih.gov/22536382/
---
People have been fighting and pushing against this barrier for YEARS. Sometimes with modest success in REDUCING the problem.
EXAMPLE:
---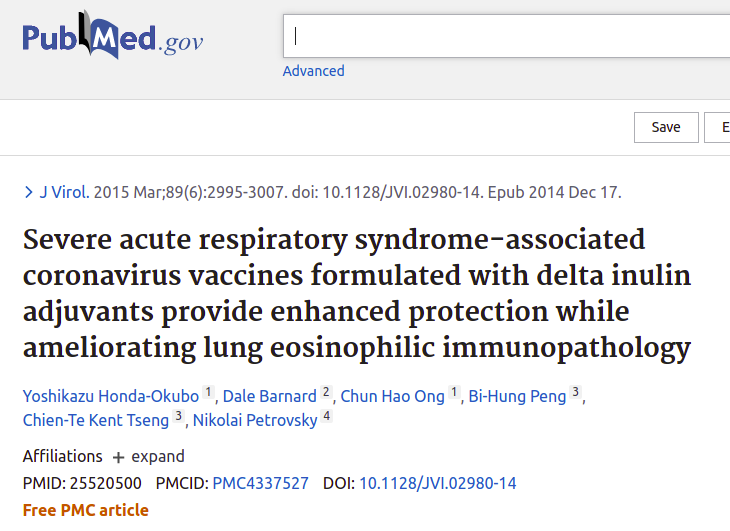 LINK 1: https://pubmed.ncbi.nlm.nih.gov/25520500/
LINK 2: https://www.ncbi.nlm.nih.gov/pmc/articles/PMC4337527/
---
The problem is, if you don't know the exact nature of the next variant, almost NO amelioration is guaranteed to actually save you from a "close but sufficiently changed mutant". Indeed, it could do the OPPOSITE. Variants which turn the CRISIS of one vaccine into the OPPORTUNITY of the next virus are the WINNERS. The NEXT variant will turn your plans against the LAST variant against YOU.
Are you starting to see, that it's almost like the Democrats in CDC want to make the problem WORSE?
I mean, it just seems that way. They just hope that your attention span is shorter than that of a mutating virus.
Back to Deninger.
What is potentially worse is that there is a developing body of evidence that those who previously had Covid and then get vaccinated may destroy their "N" protein recognition by doing so, ruining their previous nearly-perfect immunity. That we did not specifically prove that this did not happen before giving these shots to anyone with prior infection is outrageous. While the data on this is quite thin at present that there is a higher breakthrough rate in persons with prior infection than those who were infected but did not get vaccinated is what the data currently shows, which strongly implies that vaccination after infection actually screws you.
Did you get that? The JABS very likely HARM natural immunity. THAT is a huge indictment.
Several scientists have criticized Fauci and Pfizer for vaccinating their "disease controls" who got immunity naturally – thereby DESTROYING CRITICAL DATA.
Are you starting to see? They don't WANT to know the truth. They want to spend OUR money on THEIR vaccines to which THEY own patents.
Fauci and Gallo helped the industry corrupt public medicine by introducing PATENT-LAUNDERED MONEY.
---
NOW – let's get back to this latest "midnight drop" from Fauci and Walensky.
First of all, who exactly ARE the "early vaccine recipients" to whom they want to give boosters?
They're health care workers and first responders. Including COPS.
So what does that mean, strategically, if they get the "Jab of No Return"?
These are INFLUENCERS and ENFORCERS.
They are the people who will force the jabs on US. And they will do so with more vigor, if THEY are permanently committed to the deadly boosters.
Trust me – this influence operation was PLANNED.
What the CDC politicians are doing is subtle, but it's definitely optimal in terms of not merely potentially wiping out America's health care workers and first responders, but of making them the propagandists, the bureaucrats, and the enforcers of vaccine mandates.
Do you see how that works?
THIS IS A DEVIOUS PLAN.
---
Now – let's get into some science.
If you play the YouTube video of Fauci and Walensky and their shill, plus the hand-picked journalist audience that you cannot see, including two-stepper ChiCom diaperette Weijia Jiang (the whole thing is totally North Korean in its creepy vibe), you will hear Fauci mention 4 scientific papers. I will talk about them, but the big picture is Fauci's TOTAL and SOLE focus on antibody levels.
Watch for it.
What Fauci is doing here is a core principle of magic acts. It's key to many a magician's trick.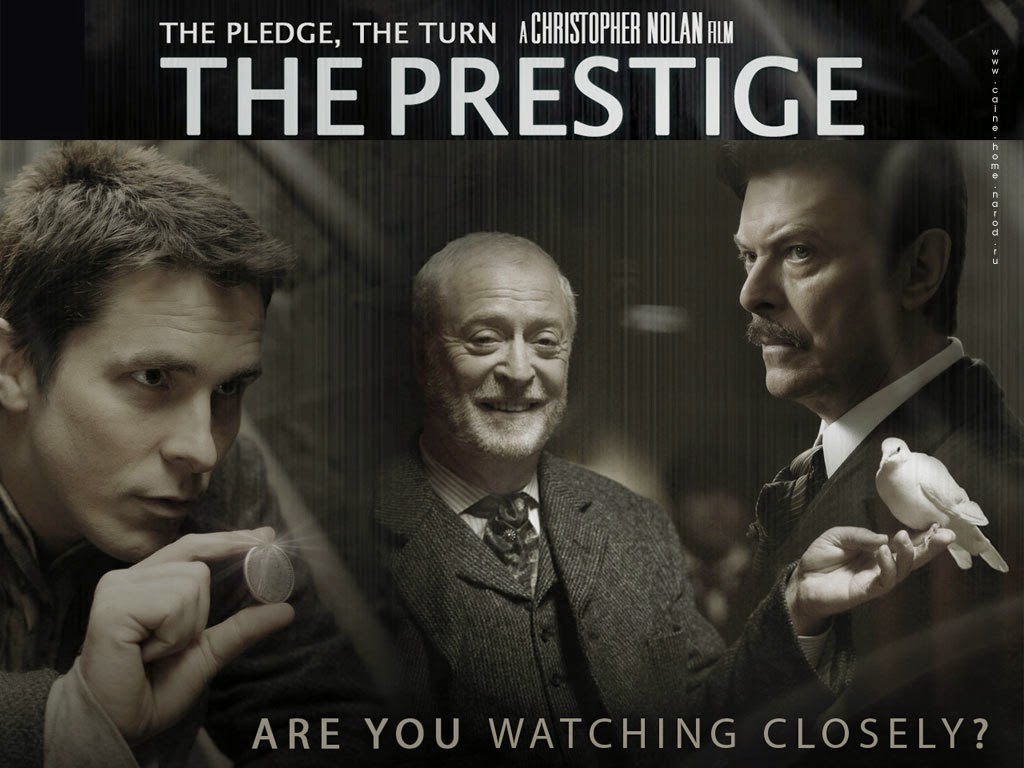 Fauci is making you WATCH one thing, so that you don't watch something else.
Fauci keeps the focus on antibodies, and NEVER takes it off. There are two reasons. ONE is that the antibodies are the greatest WEAKNESS of the plot. THE SECOND is that if you ONLY look at the antibodies, and don't look at other things like virus titers, T cells, side effects, and natural immunity for reference, you'll never see that the antibodies ARE the great weakness, and you will never see the plot.
It's like going up an escalator that dumps you into a shark tank when it gets to the top. Don't look down at the shark tank! Don't look at the crowd yelling "NO!" Just look at the escalator in front of you. We're going up! Hooray!
Fauci says "keep your eyes on the brick" (the antibodies) so that we ignore the WINDOW it is going through (ADE, and the next variant).
There is a stunning moment, if you watch for it, when Fauci and Walensky visibly react, when a scientifically savvy journalist asks their front-and-center "scientist protection shill" (a.k.a. "moderator") about T cells.
It's like somebody pulled a bloody knife out of a paper bag. Those two SQUIRM in their seats.
It's not so much that the T cells provide an obvious "AHA!" moment that undoes the Fauci plot. T cells are hard to understand – they're not simple like "more antibodies!" But they lead away from Fauci's pied piper deception.
T cells undo the Fauci narrative that it's "all about the antibodies". We know it's not. From the moments in early 2020 when doctors found that many COVID recoverees were losing antibodies within 3 or 4 months of recovering, yet remained solidly immune, we KNEW from basic logic that immunity was not so simple as MOAR ANTIBODIES!
Many subsequent papers in top journals by leading researchers proved that COVID recoveree immunity was mediated through multiple measurable pathways, and was SOLID, even if varied. And YES – that is how complex evolved systems work.
But Fauci concentrates on the ONE THING – antibodies – because that is the ONE THING that these NIH-co-owned vaccines do well. They do a lot of other CRAP that would get most vaccines recalled and shut down immediately. But they do ONE THING WELL. They make antibodies that apparently – from what we know – are not necessary for good immunity.
And those antibodies – like those in recoverees – don't last.
Think about that. NOW you can understand why Fauci gets nervous about "T cells".
At this point, it's useful to remember something.
Fauci shilled hard for remdesivir – calling it the "gold standard" – when it turned out to be utterly USELESS.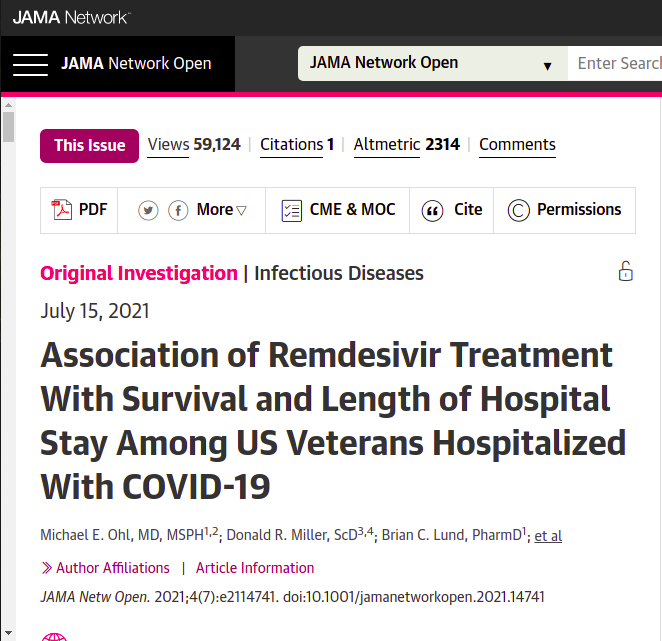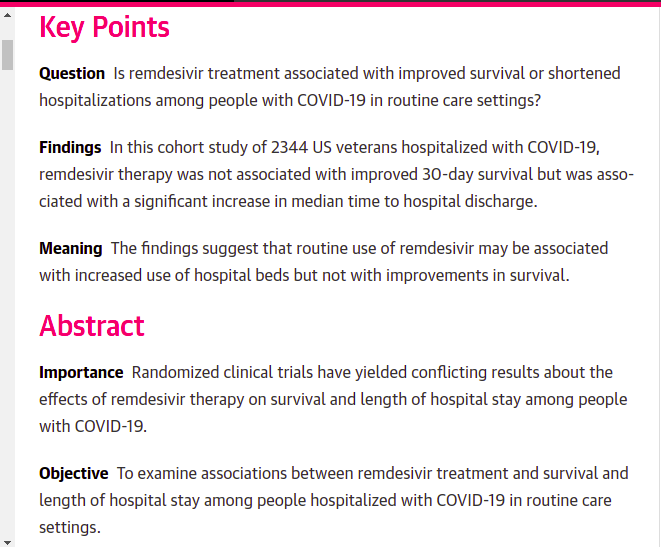 I saw the very same data that Fauci based his statement upon.
As one scientist said in comments, remdesivir only seemed good at causing kidney failure in the people it was tested in.
Gold standard? It was nothing of the kind. It wasn't even the LEAD STANDARD. I saw the HCQ data – THAT was clear. Remdesivir wasn't even CLOSE. At that moment, I knew Kary Mullis was right. Fauci can look you in the eye and LIE.
Now – let's go on to Fauci's slides.
---
What I'm going to do is show each of his slides and comment. You can go back in the YouTube video and see what Fauci has to say. He also talks about several of the slides in answering questions from the journalists.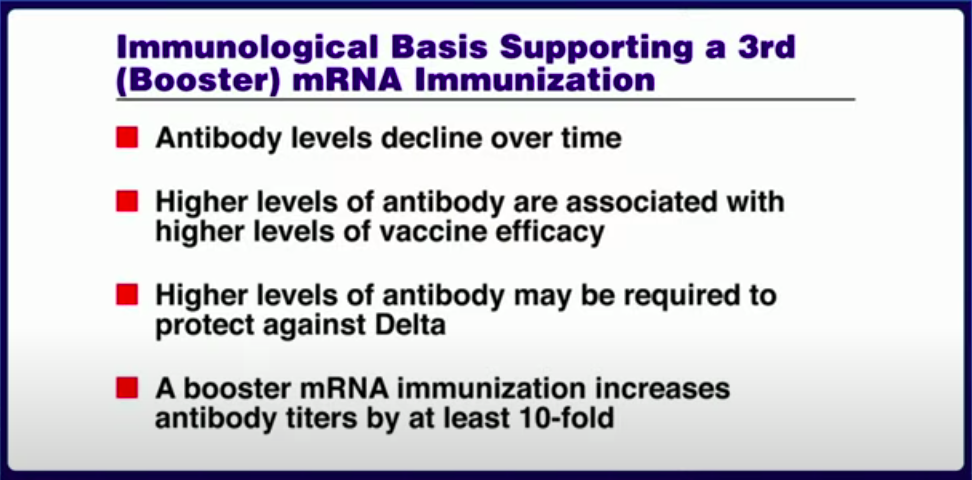 You will note that EVERY SINGLE ONE of those points SKIRTS the issue of ADE. Every single one.
These 4 points are made by his 4 slides, so I will place my comments AFTER each slide, but you can come back to the above slide to review his basic point in clear language.
First slide.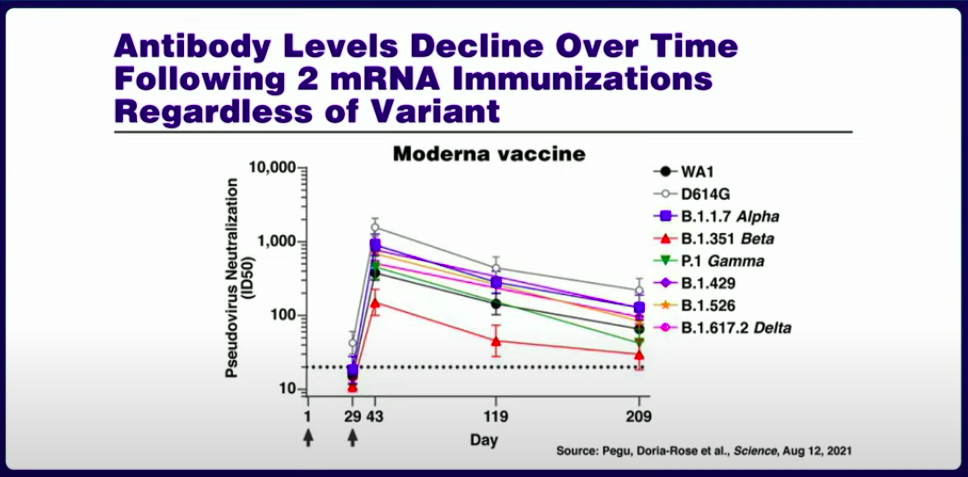 Yes. Antibodies decline over time. Just like in recoverees. Yet the immunity from these vaccines is only from a near-copy of the highly evolving spike protein, NOT from the whole virus. It would easy to press Fauci on this point, and trust me, he would evade, and not give credit to natural immunity as superior, nor would he deviate from antibodies as his sole focus.
Second slide.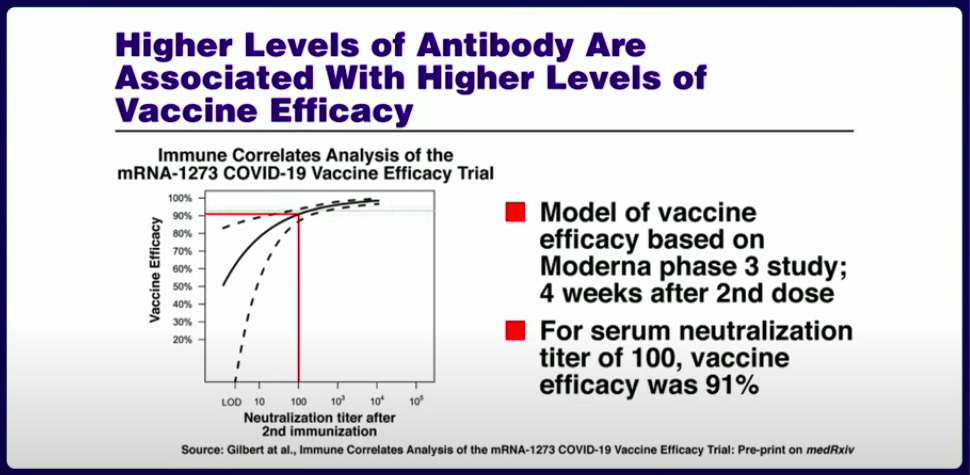 This is again a bit of a "selective basic truth". Of course, more antibodies are associated with higher levels of vaccine efficacy. But they are not the ONLY correlate with vaccine "efficacy". And even more, this.
If you follow this paper – a pre-print – and look for how it defines "efficacy", you are directed to ANOTHER preprint (ref. 39) which is not even medical – it's mathematical. BOTH preprints are filled with disclaimers about what they don't do, and don't cover, in defining efficacy. That's actually important, because the authors are being very careful not to say they're covering all the bases on what constitutes efficacy.
I referred to these earlier as "flywheel references". They may be good work, but Fauci uses them in a misleading way. He is trying to pump the idea that you need antibodies to be immune, and that is absolutely NOT TRUE.
LINK 1: https://pubmed.ncbi.nlm.nih.gov/34401888/
LINK 2: https://www.ncbi.nlm.nih.gov/pmc/articles/PMC8366808/
LINK 3: https://arxiv.org/abs/2107.05734
Third slide.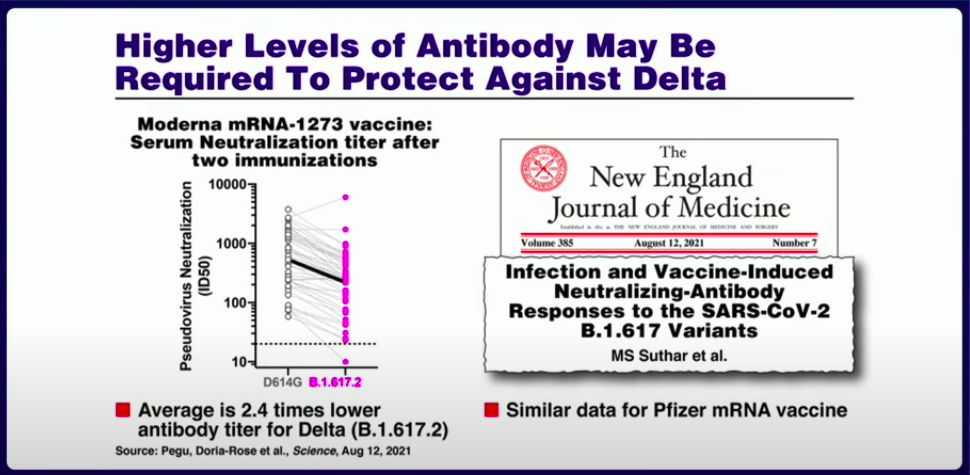 This is real slight of hand and BALLSY chutzpah. Fauci is actually showing how the OLD VACCINE (mRNA-1273, see HERE – designed against original Wuhan sequence WA1) performs against WA1 (aka D614G) and the "delta" variant. He is showing that the antibodies don't work as well against delta variant.
Remember – this is basically part of the "mutation-driven ADE" phenomenon. And Fauci is using it to justify going to higher levels of antibodies on the boosters. But he's careful – very careful – he says that higher levels of antibodies MAY be needed against the delta variant.
What Fauci is NOT showing here, is how these same antibodies which have reduced BINDING to delta, are now driving HIGHER virus titers – what Malone spotted as the hallmark of ADE.
Fauci does lots of talking about ANTIBODY titers and not much about VIRUS titers. It's a nice form of linguistic cover-up.
LINK 1: https://pubmed.ncbi.nlm.nih.gov/34233096/
LINK 2: https://www.ncbi.nlm.nih.gov/pmc/articles/PMC8279090/
Fourth slide.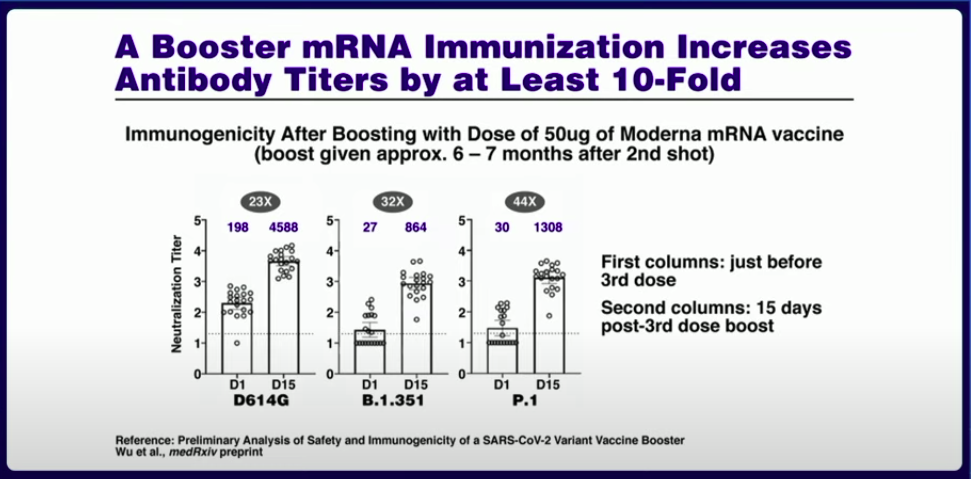 Here, Fauci goes hog wild on titers. Again – ANTIBODY titers. (UGH – my spell checker wants the English spelling – titres. See y'all at the theatre!)
If you check the link below, you will see that the above results are for the ORIGINAL Moderna vaccine, but the reference also contains results for a VARIANT-encoding vaccine, AND for a 1:1 mixture of the two different spike proteins.
As expected, the variant spike performs better against that variant, and the original vaccine is best against the original variant.
The most important point is the dramatic increase in relevant (meaning actually binding) antibody levels – over 10 times the pre-booster levels. What Fauci is doing is showing that yes – another full spike protein booster will give higher antibody levels. Way higher. And again, we ask the impertinent question – whether these antibodies will be problematic due to ADE.
LINK: https://www.medrxiv.org/content/10.1101/2021.05.05.21256716v1.full.pdf
There is absolutely NOTHING said by Fauci about the safety of boosters, even though there IS data in the link above that may be useful in making some predictions. However, the study is small, and based on prior experience, we won't see the risks of the boosters until they're deployed. We can safely assume that if the "safety" is comparable to what we have already been given, Fauci and FDA will call the boosters safe.
It is important to understand that we now know that it is often the second injection which interacts BADLY with immunity from the prior injection, even though FDA does not admit this.
See this video from Dr. Sucharit Bhakdi, in which he explains the immunology of that risk in subsequent immunizations. He – like me – strongly recommends AGAINST getting the second or higher boosters. This is particularly true if you have ANY problems with the FIRST vaccination.
LINK: https://odysee.com/@awakeningthepeople:1/Professor-Sucharit-Bhakdi%2C-M.D.Prof-that-puts-an-end-to-the-Sars-CoV-2-narrative.July-9%2C-2021:7
Summary slide.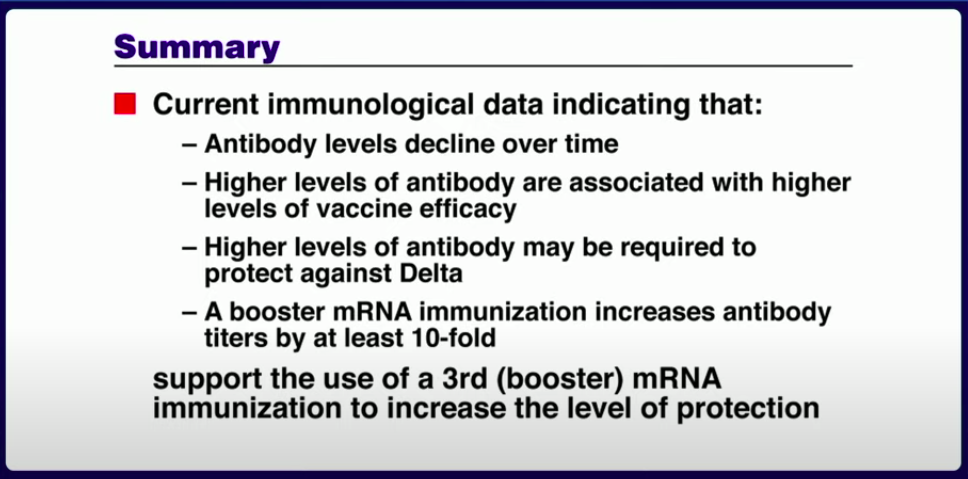 Like I said, selective reporting by Fauci and his long-time crony, Walensky, who AT FAUCI'S SUGGESTION was appointed to head CDC.
If you're wondering why CDC lies, evades, and misleads, now you have your answer.
W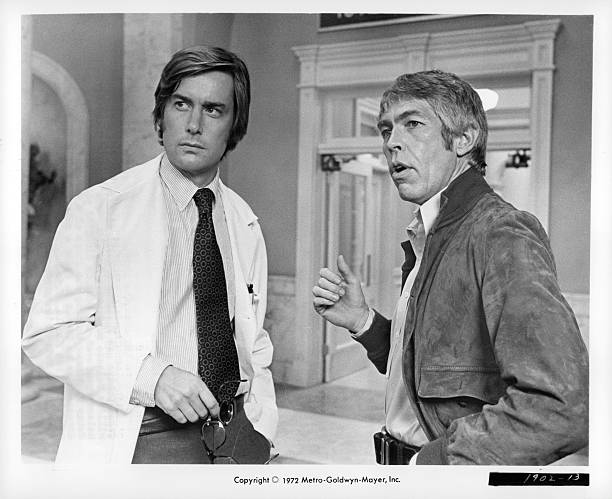 And just think – FDA is about to green-light giving these same vaccines to ALL of America's military.
---