This [(Q+(2*7)=31]TH of JULY FRIDAY open thread is OPEN – VERY OPEN – a place for everybody to post whatever they feel they would like to tell the White Hats, and the rest of the MAGA / KAG! / KMAG world (KMAG being a bit of both MAGA and KAG!).
---
---
You can say what you want, comment on what other people said, and so on.
Free Speech is practiced here. ENJOY IT. Use it or lose it.
Keep it SOMEWHAT civil. They tried to FORCE fake Orwellian civility on us. In response, we CHOOSE true civility to defend our precious FREEDOM from THEM.
Our rules began with the civility of the Old Treehouse, later to become the Wolverinian Empire, and one might say that we have RESTORED THE OLD REPUBLIC – the early high-interaction model of the Treehouse – except of course that Q discussion is not only allowed but encouraged, and speech is considerably freer in other ways. Please feel free to argue and disagree with the board owner, as nicely as possible.
Please also consider the Important Guidelines, outlined here in the OLD January 1st , 2019 open thread. Let's not give the odious Internet Censors a reason to shut down this precious haven.
---
SPEAK THE FIVE WORDS BOLDLY TO OUR PRESIDENT!
"I AM PRAYING FOR YOU!"
---
AND WHAT TIME IS IT?
TIME TO….
DRAIN THE SWAMP
Our movement

Is about replacing

A failed

And CORRUPT

Political establishment

With a new government controlled

By you, the American People.

Candidate Donald J. Trump
---
Also remember Wheatie's Rules:
No food fights.
No running with scissors.
If you bring snacks, bring enough for everyone.
---
Twitter Alternative Twetch
OK – this is weird, but it finally makes sense. This is very geeky, but I think all of you will get it at a high level. It's the mechanics where it gets tricky.
Remember when Andrew Torba of Gab was talking about social media "on the blockchain" that would be invulnerable to censorship? Torba was really enamored of the idea, even though he never did it – probably for scale reasons.
Back then, I have to admit that I didn't really understand the concept, but now I do.
The way I stumbled into this is subtle. It's a story. Here's the story.
There is a guy I follow on Twitter named "@desantis". He's a very interesting mind, like a lot of people I know, but he is in a corner by himself, of the people I happen to know.
Desantis is part of the "crypto geek community". They're a strange bunch. In some ways, they're in love with money, which – for various reasons – I am suspicious of, but which I totally get the DOWNSIDE of.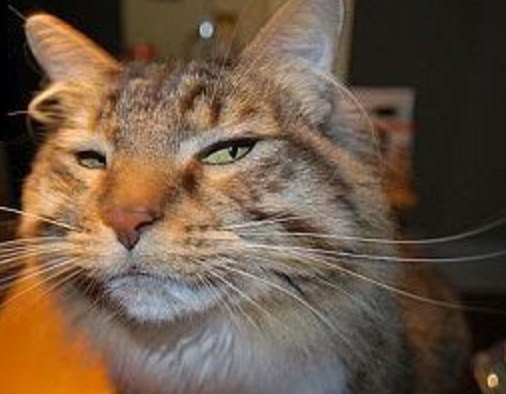 But crypto geeks don't love money like misers – they love it like an idea, so they're actually very unique and pleasant and I like their tribe, even though I'm not really even an honorary member.
Within that tribe, Desantis is a great medicine man, or perhaps the great priest in Jerusalem. The crypto geeks all bow before Desantis, it sometimes seems, yet he's a bit of a hermit.
Desantis "gets" things at a very high level – that is his game and drive. He does not want to tarry on the details, which can be very hard. Steve, Scott, and Cthulhu here are all people who understand that details are important, and how reality actually happens. Somebody has to sort that shit out. My father was like that, incidentally. I am a detail person, too, but I love it when I get "general".
Desantis – who calls himself a "generalist" – is almost allergic to details, except when he prepares small examples on what are essentially proofs on the backs of napkins. Of the generalities he gets, many are what "specificists" consider trivial, worthless, or mere byproduct of their work. But some of the things Desantis notices are really quite profound, and some are beautiful. Many are almost hard to put into WORDS. That is just TOO COOL.
Desantis is almost addicted to a kind of glass bead game where you can't talk about the game too specifically or you spoil it.
Of course, many consider such types of thinkers to be near-crackpots, and they can be very frustrating to understand. However, once I found Desantis on Twitter, I loved the beauty of some of the things he saw, and thus I endeavored to be more like him. He became one of my muses.
NOTE that Desantis was followed by Jack Dorsey. Sometimes they conversed in "Desantis-level-cool-speak". Yes. I would not be surprised if some Desantis ideas were used, stolen, riffed on, or patented. At the very least, warning of the threat he posed was given to the Cabal.
Anyway, I stopped seeing Desantis ANYWHERE. I assumed that he blocked me for my conservative views about Trump, but when I went looking for his posts – BOOM – it turned out that I was not blocked – he was simply not there. He was GONE.
I dug further. It seemed that Desantis was UNFOLLOWED by Jack because of "Twetch" starting. AH! Maybe THAT is where Desantis went!
What is Twetch?
LINK: https://www.zdnet.com/article/twitter-alternative-twetch-now-lets-you-tip-top-commentators-and-force-trolls-to-pay/
Twetch is a weird marriage of blockchain, crypto, and Twitter, that is "on the blockchain" to some extent, so that it can't be shut down, in the same way that bitcoin cannot be shut down.
Now I'm not going to get into that whole world, but here is the deal. In order to follow Desantis again, I made an account on Twetch, and I could use a friend or two to help me explore it, by posting and (and I hate this part – Black Elk – forgive me) making enough digital money to follow and "tip" the people like Desantis that I went there to follow.
SO – if any of you feel experimental, then please – start here and click away. We can experiment with making followers for free, because I have no money on Twetch.
Muchas gracias!
https://twetch.app/
My homepage:
Note both 2 and from. Lucky me!
That is what I was talking about, and why I took this journey.
NEXT….
---
OTC HCQ = National Security Requirement
This was posted here. It is a critical read.
Imagine this intelligence coming into a LOYAL CIA, not in sympathy (if not league) with the ChiNazi coronavirus "globalism-forcing" strategy.
I then re-posted it to Twitter (with permission):
Interestingly, this was shortly after I posted the following on a different thread:
Text version:
wolfmoon1776
July 29, 2020 at 11:56

OTC HCQ is a big deal. I would welcome it, despite the fact that RIGHT NOW, for COVID-19 I think it is best taken under a doctor's prescription and supervision.

So WHY do I want it OTC?

So that supply lines are SOLID and we have enough to treat the whole nation overnight.

Why do we need that much HCQ?

COVID-20 and COVID-21.

WHUUUUT?

CHICOM-DEMOCRAT 4GW BIOWARFARE.

If CCP-DNC releases a NEW coronavirus, we need a general cure to disarm it IMMEDIATELY, without tanking the economy, and HCQ is beyond likely – meaning almost certain – to fulfill that mission.

America needs a PRE-CURE for coronaviruses. HCQ is that drug.

OTC HCQ is a NATIONAL SECURITY OBJECTIVE.

Liked by 1 person

Reply

https://wqth.wordpress.com/2020/07/29/7-29-20-news-roundup-jim-jordans-opening-statement-ag-barr-drops-a-moab-while-being-questioned-by-jim-jordan-kerri-kupecs-interview-pdjts-press-briefing-another-step-ha/comment-page-1/#comment-560305
I repeat for the benefit of all:
OTC HCQ is a NATIONAL SECURITY OBJECTIVE.
This is pretty much a NO BRAINER.
Allow me to explain the logic.
If you are following the vaccine development efforts – many of them – very expensive – using YOUR tax dollars – then even if you LIKE vaccines, you understand perfectly well that vaccine development is SLOW and PAINFUL.
MANY of these vaccines are using VERY SMART "re-usable" "platforms" – meaning that they can be used for lots of different vaccines, without a lot of "foundational" development. This is, in fact, why many of the vaccines started up SO QUICKLY – the developers simply swapped in something NEW – like new DNA, mRNA, or a recombinant protein, instead of "SARS" or "Ebola" or even "flu".
SO – understand – even with all this massive effort and expense, using "fast" vaccine technology, we are STILL looking at about a year to develop a RISKY vaccine – risky because these vaccines will all be risky for many patients, especially those who HAD the disease, or those who WILL GET IT anyway. Those patients were NOT trialed. The vaccines will NOT be safe for them.
One year? One year, MINIMUM? One year, minimum, if YET ANOTHER disease "gets out" in that weird country where all diseases seem to mysteriously come from, namely CHINA?
Turns out that many of these diseases just happen to be coronaviruses, which just happen to be of huge interest to science right now, with lots of chimeric proteins being made – meaning ARTIFICIAL virus pieces (OH, but they would never put those pieces published in the journals together! NO, NEVER!)
Y'all starting to understand? What I am saying is NOT misinformation. It is simple, horrifying TRUTH.
Scientists in America, China, and everywhere else experiment with Frankenstein versions of these viruses – very specifically, the "arms and legs and body and internal organs" of these viruses. These Frankenstein monster viruses are actually quite simple, because the "organs" inside them are merely the blueprints for the arms, legs, and body. AND – remember this – those very same "blueprints" are USED to generate the arms, legs and body, that are used in these tests.
If you suddenly say "well that's the whole damn thing", then yes. Read on.
In other words, vaccine researchers have a "plausible reason" to create both the Frankenstein arms and legs of chimeric viruses, and because they have THAT plausible reason – AND DO USE IT – they also have a plausible reason to create the genetic instructions for the Frankenstein arms and legs and body – AND THEY USE THAT, TOO.
SO – let's add things up. The scientists have reason to, and in fact do, create ALL THE PIECES needed to construct chimeric (meaning Frankenstein) viruses. The only thing which prevents them from doing it is……….. well, they may have SAID they would not do it.
Y'all starting to get how dangerous this is? And NOW – let me nuke anybody who argues with it.
Even if, for any reason, you said BUT BUT BUT, then I can simply say "China not only CAN get all the different, non-cross-immunity-granting, "novel" coronaviruses that it wants, by taking them from bats…….. THEY ALREADY DID IT.
So – get this – China is sitting on dozens, hundreds, maybe thousands of "novel coronaviruses", many or most of which don't grant complete or even significant immunity to the others. And that's just talking about the ones China let us know about. They could have some bat coronas that are SCARY dangerous that they never told us about.
So – that is the situation.
National security involves RISK MANAGEMENT.
We have a drug, that seems to work, very generally, against coronaviruses. That drug has a strong safety record. It's called hydroxychloroquine, or HCQ.
If it even POSSIBLY works on another bat coronavirus, avian coronavirus, or synthetic coronavirus, and does so in a timeframe faster than a vaccine can be developed, then HCQ availability becomes a dead simple and unarguable national security objective.
There is only one nation that would NOT want us to prepare for that possibility. That nation is CHINA. The only people who are NOT China who would want us to not prepare for that possibility are ON CHINA'S SIDE.
What this does is makes HCQ a kind of WHEAT/CHAFF SORTER.
Yes. Enemies of the people. Or their "controlled opposition".
It's VERY simple to use this wheat/chaff sorter. VERY EASY.
USE IT. And USE IT NOW.
---
Place[Eric]Holders
I was going to discuss this, but then realized I didn't have time to put this HUGE subject together.
But then I realized I actually had a PLACEHOLDER.
SO let's entertain the Stalinist Holderites with the thought of WHAT'S COMING.
---
Get Wiser Than Solomon On Anna Chapman
John Solomon has a GREAT new book out – FALLOUT – which tracks SPYGATE back to URANIUM ONE.
To get a taste of what was found by John Solomon and Seamus Bruner, there is a GREAT interview of Solomon and Bruner by the Epoch Times.
Here is the video – absolutely worth a watch!
The first 18:10 of the video cover the fact that "Spygate" actually goes back to the BEGINNINGS of the Obama administration, and center around URANIUM ONE. The mind-boggling "negligence" of the Obama administration is on full display.
Negligence. YEAH, RIGHT.
I REPEAT.
I repeat.
Now – there are a LOT of things I can say about this interview – with which I am in 90+% agreement. In particular, I could "go big" on how the authors are either intentionally or subconsciously holding back from the full accusation of REVERSO – that Obama and Hillary weren't just being LIARS, accusing Trump of "collusion" with Russia. I could say that Obama and Hillary were actually IN LEAGUE with Russia, giving Russia both uranium AND Crimea for a VERY nice price. I could fit the CLINTONS directly into the long chain of events leading from the uranium-spying Rosenbergs and the polonium spy George Koval, to THIS VERY MOMENT, as part of Stalin's plan to slowly denuclearize the United States.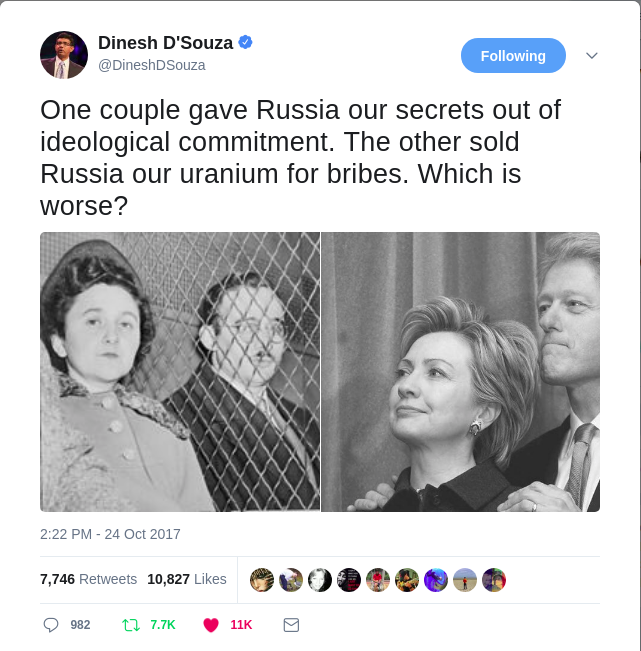 BRIBES? Or FUNDING FOR THE INFILTRATION?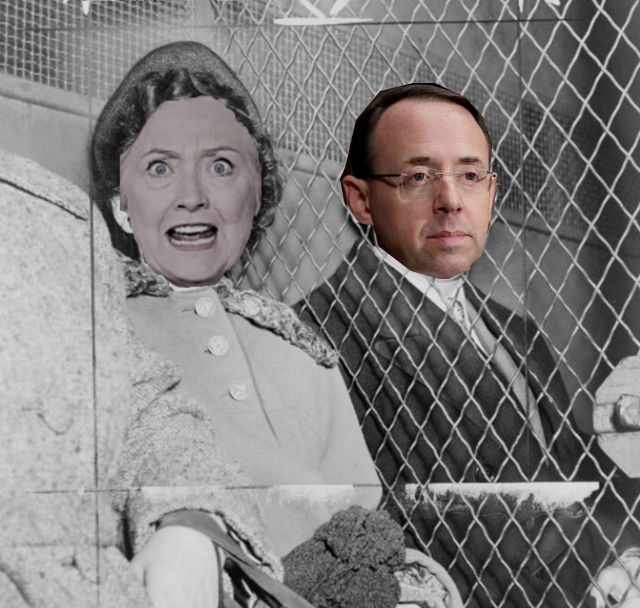 HOWEVER….
I am going to go smaller.
Staring at 18:10 until 24:32, a very important sub-story comes up, and HOW one interprets it is very important.
The story goes into ANNA CHAPMAN…..
WHOOPS! My bad!
I'm quite the fan of Maria Butina, Putin's and Hillary's useful cowgirl gun lover, who was given the "James Wolfe" kid glove treatment by Jussie K. Lie and Robert M. K. Mueller, and then kicked out of America with a velvet boot, as fast as they could hide her from scrutiny. But that's not Anna Chapman.
THIS is Anna Chapman!
More details, including her relationships to both Skripal and Snowden.
LINK: https://www.thesun.co.uk/news/5733373/russian-spy-anna-chapman-thai-holiday-sergei-skripal/
I urge you to listen to the video from 18:10-24:32.
One of the KEY points is that the Anna Chapman spy ring was [allegedly] rolled up because a spy (not Chapman) was getting close to Hillary Clinton, trying to get a job in the State Department, after getting in close with a "friend of Hillary".
Note that this is EXACTLY what should have happened with TRUMP, if Carter Page was actually a problem. But it DID NOT happen.
Funny, that.
Solomon goes on to explain that this was all explained to him. He was told by Daniel Hoffman, the CIA station chief in Moscow at the time of Anna Chapman and Uranium One, that Russia was just playing games of tainting both sides and ginning up mutual suspicions and turmoil.
That all sounds so nice and good. But yet they all understood this wonderful truth in Hillary's case, but not in Trump's case.
Funny, that.
And yet we see that Curtains Comey publicly goes along with this line of thinking, but PRIVATELY keeps the illegal, unjustified, and PHONY special counsel alive, pretending not to KNOW that it should have been CLOSED.
Funny, that.
In my opinion, what Hoffman told Solomon is the GASLIGHTING OF REVERSO.
Whether Hoffman was hiding Russian assistance to Hillary for investigative reasons (meaning, he was following the reverso), or to HELP her (as part of the reverso), is not clear.
The point being – my point – Anna Chapman was USED intentionally to "clean up" Hillary.
In my opinion, these DEMOCRATS and their MEDIA, in COLLUSION with the Russian "taint both sides" PUBLIC strategy, are able to help Russia PRIVATELY and DIFFERENTIALLY support the treasonous Democrats by what appears to be a neutral strategy ON THEIR END.
It's VERY smart.
In the case of HILLARY, rolling up the spy ring was used to GIVE HILLARY COVER as a patriot – which of course is NOT TRUE. She goes on to give Russia all the American uranium it wants.
In the case of Trump, investigating a phony spy ring was used not to COVER Trump, but to cast suspicion on him. The strategy was made "safe for Russia" by using Western assets. If it fell through, as it did, Russia gets off clean, and Democrats take the hit at a lower level – CORRUPTION, NOT TREASON.
See how that works? Like I say – SMART.
Listen to the video AFTER 24:10. The interviewer, Jan Jekielek, gently tries to get the authors to lean forward on what I might call DISINFORMATION DIFFERENTIAL as a Russian "active measure" to support the treasonous Democrats, but NO BITEY.
Now I don't know why Solomon can't or won't say this. Maybe America is not ready. Maybe he would be "getting out in front of his skis" with that accusation.
Funny – I was once taught to LEAN FORWARD HARD on skis, to keep control at high speed on the really steep stuff.
Hillary and Russia. There's more to the story. Let's FIND IT.
W