I am absolutely in love with this image which Deplorable Patriot brought to our attention in yesterday's daily post: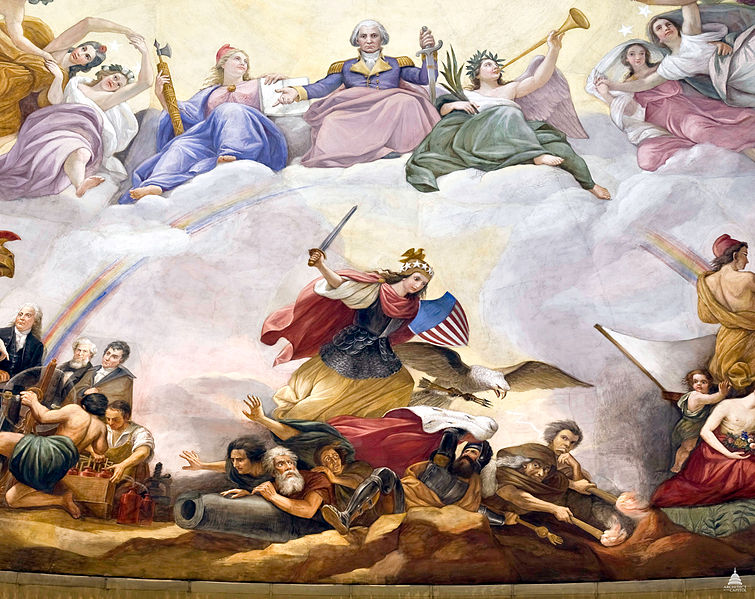 Cover image: The Apotheosis of Washington, fresco, Constantino Brumidi (1805–1880), USCapitol (in the rotunda dome)
In this scene armored Freedom, sword raised and cape flying, with a helmet and shield reminiscent of those on the Statue of Freedom, tramples Tyranny and Kingly Power; she is assisted by a fierce eagle carrying arrows and a thunderbolt.
---
I thought it looked even cooler when the Wolf Moon Logo was attached to the center of the image at the top of the page:

Or better still, close-up!
YES! Right on Freedom's swinging arm!
You will notice that the TAG LINE is a little less "Q" and a little more "us", thanks to a great suggestion from Zorro, when I made that comment.

Although you will note one small edit from the ACTUAL original comment.
I originally said "Let us see the rest of our lives as love-letters to future historians, and leave TRUTH behind."
I changed it to "Let us live the rest of our lives as love-letters to future historians, and leave TRUTH behind."
NOT "leave it behind" as in abandon it. I mean EMBRACE THE TRUTH. And then leave it behind for others, as a GIFT to posterity.
Obviously, the change from see to live is the result of a transformation of the original statement with a function, that function being the maxim ACTIONS SPEAK LOUDER THAN WORDS.
And while speaking is an action – and a very important one – protected by the First Amendment – the ACTION of ACTUALLY speaking is much louder than the THOUGHT of MAYBE speaking.
Just keep that in mind.
---
What I want to ACTUALLY say to you all today, is a bit of a fireside chat about where I am going. Some of you may choose to go with me. Others may not. I will NEVER force anybody to go with me, anywhere. This is a VOLUNTEER army. I don't believe in the draft – in conscription – and I never have, and never will.
But there is something else I will never do.
I will never abandon Donald J. Trump.
Never. Ever. Never, ever. No way, no how, uh-uh. Not going to happen.
Whatever Trump decides to do, I will commit firmly behind it. I did not say PRESIDENT Donald J. Trump, because I was with him BEFORE he was President, and I will be with him AFTER he is President, on Earth and in Heaven itself.
Our friend Imperator Rex had a thread today on Quod Verum, where he states that Trump stepping down and letting a corrupt Biden presidency begin would be utter failure. I will agree that this scenario would be horrible, but I also realize that it would galvanize the forces of freedom in ways never seen on this planet – albeit at great cost and in a horrifying tumult.
But I would NEVER abandon Trump if he chose this rebirth of freedom in the fires of civil war. I regard it as an excellent strategy. Not the ONLY excellent strategy, but one of many excellent ones.
I am NOT SCARED of civil war.
Here's why.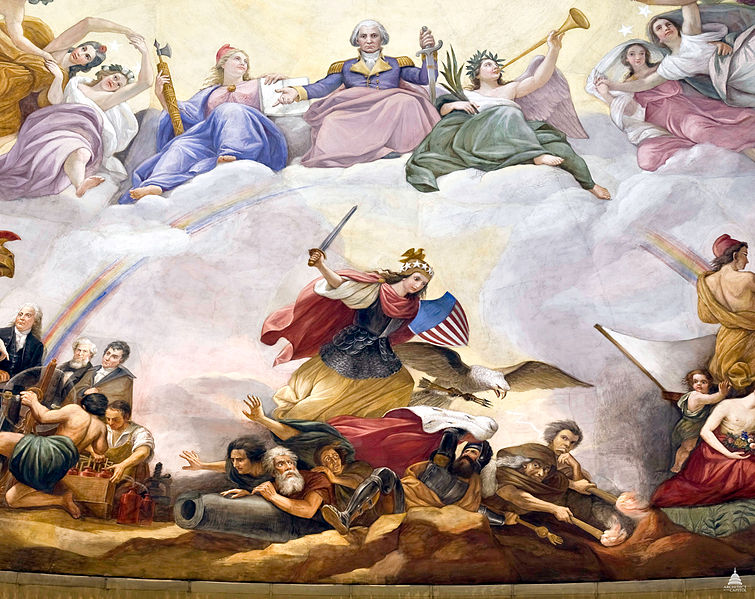 MOST of the people inside Congress do not deserve this artwork. Most of them are COWARDS, who denounce the PATRIOTS who actually stood up against a fraudulent election.
Now – I'm not saying I'm a hero. I'm a hillbilly – a kulak – a deplorable – who proudly "trespassed" on the sacred grounds of an edifice which is now the Bastille of Queen Nancy of Better Ice Creams.
I think I'm liable for $1000 and six months in jail – which to me is an incredible bargain for being part of actual history, hate me as many may for my role in it. Unlike Roger Stone, I'm immune to COVID-19 – a much nastier punishment by Nancy's Chinese friends, so it's not an automatic death sentence if I am imprisoned. Nevertheless, if I die in jail, I'm not only immortal in the spirit – I choose a FAR more iconic end than any in my family.
If I had to go to jail for anything, peacefully protesting against Nancy Pelosi and her legion of fraudsters and accomplices has got to be the BEST thing I could possibly go to jail for. I feel morally and spiritually completed by being such a scoundrel.
I'm not planning on turning myself in, because that relieves the recipient of the protest from the POINT of the protest – to force upon the system of justice, the full contemplation of the relative injustice of that which is being protested against, versus the lesser act of non-violent civil disobedience. THEY have to make an effort to make the arrest. They have a choice. It forces people to THINK about things.
The DOJ – and that would be the same DOJ which BOOED Trump marchers – can go after me, for trespassing, or they can go after Nancy Pelosi for framing us with violent actions by Antifa and BLM hooligans, or they can go after the people who stole this election, or they can go after the people who pulled the Russia Russia Russia hoax, or they can go after many other crimes which they intentionally and maliciously ignore.
Their choice. It's BEAUTIFUL.
But that's only the beginning of my point.
This
Artwork
Celebrates
People
Who Had The Will To Fight
For Freedom.
I'm not seeing that in Congress.
I'm not seeing that in the GOP.
What I'm seeing is a lot of rationalization of corruption.
I'm seeing distraction and diversion and delay.
I'm seeing
LOOK OVER THERE AT THAT BUNCH OF HOOLIGAN SQUIRRELS WHICH I'M CALLING DOMESTIC TERRORISTS BECAUSE I'M SCARED THEY MIGHT BE RIGHT AND DOING SOMETHING ABOUT THIS IS OUT OF MY COMFORT ZONE.
Hey, baby, it is out of ALL of our comfort zones.
BUT I'M GETTING CLOSER.
A LOT CLOSER.
AND I AM ALMOST AT EASE WITH DOING THE RIGHT THING.
So what is the right thing?
Well, WE need to collectively discover it. I think listening to Trump, like people listened to George Washington, is a very good idea. But Trump's not the only worthy man or woman to listen to. There's a lot of good ones now. And there's more all the time, thanks to Trump.
Don't listen to hotheads, don't listen to moaners, don't listen to nervous Nellies, and don't listen to the sunshine patriots.
Listen to the UNSHAKEABLES.
The idea of impeaching a man who is bringing back America as it was founded is a laughingstock. Anybody who goes along with it is either guilty or weak. We LAUGH OFF impeachment. It's a BAD JOKE.
What we need now is STRENGTH. Strength of WILL. Strength of CHARACTER.
Strength of HONOR, DUTY, and ENDURANCE.
Strength of BELIEF. Strength of TRUST. Strength of FAITH.
What we do not need is FEAR. The other side knows that FEAR is their only real weapon now. So strike it down. Don't put up with it. Help others out of it.
I do not know what Trump is going to do, and I don't care what he chooses to do.
My FAITH is THAT STRONG.
If you choose to make yours that strong, join me.
W