Joe Biden didn't win. This is our Real President: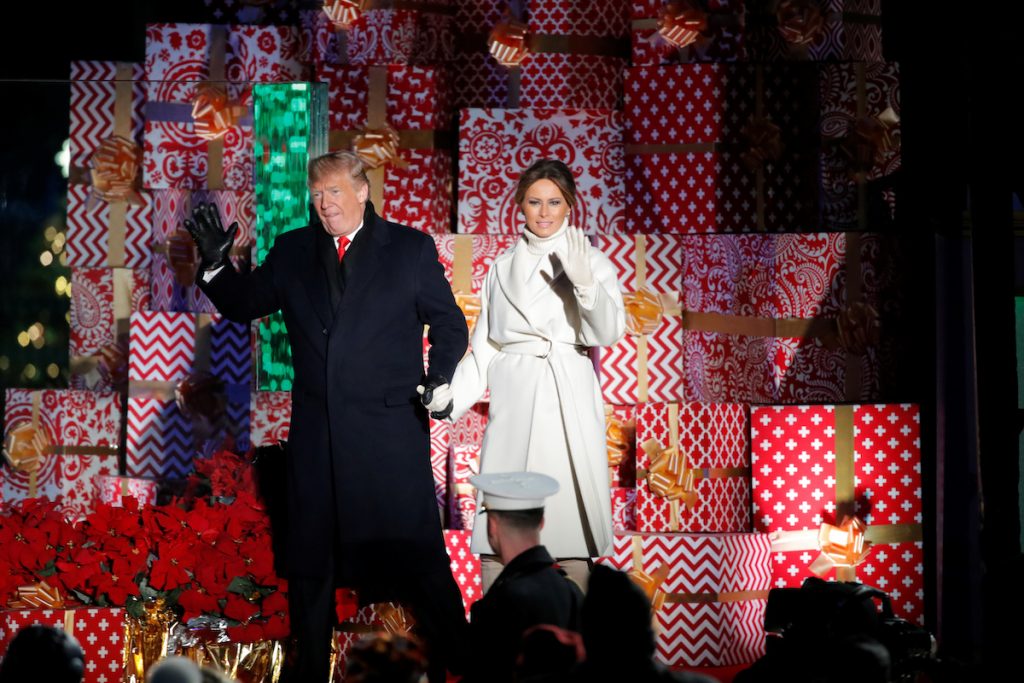 AND our beautiful REALFLOTUS.
Get your rest, Trumpy Bear! You're going back to the White House!!!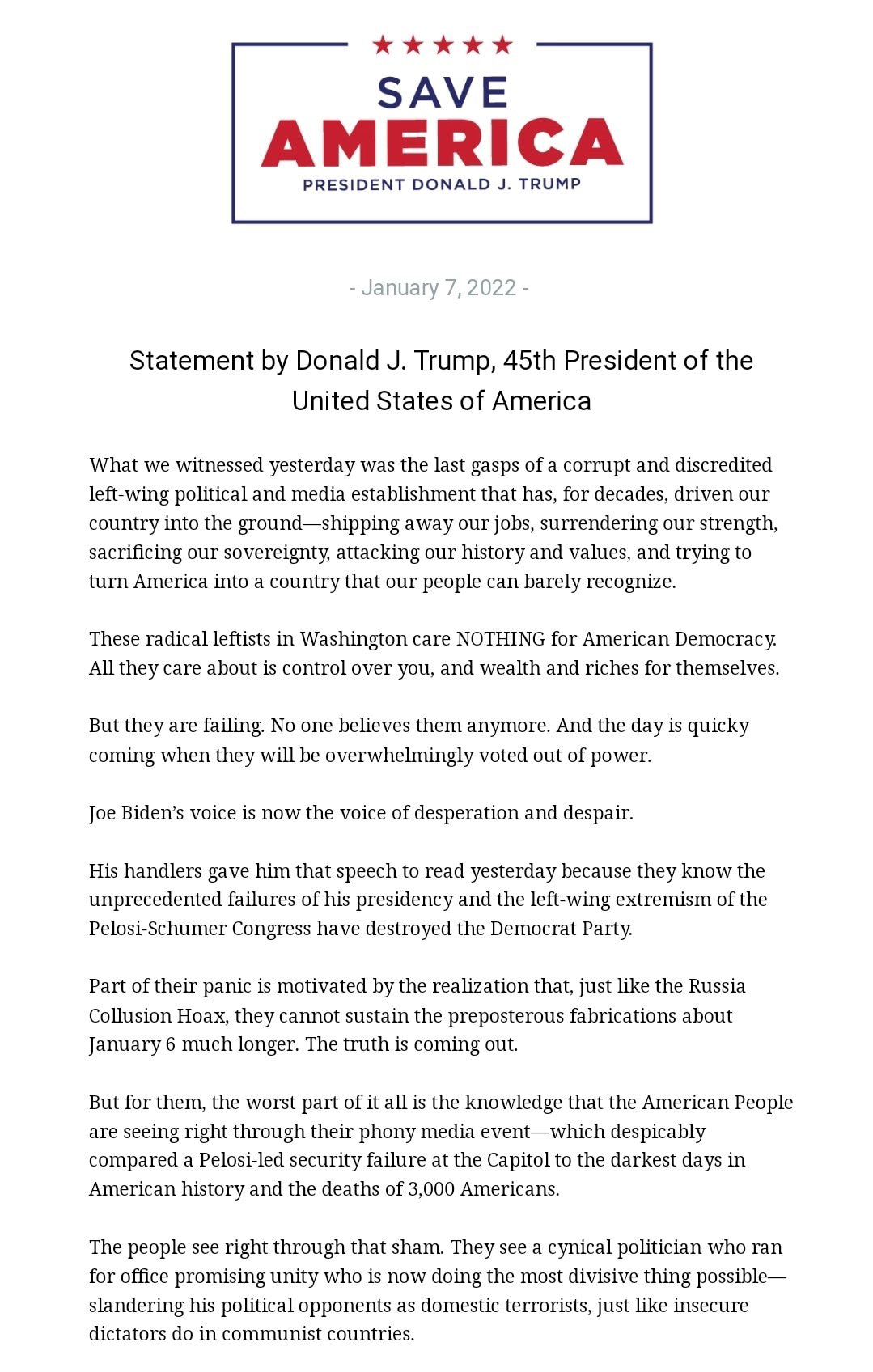 I think this statement is one of the best political speeches ever! Thank you, Trumpismine, for alerting us to this gem!
---
Please Stand By For A Brief Interruption…..
*SNUCK – A Special Wolfie's Wheatie's Word of the Day
Is it "snuck" or is it "sneaked"? DA WOOF was raised on "snuck", more than likely because of his young hillbilly associates.
The Merriam-Webster Dictionary has a wonderful discussion of this point.
LINK: https://www.merriam-webster.com/words-at-play/snuck-or-sneaked-which-is-correct
Bottom Line:
TAKE YOUR PICK
FTA:
The original past tense of sneak was sneaked, following the pattern of other regular verbs. However, in the 19th century snuck started appearing, and is now the more common version for the past tense of "sneak." Most irregular verbs become regular over time, but sneak has become irregular, and no other word like sneak (peek, creak, etc.) follows a similar pattern.
We shall return to our roots and use "snuck" as often as possible, but "sneaked" where it sounds better, like "sneaked a peek".
We now return you to our regular programming.
---
The Business At Hand
This Stormwatch Monday Open Thread remains open – VERY OPEN – a place for everybody to post whatever they feel they would like to tell the White Hats, and the rest of the MAGA/KAG/KMAG world (with KMAG being a bit of both).
And indeed, it's Monday…again.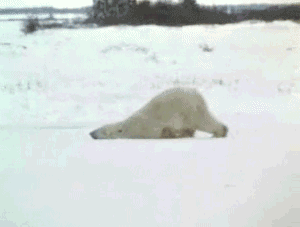 But we WILL get through it, NO PROBLEM.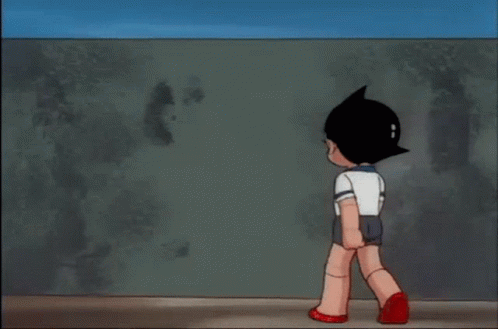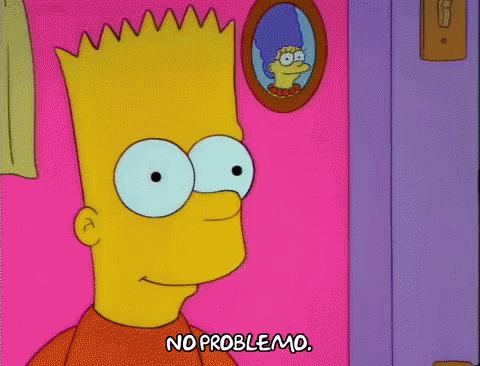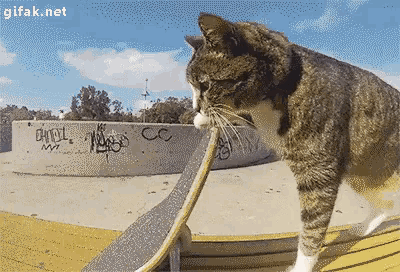 ---
The Rules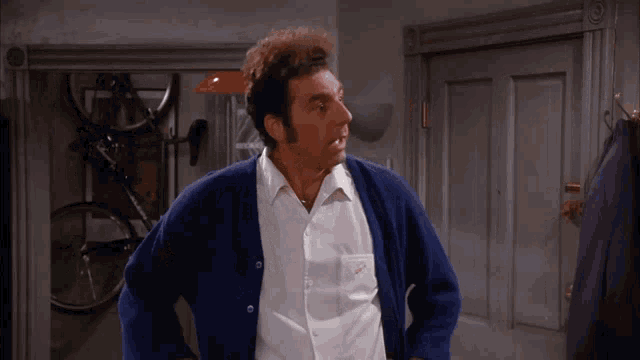 Boilerplate, more or less, but worth reading again and again, if only for the minor changes, and to stay out of moderation.
The bottom line is Free Speech. Theories and ideas you don't agree with must be WELCOME here, and you must be part of that welcoming. But you do NOT need to be part of any agreement.
I want to make TWO POINTS today.
POINT 1 – No Political Correctness (of Any Kind)
We shall endeavor to keep all forms of political correctness OUT of this place.
Even a hypothetical MAGA PC.
The idea that some things cannot be said "because MAGA" or "because Trump" is a non-starter. Don't even.
THAT is a path back to BUSHISM and RINOism.
The utter banishment of PC is how we make sure that ALL "non-establishment voices" can be heard.
Political correctness always starts off with "we're just asking you to be nice", or, "we all believe this, don't we?", but it always ends up in censorship, because that is where it was ALWAYS HEADED.
You can use LOGIC, REASON, RELIGION, SCIENCE, and any other form of honest quarrel, even as simple as saying "I don't like that", but NOT political correctness.
PC is the most insidious infringement of free speech to ever exist.
And PC is not just a leftist thing.
A classic example from history is "You can't criticize a sitting President during wartime."
Where in the hell did THAT come from?
I would think that wartime is THE MOST IMPORTANT TIME for there to be criticism – even from people I absolutely can't STAND (and I did like the Dixie Chicks, even when they were stupid as hell!)
Nope.
No idea, discussed honestly, truthfully, and with the agreed level of civility, is "beyond the pale".
This site does not exist to protect certain ideas from examination. It exists to shine light into EVERY nook and cranny.
Thus, please don't demand that certain topics or ideas be "off limits", or declare that they are justifying of incivility.
Point 2 – Ignoring Those Who Disagree In Automatic Ways
People who disagree with your comments are simply part of this place, because of FREE SPEECH. You just have to put up with it. All viewpoints are subject to being countered in a civil fashion.
"Civil" does not necessarily mean that you will not be annoyed or frustrated by the reply or replies.
Feel free to offer to "agree to disagree".
Now there are some people who don't want to "agree to disagree". They feel a kind of necessity to speak their mind – to state ALL disagreements, and to continue ad infinitum. Often this is religious, where the person believes that failure to disagree is a dereliction of moral responsibility.
This can get frustrating, if you feel that you HAVE TO RESPOND.
Because you DON'T HAVE TO RESPOND.
The best medicine for ad infinitum disagreements, even in moral duty, is to IGNORE THE REPLY. And I mean don't respond in ANY way.
Do not demand that the other person "henceforth ignore what you say", because that's not part of free speech. YOU ignoring THEM is.
Trust me – when people see that you are not responding to somebody who "gets in the last word no matter what", they are NOT thinking that this person "won the argument". They think you have better things to do. AND YOU DO.
SO….. [ENGAGE BOILERPLATE…..]
We must endeavor to persevere to love our frenemies – even here.
Those who cannot deal with this easy requirement will be forced to jump the hoops of moderation, so that specific comments impugning other posters and violating the minimal rules can be sorted out and tossed in the trash.
In Wheatie's words, "We're on the same side here so let's not engage in friendly fire."
That includes the life skill of just ignoring certain other posters.
We do have a site – The U Tree – where civility is not a requirement. Interestingly, people don't really go there much. Nevertheless, if you find yourself in an "argument" that can't really stay civil, please feel free to "take it to the U Tree". The U Tree is also a good place to report any technical difficulties, if you're unable to report them here. Please post your comment there on one of Wolf's posts, or in reply to one of Wolf's comments, to make sure he sees it (though it may take a few hours).
We also have a backup site, called The Q Tree as well, which is really The Q Tree 579486807. You might call it "Second Tree". The URL for that site is https://theqtree579486807.wordpress.com/. If this site (theqtree.com) ever goes down, please reassemble at the Second Tree.
If the Second Tree goes down, please go to The U Tree, or to our Gab Group, which is located at https://gab.com/groups/4178.
We also have some "old rules" and important guidelines, outlined here, in a very early post, on our first New Year's Day, in 2019. The main point is not to make violent threats against people, which then have to be taken seriously by law enforcement, and which can be used as a PRETEXT by enemies of this site.
In the words of Wheatie, "Let's not give the odious Internet Censors a reason to shut down this precious haven that Wolf has created for us."
---
A Moment of Prayer
Our policy on extreme religious freedom on this site is discussed HERE. Please feel free to pray and praise God anytime and anywhere.
Thus, please pray for our real President, the one who actually won the election.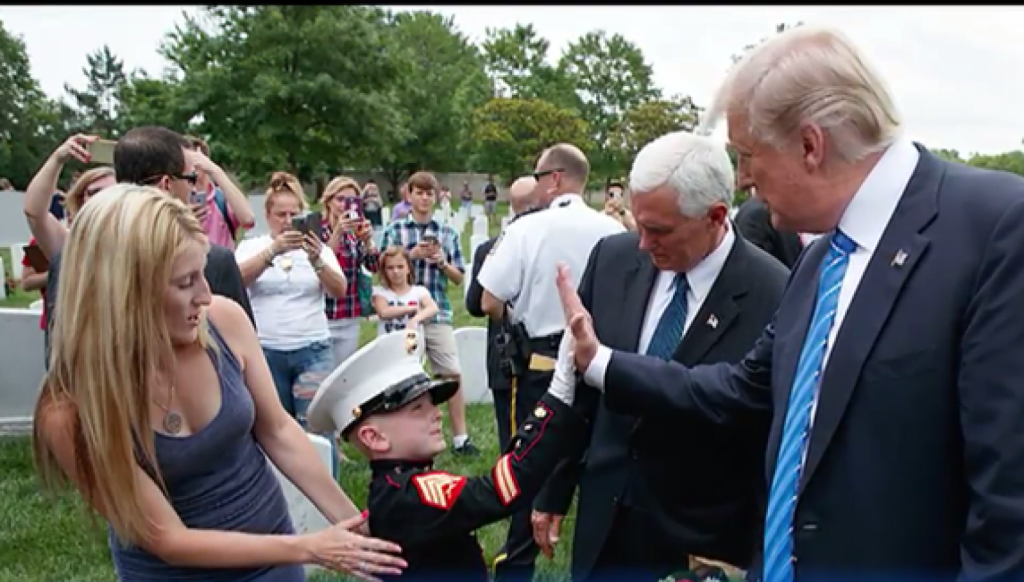 You may also pray for our enemies, even Pantifa, who need a good prison ministry.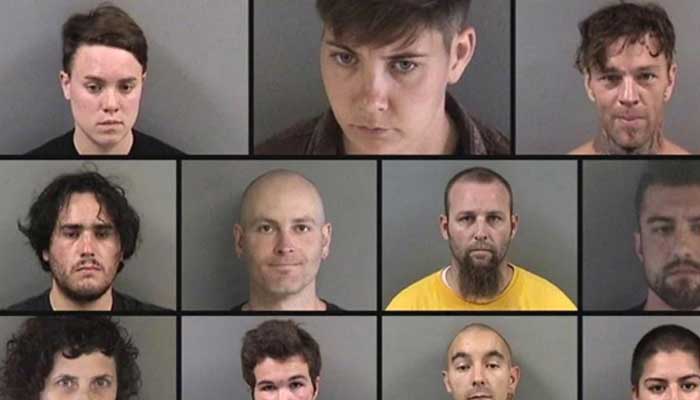 ---
MUSICAL INTERLUDE
For your listening enjoyment, and general encouragement, we continue Wheatie's tradition of fine music videos, shipped fresh from the seas of information by our intrepid authors.
First – a little "commercial" music from a certain airline.
Well – one thing leads to another. A bit of island-hopping, and then back to Hawaii…..
OK – that's enough of that. Give me some of that LUCINDA CHICK that Smiley turned me onto! Let's try the same song LIVE.
Now just add some ELVIS COSTELLO, who shows up with everybody.
OK – let's see who else we can hook up Elvis with…..
OK. Maybe a good transition.
---
Call To Battle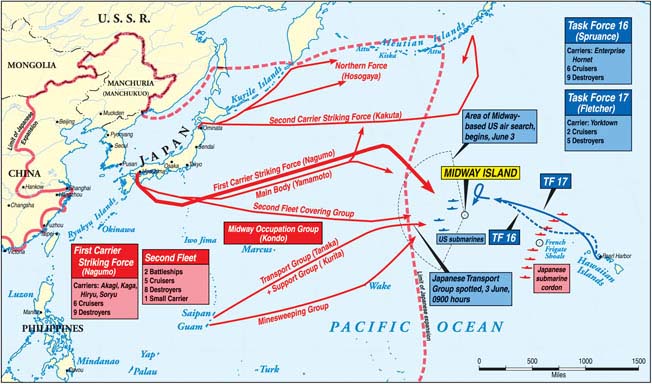 Our beloved country is under Occupation by hostile forces.

Daily outrage and epic phuckery abound.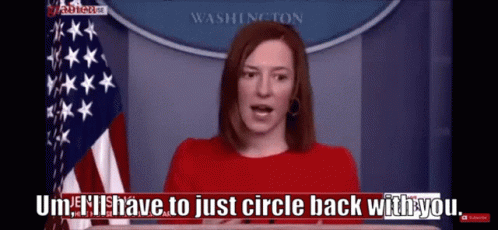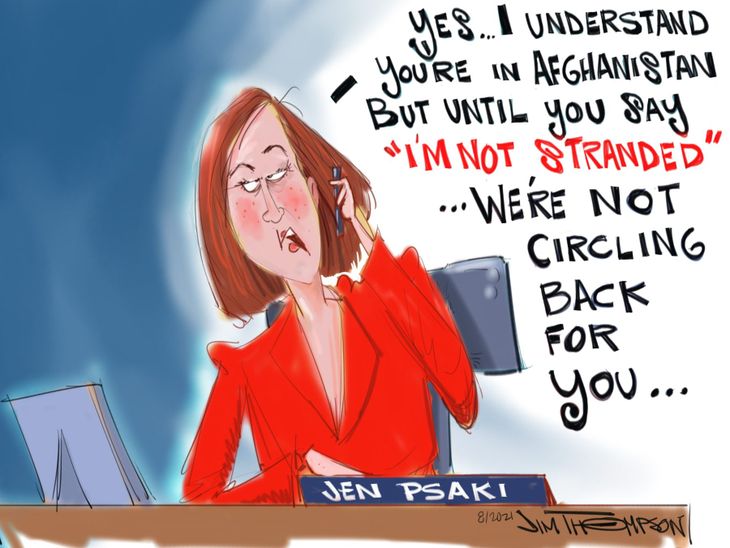 We can give in to despair…or we can be defiant and fight back in any way that we can.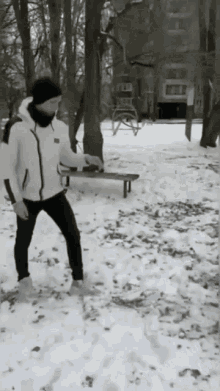 Yup. MASS, GRAVITY, TIME and CONSEQUENCES THEREOF are most definitely a thing.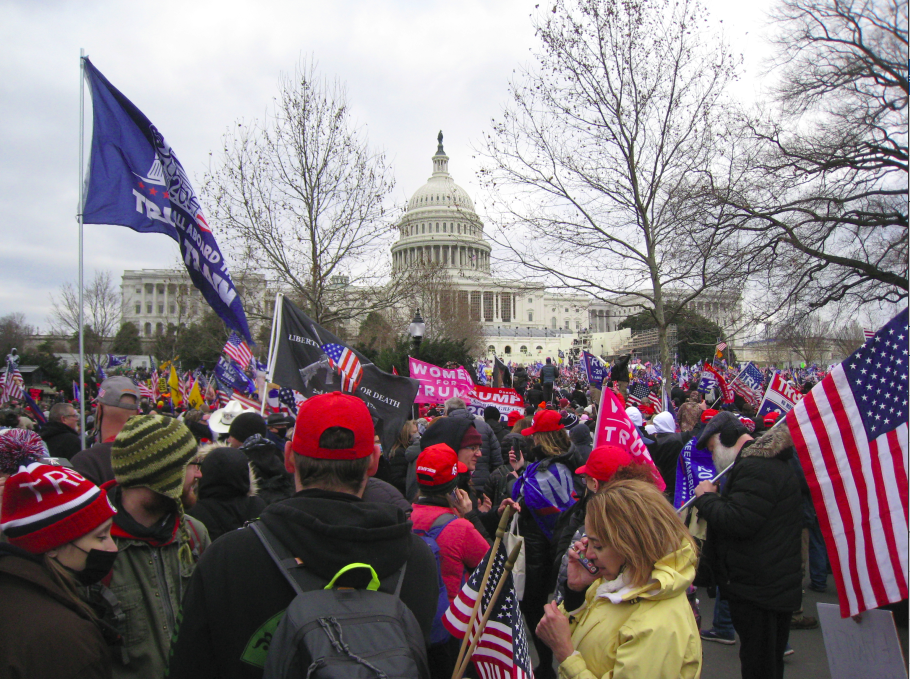 Joe Biden didn't win.
And we will keep saying Joe Biden didn't win until we get His Fraudulency out of our White House.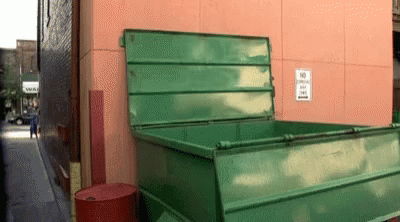 ---
The Ethical Skeptic's Elevator Pitch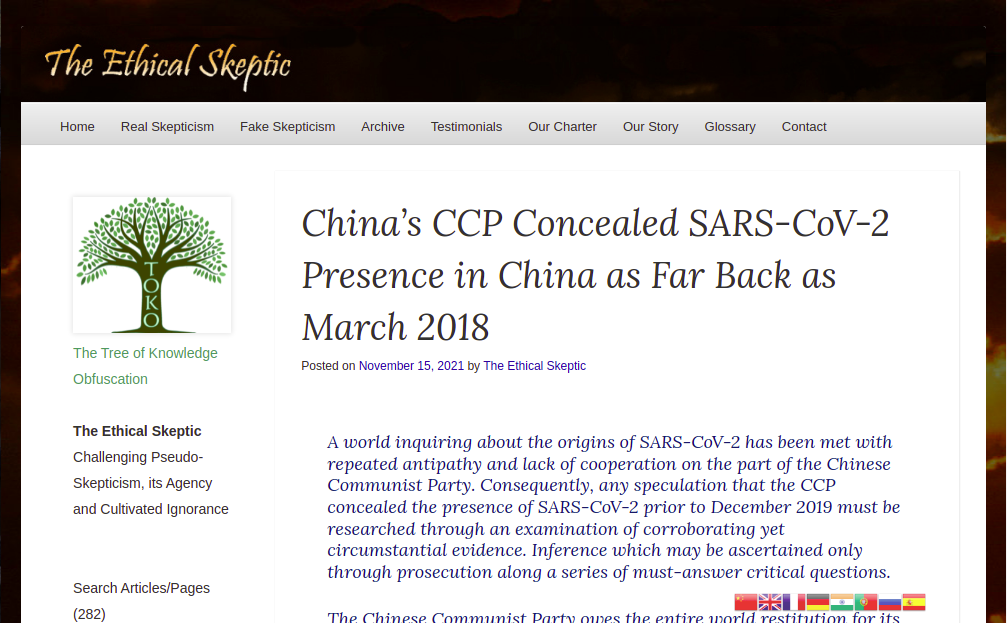 You will recall LAST FRIDAY'S POST in which one of the topics was entitled:
This segment of the daily open covered a wonderful post (more like a "blog paper") by The Ethical Skeptic, in which it is postulated (and to my satisfaction, demonstrated) that the Omicron variant is of a separate lineage from the Wuhan release and descendants thereof.
I had commented on The Ethical Skeptic's post, that if he formulated an "elevator pitch" for his paper, I would trumpet it to the world.
WELL, HE DID!
Here is his "elevator pitch", as well as the context.
---
WOO-HOO!!!
I got an "elevator pitch" from The Ethical Skeptic!!!
😍
The Ethical Skeptic(@theethicalskeptic)
Author
Reply to Wolf Moon
2 days ago
Elevator pitch
"When one examines the complete 144-slot genetic profile of the SARS-CoV-2 Omicron variant, it becomes clear that its lineage is a full two years older than even the first Covid virus in Wuhan, China. Not only did this ancestor of Omicron cause an outbreak across the world in 2018 and 2019, that was mistaken as an 8-fold higher rate of flu across the Asia-Pacific-Africa for those years, but its genetics reveal a robust history of lab mouse serial passes and lab-edited alleles. This proving that its 2018 release as a less-deadly immunity-builder prophylactic virus, and the subsequent release of the more-deadly Wuhan variant two years later, both originated from a weapons-grade bio-lab in China.
China set up a red herring for the world to 'discover' at the Wuhan Institute of Virology and its local seafood wet market, suggesting an unfortunate but understandable accident was being thinly concealed. Now, the problem for China is, that unlike all the other variants, Omicron stuck around for some reason, and is now spilling the beans on the whole sordid affair."
TES 🙂
---
Now, let me repeat that in five pieces, with commentary in between.
But first, let me remind you, that this elevator pitch is NOT an abstract or a summary of the blog post. It is a small "explainer and convincer" that gives you the GIST of the proposition – enough to make you GET IT.
If you have just a few seconds to convince somebody that something needs attention, you need an "elevator pitch" – as in "I got on the elevator with the head of research, and finished my proposal right as she got off on her floor."
Here we go!
---
When one examines the complete 144-slot genetic profile of the SARS-CoV-2 Omicron variant, it becomes clear that its lineage is a full two years older than even the first Covid virus in Wuhan, China.
In my opinion, it has been clear that EVERYBODY is surprised by the genetic divergence of Omicron from the original Wuhan strain, as well as all the other descendants thereof. How in the HECK did that happen?
Well, it gets worse. It turns out that Omicron or its close ancestors have been around since about the time we first started looking at SARS-CoV-2.
It is NEARLY IMPOSSIBLE that this virus is a product of mutation of Wuhan.
Something stinks.
Well, what TES has done, is to look closely at the genetics, and come up with a VERY plausible explanation of them, which ALSO explains many other interesting facts – particularly in the 2018-2019 timeframe.
---
Not only did this ancestor of Omicron cause an outbreak across the world in 2018 and 2019, that was mistaken as an 8-fold higher rate of flu across the Asia-Pacific-Africa for those years, but its genetics reveal a robust history of lab mouse serial passes and lab-edited alleles.
This matches up with many facts from 2018 and 2019, as well as my belief that China was actively engaged in some kind of shenanigans with the SARS outbreak of 2003.
China, in my opinion, has not only been LEARNING from secret and public accidental viral releases – it has been engineering many intentional releases for DECADES.
I think now is a good time to accept the following.
NOTHING that the CCP says should be believed or disbelieved. What they say is irrelevant, except as evidence of possible deception, criminality, and lies. Treat CCP or proxy statements as evidence from criminals – nothing more.
Example: https://www.theepochtimes.com/china-the-manipulation-of-data-and-the-biggest-lie-in-modern-history_4196857.html/
NOW – here is something interesting.
Here is a perfect example of Chinese scientific disinformation and Sun Tzu subterfuge.
LEARN from the ChiComs.
Chinese scientists (who may or may not believe what they are saying, because of omnipresent CCP infiltration, influence, control, and monitoring of all Chinese scientists) submitted – almost exactly 1 month after TES posted his work – a paper that is essentially COVER-UP of the evidence of mouse genetics in the lineage of Omicron which was revealed by TES.
The first link explains the paper in layman's terms. The second link is to the paper itself.
LINK: https://basedunderground.com/2022/01/07/new-research-appears-to-confirm-that-omi-con-came-from-mice-indicating-likely-laboratory-origins/
PAPER: https://www.ncbi.nlm.nih.gov/labs/pmc/articles/PMC8702434/
What's really SMART about this ChiCom "fix" is that they're using Didier Raoult's work concerning minks as a pretext here. This is a VERY typical Chinese science-spy suck-up technique.
Had I not worked with a bunch of Chinese and Russian spies for decades, being completely on guard for their bullshit, and yet having fallen for it a few times in spite of that experience and suspicion, I would not appreciate just how EXTREMELY GOOD they are at doing this stuff.
They will WEAR YOU DOWN WITH THE SUGAR and then SLIDE THE KNIFE IN when you can't possibly see it.
And I ain't sayin' CIA CHICKS are bad, either, if you know what I mean.
What can I say? This is just like the horrible Zhang paper "proving" masks "work", which was then used by American Democrat politicians to justify their mask policies used in their electoral coup of Trump.
Science is no longer free of OMNIPRESENT DECEPTION. Treat it accordingly.
I simply cannot emphasize this enough.
The CCP has no respect for "global" science. NONE. They use it – abuse it – and destroy it – all in the name of holding power. All those who trust the CCP, or the people it manipulates and influences – including many American governmental and organizational leaders – are going to get BURNED.
Likewise, if you automatically treat the science that CCP touches as "real", be prepared to stumble.
---
This proving that its 2018 release as a less-deadly immunity-builder prophylactic virus, and the subsequent release of the more-deadly Wuhan variant two years later, both originated from a weapons-grade bio-lab in China.
The beauty of this explanation is not only that it explains the genetics, but that it explains many facts which we observed. TES has a good run-down, but in general, the "pre-COVID almost-COVID bugs" that people observed WERE IN FACT SOMETHING.
I think the real question is how much HELP China got on "our side".
This is straight out of modern Chinese warfare – to strike an enemy in such a way that the enemy does not even understand THAT they have been struck. By using a prior release as a vaccine, the Chinese avoided all blame for a second release on their own soil.
This is brilliant warfare.
This fully comports with a tactic that the ChiComs absolutely love – which is to publicly "anticipate" a warfare capability that they ALREADY OWN AND USE IN BATTLE.
You will notice that by later in 2021, a few of those infamous "Chinese colonels" began to engage in a kind of "wolf warrior braggadocio" over the idea that China had won a great biological warfare victory over the West, by virtue of their superior "response" to COVID-19, and thus that biological warfare needed to be a key part of *FUTURE* Chinese war-fighting strategy.
Do NOT be fooled by this.
What this means is that China is already using biological warfare – and has been for some time. When Chinese colonels do this stuff, it is a psychological operation.
---
China set up a red herring for the world to 'discover' at the Wuhan Institute of Virology and its local seafood wet market, suggesting an unfortunate but understandable accident was being thinly concealed.
Again, the TES proposition explains so much about the multi-layer Chinese release cover-up, and all the subsequent, pre-calculated, pre-arranged back-pedaling.
First, there was bat soup.
Then there was no bat soup, but plenty of blame of racism. Clearly the work of the racist but infinitely self-hoaxing CCP.
Then I think it went to pangolins, and that was where I just started rolling my eyes. Smart people started believing blood samples (H/T Linda).
The Red Cross said it was definitely in America in December 2019.
Until somebody else proved October 2019.
And then the Italians proved it was prevalent in Europe in September 2019.
Again, the TES theory is perfect, explaining how the earlier "protective" viruses did a "long march" across Asia, thereby protecting China in a "mid-term practice run" of sorts – working out all the bugs, so to speak.
It just fits too well. Sorry, China.
AND – of course – this explains why the CIA and Twitter and the cut-out group "DRASTIC" created a double-down on a lab escape, conveniently proffered by a media that pilloried Trump for the same ideas, but realized that their "concession" would get Trump's supporters to buy into a late release accident, to prevent them from seizing upon the highly explanatory idea of a two-stage release operation.
REALLY. They're so easy to understand now.
Now, the problem for China is, that unlike all the other variants, Omicron stuck around for some reason, and is now spilling the beans on the whole sordid affair.
So – I have to ask – what is "some reason"?
Aubergine believes that the Omicron mildness is by White Hat design, and I almost have to agree.
Or perhaps there's a bit of "AND" logic here.
Wouldn't it be hilarious if the American military identified Omicron precursors in old blood samples, realized the actual viral timelines, realized that Omicron was a "remnant" of the Chinese pre-Wuhan "vaccine strain", and essentially RE-DEPLOYED THE CHINESE VACCINE STRAIN as Omicron, in some fashion, at some time?
What this means is that instead of finding and using a racially selective bioweapon, which will inevitably be achieved and used by these racist CCP goons, but is still *possibly* a bit out of reach, the ChiComs worked with what they had on hand – a chronologically and geographically and immunologically selective BINARY bioweapon.
And yet – well – it's blowing back a bit now. In more ways than one.
Interesting times just got more interesting.

---
Corbevax – The "Good" Vaccine That Sneaked Past The Criminals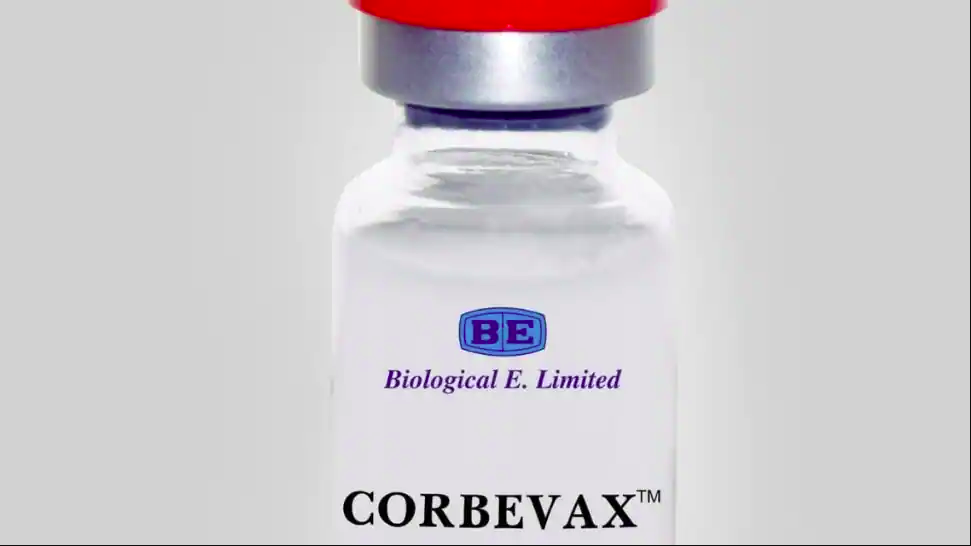 I've already been pimping this crap online and IRL, and I have offered some opinions already, but now I'm ready to give you all a real run-down on it.
Here is my latest "pimp job" on The Gateway Pundit, on an article about some poor Israeli teenage girl who got killed by ONE INJECTION of the "clot shot"…..
---
WOLFM00N 2m
Any pro-vax out there who are even thinking of vaccinating your kids – WAIT FOR CORBEVAX.
no mRNA or cDNA
no full spike protein
no nanolipid technology
no Pfizer, Moderna, Wuhan or China involved
non-profit, developed by Texas vaccine expert Dr. Peter Hotez
professor of pediatrics at Baylor (yes – a pediatrician)
patent-free – anybody can make it
made in India (right now) – very cheap
Google "corbevax hotez" and get more information. This is an RBD subunit protein antigen vaccine – meaning it works around almost every WRONG THING that was done on purpose in the current vaccines in order to PUSH technology. This is an old-school vaccine.
If you're hesitant, wait for a few months of results. The Phase III trial was good (zero serious side effects), but we all know better – a million doses have to go out before you really know how safe these things are.
IMO, the only safer vaccine would be this exact same type by nasal delivery.
---
SO – TMI – information overload for sure.
What did I say? Some safer vaccine?
YES – let's start from the beginning now.
---
First, a hat tip to TheseTruths for a link to some OANN coverage of this new vaccine.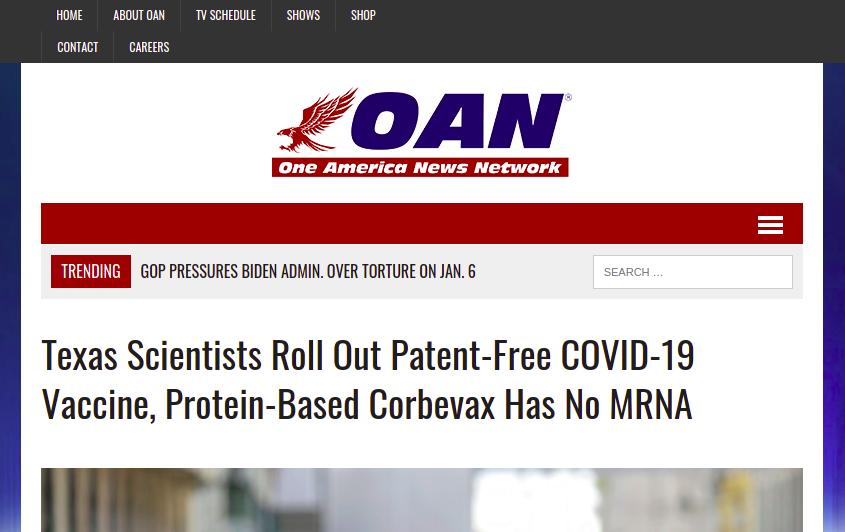 LINK: https://www.oann.com/texas-scientists-roll-out-patent-free-covid-19-vaccine-protein-based-corbevax-has-no-mrna/
ARCHIVE: https://archive.fo/KxPPk
---
FTA:
OAN Newsroom
UPDATED 10:26 AM PT – Wednesday, January 5, 2022
Texas scientists rolled out a new COVID-19 vaccine, saying it's patent-free and can be produced by any manufacturer in any country. The vaccine, called Corbevax, was developed by the Texas Children's Hospital and Baylor College of Medicine.
It has successfully passed human trials as safe and effective. The new treatment is based off protein-based technology that has been used in other vaccines for decades and it does not use MRNA.
India has already authorized production of 100 million doses per month of the new vaccine. Meanwhile, Texas scientists say not-for-profit vaccines will help defeat COVID-19 quicker.
"We, about 10 years ago, started making coronavirus vaccines and the irony is that all of our processes are used with that in mind," explained Professor Peter Hotez, M.D. Baylor College of Medicine. "We build in low cost processes from the beginning because our health economist that we've collaborated with have always said if you don't make it for under a few dollars a dose, you might as well not make it at all. So that's all we know how to do, is make low cost vaccines."
---
The irony here is rich. You can already tell by the price – this is the UBUNTU (Linux) of coronavirus vaccines. And yet, it has somehow managed to get the blessings of organizations owned by BILL GATES.
Yes, Hotez had to let Pfizer and Moderna go first, but I still find it amazing that Hotez got this vaccine past the wicked Bill Gates during his own lifetime.
Almost makes me wonder if Hotez got some help from his anti-vaxx enemies, putting pressure on the various CLOT SHOTS.
Hmmmmmm……

Yes, Professor Hotez actually DESPISES Sharyl Attkisson over the autism issue, and used to savage her on Twitter. Not sure if he's blocked her, but I would not be surprised.
AND YET – well – just listen to him.
You heard him. The only leftist buzzword that Hotez left out was "sustainability". It's very clear that he knows how to do the university PC bullshit walk, and yet – this guy may end up saving millions of "Deplorable" lives, with a "plain Jane" vaccine that could actually have BENEFITS exceeding RISKS.
Let's look at more coverage.
Here is a fluff piece written by HOTEZ HIMSELF and his colleague, Maria Elena Bottazzi, in good old super-wokester SCI-AM.
LINK: https://www.scientificamerican.com/article/a-covid-vaccine-for-all/
---
Opinion
A COVID Vaccine for All
With proved technology and no-frills tech transfer, CORBEVAX is poised to reach hundreds of millions in the coming weeks
December 30, 2021
AUTHORS
Peter J. Hotez is a professor of pediatrics and molecular virology at Baylor College of Medicine, where he co-heads the Texas Children's Center for Vaccine Development. He is the author of the newly released book Preventing the Next Pandemic: Vaccine Diplomacy in a Time of Anti-Science (Johns Hopkins University Press). Follow Peter J. Hotez on Twitter
Maria Elena Bottazzi is co-director of the Texas Children's Hospital Center for Vaccine Development. She is also a professor of pediatrics and molecular virology and microbiology at Baylor College of Medicine and associate dean of its National School of Tropical Medicine.
---
I must STRONGLY recommend reading the ENTIRE ARTICLE, which is short and easy to understand.
It is absolutely DRIPPING with VAXZI NARRATIVE and PC BUZZWORDS – and yet one gets the sense that the entire project is planned, positioned, and poised to BRING DOWN THE CLOT SHOTS. Or perhaps just to race right past them, as they self-destruct.
FTA (buzzwords and key points emphasized BY ME):
Two years into the pandemic, CORBEVAX is the first COVID vaccine designed specifically for global health. It is a milestone for global vaccine equity, something we believe will overcome vaccine hesitancy, and serves as a blueprint for how to develop a potent vaccine for pandemic use in the absence of substantial public funding.

The vaccine prototype was first developed by scientists at Texas Children's CVD and Baylor before it was licensed, with no patents or strings attached, to Biological E. Limited (BioE).

The central government of India has already ordered 300 million doses. And BioE, the company manufacturing the vaccine, plans to produce 100 million or more doses per month starting in February. Approximately 150 million doses have already been produced and are ready to roll out. In addition to what the company is supplying to India, BioE plans to deliver more than one billion additional doses to other countries.

What this means is that CORBEVAX will soon vaccinate more people than vaccine doses donated so far by the U.S. government or any other G7 country.

This new COVID vaccine has several distinct features that make it particularly suitable for use in resource-poor settings: it is safe, effective and can be locally produced at very high quantities. CORBEVAX is easy to store and inexpensive. We hope it will be used in low- and middle-income countries in Africa, Asia and Latin America, where vaccine availability has generally been abysmal.

CORBEVAX is made using technology that has been employed worldwide for decades, meaning that manufacturing processes are generally already well-known and won't require a steep learning curve like the one needed for the scale-up of new technologies such as mRNA, adenovirus and protein particle vaccines.

CORBEVAX is made through microbial fermentation in yeast, similar to the process used to produce the recombinant hepatitis B vaccine that many resource-poor countries make and employ. This will allow for local manufacturing of COVID vaccines similar to CORBEVAX. Texas Children's CVD and Baylor have already licensed the COVID vaccine technology to companies in Indonesia and Bangladesh and have licensed it for production in African countries such as Botswana. Such vaccine technology and licensing agreements, together with co-development partners, represent the ideal example of how COVID vaccines can and should be produced locally and widely in countries in the Global South.

Like the recombinant hepatitis B vaccine that comes from the same technology, CORBEVAX has an excellent safety profile. In a phase 3 trial conducted in India, CORBEVAX produced mainly mild adverse events, making it perhaps one of the safest COVID-19 vaccines in use.

When compared with doses of the AstraZeneca–University of Oxford vaccine manufactured by the Serum Institute of India, CORBEVAX also produced a higher amount of neutralizing antibodies against the Delta and Beta variants of SARS-CoV-2, the virus that causes COVID (We expect to have Omicron data soon.) And it provided more durable and lasting protection. The vaccine neutralized variants of concern in laboratory animal studies and was highly protective in two nonhuman primate challenge trials. The trial results are being prepared for submission to a peer-reviewed journal.

As a recombinant protein vaccine developed from the receptor biding domain of the spike protein on the virus's surface, combined with Dynavax Technologies' CpG 1018 adjuvant with alum, the Texas Children's CVD COVID vaccine can be stored using simple refrigeration. And like the hepatitis B vaccine, this COVID vaccine has one of the lowest costs of any available to date. No patents have been filed on the vaccine technology, and Texas Children's CVD is assisting and co-developing the vaccine alongside BE and other vaccine producers in the Global South, which helps keep the cost low.
---
There is a research paper cited in the text, from Hotez and company, which shows that this is strong recombinant tech – it is NOT a rushed product.
Genetic modification to design a stable yeast-expressed recombinant SARS-CoV-2 receptor binding domain as a COVID-19 vaccine candidate
LINK: https://www.sciencedirect.com/science/article/pii/S0304416521000519
---
Now you all may remember me talking about a German vaccinologist named Winfried Stoecker, who tried to develop and promote a very similar RBD vaccine – and who was shut down immediately by Angie The Dung Cow and her Green Shirts.

So why is Hotez positioned to vaccinate the world, and Stoecker remains OUT LIKE A CHUMP?
In my opinion, it's because Peter Hotez plays their game and embraces the narrative with an almost perverse zeal and delight.
How perverse?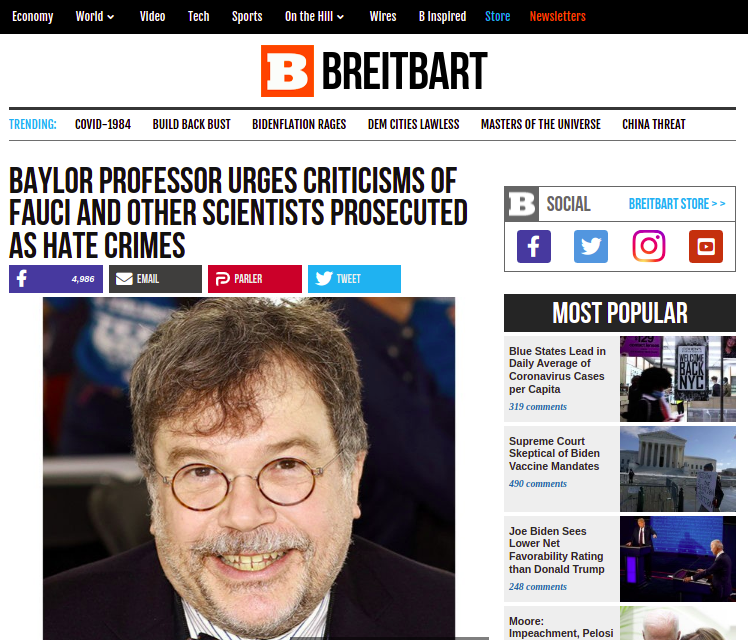 LINK: https://www.breitbart.com/politics/2021/08/04/baylor-prof-urges-criticisms-of-fauci-and-other-scientists-prosecuted-as-hate-crimes/
---
YES. THIS is the ASSHOLE TROLL who suggested that criticism of Fauci should be a HATE CRIME.
And he did it in the scientific literature, too!!!
---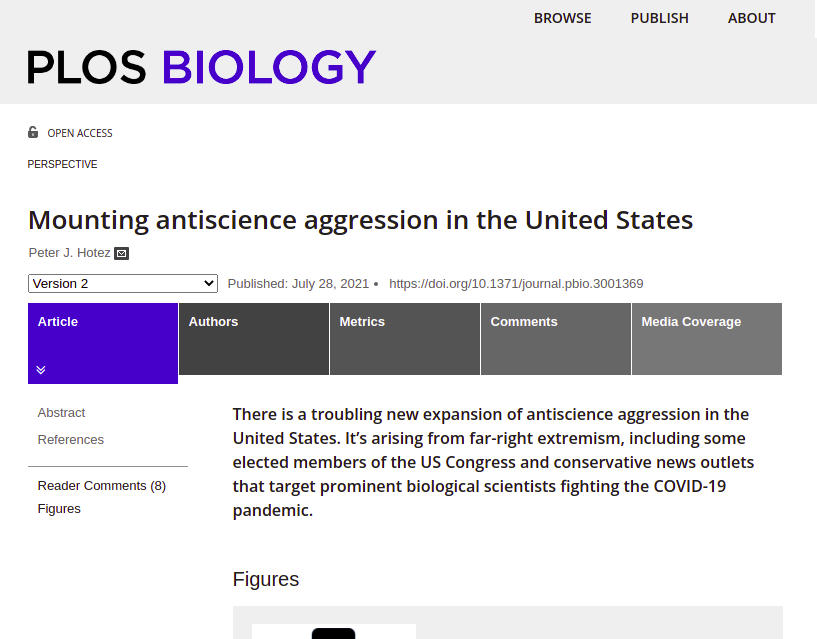 LINK: https://journals.plos.org/plosbiology/article?id=10.1371/journal.pbio.3001369
PDF: https://journals.plos.org/plosbiology/article/file?id=10.1371/journal.pbio.3001369&type=printable
---
In my opinion, this guy is like a "reality" version of the angry white faux-tranny Titania McGrath – a troll so perfect that it has to be real, or reality so SPOT-ON that it becomes a troll.
Peter Hotez is so authentically in compliance with the narrative, that he holds power over the hypocrites who force it on everybody else.
Thus, Bill Gates and Anthony Fauci are forced to go along with their own narrative, by this bow-tie bozo – this three-mask martinet of mandate over-compliance.
Don't worry – this move away from the clot shot serves the agenda of Gates and Fauci, by covering their rear ends when the heat is on. The super-villains are not stupid, and did not rise to their levels of control by allowing guys like Hotez to be anything but a "parachute" of sorts, if their private jets catch fire.
Still, how did Hotez pull it off?
In my opinion, going to INDIA was the key move. India understands the precarious position they are in, thanks to CHINA JOE in the White House. India telling Pfizer to talk to the hand, and also backing off on trumpeting the virtues of ivermectin, are BOTH in my opinion connected to an exit via the Hotez vaccine.
HOTEZ had to know that INDIA was his key to getting HIS VACCINE produced.
INDIA had to know that HOTEZ was capable of bailing them out from the CLOT SHOT.
INDIA understood that HOTEZ was donating them a money-maker to gain leverage on the CLOT SHOT.
HOTEZ understood that INDIA needed an easy break to steal influence from CHINA.
Both HOTEZ and INDIA knew that BILL GATES, CHINA and BIDEN were weakened by CLOT SHOT blowback, and were not in a position to keep the murderous ruse of the CLOT SHOT going.
The HOTEZ VACCINE could be delayed at first, but it could not be stopped, because CLOT SHOT problems would eventually make it impossible to delay or stop any other reasonable vaccines.
All in all, a beautiful chess game of scientific leverage.
So who wins?
In my opinion – GOD.
Matthew 18:6
But if anyone causes one of these little ones who believe in Me to stumble, it would be better for him to have a large millstone hung around his neck and to be drowned in the depths of the sea.
Peter Hotez is very clear about the pediatric possibility of this vaccine. No matter what, I think he REALLY wants to help kids. If his vaccine isn't "Clot Shot, Jr.", then I think he may just do that.
We anticipate people will readily accept CORBEVAX and similar recombinant protein COVID vaccines, including for pediatric use. And clinical trials in children are also underway in India. Parents may even be more willing to accept CORBEVAX than vaccines made with a newer technology. If there was ever a COVID vaccine that might triumph over vaccine hesitancy and refusal, we believe this could be the one.
Is this vaccine better than simply catching the disease? We'll see.
After what Pfizer, Moderna, Fauci, Gates and Biden have done, I trust NATURE more than vaccines. But I also "trust" some vaccines more than others.
I HOPE that THIS one – Corbevax – may be the new "gold standard" of coronavirus vaccine safety.
Additional References:
https://www.msn.com/en-in/news/other/india-approves-corbevax-here-s-all-you-need-to-know-about-the-new-covid-19-vaccine/ar-AAScPB4
https://www.commondreams.org/news/2021/12/28/unpatented-shot-dubbed-worlds-covid-19-vaccine-wins-emergency-approval-india
---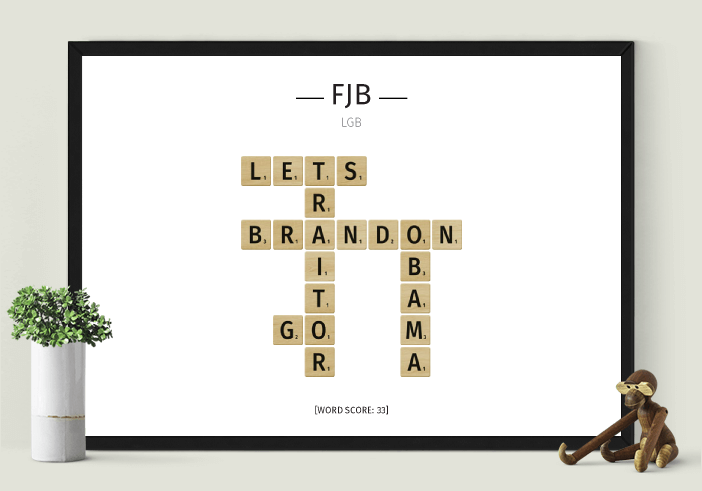 Wolfie's Wheatie's Word of the Day:
spanker
noun
On a square rigged ship, the spanker is a gaff-rigged fore-and-aft sail set from and aft of the aftmost mast. (Wikipedia)
The swinging, pole-controlled, triangular or quadrilateral sail or sails at the back end of a sailing ship. (Wolf)
The word has other definitions related to spanking (slapping or striking on the back end) that we will set aside for the moment.
Used in a sentence:
Our wonderful flag flew from the spanker of the Lady Washington.
Used in a picture: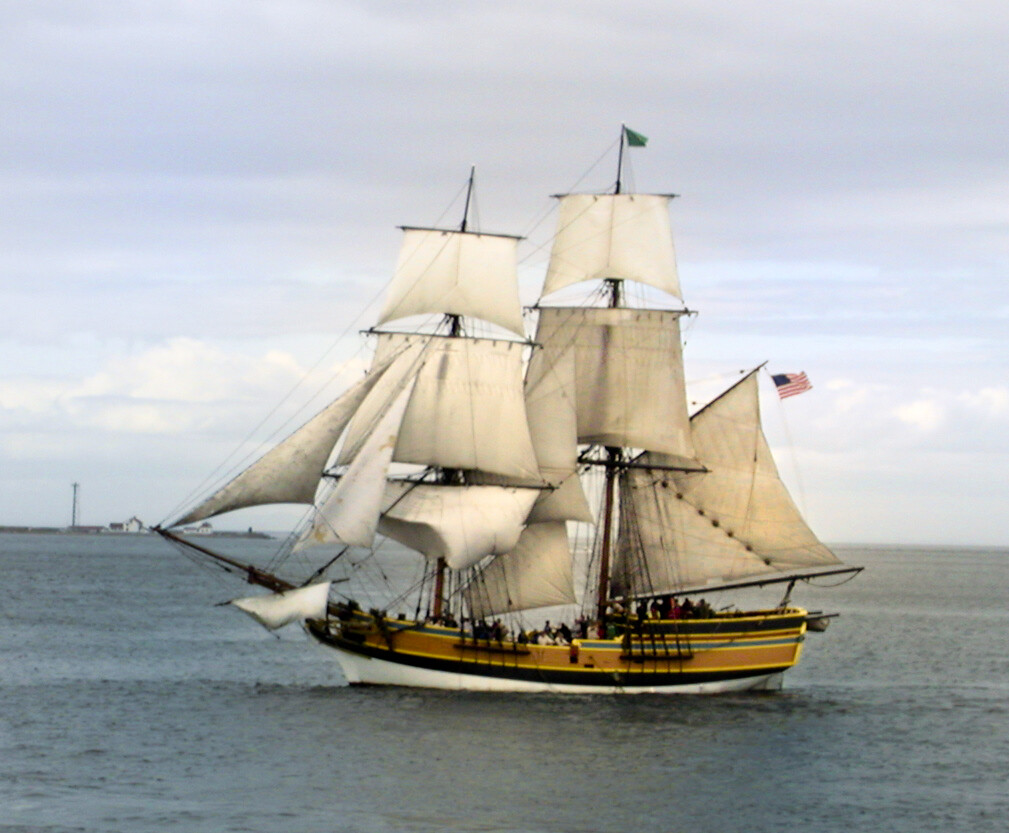 Used in a video:
In the process of finding this video – passing over videos about – well – you can guess – I found THIS one, from Australia. The title is misleading – designed to get clicks and subscribers.
It's worth watching to see the good and the bad of the Australian spring this last October.
Suddenly, I'm glad I'm in America.
---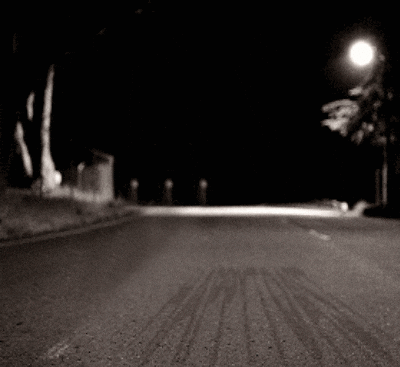 ENJOY THE SHOW
Have another great week!
W