Q: How does one deflect and distract from some of the most enormous crimes in the history of humanity?
A: By making some of the biggest false accusations in history right next to those crimes, so that there is a plausible reason for some of the key participants to seek out and cover up any and all evidence of those crimes.
And it all needed to be done inside a 4-year time-frame, before the 2020 presidential election.
---
Today there are fresh insights into how the DNC-CIA-FBI-MSM criminal complex framed Donald J. Trump, using the HRC-DNC-DOJ-Fusion-Russia-originated Steele "dossier".
This is excellent journalism by a writer for Tablet magazine, appearing in The Federalist today. It does not so much bring new facts, as it does sew all that is known into a tight case for HOW the framing of Donald Trump worked, and why it worked so well.
I urge people to read this article. This explains HALF the story – the FRAMING of President Trump.
I urge you to at least SKIM the article now. If you actually read it, you will get a few subtle references in what follows.
One of the most important findings – the VALUE of falsely investigating "nobodies" with bogus FISA warrants, is a brilliant insight of particular concern to anybody who has wandered too close to the treason. That would include ME.
And note that the author says this dossier false accusation model is now a PATTERN being used by the communists Democrats.
However, like I said, the FRAMING is only HALF the story. To see WHY this framing was not just desirable, but NECESSARY – as a form of COVER-UP – one must go further.
---
To begin, let's look at the TYPE of framing we are dealing with. The framing of Donald Trump is a form of "cover-up by straw-man accusation of the accuser's crimes being committed by the opponent".
People often attribute a very specific quote about this sort of thinking – "accuse the other side of that which you are doing" – to the Nazi propaganda minister Joseph Goebbels.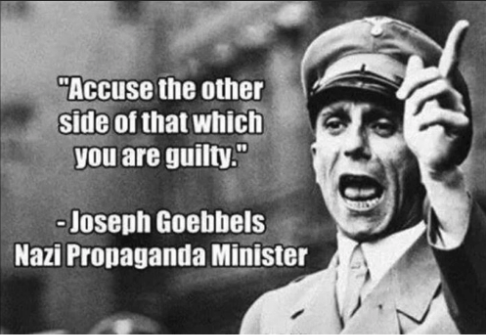 However, this attribution is a bit of a distortion of the real quote, which – if you study the original speech and note Goebbels' acceptance of such thinking as a valid tool – is just as horrifying.
Observe:
"The cleverest trick used in propaganda against Germany during the war was to accuse Germany of what our enemies themselves were doing."

Joseph Goebbels, 1934, Nuremberg rally
If you read that original speech, you will see that the Nazis literally embraced the SAME "ends-justify-the-means" thinking about false accusations – they merely said that THEIR ends were good, whereas the ends of Marxist, Allied and "liberal-Jewish" factions using such propaganda were "bad".
Note that the term "Jewish" was used to load the liberal/progressive causes of the time, which may indeed have been using some of the same "social justice" techniques that we see now, with a "useful antisemitism". This is a perfect demonstration of the Nazi contempt for ALL Jews, since religious Jews, like Christians, are among the last on Earth to embrace the commandment-violating sin of false accusation.
This is not only a theoretically advantageous technique – it is practically advantageous. It opens up legal channels which ALLOW the cover-up to proceed. It is particularly useful thanks to the "special counsel" which James Comey, Rod Rosenstein, and Robert Mueller seemed just a wee bit to eager to open, and which – in retrospect – seemed to be just a wee bit too "pre-arranged" for a very specific end – "collusion with Russia".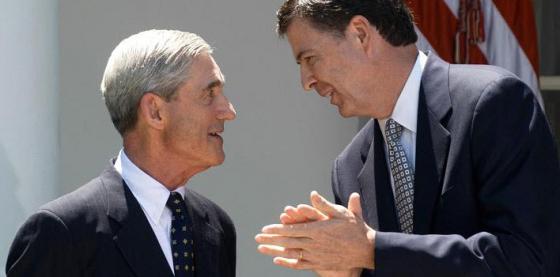 This is a form of straw-man DEFENSE. A straw-man attack on an argument attacks a false framing of the opponent's argument, as a form of defending one's own side.
Here, one attacks a false framing of the opponents THEMSELVES, as a form of self-defense.
Now – I'm going to make a MATHEMATICAL ARGUMENT about false-framing as defense – and it's not just about the prime number "19".
THAT little reference is a joke, that you will get if you actually read the Federalist article and saw how "19" was used as a sort of judicial eye-candy to get the bogus FISA against Carter Page. If you consider that the Russians might have even been helping Uranium Girl – well – perhaps THAT number was also a donation to the plot, just like 146. But the Russians are very good. They don't get caught often.
The argument which follows is almost trivial and intuitively obvious, but it is key, and many people don't see it at first. However, once you see it, you will feel as if you were exposed to a kind of sick hollowness and cynicism – particularly in certain corollaries which bring it closer to practical reality – the FRAMING of Donald Trump.
The CLOSER the straw-man can be arranged, FACTUALLY, to the REALITY being covered up, the EASIER the defense, because the STORY is closer to the REALITY, and pieces of the REALITY can be used as "proof" of the STORY – particularly if the STORY is advanced FIRST and the disentangled REALITY is posited LATER in defense.
See how that works? "Climate change", and particularly "global warming", work on the exact same principle – in the case of appearance of carbon dioxide and warming, by reversal of cause and effect. The cunning nature of this level of lying almost seems beyond human capability.
Are you with me? Doesn't this just SOUND very much like what is going on with SpyGate? Makes sense, right?
NOW – those corollaries.
Counterintelligence is the perfect place for this sort of intrigue, since counterintelligence amounts to infiltration of infiltration, staying infinitely close to the original infiltration. Basically, getting CLOSE to the REALITY with a DECEPTION is part of the game, so counterintelligence is a natural place to SEED this kind of defense.
The ploy of reversed accusation becomes even easier and possibly even necessary if the enemy actually IS colluding with the accusing compromised or corrupted counterintelligence. This allows the enemy to "assist" the lies of the other side's compromised counterintelligence, keeping them in place. This means that the counterintelligence people, if corrupted by the enemy, can then be "helped" by the enemy – in schemes exactly like what we are observing. Like I said, "19" may have been a gift from Russia with love, or at least alliance.
One of the first places that should be subverted by the enemy, both directly and indirectly, is counterintelligence.
Are you with me? Have I increased your thinking about how CYNICAL SpyGate really was? Maybe just a bit? That it's not just false accusations of collusion, but false accusations of collusion in defense of REAL collusion the other way? And that the REAL collusion is the REAL story?
Are you seeing how DEMOCRATS and GLOBALIST REPUBLICANS colluding with RUSSIA – even at a distance – or acting as their dupes and controlled opposition, now actually NEED to make parallel accusations against non-colluding Republicans?
Grab the rails of your roller-coaster. The turns are about to get mind-bending. If you start getting dizzy, regain control by thinking about "Hillary's reset" and "Uranium One". Ask that both of these things make sense in a simple way.
Collusion.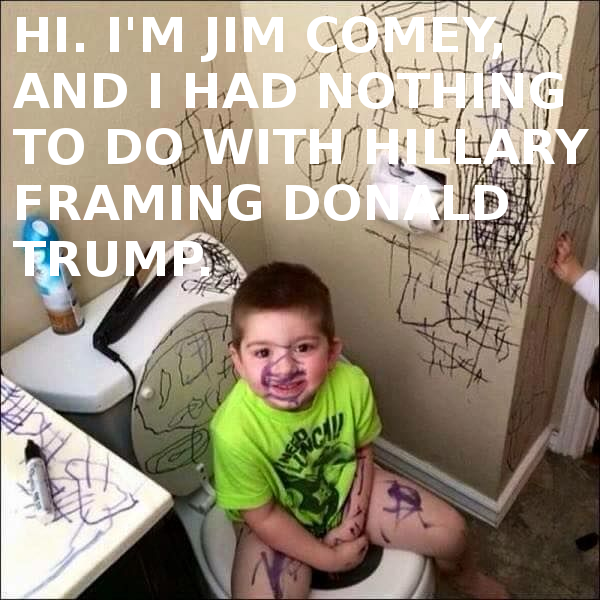 ---
The Hillary email cover-up by the SAME participants as in the FRAMING of Trump, is the BEGINNING of the revelation of the other half of the story – the COVER-UP. The TIGHTNESS of the same cast of characters in the Mueller cover-up fake investigation and the HRC email exoneration / cover-up is a kind of give-away of the theory I posited earlier.
Go back and review what I said, if it doesn't make sense. It should. You can also see why the interception of the plot – by releasing text messages of Page and Strzok to force them out of the Mueller probe – was clearly the result of extremely skilled "IG-type work" in counter-intelligence. It's not about the messages. It's about the plot.
See what I'm saying? When the STORY is close to the REALITY, the STORY CAST is the REAL CAST.
Those 17 16 15 13 whatever Angry Democrats – I would say they're in trouble. BIG trouble.
BROKEN SYMMETRY breaks the plot. This should tell you that taking out Mueller for his obvious part in the Hillary email meetings is a winner, too.
That other half – the COVER-UP – is also about WHAT is being covered up by the multi-useful framing of Trump and others. A frame job of innocent people by the former criminals in charge of this country. A frame job to stop – at any cost – the discovery, understanding, and disclosure of what they did.
In my opinion, there is a HUGE list of undiscovered scandals that flew right by us for nearly 60 years.
I have insight into more than one scandal – unknown to most people – which help fill out that other half. Admittedly, these scandals are not necessarily as big as 9/11, Benghazi, Uranium One, and other scandals we are beginning to understand, but they give me some actual insight into the BREADTH, the DEPTH, and most of all the REALITY of what is being covered up.
Since I have no idea whether those scandals are going to be part of the 60% that Q says will be kept under wraps, I can't really speak of them in detail. However, I can share insights into the general nature of the crimes that are being covered up, and the cover-ups themselves.
These scandals were working against some kind of time-frame for the advancement of socialism, first in AMERICA – leading to the election of Barack Obama under Soviet assistance – and then in CHINA – by fulfillment of Clintonian aid to their aggressive development as a counter to America.
I have no real proof of the following, but I tend to believe that international communism viewed some form of symbolic "capture" of America in 2017 – the 100-year anniversary of the 1917 Russian Revolution – as a kind of goal. Either Hillary or Obama was supposed to be inaugurated in 2017, as fulfillment of a 100 year plan.
I think that may be why they fought Trump SO HARD. The 16-year plan was simply the culmination of a much longer and larger plan, and THAT plan pressured our communists to PUSH just a wee bit too hard.
Like Q says, symbols were their downfall.
---
Another point.
There is a strange and powerful link of this Federalist article to the Romney "New Years Attack" on President Trump, and it's not just the coincidence of the TIMING of the Romney/WaPo/CIA attack vis-à-vis the appearance of this article in the Federalist.
This Federalist article focuses, among other things, on the bipartisan coordination of the anti-Trump forces, with the "press" as a full participant – against Trump. In a sense, almost everybody except the American people was against Trump.
That pervasive coordination not so much of PLANS or KNOWLEDGE, but of INTEREST, explains much. A conspiracy of interest requires little illicit communication. It is easily done in – say – the pages of the Washington Post. No pun intended.
Thus, the current "fronting" of Mitt Romney – a CIA-desired, globalist-desired, and dare I say communist-desired leader of the controlled opposition GOP, is exactly what we are seeing, and should expect. So to see Mitt Romney fully, you need to see him in the context of THIS LARGER PLOT.
Romney in 2012 was the equivalent of McCain in 2008 – an ALLOWED alternative to the media-imposed, communist-preferred candidate, Barack Obama. Romney is now seen as the most likely successor to the long sequence of "allowed" GOP presidential candidates in 2020, in my opinion.
John Kasich and Jeff Flake are not really viable in 2020, in my opinion. They can only be used to elevate a viable globalist candidate, either to the GOP nomination, or to an electoral homicide-bomber role in a third party. Thus, the creation of Super-Flake, with his "unknowing-but-flippable" niece, Ronna McDaniel, as the key "face-down" card in the scam.
McDaniel's current (and I believe authentic) objection to Mitt's behavior, coming only slowly after a withering cross-fire of MAGA criticism, tells me that she is a "non-knowing reaction player" – a CRUCIAL part of communist theater. Her role is to authentically embrace MAGA and Trump, even defend Trump at this stage, but upon the proper crux of the plot, to reject Trump, or otherwise act against him. The REALITY of that reaction will be key.
---
And last but not least, there is something else in the Federalist article that I, personally find HUGELY interesting. Go back to my statement about knowledge of hidden scandals to see where this makes sense.
From the Federalist: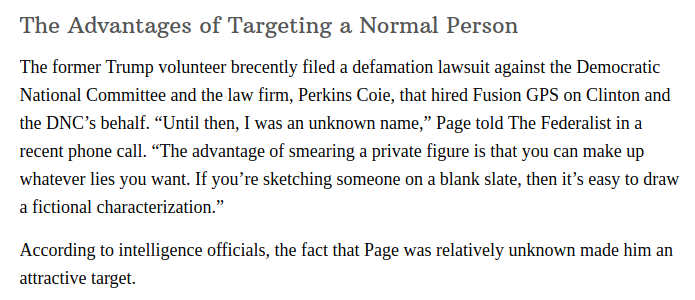 This was actually a fair warning to me. I totally get things now.
My comment on Twitter:
Notice that these people quoted may or may not get the cover-up aspects. They talk about spying on Trump as a motivation, but don't mention the cover-up angles. That MAY or MAY NOT be intentional. Remember what Q said – 60% will remain hidden. I have not doubts about that. Hidden among all the horribly abused sources and methods, are likely to be many that were NOT abused, or that are worth saving.
I was wondering why I've recently observed "snake-sign" all around me.
I rest my case. I would say there may be some track-covering in Snake-town. Trust me – I've got stories there. And now I know what kind of stories THEY surely have. Ones that would make Goebbels proud.
What did Q call it? Ah, yes. The Great Awakening.
W