This FBI PHYSICAL FITNESS TEST TUESDAY open thread is VERY OPEN – a place for everybody to post whatever they feel they would like to tell the White Hats, and the rest of the MAGA world.
You can say what you want, comment on what other people said, and so on.
Free Speech is practiced here. ENJOY IT. Use it or lose it.
Keep it SOMEWHAT civil. They tried to FORCE fake Orwellian civility on us. In response, we CHOOSE true civility to defend our precious FREEDOM from THEM.
Our rules began with the civility of the Old Treehouse, later to become the Wolverinian Empire, and one might say that we have RESTORED THE OLD REPUBLIC – the early high-interaction model of the Treehouse – except of course that Q discussion is not only allowed but encouraged, and speech is considerably freer in other ways. Please feel free to argue and disagree with the board owner, as nicely as possible.
Please also consider the Important Guidelines, outlined here in the January 1st open thread. Let's not give the odious Internet Censors a reason to shut down this precious haven.
---
Remember – your greatest gift to President Trump is FIVE WORDS:
I AM PRAYING FOR YOU.
---
Our movement

Is about replacing

A failed

And CORRUPT

Political establishment

With a new government controlled

By you, the American People.

Candidate Donald J. Trump
---
Also consider Wheatie's Rules:
No food fights.
No running with scissors.
If you bring snacks, bring enough for everyone.
---
Now…
About today's subject….
This bears some explanation.
Normally I get a bunch of "Twitter Promoted" ad-tweets for all kinds of horrible things, and even for a few good things. Generally, my policy is not to "bite" – even if it's something I really like. No clicks, no scrolls, no nothin'.
I tend to view "Twitter Promoted" as just Twitter and the DNC / CIA running psych tests on me. My policy is to IGNORE.
However….
Given the fact that part of MAGA is to FIX the FBI, and not just bash it, then that means it needs fixing everywhere – not just at the top. And THAT means they need to get good people. Maybe like Y'ALL.
OK. Maybe like SOME of y'all.
*wink*
SO – I figured I'd help.
Maybe if I was younger (must apply by age 37) and a bit less broken and battered, I'd think about helping myself. But given just a quick look at their PHYSICAL FITNESS TEST….
Well, let's look at it.
https://fbijobs.gov/career-paths/special-agents/physical-requirements
If you go to that page, there is even a PDF that can be downloaded:
https://fbijobs.gov/sites/default/files/how-to-apply.pdf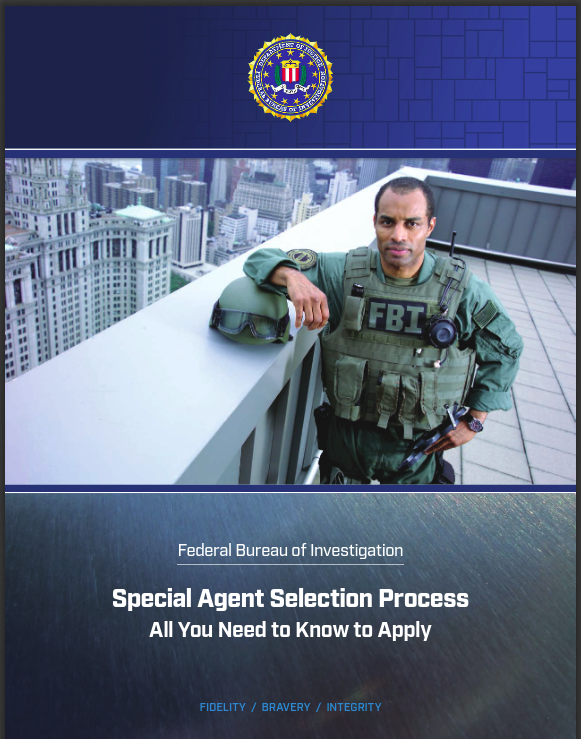 There are basically FOUR TESTS – or a FIFTH if you are going for a TACTICAL job
sit-ups (timed, 1 minute)
long sprint (300 meters)
push-ups (untimed, maximum)
short run (1.5 miles)
pull-ups (untimed, maximum)
The way it works is that they dole out some fairly meager points for some fairly stiff results on all of these, and the applicant has to get a total of 12 points or more.
Let's look at just one – push-ups.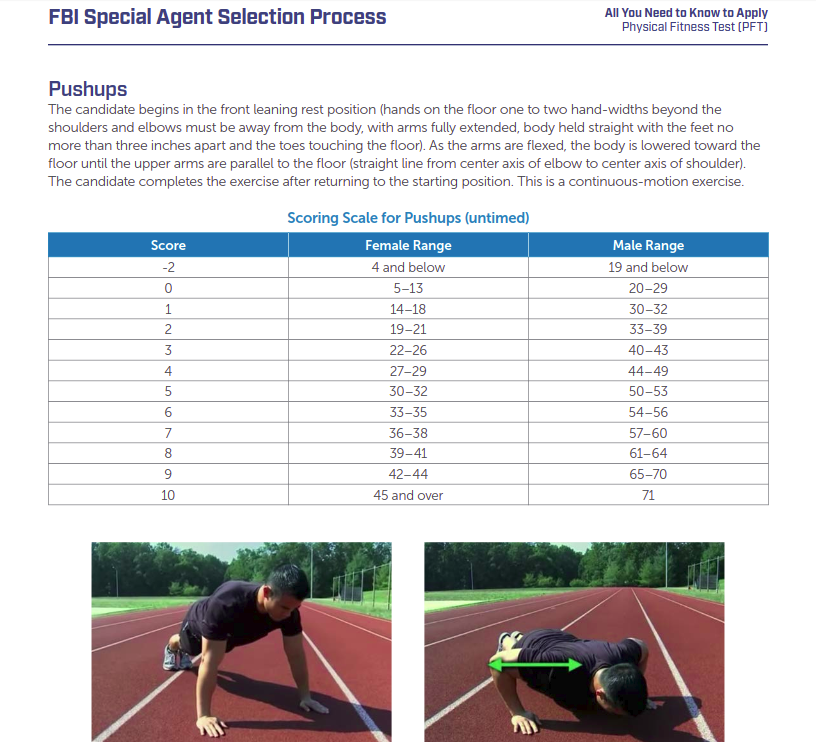 Based on these numbers, if you were just "averaging in" on all 4 tests at 3 points each, then to get 3 points on push-ups, you're looking at doing 40-plus quality push-ups without breaking form or pausing. And you have to bear in mind that the FBI WARNS applicants that they typically OVERPERFORM by 25% during practice versus test day – meaning that recruits will only achieve 80% of their practice value in the real test.
And remember – all of this is BEFORE the training.
But in ANY case, I thought that their materials were very interesting and attractive, and it DOES LOOK like OUR LION is not just fixing up the COURTS, but also the FBI.
And while not ALL of my MAGA compatriots are believers in Chris Wray….
[insert goofy bad picture from CTH here]
….well, MAYBE just MAYBE he has something to do with it.
*wink*
---
Sorry, folks – I'm having too much fun trying to contemplate whether I could actually get positive points on the FBI physical fitness test. (Yes – you can get NEGATIVE POINTS!)
But I think this does explain why they are using young and athletic actors in the "new" FBI on "Fake Entertainment"…..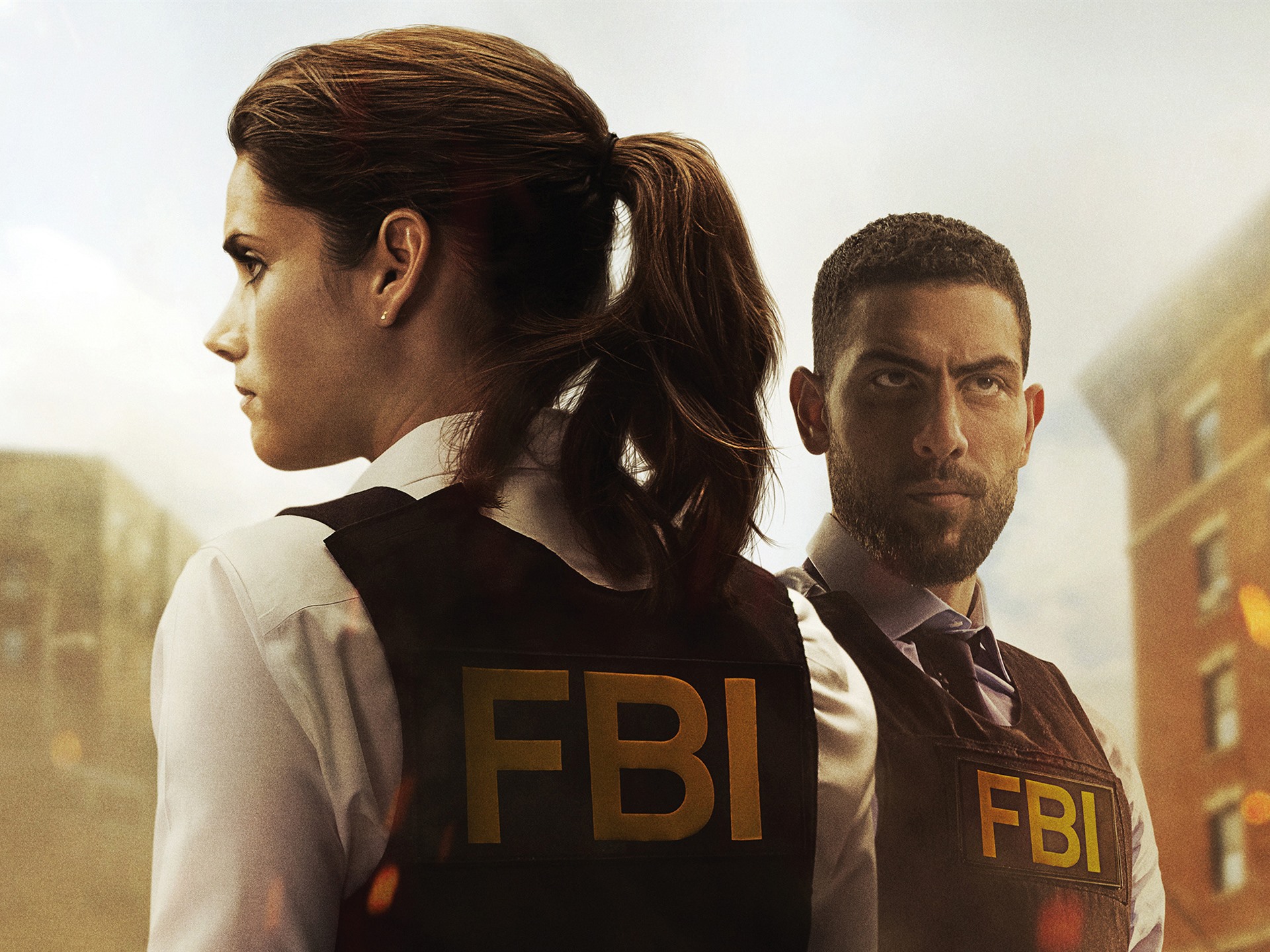 …..which – well – don't tell anybody, but I think a wee bit of MAGA may have actually snuck in between the PC lines in recent episodes. Enough to ALMOST give it an air of realism.
Not quite ready to classify that as too much winning, but you NEVER KNOW.
*wink*
W