This WE KNOW THEY'RE LYING WEDNESDAY open thread is VERY OPEN – a place for everybody to post whatever they feel they would like to tell the White Hats, and the rest of the MAGA world.
You can say what you want, comment on what other people said, and so on.
Free Speech is practiced here. ENJOY IT. Use it or lose it.
Keep it SOMEWHAT civil. They tried to FORCE fake Orwellian civility on us. In response, we CHOOSE true civility to defend our precious FREEDOM from THEM.
Our rules began with the civility of the Old Treehouse, later to become the Wolverinian Empire, and one might say that we have RESTORED THE OLD REPUBLIC – the early high-interaction model of the Treehouse – except of course that Q discussion is not only allowed but encouraged, and speech is considerably freer in other ways. Please feel free to argue and disagree with the board owner, as nicely as possible.
Please also consider the Important Guidelines, outlined here in the January 1st open thread. Let's not give the odious Internet Censors a reason to shut down this precious haven.
---
AND WHAT DO WE TELL OUR LOYAL VSGPOTUS?
I AM PRAYING FOR YOU!
---
Always keep our movement's larger purpose in mind – RESTORATION of RULE OF LAW!!!
That is why there MUST BE the DRAINING of the SWAMP!!!
Our movement

Is about replacing

A failed

And CORRUPT

Political establishment

With a new government controlled

By you, the American People.

Candidate Donald J. Trump
---
Also remember Wheatie's Rules:
No food fights.
No running with scissors.
If you bring snacks, bring enough for everyone.
---
I want to thank ForGodandCountry for cluing me into the Wittes-Baker-Brookings rendezvous – the first real indication that the SHADOW OF THE DESCENDING MOAB is darkening the LAWFARE BLOG.
More to the point, a great article: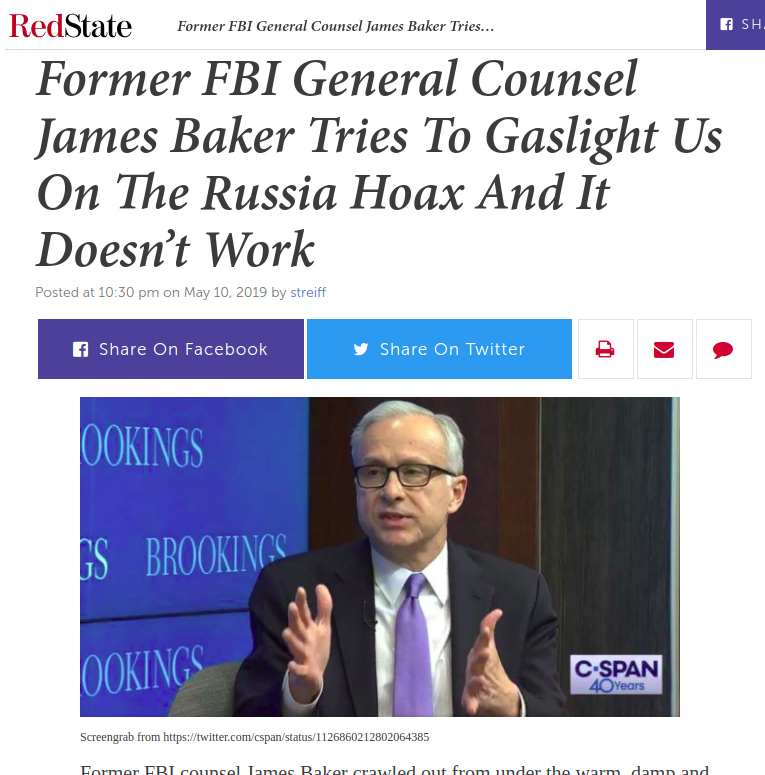 Link here: https://www.redstate.com/streiff/2019/05/10/former-fbi-general-counsel-james-baker-tries-gaslight-us-russia-hoax-doesnt-work/
I knew this LawFareBlog was trouble because:
John Brennan only followed twenty-some accounts on Twitter, and LawFareBlog was one of them – the only thing even remotely like a blog. Every other account was an Obama player or some form of FAKE NEWS. Meaning Wittes was a PLAYER.
Comey seemed to be getting his advice from there.
The blog's own self-description was DECEPTIVE and indicated FOREIGN TARGETS – a seemingly purposeful evasion of stating the very OBVIOUS domestic uses
What was happening to TRUMP seemed much MORE like "lawfare" than the blog's own dubious definition
When local federal heat of some kind was trying to FRAME ME, it sure felt like "lawfare"
Just listen to Baker. OH, THIS PERP IS GOOD FOR A LOT. Way more than I thought. Just listen to the sleazebag. I figured he was a CANKLEBOT – that he was the GATEKEEPER who made sure nothing bad ever advanced against the interests of CANKLES. Now I'm sure of it.
He HAS to be hiding a LOT.
Enjoy the show.
W