"It is dangerous to attribute to stupidity that which could be the result of malice or guile." -Aubergine
---
I love it!
Born from our discussion of Hanlon's Razor HERE, I can neither vouch for the originality of Aubergine's idea, nor will I even try. For MY purposes, this simply IS "Aubergine's Razor". Others can argue about priority. I heard it first from Aubergine. DONE!!!
As soon as I read this wonderful inversion of Hanlon's "dull" Razor, I knew it was a winner, and promptly began creating memes.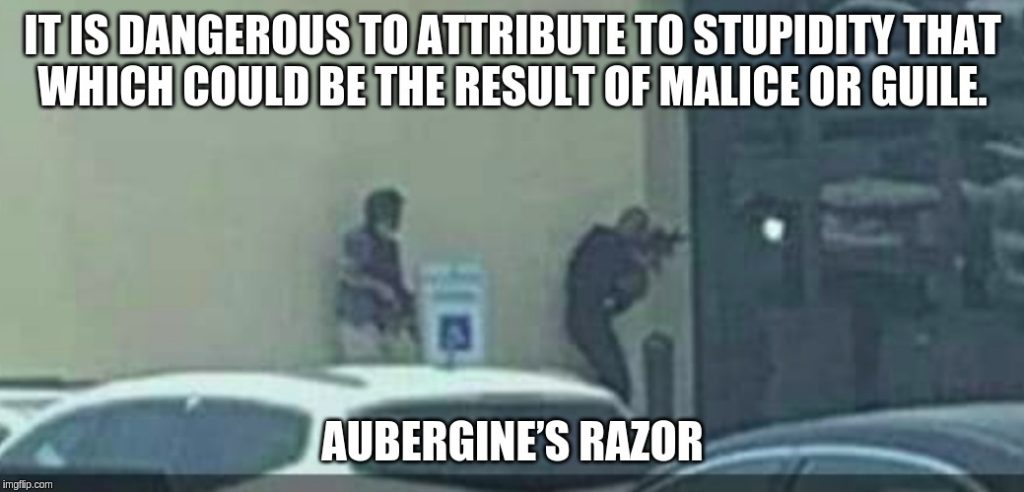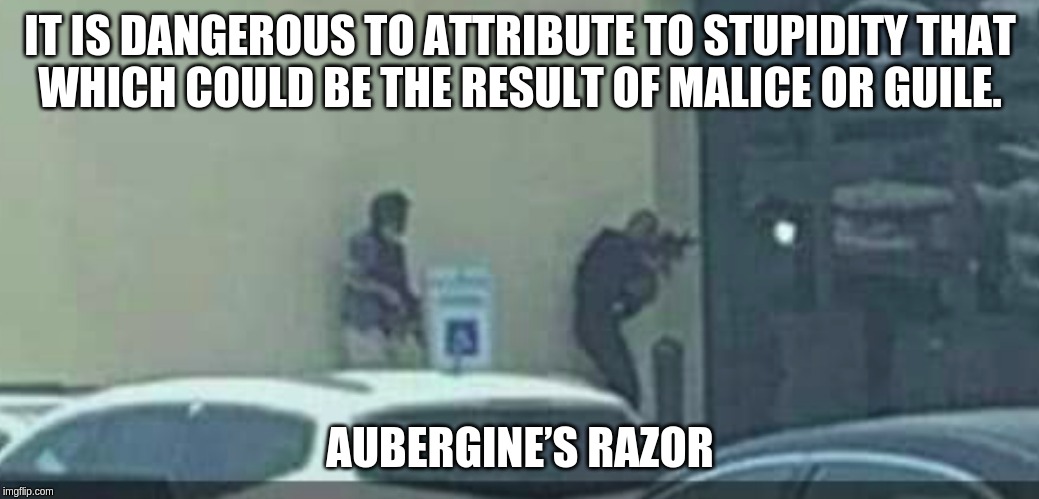 That first one is subtle. WHOSE stupidity is not obvious, just as whose malice or guile is also not obvious. However, in my opinion, the fact that it could be many people makes this even more compelling. It is DISTURBING to see the El Paso patsy being led by a tactical pro. This one may not be the most obvious case of the Razor, but it is a POWERFUL one, and is worth coming back to later.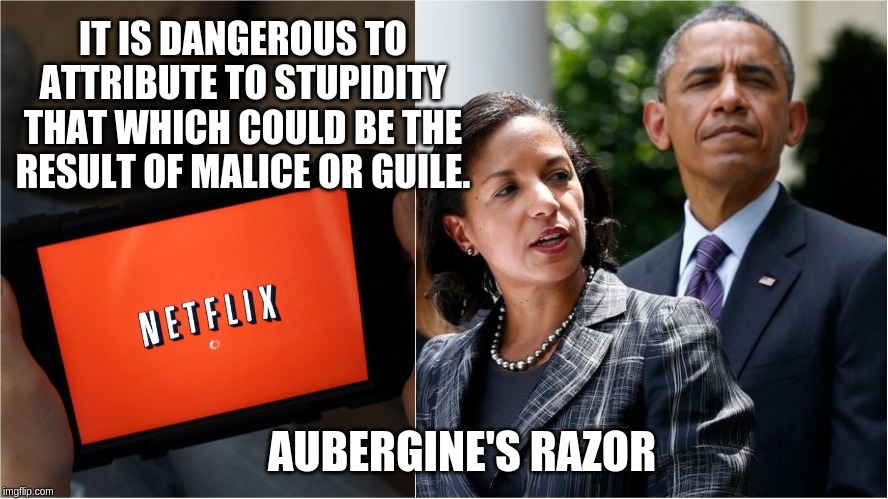 I noticed a FASCINATING psychological effect when I made this meme. As I chose the image, I worried that Susan Rice looked "too innocent" – that the meme would not work.
Yet look at it now. She looks PERFECT for it.
Next – CANKLES!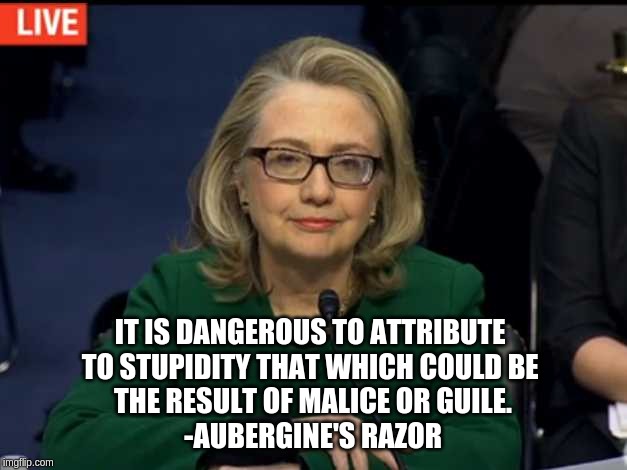 To quote President Trump, "LOOK AT THAT FACE!" The "Hillary patented fake smile" in spades!
Scott467 noticed something very interesting. The term "could be" almost seems ridiculously gentle, next to some of these criminal creeps. Words like "is likely to be" or " is obviously" are very tempting. And yet, I think that Aubergine's formulation, which would simply hint the possibility of malevolence to those lacking in discernment, is the best, because it's the BROADEST possible application of the idea. If there even COULD be malice or guile, then the DANGER is asserted to be present.
michaelh postulates a corollary that I think most of us will agree with.
THAT IS WHY THE DEMOCRATS ALWAYS PLAY DUMB.
Yes! This cannot be repeated often enough. Dems are PLAYING DUMB, and we PLAY ALONG with their LIES disguised as FOLLY whenever we choose to "just let it stand" instead of – at the very least – rejecting their arguments as "not accepted by us".
SO – let's give a hand to Aubergine for handing us a formidable MEME and WEAPON, which I will now used to craft many new graphical memes.
W