Scroll down for some info, some of it may be useful, some may be interesting, some might even be both, but more likely most is neither, about precious metals and what sorts of products are out there.
His Fraudulency
Joe Biteme, properly styled His Fraudulency, continues to infest the White House, we haven't heard much from the person who should have been declared the victor, and hopium is still being dispensed even as our military appears to have joined the political establishment in knuckling under to the fraud.
One can hope that all is not as it seems.
I'd love to feast on that crow.
But we do have a nice little distraction at the moment. SCOTUS at least pretended to pay attention to a lot of election fraud cases on the 19th; as I write it's 5PM ET and I have no idea how that went. It'll be interesting to see how they weasel out…this time.
Justice Must Be Done.
The prior election must be acknowledged as fraudulent, and steps must be taken to prosecute the fraudsters and restore integrity to the system.
Nothing else matters at this point. Talking about trying again in 2022 or 2024 is hopeless otherwise. Which is not to say one must never talk about this, but rather that one must account for this in ones planning; if fixing the fraud is not part of the plan, you have no plan.
Lawyer Appeasement Section
OK now for the fine print.
This is the WQTH Daily Thread. You know the drill. There's no Poltical correctness, but civility is a requirement. There are Important Guidelines, here, with an addendum on 20191110.
We have a new board – called The U Tree – where people can take each other to the woodshed without fear of censorship or moderation.
And remember Wheatie's Rules:
1. No food fights
2. No running with scissors.
3. If you bring snacks, bring enough for everyone.
4. Zeroth rule of gun safety: Don't let the government get your guns.
5. Rule one of gun safety: The gun is always loaded.
5a. If you actually want the gun to be loaded, like because you're checking out a bump in the night, then it's empty.
6. Rule two of gun safety: Never point the gun at anything you're not willing to destroy.
7. Rule three: Keep your finger off the trigger until ready to fire.
8. Rule the fourth: Be sure of your target and what is behind it.
(Hmm a few extras seem to have crept in.)
Silver (and Other Bullion): The Basics
First thing: Bullion is not a coin collection, and a coin collection isn't bullion. People I know who know I collect get the two mixed up a lot, and I suppose it's understandable, because coin shops generally sell both rare coins and bullion.
The key difference is that collector coins are generally worth considerably more than the metal they contain, and even when they're not, they're being bought because of the date of issue, the design, the error made in producing it, or any of a number of issues that have nothing to do with what it's made off. The value of the metal in the coin puts a floor on its value, though. For instance, there are plenty of "common" gold coins that collectors want (because they're trying to put together a date set), that are worth barely more than "melt" (the term for the value of the gold or silver in the coin). Their prices move up and down whenever gold fluctuates. But they're still being bought for their interest as collectibles; they'd be worth something even if the gold value dropped to zero (like that's going to happen!).
Bullion, on the other hand, is being bought because it is made out of what it is, and other considerations are secondary. But not necessarily insignificant: People will buy precious metals in a form that makes it easier to sell. One of the issues is it being in a form that the buyer will trust to actually be made of silver (or gold) rather than somehow faked (e.g., gold or silver plated lead). If it has to be assayed, that has a cost, which will eat into how much you'll be paid for your bullion. Which is why a struck coin (or coin-like) object is often trusted, and why some of this stuff comes in tamper-evident packaging.
To sort of drive home the difference, I was told this story by a coin dealer one time, and I'm sure it's not a terribly uncommon occurrence. Someone offered him a gold coin. It looked to be a rare date, so it'd be worth a lot more than the gold content. On closer examination, though, it was counterfeit, but undeniably made out of real gold. He paid the customer what the gold in the coin was worth, then took a pair of pliers and bent the coin…and tossed it in a pot he was going to sell to the wholesale market, where it would no doubt be simply melted. He didn't want anyone to mistake the coin for something rare…as opposed to just a lump of precious metal.
I'm going to assume here you want silver itself, not a piece of paper saying you're entitled to it, not a futures contract, not mining stocks. You want the lump of metal in your hand.
History and Overview of the Metals Themselves
Some history, because why not? Copper, silver and gold (among other metals) were all discovered so long ago we have no idea who discovered them. When coinage was invented in the 600s BCE (at least in what we think of as the Western world, though that place–Lydia–was in present day Turkey) it started out as an alloy of gold and silver. These materials were known to be rare, and were valued as jewelry if nothing else. Gold, in particular, simply didn't tarnish or corrode. Silver would tarnish, but once it did tarnish, that was the end, it didn't turn to useless powder like iron did. Copper similarly. In fact, these metals are sometimes found free in nature, not needing to be extracted from ore: gold most commonly, then silver, then copper. (Because of this, in most ancient Egypt, gold was considered more common than silver and was less expensive. Once we figured out how to extract them from ores, the situation changed.)
Unsurprisingly, given their similar chemical properties, copper, silver and gold appear in the same column of the periodic table, and they're known as the coinage metals, because once we started making coins, those were the metals that went into them. Gold, in particular, was difficult to convincingly fake, because it was denser than anything else known. Nothing else was as heavy on a per volume basis. If you gold plated a lead brick, that brick would be much, much too light! (Only in the 1700s did we discover other things, like platinum or tungsten, that could equal or exceed gold's density.) Their chemical symbols are Cu (copper), Ag (silver) and Au (gold). But, when talking to someone whose interest is in historic coins, they'll be abbreviated AE, AR, and AU, usually as ligatures (like Æ, but AU and AR don't seem to exist in unicode as ligatures). I learned the chemical symbols long before the numismatic ones, and get twitted for writing Ag a lot.
Immediately to the left of these three, under iron/cobalt/nickel, are a group of six metals called the Platinum Group Metals. These are: ruthenium (Ru), rhodium (Rh), palladium (Pd), and osmium (Os), iridium (Ir), platinum (Pt). Platinum is quite famous, the others less so. Platinum was discovered about a century before the others, and they're almost invariably found together in nature. You can buy platinum, palladium, and sometimes rhodium as bars and rounds (and even NCLT platinum and palladium, I'll explain what that means below). At least in theory you can, for rhodium–you'd better bring about $25 grand to the table. But the others (ruthenium, osmium and iridium) are very specialty items, hard to find in solid as opposed to powder form, and available in 50 kilogram lots.
And to the left of osmium is rhenium (Re), an interesting metal in its own right, and the second to last stable element to be discovered, back in 1908. It's sometimes used in spacecraft and jet engines, relatively cheap compared to the PGMs but more expensive than silver and considered the ninth precious metal, sometimes.
Anyhow: Once we started making coins, gold and silver began to be thought of as "money." (Copper was good for making money out of too, but it had a number of other uses as well, and still does.)
Troy Ounces and Purity
The precious metals (but not copper) are commonly weighed out in either grams or troy ounces. Troy ounces, though are different from the grocery store ounces (avoirudupois onces); it's a parallel weight system. Avoirdupois and troy both use the same "grain" (the grain you use at the reloading bench; the grain your ammo's bullets are weighed in). But an avoirdupois ounce is 437.5 grains, where a troy ounce is 480 of them. Worse, a troy pound is twelve troy ounces, 5760 grains, whereas an avoirdupois pound is 16 avdp ounces, or 7000 grains. Fortunately, you will almost never hear about troy pounds except in some weird Parade magazine ads for silver weighing a quarter or a third of a pound (don't do these–you're paying their advertising budget). Pretty much, everyone in the US who deals in precious metals thinks in terms of troy ounces, and even multiples will be in ounces. There are ten ounce, hundred ounce, and even thousand ounce bars of silver out there, but I don't recall ever seeing bars denominated in troy pounds. (Which doesn't necessarily mean some eccentric guy isn't doing that, somewhere.) Even overseas in the metric rest-of-the-world, the troy ounce clings to life, and foreign countries and companies make products in ounces, alongside their other products in grams.
You will sometimes see gold sold in kilogram bars. A kilogram is 32.15074657 troy ounces…if you can afford to buy that much gold in one lump, good for you! And those bars you see in videos of bank vaults? They're typically about 400 ounces. They don't make them precise, but they are marked with their precise weight. At that level, the institutions have no trouble whipping out their calculators and knowing what it's worth.
Even a futures contract is for an approximate amount…you'll be delivered about 100 ounces of gold, possibly in one big bar, but will be expected to pay a certain price per ounce. Just be prepared to buy a bit more or a bit less than that. I wasn't planning to talk about futures, but there is one good thing about them from our standpoint; if a company can say that their bars are "good delivery," that means the Big Boys trust that company and its bars, and therefore you can too.
[A troy ounce, by the way, is 31.1035 grams. That's a number I have memorized. But I don't remember other than "twenty eight point something" how many grams are in an avoirdupois ounce, which should tell you where my head is–precious metals, not groceries. [If I need to know I can grab a calculator and do the following: (437.5/480) x 31.1035.] And incidentally, since the mid 1900s the ounce (both of them) has been defined in terms of the metric system. (Aw, geez, now I have to look it up): one avoirdupois ounce is exactly 28.349523125 grams, by definition. And that also means the troy ounce is exactly  31.1034768 grams by definition, just in case the six digits of precision I have memorized isn't enough.]
Purity is usually given as a decimal fraction; you will see notations like ".900 fine" which means ninety percent of whatever it is you're looking at, is of the precious metal, the rest is some sort of alloy. Generally, when looking at a piece of bullion, you will be told how much pure metal is in it. A one ounce gold American Eagle, for instance, will weigh more than an ounce, but there will be a full ounce of gold in it plus some copper and silver. Our old silver coinage was .900 fine (this will become relevant below) and people call that "coin silver." British silver was 0.925 fine in the good old days, that's commonly known as "sterling silver." In a way it really doesn't matter, what matters is the net amount of silver or gold. (The other metals will generally be .999 fine in any product you will find.) Gold, by the way, is often given in karats, 24 karats is pure, 18 karats is .750 (common in European jewelry), 14 kt is common here in the US (and the Europeans wonder why we go gaga over it).
Your Choices for Silver
So how do you get into silver? There are three main methods–and the first two apply to the other metals to some extent or another.
1–Rounds and Bars
A lot of people produce "rounds" that look like coins; when you look at them closely, though, the writing says they contain so much silver (usually an ounce). There won't be a denomination, and usually there's no country name, but there will be a company name. In this same vein, there are one ounce bars (rare for silver) and larger bars (5, 10, 100 and even 1000 ounce). Sometimes the rounds are prized and even collected for the artwork; even I once bought a two ounce round that had a "Don't Tread On Me" motif on it. In all cases, there is a marking on the rounds/bars indicating how much silver is in them, and they are usually 99.9% pure, better known as .999 fine. Gold purity will usually be given this way too, but sometimes, you will see it given in karats, 24 karat being pure. Back when I was buying lots of precious metals (when the price was a lot lower), I tended to buy silver in larger bars, with some rounds thrown in. I also had bars of other metals (but not gold).
If you get into more expensive metals' bars, there are some big, internationally known companies whose one ounce (and higher) bars are considered trustworthy, such as Johnson Matthey, Hereaus, PAMP (formerly Credit Suisse and you'll see plenty of bars marked as such), APMEX, and Engelhardt. Some of these come in a tamper proof plastic pack. Recently, I've seen gold come as a sort of wafer like a big chocolate bar, with individual blocks you can twist and break apart. Although this looks like a decent way to buy gold in one gram increments, I have no idea what the aftermarket is like once they've been broken apart.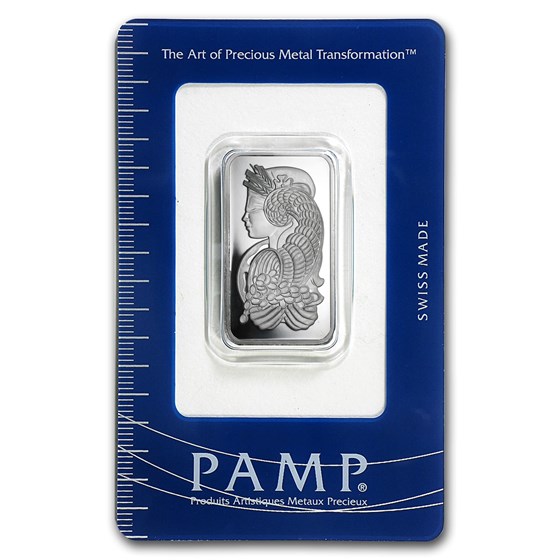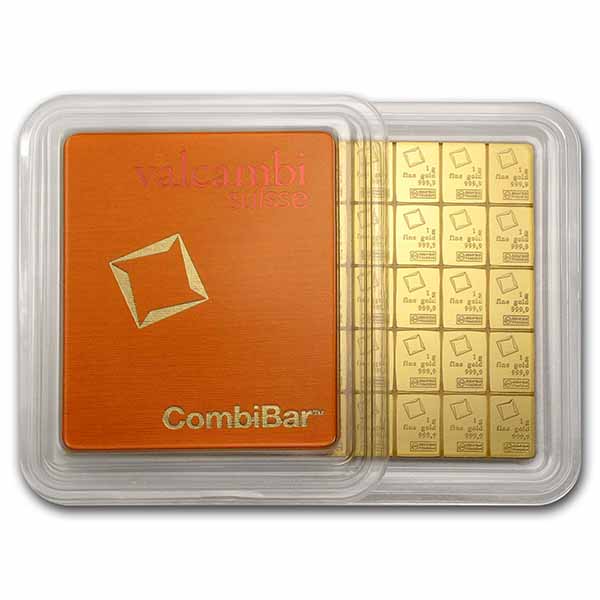 2–NCLT Bullion Coins
There are the current crop of coins–yes, legally coins because they have a denomination on them–that only an idiot would spend at face value. Because they don't circulate, but are legal tender (to unmask idiots, maybe), they're called "Non-circulating Legal Tender" or NCLT for short. These coins will have a government's name on them, a denomination, and they will also give their content and purity. Generally even when the metal isn't pure, there is a net ounce (or half ounce, or quarter ounce) of gold or silver or whatever in them.
Your choices are American eagles, Canadian maple leafs, Chicom Pandas (please don't buy these!), and so on, often in ounces, sometimes in grams. Back in the 70s and 80s there was pretty much one country doing this, South Africa, and they were producing the krugerrand (the gold rand). If memory serves, they came in 1 ounce, 1/2 ounce and quarter ounce sizes. They were not pure gold, however: with copper alloyed they tended to be tan in color.
Our gold eagle is also not pure gold but is alloyed with a mix of copper and silver, so it has a proper "gold" color to it. We also sell a "buffalo" that is very pure gold; but I don't see those as often.
Canada, in particular, loves to make pure gold coins, one ounce and up, and they've even made manhole-cover sized 100 kilogram gold coins (I got to see one once) that were 99.999% pure. However, this isn't necessarily a good thing. Because gold will dent easily, these "Maple Leaf" coins get beat up and generally won't sell for as much as you would think they ought to.
Since the impure coins still contain an ounce of gold or silver (or whatever) in them, the alloy is extra and usually helps the coin's physical durability.
This is actually my favorite way to hold gold–American eagles. They come in 1/10th, 1/4th, 1/2 and 1 ounce sizes, denominated 5, 10, 25, and 50 dollars (and yes, that $10 should be $12.50 to be consistent–but again no one is actually going to use these at face value!). In general the buy sell spread is narrow on them, but is significantly wider for the smaller sizes.
Silver eagles (they are only made in one ounce size, denominated a dollar) tend to sell at a huge premium…nevertheless I buy one each year, because…yes, well, I am collecting them by date. (So much for the great divide between bullion and collectible coins–but I consider them part of my collection, not my bullion stash.) Actually, since I'm not the only one collecting (rather than accumulating) these coins, that's probably why they sell at such a premium.
Junk Silver
Finally…yes, you can buy old coins. There's an entire market for what is called "junk silver." Junk silver is real coinage that actually circulated, once, not like those NCLTs we were just talking about.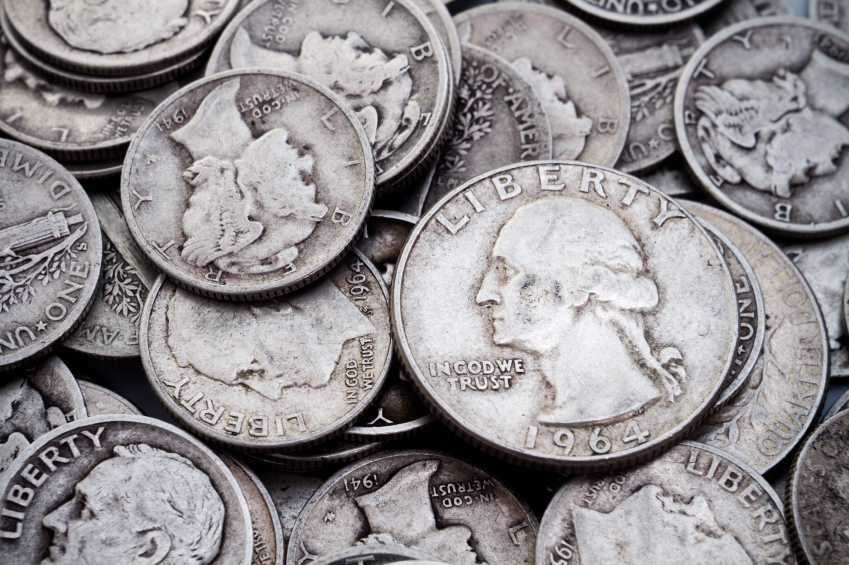 But, these are old coins that are common dates, or they worn so badly they have no numismatic value. (You will find a LOT of early 60s coins in junk silver, that are in pretty decent shape, and you will see the occasional very worn coin from before 1940 as well.) They're worth their silver content, and that's it. Prices will be quoted in terms of face value. Ask a coin dealer how much he's selling junk silver for, and he'll tell you something like, "26 times face." (Kitco is selling hundred dollar bags for $2,596.24–so basically, 26 times face. But that includes quite a substantial volume discount!) That means he'll sell you a silver dime out of his junk silver dime stock, for $2.60, a half dollar for $13.00…and a quarter for $6.50. In general, though, you buy several of these at a time. A dollar's worth, face value, contains .72 ounces of silver in it. (It also contains copper; the silver is 90% pure.) With these coins, it will be a bit less because many of them are worn, but this is figured into both the buying and selling price. The Kitco bag I just mentioned, for example, claims to have 71.5 ounces of silver in it, not 72. If you are on a super-tight Biden-era budget, this is the only way to get into silver, because no one makes rounds or NCLTs with only 0.072 ounces of silver in them, but an old dime has that much.
When you go to sell these, you will be paid, again, some number times face value. The difference between what the dealer sells for and what he pays is how he makes his lunch money.
But now I need to tell you some things that are well known to the experienced, but probably won't be obvious. First off, half dollars from 1965-1970 contain 40 percent silver, not 90 percent. You can buy those as junk too, and they'll be cheaper, but there's less of a market for them and the buy/sell spread is really bad. pricing and almost no demand. Second: Old silver dollars have .77 ounces in them (they're different because the events of 1853 and 1873 left them alone–I've talked about this) and sell at more of a premium because too many people just like silver dollars. There are "junk" silver dollars, usually loose in a tray at the coin shop, but they will cost a lot more for what they are than junk dimes, quarters, and halves, because they're popular as silver dollars–you're edging into "numismatic" territory here. Finally: the part-silver "war nickels" from 1942-1945, identifiable from the fact that the manganese in them turned black AND the large letter over the dome of Monticello (that's the mint mark) don't trade in this market. At least, I haven't ever seen them offered as bullion–but then I never really went looking, either. They contain 0.05626 ounces of silver in them, which is more than half as much as a silver dime…fancy that. (Silver was so cheap relative to gold at the time that none of our silver coinage at the time was worth even close to face value.)
Is there such a thing as "junk gold"? Sort of. There are plenty of US gold coins–some even desirable to a numismatist–that sell for just barely over their melt value, simply because that melt value is high. You could buy one of those. If you buy one that's just barely of numismatic interest, you might not lose that much money if gold drops. You could go look up prices, figure out how much the gold is worth (gold was 20.67 an ounce back then, so a $20 gold piece that is "junk" should sell for a bit more than gold spot; proportionately so for the $2 1/2, $5, and $10), and if the coin isn't priced that much more, you can go for it. I'd buy something with the highest grade manageable because those are least likely to drop in value; these coins will almost certainly come in a certified holder with a grade on it. You shouldn't technically rely on that grade but use your own judgment (which if you are a beginner, you don't have!) but in this case it doesn't matter that much.
How about the other metals? Nope, no junk rhodium. No junk palladium. The only other precious metal that ever got used in a circulating coin (other than via fraud by Spain) was platinum, and that was by Russia in 1828-1845. Those coins came in 3, 6, and 12 ruble denominations, weighing almost exactly 1/3, 2/3, and 1 1/3 ounces. And the sixes and twelves are all scarce to rare, selling for far more than their weight in platinum (try five figures). You might luck into a three ruble piece that is beat to hell and gone not selling for too much over a thousand bucks…but that's still far more than the platinum is worth.
Watch the Spread
However you choose to pursue this, be aware of the spread. Find out not just how much the dealer is selling it for, but also what he's buying it for. These two numbers are different; this is how he pays for his lunch. And his mortgage. For example, gold eagles often sell for more money than other gold coins. But they also are bought for more money. The dealers have to make a living, and they do so based on that buy/sell spread. You want to pick a product that has the narrowest buy/sell spread possible, because that represents how far the price has to move before you can make your money back. For example, if they want $1850 for an eagle, but are willing to pay $1825, that's a better deal than a Canadian Maple leaf selling for $1830…but they're willing to pay you $1790 for it. Even though the Eagle is $20 more expensive. Because in the first case, you can make your money back after gold goes up $25, in the second, you have to wait for it to go up $40. The same sort of considerations apply to rounds, junk silver, and the like. (And this is why new jewelry is often a terrible buy for such purposes–though second hand might not be so bad–the first owner paid for the artist's labor.) But, as with everything else, there is a caveat…the spreads themselves can change with time, and what's true today can be not true five years down the line. But a really huge difference in spread between Major Well Known Refinery's platinum bar versus Fly By Night Platinum Company's bar probably won't change all that much.
Junk silver has a wide spread and if you're a major investor it sucks for that reason, but if you are expecting a huge price hike, or the end of the world, it has its advantages. If you find yourself in some post-apocalyptic market trying to buy a head of cabbage, a silver dime is the right size; a one ounce gold eagle will be a pain in the ass, if not impossible, to get change made for and you'll probably not get all the change you should because of that (you're paying them for the pain-in-the-ass factor). I'm sure I need not make snide remarks about moneychangers to this audience, though in this context, they have to make a living too. (The objections, in the Bible, were to them doing their business on Temple grounds.) Because of all of this, I do have a notable amount of junk silver–bought years ago when it was a lot cheaper. It's part of the picture; I wouldn't want it to be all of it…but if it's what you can afford to do, it's better than nothing!
In that mode, I have another combination coin collectiong/bullion story to tell. I went to a coin show with a couple of gold eagles just in case I found a coin I really wanted to buy (gold was a lot cheaper back then) but didn't quite have the money for. Sure enough, there was something I didn't have the cash for. "Can you take a trade for some of it?" I asked. The dealer asked me with some trepidation what it was I was offering to trade. After all, it could be something he'd have no use for, and he'd have to sell it to some other dealer and get less than it was worth so that dealer could make his lunch money–what a pain! I pulled out a gold eagle. His eyes showed his relief. One of those is instantly negotiable at a coin show as if it were a really odd-denominated piece of paper money. If nothing else he could walk over to the APMEX table and sell it. Of course so could I, so I basically got what it was worth in trade, just so he could save some time and not have to wait for me to run over there and make the deal. I even got some regular money back as change. Moneychanging, indeed!
Finally, there's the issue of spot prices. Which by the way are now (Kitco Ask):
Gold $1785.60
Silver $27.36
Platinum $1276.00
Palladium $2412.00
Rhodium $23,000.00
(Rhodium is insanely rare stuff, and tends–in the long term–to go up and down a lot. I've seen it as low as $400…but that was 20 years ago. And back then you couldn't buy it as bars, you had to buy it by the 50 kg lot as powder. Now PAMP makes bars and I don't make nearly enough money. Gold bullion taste…chicken bullion budget!)
Anyhow, the issue of spot prices. You'll never pay spot. You'll invariably pay a bit over it, and that amount will fluctuate. And sometimes spot does something crazy, like taking a major dump, and no one will have any precious metals for you to buy. Sure, silver spot is fifteen bucks that day after the huge drop, but there's no silver to be had. Some coin shops will have a tray full of miscellaneous silver rounds…and the price card on the tray will say something like $3 over spot. That means they'll look at the spot price at that instant, and add three bucks to it, there's your price. (And that implicitly means "per ounce" so if there's a two ounce round in there it will cost you six bucks over the spot price of two ounces of silver.)
Spot prices tend to be a product, largely, of the futures market and doesn't reflect what people will pay for physical metal that day, on Main Street.
I have deliberately given you no advice on whether to do this. That's because I have no idea what's going to happen in the market. Of late silver seems steadier than gold, which seems to be sliding. Even platinum (which has been ridiculously cheap lately compered to gold) seems to be doing well, going up mostly. But that could turn around at any time. I venture no predictions. I am not responsible if you run off and buy a bunch, and the price drops, because I haven't told you to do so or even claimed it's a good idea. All I've done is given you some pointers on how things work, and what kinds of products there are, and how you might evaluate them compared to each other. You can lose money on this. I know people who ran up their plastic buying gold and silver back in the early 2000s…and lost their shirts and ended up with monster credit card debt. I've been mauled and even eaten by that bear a few times myself (though never with plastic), and no one else was responsible for that.
If you want some notion of the bewildering array of different products out there, check out kitco.com and apmex.com But also check out your local coin shop(s), and price shop all of them and the internet, IF you decide to go forward with this.
Obligatory PSAs and Reminders
China is Lower than Whale Shit
Remember Hong Kong!!!
中国是个混蛋 !!!
Zhōngguò shì gè hùndàn !!!
China is asshoe !!!
China is in the White House
Since Wednesday, January 20 at Noon EST, the bought-and-paid for His Fraudulency Joseph Biden has been in the White House. It's as good as having China in the Oval Office.
Joe Biden is Asshoe
China is in the White House, because Joe Biden is in the White House, and Joe Biden is identically equal to China. China is Asshoe. Therefore, Joe Biden is Asshoe.
But of course the much more important thing to realize:
Joe Biden Didn't Win
乔*拜登没赢 !!!
Qiáo Bài dēng méi yíng !!!
Joe Biden didn't win !!!