This LOCK 'EM UP OR THROW 'EM OUT THURSDAY open thread is VERY OPEN – a place for everybody to post whatever they feel they would like to tell the White Hats, and the rest of the MAGA world.
You can say what you want, comment on what other people said, and so on.
Free Speech is practiced here. ENJOY IT. Use it or lose it.
And BROTHERS AND SISTERS – I am using it tonight.
Keep it SOMEWHAT civil. They tried to FORCE fake Orwellian civility on us. In response, we CHOOSE true civility to defend our precious FREEDOM from THEM.
Our rules began with the civility of the Old Treehouse, later to become the Wolverinian Empire, and one might say that we have RESTORED THE OLD REPUBLIC – the early high-interaction model of the Treehouse – except of course that Q discussion is not only allowed but encouraged, and speech is considerably freer in other ways. Please feel free to argue and disagree with the board owner, as nicely as possible.
Please also consider the Important Guidelines, outlined here in the January 1st open thread. Let's not give the odious Internet Censors a reason to shut down this precious haven.
---
Remember – your greatest gift to President Trump is FIVE WORDS:
I AM PRAYING FOR YOU.
---
Our movement

Is about replacing

A failed

And CORRUPT

Political establishment

With a new government controlled

By you, the American People.

Candidate Donald J. Trump
---
Also consider Wheatie's Rules:
No food fights.
No running with scissors.
If you bring snacks, bring enough for everyone.
---
THIS little bit of news about FAKE NEWS does not sit well with me.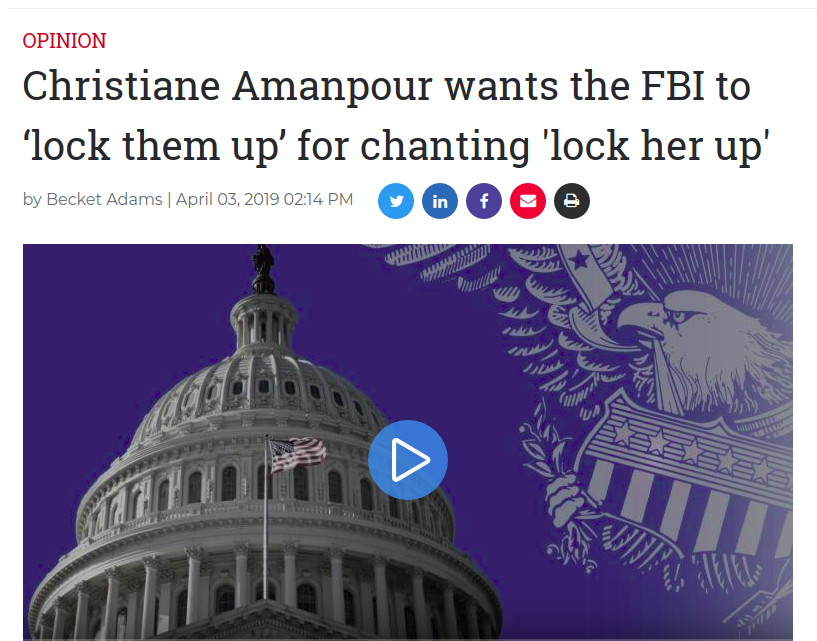 Many news anchors in the United States do a terrible job obscuring their true partisan biases. But CNN's Chief International Anchor Christiane Amanpour does not even try.

The supposed straight newswoman asked former FBI Director James Comey in a recent interview whether federal law enforcement officials should have done more during the 2016 election to punish Donald Trump and his supporters for chanting "lock her up!" about Democratic nominee Hillary Clinton.

"Of course, 'lock her up!' was a feature of the 2016 Trump campaign," Amanpour said toward the conclusion of her interview with Comey.

She added, "Do you, in retrospect, wish that people like yourself, the head of the FBI, I mean the people in charge of law and order had shut down that language — that it was dangerous potentially, that it could have created violence, that it's kind of hate speech — should that have been allowed?"

Whoa! The former FBI director politely shrugged off her suggestion that the federal government should arrest people for saying things that upset Christiane Amanpour.

"That's not a role for government to play," Comey said.


He added, "The beauty of this country is people can say what they want even if it's misleading and it's demagoguery. The people who should have shut it down were Republicans who understand the rule of law and the values that they stand for. Shame on them, but it wasn't a role for government to play."
Though some have expressed shock that Amanpour would advocate an authoritarian crackdown on free speech, I cannot say I am entirely surprised that she would propose such a thing, especially on behalf of a Democratic politician.


She often plays the role of the arbiter of the moral good, routinely dipping into personal political commentary from her perch as an alleged news anchor. Recall that Amanpour accused Britons of xenophobia and anti-immigrant views in 2016 after they voted to leave the European Union. She made that specific claim no fewer than five times during a single broadcast immediately following the Brexit vote. Later, Amanpour berated one of the Brexit leaders, European Parliament member and Washington Examiner contributor Daniel Hannan, during a post-vote interview, claiming repeatedly, without evidence and falsely, that Hannan was now backtracking after campaigning to "stop the free movement [of people]."

Of course, you could just say she's a tough news lady, but the problem is that Amanpour is not always so confrontational an interviewer. Let us not forget when she interviewed Hillary Clinton in May 2017, tossing the two-time failed presidential candidate the softest softballs ever lobbed, including when the CNN anchor asked:

[Y]ou've just spoken about the sexism and misogyny and inequity around the world, but do you believe it exists here still? … And do you think – were you a victim of misogyny, and why do you think you lost the majority of the white female vote?

The Trump administration is not without its upsides, Amanpour said later that same month. Indeed, she explained, it has caused "a huge rise in necessary activism" to combat what she characterizes as a "grave and existential threat."

"You know, everybody was getting a little lazy, everyone was taking everything for granted, particularly in the United States. And I think women of have come out, you know, black people have come out. The press have come out," she said. "Everybody is coming out to defend their profession and their right to exist under the Constitution and the laws of the United States."

You'll pardon me, then, for not being even a little surprised to learn Amanpour is maybe a little sympathetic to arresting opponents of the Democratic Party for so-called "hate speech."

https://www.washingtonexaminer.com/opinion/christiane-amanpour-wants-the-fbi-to-lock-them-up-for-chanting-lock-her-up
---
Well, as far as Ms. Amanpour goes, my motto is "never forget".
Just to clarify….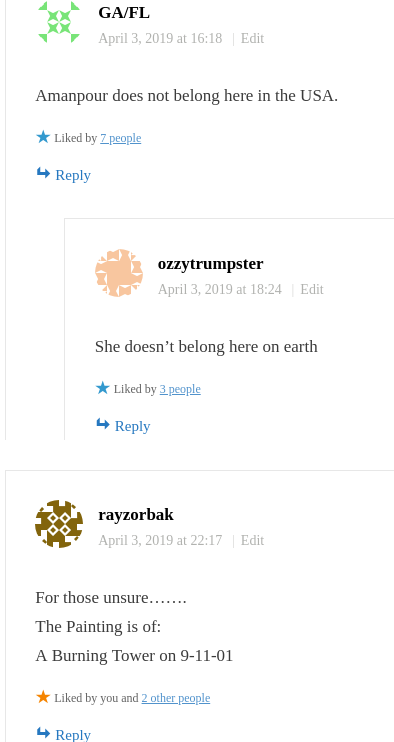 ---
Now – this gets a bit personal with me. You see…..
Once you realize that MS. AMANPOUR'S desire that THE FBI "lock us up" matches rather well with my run-ins with pesky "lookin'-for-a-reason-to-lock-that-boy-up" "Radium Rod Brand" FEEBS in 2018….
Once you realize that 9/11 was largely a psychological manipulation tool to herd Americans into various configurations required for global socialism – and that THIS is the really big secret they absolutely do NOT want to let get away from them – but it pretty much already has…..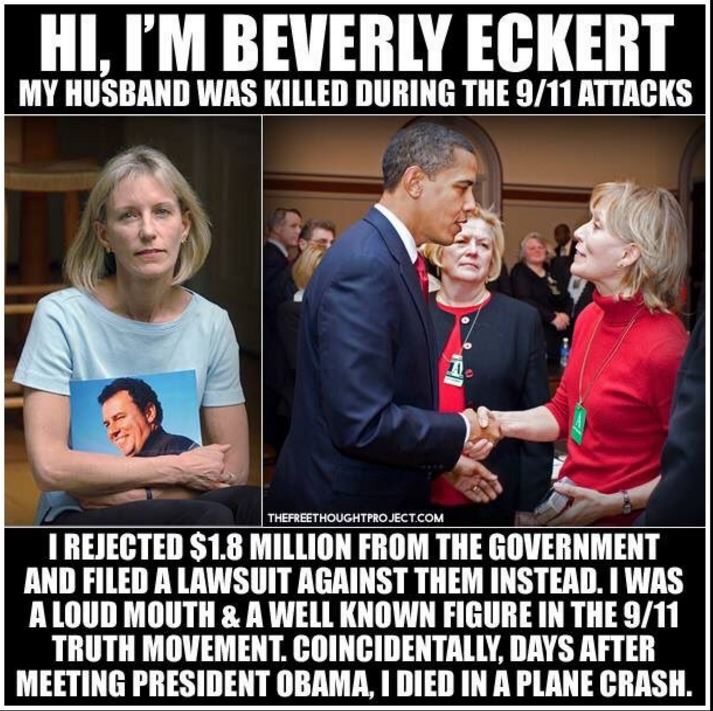 Once you realize that the ACCELERATED TIMING of said "lock up Wolf" operations was shortly after I got religion on the videographic hoaxing involved with 9/11, and linked it to the attempted videographic fraud in the CA3 operation of which I have somewhat more familiarity, and OH that's not a thing YET….
And once you realize what Americans are going to think when the TRUTH can no longer be suppressed by the FAKE NEWS….
WELLLLLLLLL….
Things all start to make sense.
You know, I'm not completely sold on lockin' 'em all up.
In fact, I'm not even totally sold on "throwin' 'em out".
THE DOORS ARE WIDE OPEN.
AND THE TRUTH IS NEVER, EVER, GOING BACK IN THE BOX.
Do the math, scumbags. While there is STILL TIME.
Flep talks about that nightstand. Well, Wolf is showing you an even easier way out.
It's a WIDE, WIDE world out there. WHO KNOWS – maybe there is SOME PLACE ELSE where socialism might work.
Because it AIN'T GONNA BE HERE.
Maybe….. New Zealand?
Have not heard of ANY restrictions on flights to New Zealand.
Yet.
*wink*
W