Perhaps you remember my last column on Chinese Communism's insidious cultural attack on America through Hollywood.
If not, then here it is for your background consideration:
---
It was the MOMENT that I realized that we are dealing with DEGRADATION of Western symbols…. That we are being forced to DEGRADE THEM OURSELVES…. That it is being done using RACIAL REVENGE as a psychological subtext…. And it was ALSO being done using SEXUAL REVENGE as a psychological subtext…. That REVENGE is a form …

https://wqth.wordpress.com/2019/07/21/why-i-believe-that-chinese-communism-is-raping-western-symbols-and-must-be-punished-by-tariffs-on-hollywood-investments/
---
While I feel that the use of SYMBOLS against us is a very powerful form of degradation, hinting strongly at the origin of the attacks, there are some things coming out of Hollywood that are just SO SICK, and SO OBVIOUSLY designed to FOMENT CIVIL WAR, that there is only one place they could even POSSIBLY be coming from.
CHINA.
RED CHINA.
COMMUNIST CHINA.
Thus, the following exchange today, on the Daily Thread…..
---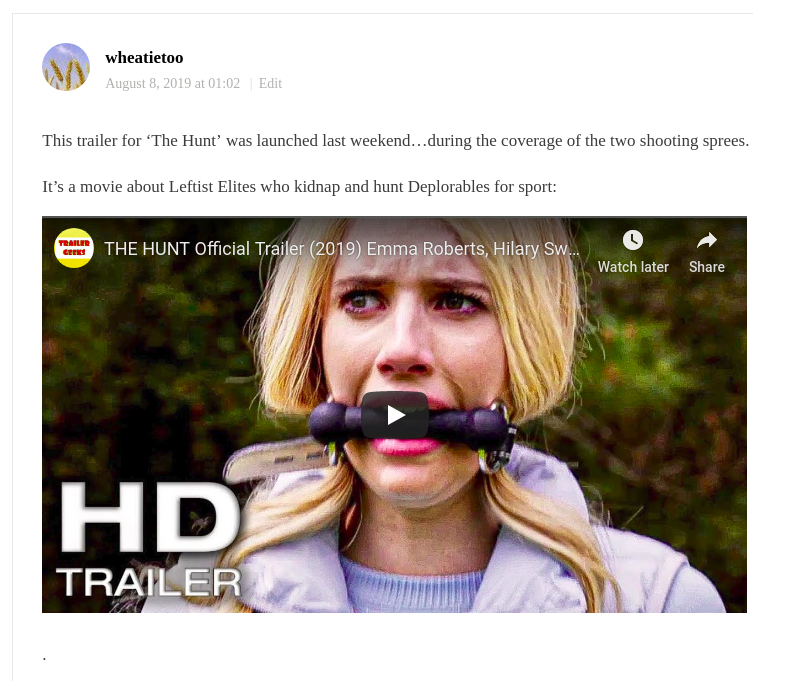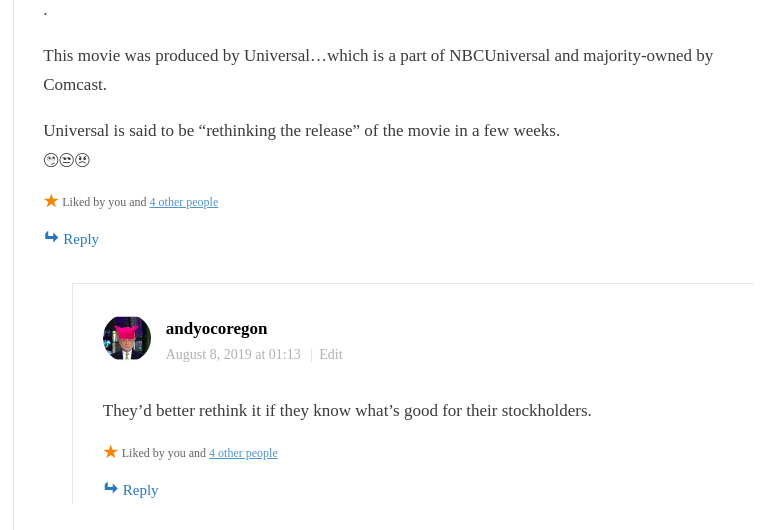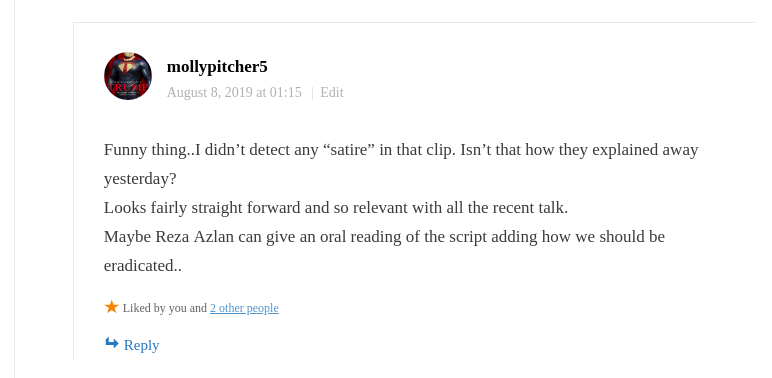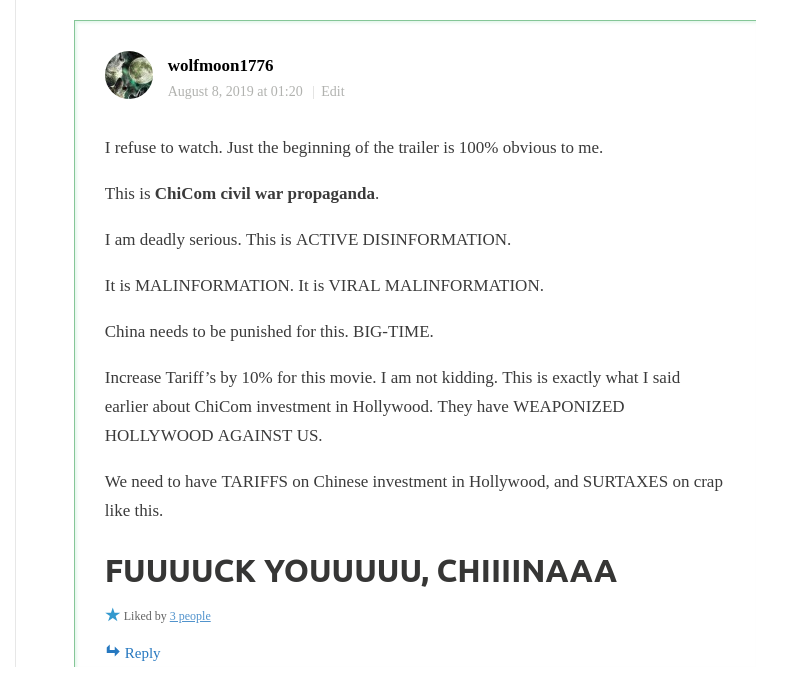 In fact, let me repeat that last part so that the ChiCom web crawlers can pick it up CLEARLY.
wolfmoon1776
August 8, 2019 at 01:20
I refuse to watch. Just the beginning of the trailer is 100% obvious to me.
This is ChiCom civil war propaganda.
I am deadly serious. This is ACTIVE DISINFORMATION.
It is MALINFORMATION. It is VIRAL MALINFORMATION.
China needs to be punished for this. BIG-TIME.
Increase Tariff's by 10% for this movie. I am not kidding. This is exactly what I said earlier about ChiCom investment in Hollywood. They have WEAPONIZED HOLLYWOOD AGAINST US.
We need to have TARIFFS on Chinese investment in Hollywood, and SURTAXES on crap like this.
FUUUUCK YOUUUUU, CHIIIINAAA
Liked by 3 people
Reply

Wolf Moon, 8/8/2019
And in case that last part isn't COMPLETELY CLEAR to Chinese Intelligence….
FUUUUCK YOUUUUU, CHIIIINAAA
---
Now, there is no way I'm going to give you a LINK to this garbage, or anything more ABOUT this crap. Most of all, there is no way I'm going to give you the TOXIC VIDEO ITSELF (which I have not watched, but from which I've seen the horrified reactions of multiple normal Americans, as well as their informed comments, like those of our dear Wheatie and Molly).
Oh, do not kid yourselves. THIS is straight out of China. And the icing on this self-cutting shitcake is the fact that the American brainwash DOPES who made it have NO CLUE whatsoever.
I spent YEARS working with dozens of Chinese spies in science and tech, and for the few Americans who actually know how to see into their psychological operations, they are a RICH source of information on how degradation and demoralization of Americans works. Sadly, they are very good at what they do, and it often takes YEARS to figure out their more subtle stuff.
Cunning, it is. VERY cunning. But how does Q put it? Oh, yes.
Future proves past.
I've tried to put a finger on when things REALLY went bad in Hollywood, and I think I have figured it out.
It was when Nixon signed that idiot deal with China in 1972. Almost IMMEDIATELY, the nastiest and creepiest YOUTH-ORIENTED "Bad M / R for teens" films began to get easy "lift" past all forms of moral gate-keeping. Hollywood started LOSING all morality and began letting SCHLOCK rise to the top. The rating system fell apart at the theaters, despite the most earnest LIES that it was working.
Of course, there was much more going on, changing youth culture in the 1970s. The ChiComs were not the only actors here – maybe not even big ones, although I suspect that their BLACKMAIL HAND and certain ingenious forms of West Coast MK were already hard at work in Hollywood. Still, national demoralization is a complex web, and everything feeds into it. SIGNALS – even just the acquiescence to "let's make a lot of money in China" morality – changed how everybody behaved. How everybody THOUGHT.
"AND" logic will serve you well here. MANY things were used to destroy "boomers". It was not an "either / or" proposition.
One of the most significant forms of schlock in film was "justified ultra-violence" – a kind of drive-in blood porn that saturated Middle America, starting in the early 1970's. While this was almost certainly the result of SOVIET cultural influence in Hollywood, it was undoubtedly CHINESE MONEY that began to move into the cheap end of Hollywood, pushing the WORST of the WORST. How it got there is probably a VERY interesting story.
If you look at the FIRST and MOST CLASSIC "anti-white, racially justified, let's kill white rednecks for peace" movie – BILLY JACK (1971) – the concept and production history of which ran from roughly 1967 to 1971 and beyond, you can actually TRACK the preparation of the inflection point.
[SIDEBAR: I was once very shocked when a Chinese demoralization agent, in America in some kind of medical exchange program, launched into a spiel that might as well have come from Billy Jack himself. That should have been a tip right there, but I didn't realize he was an asset until many years later. Like I said, they're GOOD, and we were VERY stupid and naive back then.

Most of the preparation for Chinese support of communist memes in Hollywood was actually SOVIET influence. You can easily see the Soviet roots of American ANTIFA in Billy Jack. We know from both HISTORY and VYSOTSKY that there are very similar SOVIET roots in both German ANTIFA and American ANTIFA. Nonetheless, China has always driven a lot of wind into ANTIFA-supporting memes, not all of which they created. However, the ChiComs are very careful how they do it – they are generally much less obvious than Soviet cultural Marxist emigres.]

Wolf
---
SO – I'm sure if people look, they will discover a PATTERN to both Soviet CULTURAL investments in Hollywood, and Chinese MONETARY investments in Hollywood.
But for our purposes, I want you to THINK about what is happening in Hollywood's products that we consume (if we're not careful).
CHINA can get Hollywood to take a tiny PATCH off an actor's jacket in a movie because it offends them. A TINY PATCH. A SYMBOL THEY DON'T LIKE.
OH, but Hollywood will create and proudly put forward an entire movie which DEGRADES Americans of ALL KINDS in ways that border on the INSANE.
This is SOVIET and CHINESE MIND CONTROL over BOOMER HOLLYWOOD.
The Soviets and the ChiComs actually MKed the entire boomer generation, starting in the 1970s, into a kind of amazing self-and-other-disrespect, as teens watching paleo-ANTIFA-porn like Billy Jack, guilt-fests like Bless the Beasts and Children, and ancestral versions of The Hunt like Death Race 2000.
Using that leverage, THOSE "adult children" boomeroids crank out mega-schlock like The Hunt today.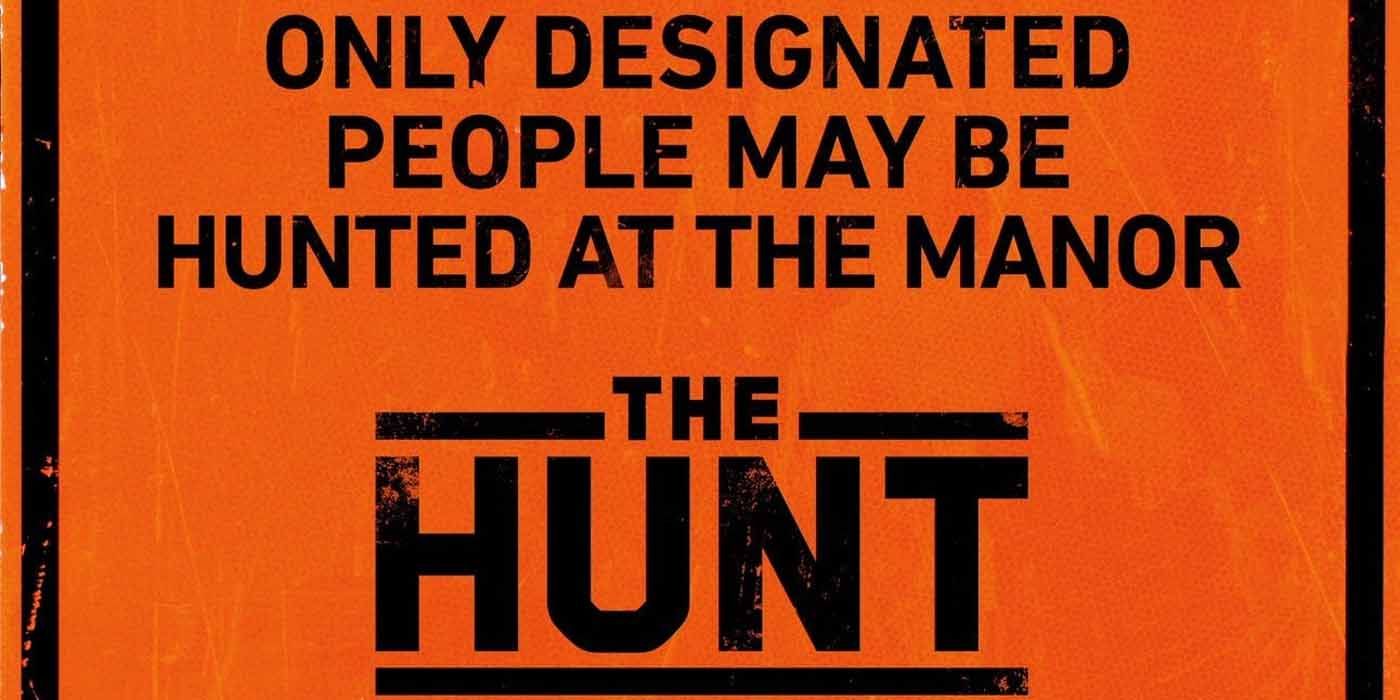 ---
So what are we going to do about it?
Well, I will come back to what I said before.
Allowing ANY investment by China in America's self-image is stupid as hell.
I think that should be pretty obvious by now, but let's be honest. It's gonna take Hollywood a bit longer until they wake up in a drool pool on the floor of China's fentanyl dungeon, and realize that they are in a whole heap of trouble.
Meanwhile, we at home can prepare the legislation that gives Hollywood the BITCHSLAP of reality that they need, before we get them into a MAGA methadone program.
We need TARIFFS on Chinese investment in ANYTHING that endangers America if sabotaged.
OH, MY, THAT'S A LONG LIST.
Yeah, think about it. But for starters. Hollywood should be off limits to Chinese money and influence as SOON as possible. Investment tariffs are just the beginning. All KINDS of Chinese influence, interference and SABOTAGE need to be punished SEVERELY with surtaxes and fines.
Raise the rates until the ChiCom money is just a trickle. Maybe less.
Welcome to your future, Hollywood. Your addiction to CHINESE MONOPOLY MONEY stolen from the paychecks of Middle America is about to END. Pretty soon, you may even hold down a REAL JOB.
Face it, Hollywood. Being China's junkie gunman was only going to get you into REAL trouble. It's good that you're getting out now, while you still have a heartbeat. Time to flush your stash and GET A LIFE.
And TRUMP'S AMERICA is here to help get you clean!
W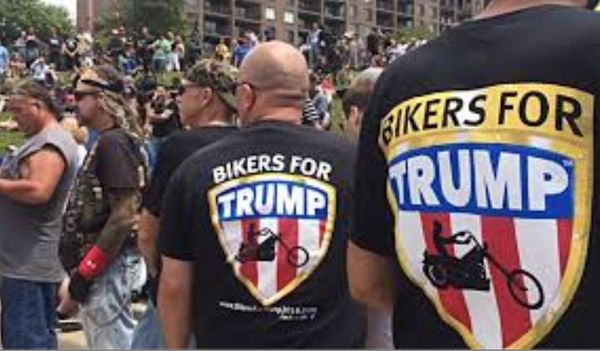 WWG1WGA