It's a simple question, but I think it needs to be asked.
My money says Her Slyness, Queen Jussie of Pelosi, is going to do what Chris Wray KNOWS is destroying the FBI – the harassment of patriotic Americans for going to THEIR Capitol and registering the MILD REBUKE of YELLING outside the Capitol Building, while TREASON ruled the day on the inside.
And that would be TWO kinds of treason.
(1) The phony, fake, stolen election, working with CHINA, on November 3, 2020.
(2) The Jussie Smollett-style FRAME JOB on Trump and his supporters on January 6, 2021.
Yeah, when I read this thing about Pelosi setting up what will amount to Capitol Hill Police FIELD OFFICES around the nation, at first I thought it was a strong move for Mobbie Dearest.
CRAZY LIKE A FOX.
But THEN I realized how this is REALLY playing.
CRAZY LIKE A MOONBAT.
Jussie Pelosi, partner in crime with the FBI on January Sixth, is UNWILLING to leave well enough alone what Chris Wray knows is DESTROYING the reputation of the FBI.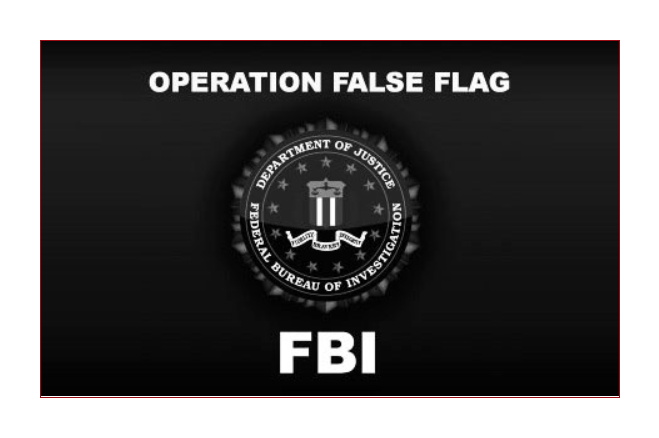 And Chris Wray has the goods to say "NO" to Jussie Pelosi. You'd better believe it.
---

Impeachahontas Now Wearing Two Diapers Nobody expected Chris Wray to play Mafia Nan's queen of diapers face-up on January 6, but that is exactly what appears to have happened. The only question now is WHY. To quote a friend from a former life, "AYE-YI-YI!" OK – let me back up a bit. First, I want …
---
See, I didn't really get why Wray made a rather eloquent "nicey-nice threat" to expose Pelosi's mafia and red diaper roots (by dropping a CLEAN version) on January Sixth.
Now it's obvious. Wray has the FREEDOM to protect the FBI from Pelosi's insanity, which would DESTROY the reputation of the FBI even MORE than she has already done.
In fact, I think that even DODGE (that would be DOJ) may be jumping off the crazy, burning, Pelosi wagon.
Is she MAD? Is she CRAZY?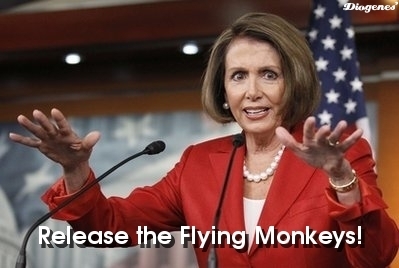 I stole this great image from Sundance, and that gives me the opportunity to push you to read his very wise thoughts on this latest sinister genius from Donna Gambino Lucchese D'Alesandro Pelosi.
---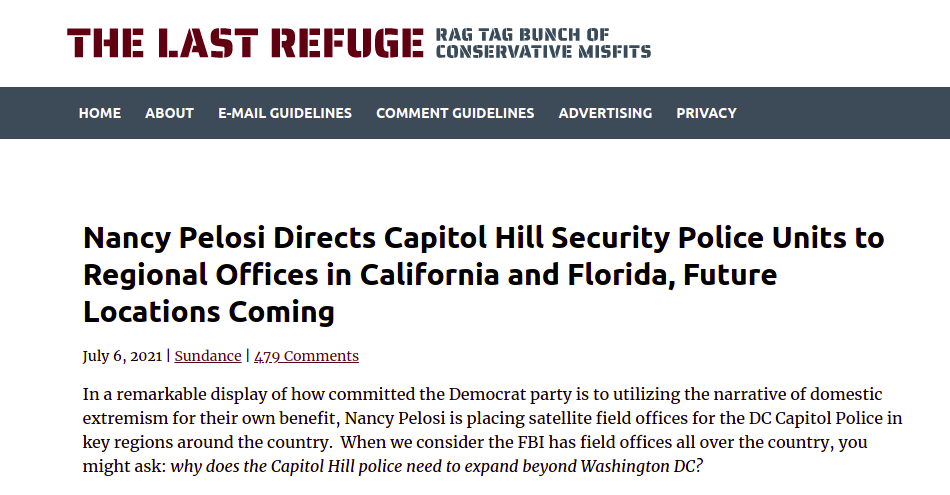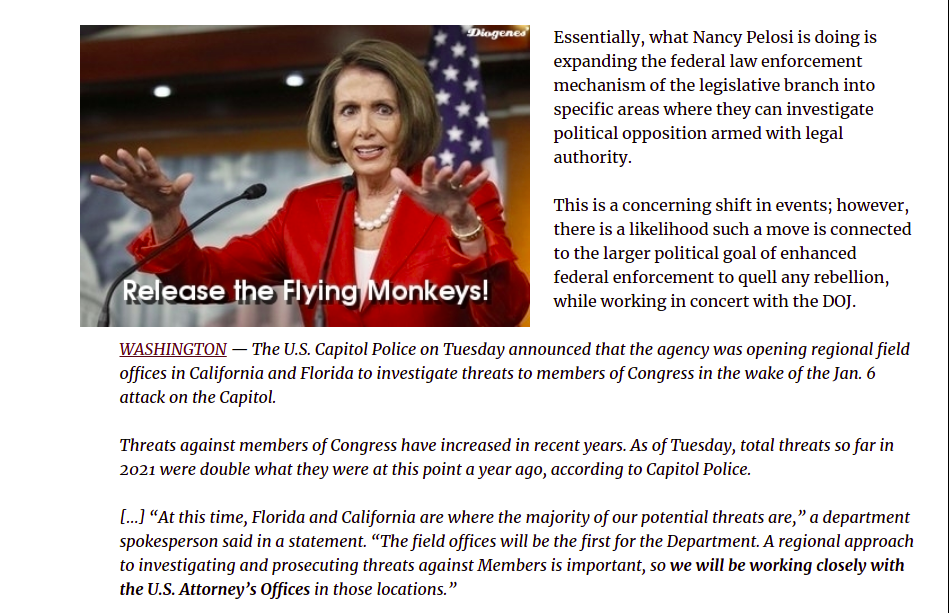 MORE:
---
I strongly advise that you read the whole thing, because the END is very important, and I have not cited it here. Whether your thoughts lean toward HOPIUM or NOPIUM, something is coming. Sundance sees this as proactive federal preparation for it. His rationale is strong, and I am in full agreement.
Be prepared. READ IT.
So does this mean she will REALLY go after the "January 6 small fry"?
I think that's a very good question. I mean, Congress could decide to rein her in – or not. States could decide to cooperate with this – OR NOT. Indeed, I think there are already some states and counties that SAY they are prepared to ARREST federal officers regarded as taking unconstitutional actions against residents.
And I think that Nancy "Jussie" Pelosi knows EXACTLY THAT – and is adopting a policy of CHALLENGING STATES.
And THIS is where we get into the GUILT of Nancy Pelosi, and how she ALWAYS operates like this when her guilt is building because the TRUTH is showing.
Indeed, I think only the probable pedophile Adam Schiff, friend of Ed Buck, is more POWERFUL in his attacks on those who have the goods on him, than Nancy Pelosi.
Look back at those impeachments. Pelosi and Schiff – THEY are the ones who attack with the full force of the federal government, and the full demonic chutzpah of the most brazen and Orwellian lies, at the first sign of their own weakness.
Jussie Pelosi knows that BUFFALO BOY'S headgear is in every possible way, HER version of Jussie Smollett's MAGA hats.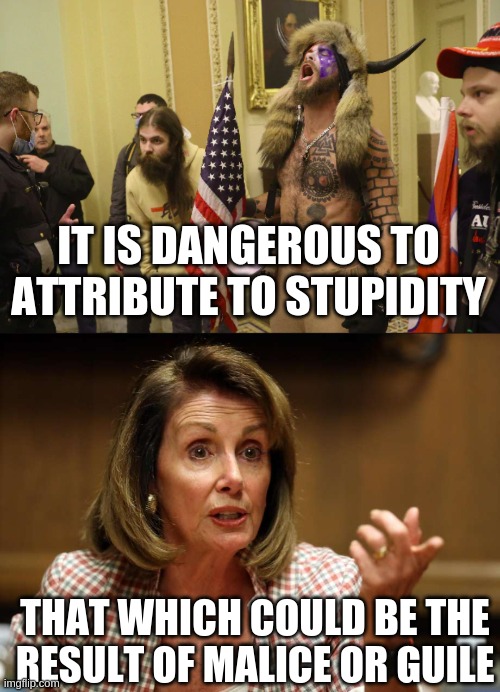 But there is ONE MORE TREAT that I want to offer, and that will be my next post.
Have a nice heaping helping of JUSSIE PELOSI here, but save some room for a side of JUSSIE KINZINGER.
W
LINK: https://rumble.com/vj1xqx-the-fbi-is-a-large-scale-jussie-smollett-operation.html