I will try to keep this short.
I was very shocked, recently, to find that Dr. Sherry Tenpenny was banned from Truth Social for calling the mRNA COVID vaccines "bioweapons".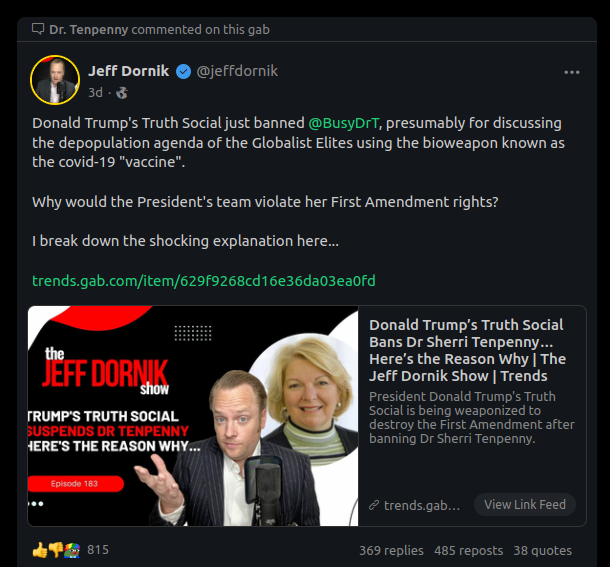 Dr. Tenpenny commented back.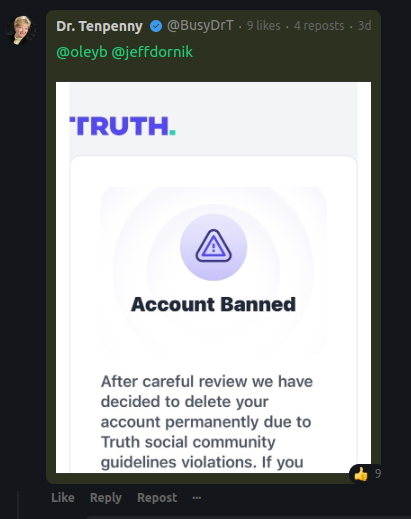 Let's take a closer look at that!
I can tell you this – by the time I saw this, Dr. Tenpenny had been reinstated on Truth Social. I'm not sure what went on behind the scenes, but within hours, she was back on.
THIS may have had something to do with it.
LINK: https://rumble.com/v17mxf5-donald-trumps-truth-social-permanently-suspends-dr-sherri-tenpenny-heres-wh.html
Then later…..
LINK: https://freedomfirstnetwork.com/2022/06/dr-tenpenny-responds-to-suspension-so-much-for-truth-social-and-free-speech
Here was Dr. Tenpenny's comment back to Jeff Dornik.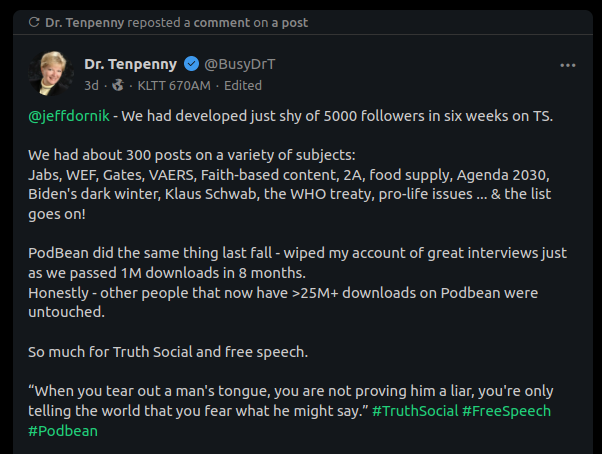 @jeffdornik – We had developed just shy of 5000 followers in six weeks on TS.

We had about 300 posts on a variety of subjects:
Jabs, WEF, Gates, VAERS, Faith-based content, 2A, food supply, Agenda 2030, Biden's dark winter, Klaus Schwab, the WHO treaty, pro-life issues … & the list goes on!

PodBean did the same thing last fall – wiped my account of great interviews just as we passed 1M downloads in 8 months.
Honestly – other people that now have >25M+ downloads on Podbean were untouched.

So much for Truth Social and free speech.

"When you tear out a man's tongue, you are not proving him a liar, you're only telling the world that you fear what he might say." #TruthSocial#FreeSpeech#Podbean

Sherry Tenpenny, Gab Social, June 7, 2022
As I said, by the time I got on Truth Social to confirm, a few hours later, Dr. Tenpenny's account had already been restored.
Here was a comment I made later, on her account.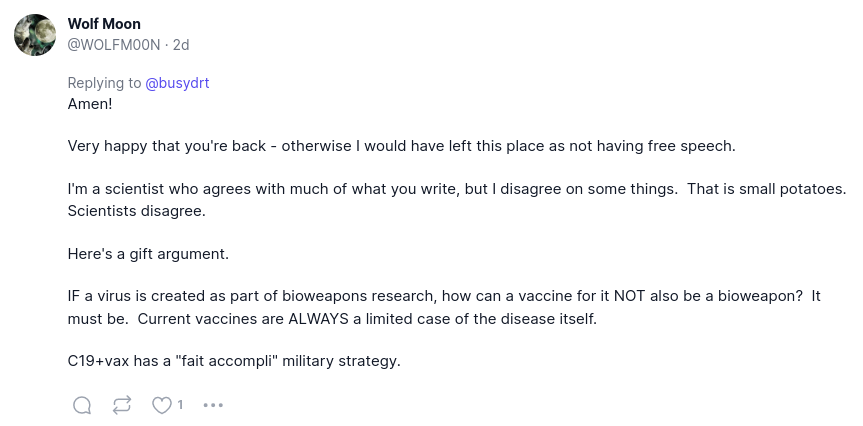 ---
Replying to @busydrt
Amen!
Very happy that you're back – otherwise I would have left this place as not having free speech.
I'm a scientist who agrees with much of what you write, but I disagree on some things. That is small potatoes. Scientists disagree.
Here's a gift argument.
IF a virus is created as part of bioweapons research, how can a vaccine for it NOT also be a bioweapon? It must be. Current vaccines are ALWAYS a limited case of the disease itself.
C19+vax has a "fait accompli" military strategy.
---
My point there is that EVEN if one throws out the very likely agenda of vaccines as a population control mechanism (contraceptive and sterilizing vaccines being a well-known area of modern science), and even if we throw out doctrines of Chinese "total warfare" and China's deep involvement in the mRNA vaccines (China is now trusted to run ALL of Pfizer's clinical trials), we are still left with the reality that vaccines for a disease which is "possibly to likely" a gain-of-function bioweapon or bioweapon test, simply cannot ever lose that nature.
Vaccines are a devil's deal with SOME weakened form of a disease. DEAL WITH IT.
They're a damn bioweapon. Dialed down, but clearly not enough yet.
I just checked – Dr. Tenpenny is still back on Truth Social, and was posting last night (Friday, June 10, 2022).
Here is my perspective on this.
Dr. Tenpenny is labeled by the leftists as one of the "Dirty Dozen" – top spreaders of "disinformation" about vaccines.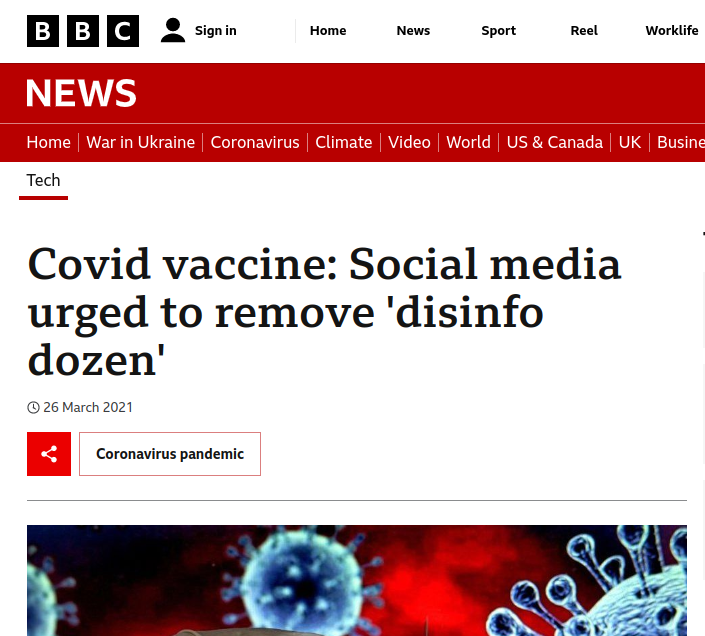 LINK: https://www.bbc.com/news/technology-56536390
In my personal opinion, yes, she does spread disinformation, but she also spreads valuable information that the mainstream media suppresses. And EVEN her "disinformation" often has either grains of suppressed TRUTH in it – OR (and this is very important) allows me to see how our intelligence agencies SET HER (and us) UP with the disinformation, as ILLEGAL ACTS OF DISCREDITATION against American citizens.
More on that in a moment.
Do you, patriots, want to suppress information about the crimes of the left? I don't think so.
Dr. Tenpenny and her friends were maliciously set up with phony "information" about several things, which I have covered on this blog.
vaccine magnetism
suramin (a synthetic drug) in pine needles and star anise
pine needle tea (a natural abortifacient) as a 'cure' for the obviously abortifacient coronavirus vaccines
The first was a rather cunning viral discreditation of vaccine critics. I did my own experiments to prove that this was essentially a parlor trick using skin oils, surface tension, and psychology, designed to fool people into believing that magnets are sticking to injection sites.
The second was a sadly effective demonstration of the idea that our side often doesn't fact check the most basic drug information.
The third was an amazingly cynical way to not only get Dr. Tenpenny and her colleagues to destroy their own reputations by advocating a known abortifacient to people fearful of abortion, but to get those very same abortion opponents to self-abort.
Seriously, the people who come up with that kind of deception are truly evil.
Here is my prior coverage of these topics.
---
Vaccine magnetism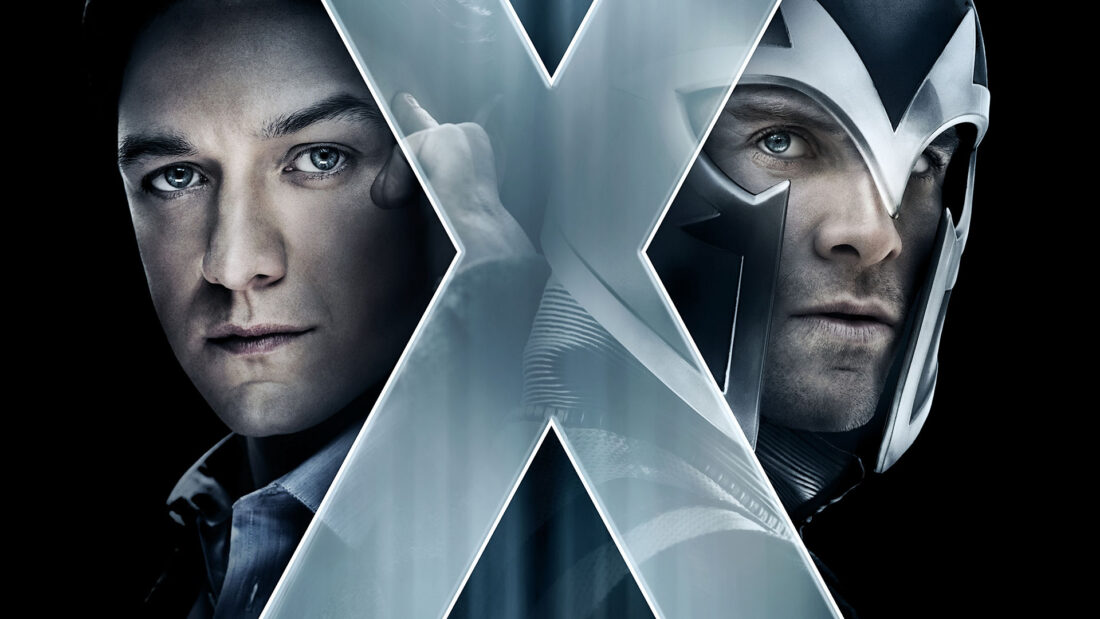 Wherein we examine, in something like "MythBusters" style, the dubious "Magnet Challenge", without relying (too much) on the anti-scientific crutch of scientific authority First, a confession. The main reason I am attracted to these videos of people sticking magnets to the COVID vaccination injection sites on their shoulders, is that I love to watch normal …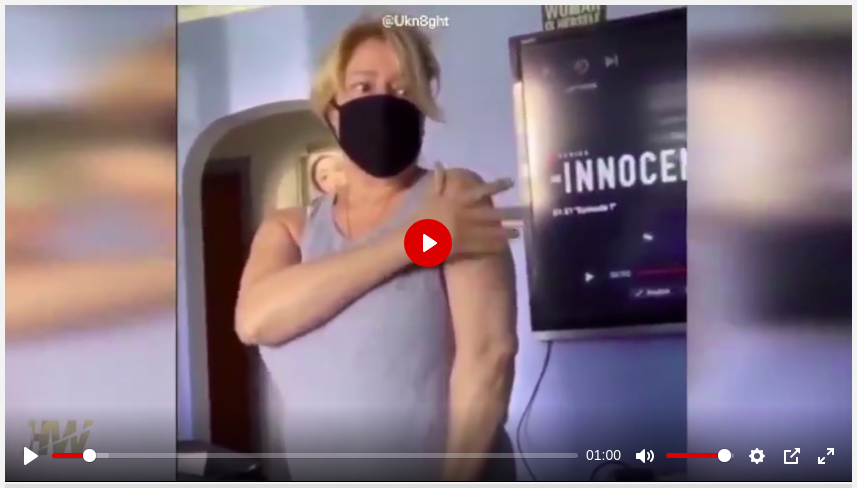 Wherein we look at how the COVID scammers are now using "magnetic" disinformation to try to escape justice for REAL abuse of liposome biotechnology to achieve [most likely contraceptive] vaccine persistence and migration. TL;DR – after mRNA vaccine persistence and anatomical migration were revealed in leaked Pfizer data, explaining "shedding" via persistent liposomes, the COVID …
---
Suramin and Pine Needle Tea

This is for the historical record. I hope that this analysis gets to the "dissident scientists" involved, but even if it never does, future historians will get a powerful look at what I call "Fake Science" – the establishment's phony, deceptive and controlled scientific complex – and how infiltration, control, and discreditation of dissident populist …
---
If you read these articles, knowing what we now know from the Pfizer documents, then it's very clear that Pfizer was quite vulnerable on several points about their mRNA COVID vaccine.
Feeding discred to their enemies? Totally believable. I actually have PERSONAL experience with such discreditation, because it's a technique used WITHIN the pharmaceutical industry in their internal turf wars. Absolutely unsurprising that they might use this on their enemies outside.
But let's just take that a little bit bigger.
Truth Social clearly made the right move by quickly reinstating Sherri Tenpenny. And not just on freedom of speech grounds. As I told Dr. Tenpenny, any vaccine that is designed to invoke a limited case of a bioweaponized disease is, in fact, a limited case of that bioweapon. What she was saying wasn't even WRONG, much less disinformation.
Wait for her to advocate pine needle tea for containing suramin. THAT IS WRONG. And that error is STILL part of free speech, which can not only correct us, but which can sometimes lead us to CRIMES that need to be brought to the enemy's doorstep.
Part of being unafraid of TRUTH, is being unafraid of ERROR.
However, don't think for a second that the problem is over. Dr. Tenpenny and many other TRUTH WARRIORS are going to pick up disinformation and run with it – ESPECIALLY when our own intelligence agencies craft stuff designed for them, using our tax dollars. And that is to say nothing of Russian, Ukrainian, and Chinese disinformation, crafted for our side to pick up.
Just look at THE HOAX. Indeed, THAT is the "big end" of disinformation.
NOPE. Never sweep disinformation under the rug. HIGHLIGHT IT, so that we can dig into it, and then we can FIND THE TRUTH.
Maybe Truth Social can pioneer new ways to deal with disinformation without denigrating those we are seeking to enlighten.
W