---
Is "Second Strzok" David Bowdich an "Untouchable" or a "New McCabe"?
And is Lisa Page an Intelligence Idiot or the Super-Spy Who Fooled Congress?
---
I was wondering why I was picking up heat of certain extremely interesting kinds.
Starting and maintaining this troublesome little website was bound to cause annoyance in DC, but I was surprised when that heat took on a characteristically federal nature that suggested the FBI was involved.
The actors (COUGH, COUGH) were not interested in information that might solve America's problems. They seemed interested in information that might solve THEIR problems. WE being a part of those problems. ME being a particular one of those problems.
Interesting.
If people are starting to understand why I'm taking precautions to preserve this site in my absence, now you're likely getting ideas why precautions are necessary.
Q said "You have more than you know." He was NOT lying.
---
In a prior post, here, I talked about certain principles of information reversal that are particularly useful for what the other side is up to, blame-casting THEIR commie collusions on President Trump. It all gets very confusing, but I think that stating those ideas once again is useful.
First, the general principle:
The CLOSER the straw-man [accusation] can be arranged, FACTUALLY, to the REALITY being covered up, the EASIER the defense, because the STORY is closer to the REALITY, and pieces of the REALITY can be used as "proof" of the STORY – particularly if the STORY is advanced FIRST and the disentangled REALITY is posited LATER in defense.
This is then followed by three corollaries:
Counterintelligence is the perfect place for this sort of intrigue, since counterintelligence amounts to infiltration of infiltration, staying infinitely close to the original infiltration. Basically, getting CLOSE to the REALITY with a DECEPTION is part of the game, so counterintelligence is a natural place to SEED this kind of defense.
The ploy of reversed accusation becomes even easier and possibly even necessary if the enemy actually IS colluding with the accusing compromised or corrupted counterintelligence. This allows the enemy to "assist" the lies of the other side's compromised counterintelligence, keeping them in place. This means that the counterintelligence people, if corrupted by the enemy, can then be "helped" by the enemy – in schemes exactly like what we are observing. Like I said, "19" [money dump plausibly matching amount offered to Carter Page] may have been a gift from Russia with love, or at least alliance.
One of the first places that should be subverted by the enemy, both directly and indirectly, is counterintelligence.
THOSE were followed by some ideas that bring it all back to
COMEYWORLD:
The Hillary email cover-up by the SAME participants as in the FRAMING of Trump, is the BEGINNING of the revelation of the other half of the story – the COVER-UP. The TIGHTNESS of the same cast of characters in the Mueller cover-up fake investigation and the HRC email exoneration / cover-up is a kind of give-away of the theory I posited earlier.

Go back and review what I said, if it doesn't make sense. It should. You can also see why the interception of the plot – by releasing text messages of Page and Strzok to force them out of the Mueller probe – was clearly the result of extremely skilled "IG-type work" in counter-intelligence. It's not about the messages. It's about the plot.

Wolf Moon, "The Framing of a President as the Cover-Up of Treason"
NOW – if you understand why POPPING STRZOK and McCABE out of the FBI was so important to bringing the continuing Hillary MADNESS roughly half-way to a close, you will understand the importance of what SUNDANCE – and unknown patriots who got some of Lisa Page's information to him – just did.
He's using "same-player" to MAKE A BUST.
---
First things first, I *URGE* you to read this post by Sundance.
Leaked Transcripts from Lisa Page Provide Some Stunning Revelations…
Sundance's analysis is based on THIS reporting by Jeff Carlson in The Epoch Times:
EXCLUSIVE: Transcripts of Lisa Page's Closed-Door Testimonies Provide New Revelations in Spygate Scandal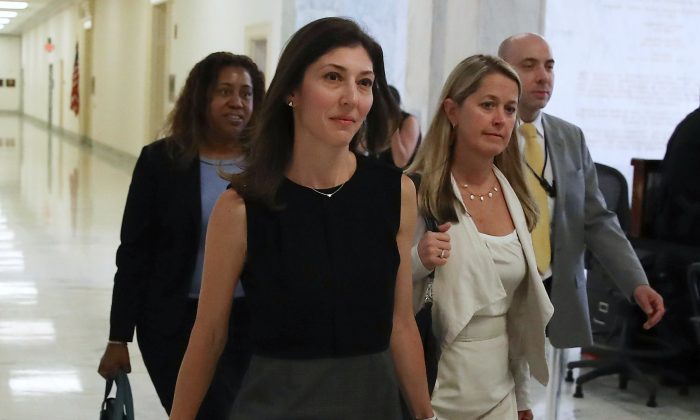 https://www.theepochtimes.com/transcripts-of-lisa-pages-closed-door-testimonies-provide-new-revelations_2763452.html
Sundance makes some extremely important points that show we now have a half-full glass of MAGA, where previously many saw it either empty or full. And it was the PERSISTENCE of our Granular Brother who found the key which unlocks the mystery. And maybe opens a new one.
"Really it's the people that met with Jim Comey. Those are the only people that were really the same with respect to both teams. So it's the same general counsel, the same deputy general counsel, me, Mr. McCabe, Dave Bowdich. The EAD for National Security Branch changed, but that was just because of regular personnel turnover.

Lisa Page, emphasis by Sundance
Many of us were trying to figure out how David Bowdich rose to the level of Deputy FBI Director under Chris Wray.  [Bowdich was previously the FBI field office head for the San Bernardino terrorist attack investigation in California]  Now we see that Bowdich was at the center of the small group in Washington DC who were doing the Trump investigation.
This reconciles why the current FBI is blocking the release of the witness transcripts.  Do you remember who told congress a few weeks ago that any transcript releases may interfere with the Mueller investigation?…

Sundance, emphasis by Wolf Moon
Bowdich, I believe, is key. I had earlier thought that my "heat" might have Muellerish origins, but what if we have a "New McCabe" in place – WELLLLLL, that would explain a lot, wouldn't it?
I am not automatically convinced that Bowdich is crooked, because I tend to think that Wray is a straight-shooter, and would pick straight-shooters. I differ with utmost respect with Sundance on this point. But straight-shooters often have certain weaknesses, and one of them is being somewhat manipulable – particularly in a corrupt institution. Bowdich has taken DOWN corrupt institutions. But has he ever stopped to think that he might have worked IN ONE for DECADES?
It's a weird feeling. 😉
Bowdich isn't just connected to the sketchy San Bernardino "event" – he's also connected to a prior sketchy incident – the "LAX shooter" named Paul Ciancia (you know – as in "CIA 'n' CIA") who rescued TSA from public weariness single-handedly.
("OY VEY! At least he's not JOSH EARNEST.")
But I digress. 😉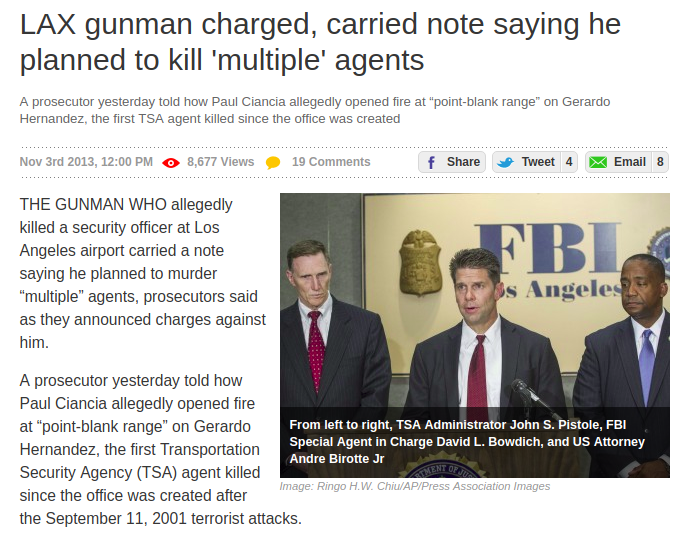 https://www.thejournal.ie/lax-shooting-gunman-charged-tsa-agent-1158539-Nov2013/
Note how Bowdich "graduated" from this sketchy event to the next one in San Bernardino. ALL THE WAY TO TRUMP.
Now I'm not saying this guy is a bad guy. But I think there are several possibilities.
(1) Bowdich may have been closely observed by the McCabians to make sure he didn't get any career-killing "conspiracy theory" ideas about sketchy events. He may have been brought forward precisely because he was "safe". But that also means he has a blind spot that a CIA panel truck can drive right through, any time it wants. Of course such a person could be talked into reverso WRONG investigations like Trump or (COUGH) other people. This would explain a lot.
(2) Bowdich was "read in" on the sketchy gun grab events, and knew exactly why this stuff straight out of Bill Cooper was happening. He is then most likely exactly as Sundance is calling it – covering stuff up because of knowledge.
(3) Bowdich was NOT read in BEFORE, but is now aware of what the heck is going on, and he is covering up things for strategic reasons we don't know, which could be good or bad. All bets are off, here. There is a possibility of UNTOUCHABLE, and things are getting interesting.
Bottom line – David Bowdich is a new variable that could be anywhere from "New McCabe" to "Untouchable". And we know he's covering up stuff for SOME reason.
Here's WaPo's take. Read it with care.
https://www.washingtonpost.com/news/post-nation/wp/2018/01/29/the-rise-of-david-bowdich-the-former-sniper-in-line-to-become-the-fbis-new-deputy-director/?utm_term=.ebf1bb085863
---
I love the way I can "speculate well out ahead" of where Sundance's more painstaking and granular approach goes, but when you need highly directed sunlight, his laser focus cannot be beat. So let's start off with the FINALE to his post:
There's a hell of a lot more to be learned from the Lisa Page testimony, specifically about the role of the CIA in the overall operation… 

However, for me personally, her outline of Bowdich in the main FBI DC office -as connected to the larger investigation- completes an annoyingly missing puzzle piece.

DAG Rod Rosenstein was hired by President Trump at the direction of, and request of, AG Jeff Sessions.   Rosenstein then recommended that President Trump hire FBI Director Chris Wray (a transparently useful idiot)….. Director Wray then hired David Bowdich as his deputy AND re-hired Dana Boente as FBI chief-legal-counsel.

The picture we get here is how the 2015/2016 officials within the corrupt DOJ and FBI enterprise, were put into higher office in the Trump administration 2017/2018; and those same officials are currently occupying positions that allow them to keep their prior corrupt activity hidden.

This whole thing is FUBAR.

Sundance, his emphasis
Let me re-emphasize something from that:
"However, for me personally, her outline of Bowdich in the main FBI DC office – as connected to the larger investigation – completes an annoyingly missing puzzle piece." –Sundance, my emphasis
Good G_d in Heaven, I could have written those words myself. Although I am talking about a certain SMALLER investigation.
I *knew* it was Radium Rod coming at me, but I just didn't know HOW he was doing it. I thought that the MUELLER SHOW was the only BAD ACT in FBI Town. And the Mueller Show had ZERO plausible rhyme or reason to go after me. Oh, yeah, they can put RUSSIANS into anybody's world (COUGH, COUGH, note previous corollaries), but they can't really mix them with Trump, so that part sucks for them.
There is no REVERSO to set up a STRAW MAN to go after me. There are ways to do REVERSO – as was done on Trump – but it's more tied to CANKLES and OBAMA and OTHER THINGS.
So how does Q say it? "BOOM!"? I think that's the proper expression.
As soon as I saw that we could potentially have a NEW McCABE in place, or somebody who could be bamboozled by OLD McCABES – as in McCabe's finest "leavings", everything started making SENSE. They don't HAVE to go through Mueller – they can do reverso on other things.
And it's not like they didn't try that ALREADY.
If Q know what I mean. 😉
Certain people have a NEW COVER-UP needed, AND they need to shut me up about everything ELSE we talk about here.
WHATEVER. I simply want to thank Sundance for providing the key that solves the mystery. NOW I know where my friends and fellow patriots can point their fingers, should I not return in a most excellent condition to this blog, after my brief (yes, brief) absence.
---
Now – one more thing I notice about Lisa Page. Originally I had this gal pegged for some kind of CIA super-asset that was using Strzok like her personal, Hillary-electing, "spot massage" device. Little did I realize, it was the OTHER WAY AROUND on CIA connections. But I'm STILL on the fence about whether this woman is (1) a dope and a dupe, or (2) an extremely cunning super-spy who has Congress totally bamboozled.
Two CIA bots in the sack? Don't get me started. In the sack is where everybody wants everybody. Well, not quite. But I digress.
This LEAK may mean it's the latter – she's TROUBLE and somebody KNOWS IT, and they needed to LEAK IT. If it's true that BOWDICH hid her testimony because of what I'm going to say, then things get interesting.
I begin.
After reading that Lisa Page worked for Bruce Ohr for years, I started to think that maybe she really was just some poor cog in the machine, not qualified for counterintelligence, swept up as a desirable dupe in a non-functional, or better yet, reverse-purposed FBI.
But then OH MY GOD – you simply cannot get closer to Russia on this side of the Atlantic than Nellie Ohr, Russia researcher and specialist, with more downstate New York red commie ties than I can shake a stick at. The fact that she almost perfectly parallels ANOTHER "spent some time in Russia" lady academic who is deeply connected to both American communists and the Tree of Life synagogue shooting – well, that is even more worrisome to me. All these weird "puppets of Russia" or sketchy Russians working on the fringes of plots against Trump – it's just so WEIRD.
[I keep working on the fascinating Tree of Life / Russia post, but it keeps getting delayed. SOON. Hopefully whoever was on my computer in a white hatty way while I was researching that is ahead of me.]
No matter whether Lisa Page is a dupe or a super-spy, I think that the plotters thought she was SAFE. She is either safe because she's super-unqualified and a DUPE, or safe because she's super-devious.
We really need to find out WHICH.
Here is the key that proves something is up. This is an extensive quote from Jeff Carlson's article in The Epoch Times, citing Lisa Page:
Page Denies Bias, But Says FBI Focused More on Trump Than Clinton


Page steadfastly maintained there was no bias present in either the Clinton-email investigation or the Trump-Russia investigation on the part of anyone within the FBI or the DOJ and went to some lengths to illustrate that, in general, FBI personnel don't like most of the people they tend to investigate.

At the same time, Page repeatedly and openly admitted to placing a greater emphasis and weight on the Trump-Russia investigation than the Clinton-email investigation:

"If you were weighing resources with respect to which poses a graver threat to national security, which is more, frankly, important, there is no doubt—at least in mine or anybody else's mind that I know—that the Russia investigation posed an incredible threat to national security, and whether we got into the Weiner laptop simply did not."

Page returned to this topic several times:

"The notion that there might be more emails that have not previously been seen that existed on Hillary Clinton's email server just simply don't even enter into the realm of the same room of seriousness. The Clinton investigation involved activities that had taken place 3 years prior. It's an entirely historical investigation."

"In the assessment of the Counterintelligence Division, they still don't even come close to the threat posed if Russia had co-opted a member of a political campaign."


Jeff Carlson, The Epoch Times, citing Lisa Page
To me, this is MIND-BLOWINGLY BACKWARDS. A long-term criminal threat going BEHIND THE DESK in the Oval Office is 1,000,000 times worse than some slightly Russified POLITICAL HACK going into a campaign – EVEN as an adviser.
She. Is. LYING.
The question is WHY.
What she is saying is garbage, and needs an explanation. And if that explanation has anything to do with David Bowdich, it had better be because Q is not bullshit and Wray is turning around the FBI underneath all these fuckers, and Page has to hide what is really going on. Otherwise just call out the tanks.
There is no comparison. If Hillary Clinton obstructed the FBI in a criminal fashion [HELLO, STONETEAR], likely done to hide international crimes up to and including espionage, this is INFINITELY more dangerous than Trump having some happy dupe named Carter Page working for him (assuming the most likely REAL threat by Carter Page was being a Russian dupe). In fact, even the scenario of "Carter Page = Carlos" compares at microscopic levels to the enormous problem of "Hillary Clinton = Ethel Rosenberg".
Are we all seeing this?
And NONE of this takes into account the absolutely historically incorrect nature of the Lisa Page argument. She even USES the word "historical". Holy FUCK – that's ballsy.
Espionage is fought and won in the PAST – not the future. Hillary *herself* has MOUNTAINS of sketchy past that the FBI was IGNORING at every turn. And the're worried about an adviser on the FRINGE of the Trump campaign in the FUTURE? Seriously?
This is CRAP. It is the most brazen form of bullshittery imaginable.
And this woman is making counterintelligence decisions?
Does everybody see what I'm saying? Page is either stupid or lying.
Could they REALLY have picked somebody THAT STUPID for this job?
I could be very wrong about that, but I'm starting to think this woman is lying her ass off here. I'm starting to think she is PLAYING DUMB ON HILLARY.
But let's assume for a moment that Lisa Page IS dumb on actual espionage, subversion, and communism. To me, this absolute FAILURE to understand long-term communist subversion shows an incredible "pwnage" of the highest levels of the counterintelligence division of the FBI.
In fact, the following Lisa Page quote in the same article, makes me want to face-palm, if the SAME Lisa Page who believes the above, believes what I cite below.
Page, who acknowledged her personal relationship with Strzok at several points during the interview, noted that initially, Strzok was not "brought over as the senior executive to run the investigation. Another individual was, and that was not successful. It was not a good match with Mr. Mueller. He did not really have the sufficient counterintelligence background to be effective." That individual would later be identified as John Brown.

Lisa Page, my emphasis
Sorry, I am NOT buying that.
EXPLAIN it to us, Ms. Page, AS YOU WOULD TO A CHILD.
And NO, you cannot hide behind your "sources and methods" Halperoid Oxford / Cambridge Communist bullshit.
No. I'm starting to think that Mueller spotted Mr. Brown as a WHITE HAT. Page helped shuffle him out the door. Reds, dupes, "Strzok specials" and fellow travelers only.
---
Did these people at DOJ and FBI have any true understanding of Hillary Clinton?
Some did, I'm sure. The most ideological of players – people like Eric Holder surely did. THE RADICALS. Maybe "Comey the Commie", although he strikes me as far more of a venal go-along, and less of a true believer.
I'm not sure about McCabe. I'm not even sure if most of those who were "read in" on the communist plots, such as the long range gun ban revealed by Bill Cooper, actually REALIZED they were carrying out communist plots. But they must have followed orders properly, and knew how to cover things up properly, because we know very well how highly THAT skill is valued by these Obama players.
And if Bowdich WAS involved in the stuff Bill Cooper revealed, then yes – he might have some utility in covering it up.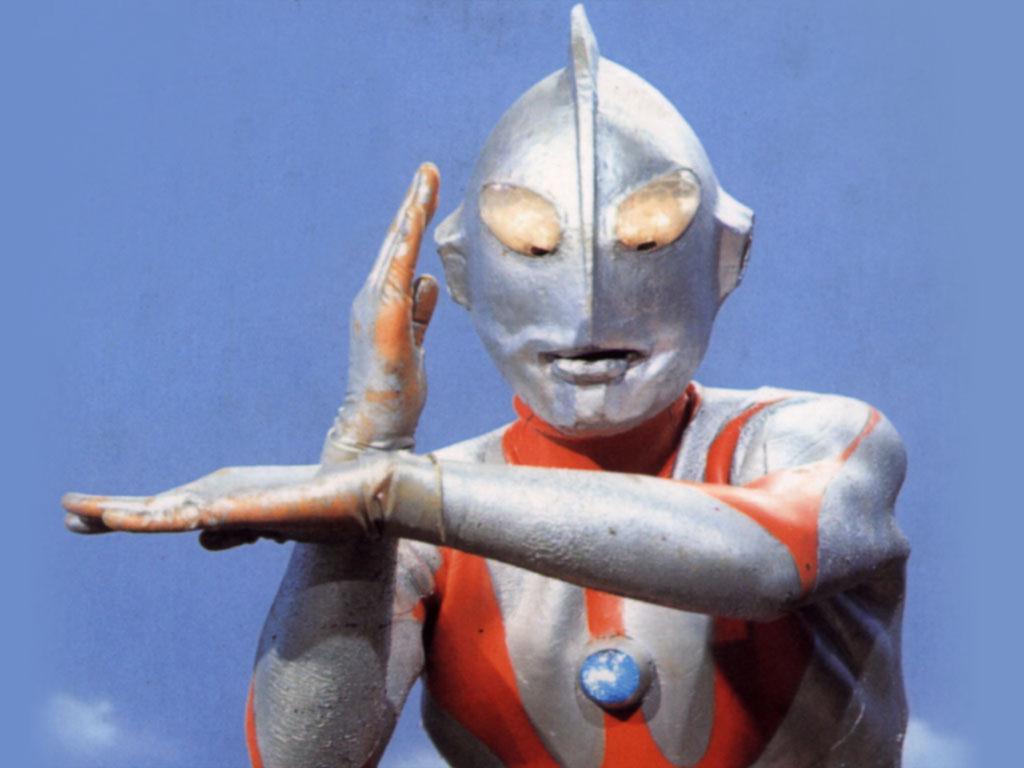 In any case, the psychological control of the FBI was complete under Obama. Nobody at lower levels had a CLUE. Evidence that might have broken the glass-smooth mirror surface of FAKE NEWS illusion at FBI was quickly handed over to complicit individuals in charge of DUPES, fellow travelers and yes-people.
I CRY that this Sally Moyer chick was allowed anywhere NEAR anything Hillary.
And that now CONTINUES – and WILL CONTINUE – as long as people who are part of the tortoise-slow plot to BRAINWASH AGAINST GUNS are in charge.
Remember. There ARE no accidents. Not any more.

NEW McCABE?  Let us hope not.  AYE-YI-YI, let us hope not.  
Pray to G_D that this guy really IS an Untouchable.
And Lisa Page? She is NOT telling the truth. FIGURE IT OUT.
WHY are they covering this up?
W