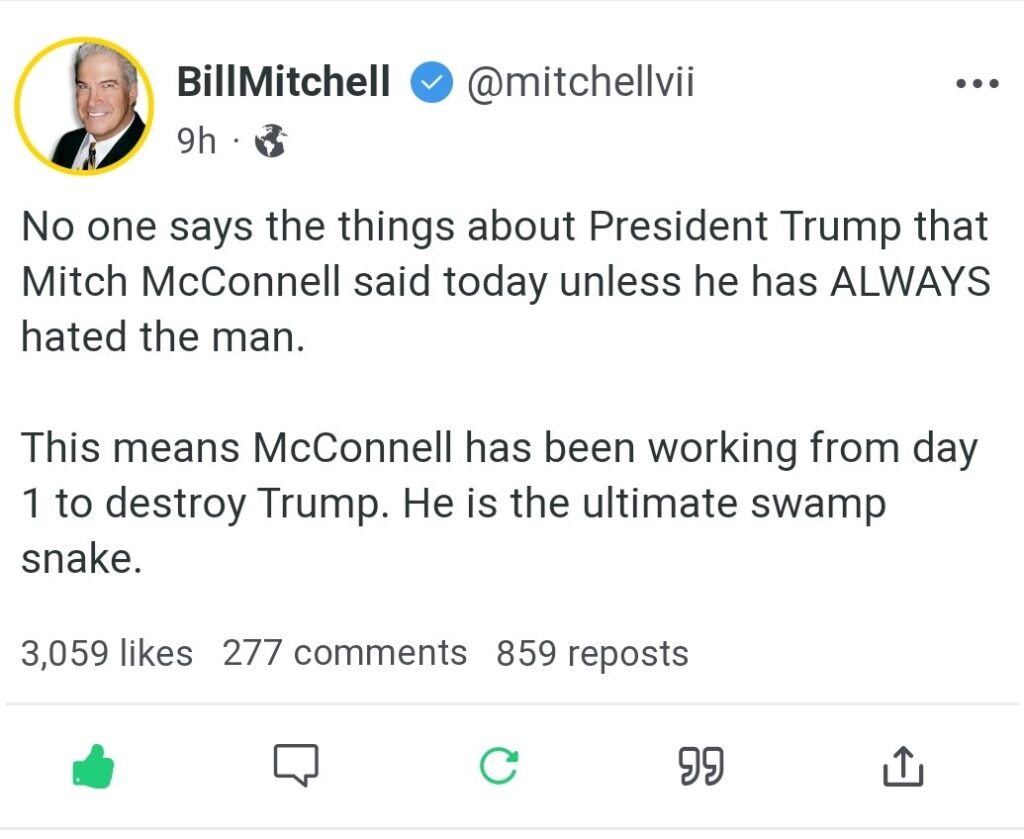 Part One here.

So, I'm moving through Senator Mitch McConnell's memoir, "The Long Game." I had intended to go through it and comment on each chapter, but honestly, it is getting more and more revealing as I read through it. What seemed scandalous in one chapter is nothing compared to the next chapter.

Because Mitch is in the thick of the news right now (having lost perhaps the biggest gamble he's made in his long, long career) I think it is only right to let him expose himself. I'm going to quote his own words and give some background when appropriate.

That the people of Kentucky have begun a recall effort against Mitch is fitting. I believe he couldn't care a less about anyone not in his social and political sphere; and that the only constituents he gives a rip about are ones who can do something for him.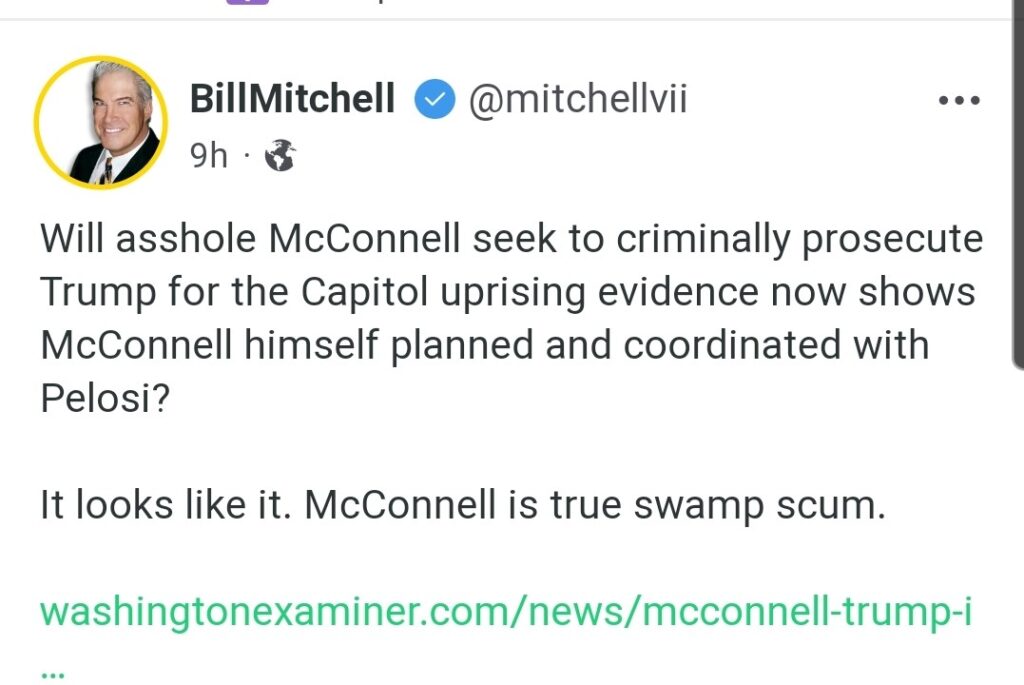 I was going to quote some of the narrative of how he won his first run for senator and then his second. But it's just the boilerplate story that all narcissistic politicians relate: Humble background, had to fight for whatever he accomplished, hometown boy makes good sort of stuff.
It is clear to me, from reading his own memoir, that Mitch McConnell is a Republican only in the sense that it is the vehicle for his political ambitions.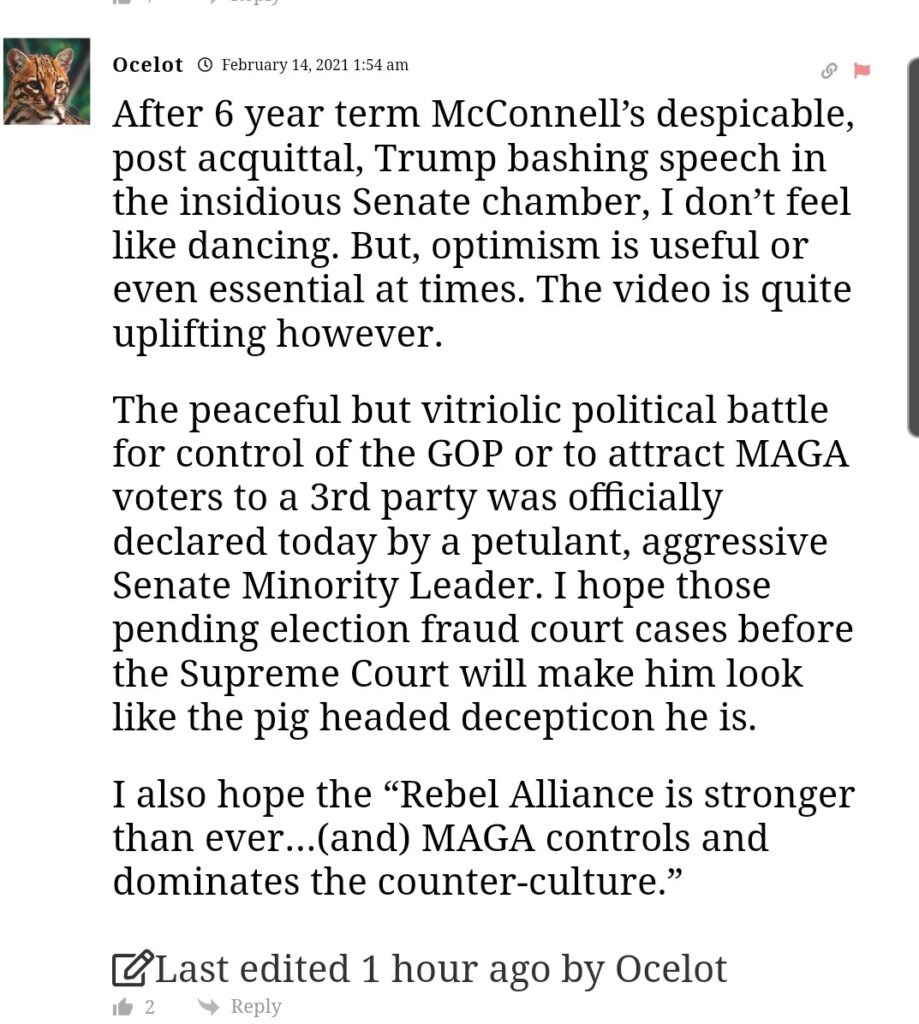 Mitch won a 1984 election squeaker against the incumbent Democrat and happily took a seat in the Senate. He got right to work planning for his reelection campaign. He says:

"At its best, the Senate is a place where consensus is necessary and my main job was to practice patience, make decisions on principle, as I'd learned from John Sherman Cooper, and try to ensure I got a second term." [My bolding]

Mitch McConnell, The Long Game
Consensus and compromise and principles are recurring themes with Mitch. These are the values he twisted over many decades in order to justify his senatorial decisions. National and global issues were Mitch's playground. He counted on his constituents back home to be uninformed and uninterested in national and world affairs.

"Remaining true to my conviction was, as Cooper taught me and Edmund Burke had argued two centuries earlier, the essential element of being a good senator. Another critical requisite for becoming an effective senator is to remain one, and therefore I knew that one of my most important jobs during my first term was to make sure I got a second one." [My bolding]

Mitch McConnell, The Long Game
For Mitch, being "true to my conviction" was how he could vote for LBJ, support George H. W. Bush over Robert Dole, the Majority Leader when Mitch came into the Senate, or support the seemingly endless wars in the Middle East, or even to oppose free speech for a President of the United States while defending flag burning as an expression of it. Mitch said,
It's how he can brag about the people he lists who have spoken at the McConnell Center at the University of Louisville:

"In addition to the scholarships, the center also provides students the opportunity to meet and interact with the long list of incredibly talented speakers we would bring—Colin Powell, Hillary Clinton, George W. Bush, Chief Justice John Roberts, Vice President Joe Biden…" [My bolding]

Mitch McConnel from The Long Game
These are the names from the "long list of incredibly talented speakers" Mitch chooses to list. From our 2021 vantage point, is this not telling?

Here's Mitch on his opposition to term limits:

"I agreed with the Contract with America, except for one thing: term limits, which—fortunately was the one item that didn't pass the House. To put it bluntly, term limits is one of the worst ideas that's ever come on the American scene. It's born of the shortsighted notion that learning and experience is bad, when just the opposite is true…From what I saw in the most experienced of my colleagues—people like Ted Kennedy, George Mitchell, Bob Dole, and Pete Domenici—they'd been convinced of things as a result of their experience…I knew we didn't need to legislate term limits, because we already had them. They're called elections." [My bolding]

From The Long Game
The irony is so thick you almost need a chainsaw to cut through it. If only we had elections instead of selections by the DC System and their foreign friends. But I suspect Mitch knows that already.

In 1998, Mitch is named in the National Journal as a VIP. He writes,
"Much to my surprise, I'd been included on the National Journal's list of the hundred most important people in Washington, DC, among people like Bill and Hillary Clinton, Secretary of State Madeleine Albright, and Federal Reserve chairman Alan Greenspan." [My bolding]

Mitch McConnell, The Long Game

King-maker/King-breaker
The names he chooses to drop are intriguing. But then his forked tongue speaks and Mitch talks about Bill Clinton's impeachment, and how he was for it. Mitch, the guy who never wanted to be president, sure does seem to want to take them down. Here is how Mitch viewed Clinton's impeachment:


"While some of my Democratic colleagues, like Senator Robert Byrd, later said that removing Clinton wouldn't have been good for the country, I disagree. I think what's not good for the country is the message that the president of the United States can subvert the justice system by lying under oath."


Mitch McConnell, The Long Game
And what did Mitch do after President Trump was acquitted in the Senate impeachment trial? He stands in the Senate and lies about the January 6th protest and accuses President Trump of fomenting violence. He impugns patriotic Americans by associating them with Antifa/BLM and other operatives who planned, executed and urged on people to breach the Capitol building.
Mitch, in his hatred of outsider President Trump and 75 million Americans who support him, was desperate to make this latest impeachment a bipartisan issue. What he did do, was ruin the careers of some RINOs (yay!) and expose himself as a jaded and corrupt power broker.

Mitch has chosen poorly. He's been using and abusing the State and good people of Kentucky for decades in order to further his own political agenda and power, and now he's going to pay for it. May the recall effort be successful. May the Deplorables win a key victory. Even if he survives the recall, Mitch will never again wield the kind of power he has up until now.

The System and Mitch's preeminent place in it are hanging out there for us all to see now. The Minority Leader of the Senate is trapped in a gilded cage with miles of fencing and barbed wire around it. National Guard soldiers are freezing as they are forced to stand guard over the traitors who STOLE THE ELECTION OF 2020 and installed a doddering old fool who is controlled by Communist China.
This is what his compromising and principles have attained.

Mitch and many Republicans in Congress went along with THE STEAL. He's comfortable with the direction our republic has now taken, back to the status quo before Trump. He never wanted it to change.


Mitch isn't America First.
He's Mitch First.
More to come on Mitch.