NO – I do NOT mean that Pfizer went out and bought a copy of the magazine Scientific American, or Sci-Am, as we used to call it when I was a young, foolish, chump of a science student – long before I "learned to code".
And NO – I do NOT mean that Pfizer bought the publication, Scientific American, lock stock and barrel.
What I do mean is that Pfizer BOUGHT OFF Scientific American.
I mean that Pfizer – now an arm of CHINA – obtained a controlling leverage over the publication Scientific American. Somehow, Pfizer BOUGHT THEM OFF.
So what evidence do I have?
GATHER ROUND, KIDDIES.
---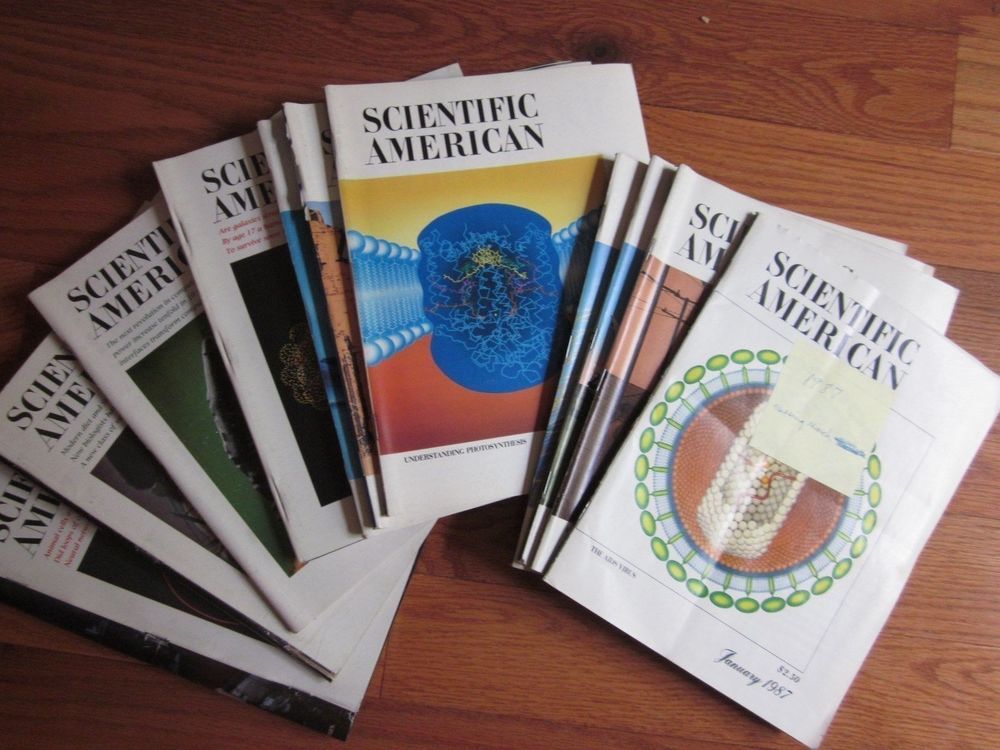 I may be old as the hills, but I'm not as old as Scientific American.
The above is what "vintage" Sci-Am of my era looked like.
Long before THAT, it looked like this:

As you can see, Sci-Am has been around for a while.
Sci-Am is somewhere on the border between actual scientific literature – particularly reviews and letters – and secondary literature like the "industry rags" that Pfizer whistleblower Karen Kingston was talking about. The rags – a somewhat disrespectful name, in my opinion – include Chemical & Engineering News, that magazine which I am so fond of using as a source for quality "face value" vaccine journalism.
C&EN, as they call it, is a product of the American Chemical Society.
Sci-Am, on the other hand, is a product of a scientific publisher called Springer. Here is what is written at the bottom of the Scientific American website:
---
Scientific American is part of Springer Nature, which owns or has commercial relations with thousands of scientific publications (many of them can be found at www.springernature.com/us). Scientific American maintains a strict policy of editorial independence in reporting developments in science to our readers.
© 2021 SCIENTIFIC AMERICAN, A DIVISION OF SPRINGER NATURE AMERICA, INC.
ALL RIGHTS RESERVED.
---
Now, just because these publications do quality and unbiased work, when motivated and allowed to do so, does NOT mean they can't be taken over and controlled by entities such as – LET'S SAY – China.
Springer and ACS may SAY that they're not controlled by their CCP and/or Big Pharma "partners", but anybody who has watched America's own Hollywood turn anti-American and absolutely paralyzed about saying or doing anything that might "offend" China, understands who is REALLY the boss now.
Pfizer. And China.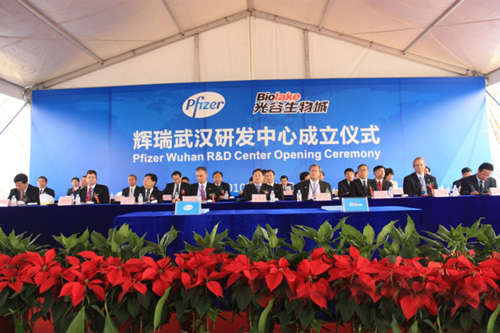 Indeed, we did a post about this rather recently, which resulted in quite a few outages of this site.
But let's get back to now.
I was just visiting a certain store of my acquaintance which sells – somewhat surprisingly – magazines, including Scientific American.
Years ago, I frequently bought Sci-Am and other magazines at that store. Sadly, as the "science" in Sci-Am became more and more "woke", it became less and less of interest to me.
What I would find in the THINNER and THINNER issues of Sci-Am, was more and more authoritarian virtue signaling to major media-endorsed "dubious science", and less and less robust scientific and journalistic skepticism (to say nothing of ETHICAL skepticism, rare as hen's teeth).
As I stood in said store, looking at the latest issue's cover (well, the latest that said local store might have), I laughed at the BULLSHIT COVER IMAGE – a literal propaganda "shop job" – which would have never even been allowed into the cheap and cheesy "back pages" of the Sci-Am of my youth.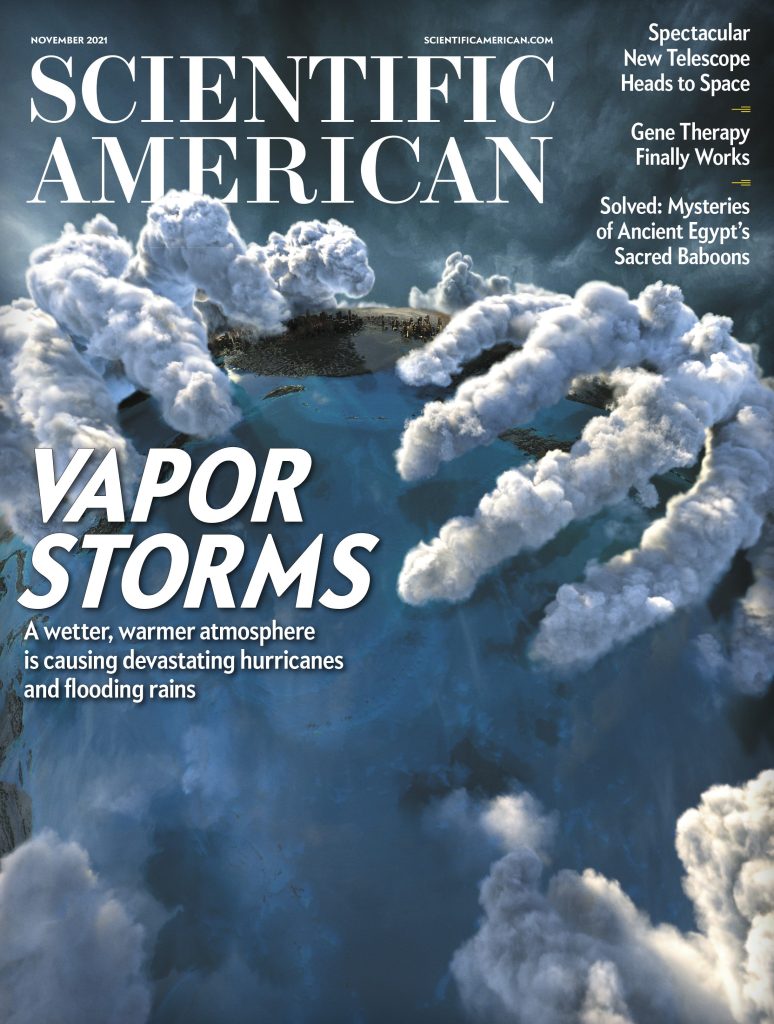 Good GRIEF. It's like a cross between Madison Avenue and the Nazi school science textbook that my dear mother saved all these years. Fascist propaganda, marketed as education. Not everybody could see that in Germany at the time, and not everybody can see it now. But that is precisely what this cover is. Fascist propaganda. Virtue signaling to the regime.
The "vapor storms" propaganda is obvious, and part of the fascist climate scam, so there was no reason for me to buy this issue. I dare not give a dime to Green-Hearted Greta's Groovy Grift. If I wanted to spend my time debunking the latest scare-scam in climate grift, I would, but that's somebody else's job. I can barely keep up with the COVID grift as it is.
But then I saw that little blurb up in the upper right-hand corner.
"Gene Therapy Finally Works"
Really! Well, that might be interesting.
[ You will notice that I was already "chumping out" right there – ASSUMING this would be educational. ]
So I go looking for the Table of Contents page – which turned out to be two pages – the first being the "hot stuff" and the second being "everything else". Eventually I found what I was looking for on the first page. The "gene therapy" stuff took up the last third of the listings, but comprised over 2/3 of the listed page numbers.
---
SPECIAL REPORT
S1 Innovations in Gene Therapy
S2 Gene Therapy Comes of Age
S3 The Gene Fix
by Esther Landhuis
S6 Graphic: Editing the Book of Life
S8 Overcoming Gene Therapy's Long Shadow
by Tanya Lewis
S12 Success Stories
by Jim Daley
S15 High Hopes
by Marla Broadfoot
---
It looked like the "special report" was near the end. I found the section and thumbed though it. It looked not only readily understandable, but reasonably scientific – a lot like what I expect from C&EN.
GREAT, I thought – I can learn some more gene therapy science that I can use to understand the COVID GRIFT, since one of the mRNA vaccine platform's primary motivations was clearly to "grease the skids" for gene therapy.
It wasn't until I got home, that I fully realized what I had just bought.
The "special report" – 20 pages long – with only 66 magazine pages before it and 7 after it (73 total) – many of them full-page ads – was actually a kind of "infomercial advertorial".
It was LITERALLY paid, sponsored, scientific reporting by (allegedly) free-lance scientists.
The last page explained it all. Big, blue, and in the middle, this:
---
This section
was produced
independently
with support from
Pfizer
---
---
SPECIAL REPORT FROM
SCIENTIFIC
AMERICAN
nature
---
---
ScientificAmerican.com/InnovationsIn/gene-therapy
---
Don't bother with that URL – it doesn't work.
BUT WAIT – THERE'S MOAR
After ALL of the 73 pages of non-Pfizer (I checked) content AND the 20 page Pfizer advertorial, was ANOTHER 5-page Pfizer spread, boosting PFIZER'S own efforts in gene therapy. Followed, at long last, by one more ad and one numbered page – 74.
So – we have basically 75 pages of non-Pfizer and 25 pages of Pfizer, for a grand total of 25% Pfizer.
Scientific American – now with 25% Pfizer content.
So – is this a new phenomenon?
As it turns out, NO.
Pfizer apparently started on this push BEFORE COVID. Conveniently before COVID.
I have no idea how many Sci-Am advertorials they do, but I know of at least one more.
THIS ONE was in January of 2019, and it's available online.
LINK: https://www.scientificamerican.com/custom-media/nature-outlook-gene-therapy/realizing-the-promise-of-gene-therapy-through-collaboration-and-partnering-pfizers-view/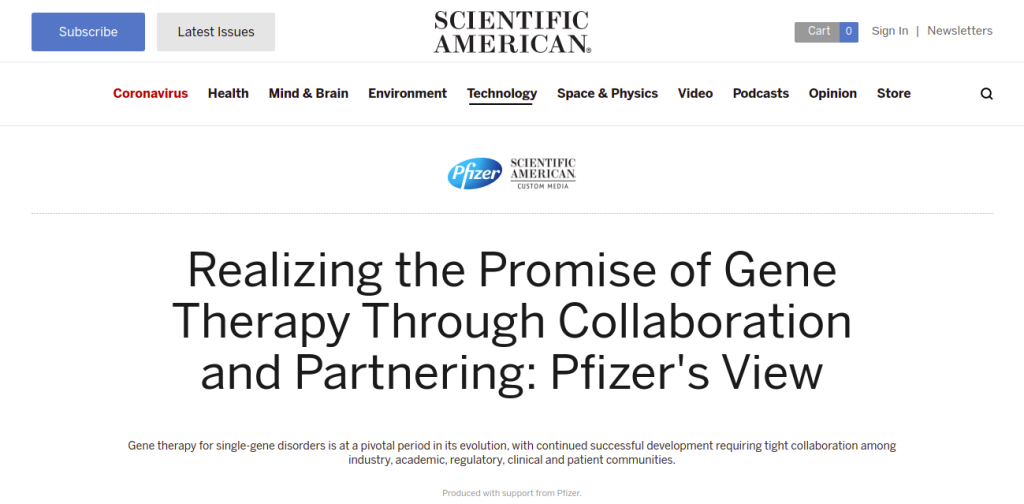 So – the good part of one year before the COVID release from Wuhan, where Pfizer has its nice new Chinese operation, we get a gene therapy promotional in Scientific American.
Let's do that one in text for Zoe, and to focus on something very "Event 201", which I have emphasized in bold.

---
Realizing the Promise of Gene Therapy Through Collaboration and Partnering: Pfizer's View
Gene therapy for single-gene disorders is at a pivotal period in its evolution, with continued successful development requiring tight collaboration among industry, academic, regulatory, clinical and patient communities.
Produced with support from Pfizer.
By Anna P. Tretiakova, on January 14, 2019
---
Sounds about like what happened, thanks to the phony crisis, backed by Chinese PLA 4GW and our treasonous "collaborators".
Kinda sad how media lies helped assure "patient collaboration" – right up to the death vents, murderous remdesivir, and $30K a pop for dead Deplorables – from their own tax money.
Hitler would have been proud to have pulled the COVID grift – getting the money for the gold teeth before he even got the teeth.
Now, it turns out that finding this older advertorial online, allowed me to find a URL for the new one, too.
You will notice that the non-functioning URL for this November 2021 advertorial:
ScientificAmerican.com/InnovationsIn/gene-therapy
…..is DIFFERENT from the one for the January 2019 advertorial. The printed URL does NOT work. However, this one, crafted in analogy to the older one, does:
LINK: https://www.scientificamerican.com/custom-media/innovations-in-gene-therapy/
SO – if you want to read the same gene therapy articles that I will be reading, they're online and available for your perusal.
I could go on and add many more scandalous things about today's Pfizer that I have in various bookmarks and tabs on my computer, but enough is enough for this post.
Ever since Trump criticized Pfizer for getting CDC to suspend the Johnson+Johnson vaccine, and ever since #PfizerLeak hit the internet…..
---
Stew Peters is doing great work. Sure he's had some people on, in the past, who I was not terribly impressed with. Later, he had Jane Ruby on, with magnetic stuff that I believe is mostly disinformation. Sorry – not buying. The Magnetism Challenge: Part II – Scientific Disinformation During the COVID-19 Narrative Collapse Wherein …
---
…..it has become very clear that Pfizer has been a key player in all that has befallen us.
Pfizer CEO Albert Bourla can call us "criminals", but quite frankly it's not gonna stick any more than Hitler calling innocent Jews "criminals" stuck. We are, in fact, a rather puny and broken force, a lot like those who fought fascism the last time. We are a sad collection of allies, not even sure what unites us.
But we do have one thing in common.
WE ARE NOT CRIMINALS.
Maybe Pfizer should tell their pet American president – their criminal president – to end the fucking mandates. Because if it doesn't happen, people like me are going to die, but there will also be justice, and not all of the people brought to justice will live.
W

Featured Photo: Meeting of the War Crimes Executive Committee, which decided on the arrangements for the Nuremberg trials. Note the garage pull in the background – Exhibit F1b. I am dying of the China Virus. I had the virus itself in the latter half of January, 2020. I became symptomatic on January 18, and thus …