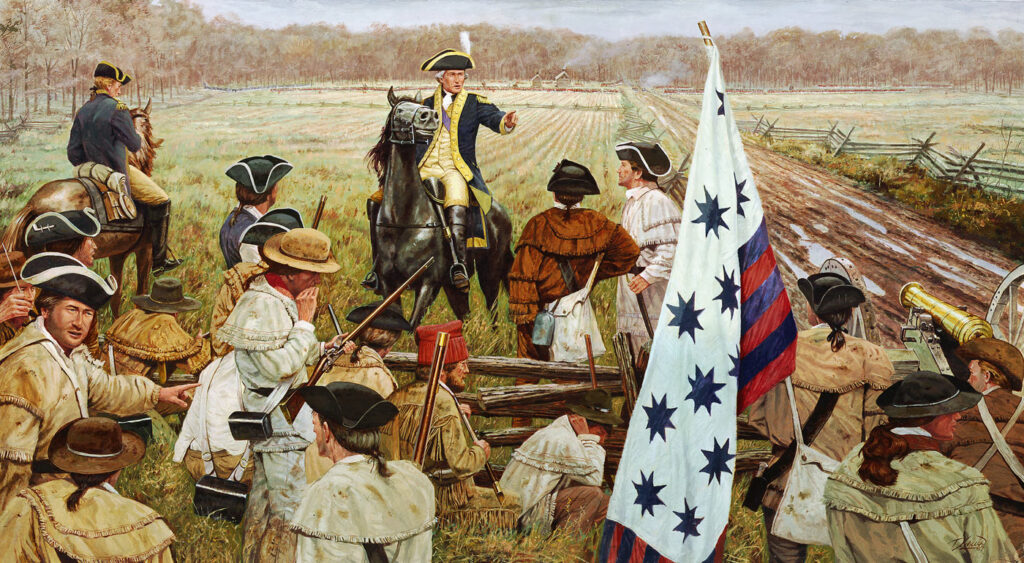 NOTE: Colorful language warning. I've got my reasons.
---
In my opinion, Trump's speech to the North Carolina GOP on the evening of June 5, 2021 was BIG COMMS.
As I was watching it, I realized that it's IMPORTANT.
The first step is to LISTEN TO IT. If you have not done so, then please REMEDY THE SITUATION.
I will give you TWO OPTIONS.
Option 1 – Listen to a video of Trump's speech
The speech is not quite an hour and a half – more like an hour and 15 minutes. The video contains a good chunk of time AFTER it was finished.
Option 2 – Read a transcript of Trump's speech
https://www.rev.com/blog/transcripts/donald-trump-speech-transcript-at-north-carolina-gop-convention-dinner-june-5
The transcript is surprisingly good, although there are some minor errors.
---
The Big Context & Why Trump Lauds the Vaccine
Before we get started, I need to put this stuff in context. Some very BIG context. I may get a bit "drill sergeant" on you, but YOU NEED IT.
The fact of the matter is that we have been CUT OFF FROM TRUMP for – depending upon how you measure it – between 4 and 7 months. Social media attempted to BAN Trump to stop what's coming, but as Q said, "nothing can stop what's coming". Nevertheless, they tried.
Trump has successfully USED this time of enforced semi-silence to get a lot of things done. You may not realize that, but it will become more and more apparent as the world which opposes Trump, MAGA and America First, CRUMBLES BEFORE US.
Some of the crumbling is beginning. This video, posted yesterday by Scott, tells you about the ALLOWED CRUMBLE. So does this post by Political Moonshine.
THIS part of the downfall is what the "cabal" WANTS.
You probably never heard of this "DRASTIC" group which is now being set up by the mainstream media as some kind of crowd-source Woodward and Bernstein.
Let's start right here with that. Woodward and Bernstein were CHUMPS. They were USED. They found what they were supposed to find. PART of the story. Nixon was brought down by a SET-UP SCANDAL – a scandal created by the REAL scandal – just like OBAMAGATE tried to bring down Trump with a created scandal of RUSSIAGATE.
Halper was there. What do you think he was doing?
You understand?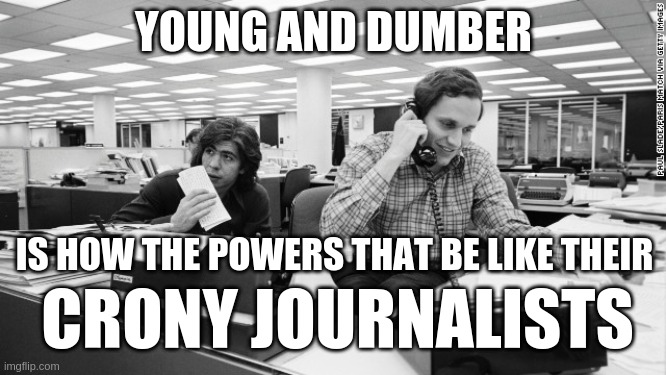 Ask yourself – why are the members of "DRASTIC" – who have been monitored on Twitter by the CIA and DNC this whole time, without being banned – allowed to stay there, while feminist author Naomi Wolf is suspended for cautioning about the vaccine?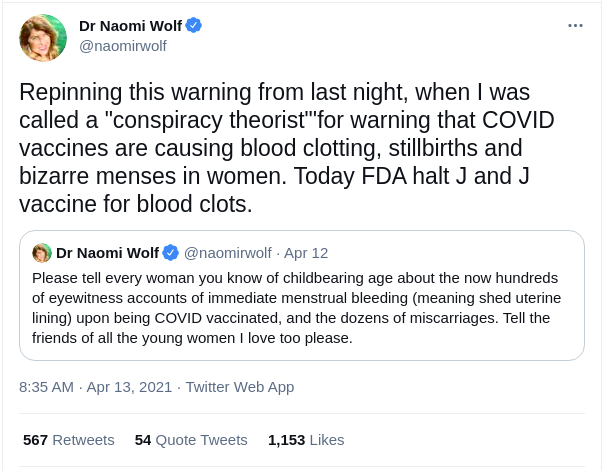 Likewise, you are seeing nothing on the mainstream media about the Pfizer documents released by Japan, showing that the scientists at Pfizer KNEW the vaccine was PERSISTING LIKE A DEMON and HEADING STRAIGHT FOR THE OVARIES LIKE A BAT OUT OF HELL.
Only taking enough time – way too much time – so that almost anything was possible.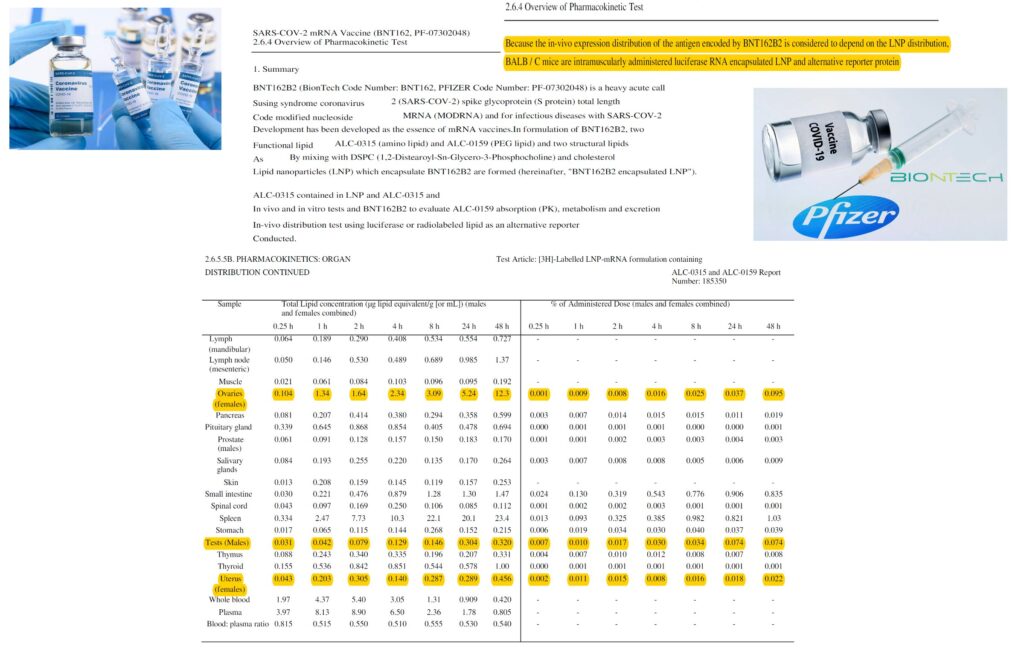 Suddenly the idea of a persistent lipid nanoparticle, handily schlepping mRNA, seemingly designed to migrate throughout the body over DAYS, and actually DOING SO, therefore ALSO being secreted in SKIN LIPIDS, didn't sound like science fiction. "Shedding" is now not just a theory – it's a natural consequence of this data. It would take a NOVEL THEORY to say why it should NOT happen.
As we say in science, "HOLY FUCKING SHIT! LOOK AT THOSE NUMBERS!"
And we didn't just have what I had speculated – SPIKE PROTEIN shedding evidence – as powerful as that TOXIC spike protein is. We have both theory and evidence of VACCINE SHEDDING.
Oh – and speaking of snake protein toxicity – we now know that several research groups spotted the snake protein relationship to the spike protein early and submitted their discovery in April and May of 2020, in one case less than a month after what looks like a "targeted MK murder" of one of the researchers.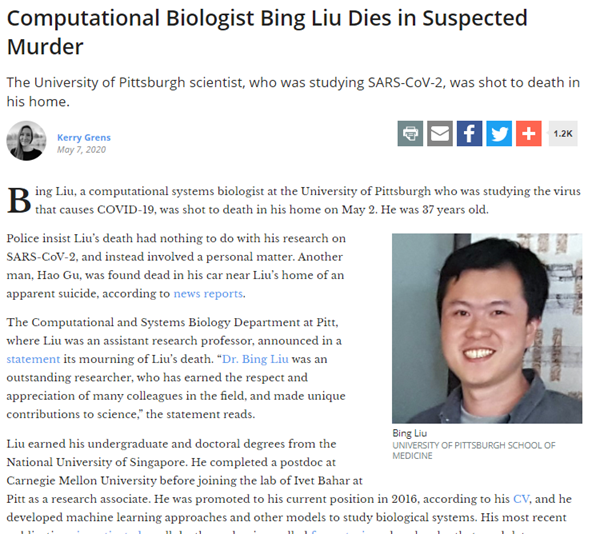 None of this stuff is coming out. What is coming out is a CHANGE IN SCRIPT that lets CHINA act out, and CHINA JOE respond predictably. The Wuhan lab stuff – obvious as it always was – is suddenly being admitted, both to gain media credibility, and to create a political sandbox for the DNC, the globalists, the media, and China to CONTROL THE NARRATIVE.
It is quite easy, right now, to predict that, in the end, China will "admit" that it had a lab leak, and because the WORLD didn't provide enough money to CHINA, to have better labs, BAD THINGS HAPPENED. Robber Joe will then send BILLIONS TO CHINA.
Get the picture? This is ALL bullshit of the highest order.
NONE of the stuff about contraception, population control, spike protein toxicity, vaccine persistence and shedding – NONE of that stuff will be admitted, or even discussed.
FAKE INVESTIGATIONS MAKE STUFF GO AWAY.
Now, I'm not going to get into exactly WHY they all did this, because they ALL have different motivations. But just bear in mind, that when I heard Melinda Gates say that (let's play their caps game backwards) blacks and amerinds needed to take the vaccine FIRST – yeah. When the contraceptive nature of the spike protein appeared, Gates & Gates sure went running for the MONEY EXITS, with the mainstream media helping sow the Epstein angle as the reason.
LOL. Can't fool EITHER Wolf.
It should now be clear that there is SOME collapse of the COVID narrative that are going to be allowed, or even promoted and TIMED, and others that are NOT ALLOWED. Even within the allowed parts, the RELATIVE RATES of REVELATION and PUBLIC UNDERSTANDING will have all kinds of effects on the POLITICAL OUTCOMES, and in particular WHO SURVIVES and WHO DOESN'T.
Take a HINT from skiing, surfing, mountain-biking, parachuting, "dirt-surfing" down a mountain, falling on a rope, and a lot of other things which are a balance between gravity and artful resistance.
The key to survival, and better still, GRACEFUL SURVIVAL, is to LET IT HAPPEN BEAUTIFULLY.
SO – back to Trump – and some reality.
The vaccine is not going to kill everybody who takes it. Don't fall for extreme predictions. Anybody predicting that idea is pushing far beyond what we can know now – to say it kindly. Yeah, if everybody keeps taking the same terrible wrong mRNA spike protein vaccines or new, changed ones, for a long time, maybe we end up with a Marek's situation, or more likely a small percentage of cancers or immune problems, but again, we are not sure any of that will happen. In the meanwhile, most of my neighbors take the vaccine, and little or nothing apparent happens to them.
I do appreciate the various "vaccine whistleblowers" who have WISELY stepped up to point out RISKS that the industry is FAILING to tell us about.
But the truth is, the vaccines that Trump pushed almost undoubtedly SAVED LIVES overall. Yeah, the CDC lied like crazy, and a lot of people died who didn't have to, because Trump was no longer in a place where he could modulate the vaccine administration. People who should never have gotten the vaccine got it, because the contraindications – easily GUESSED, but moreover KNOWN and FULLY UNDERSTOOD – did NOT appear on those BLANK circulars included in the boxes with the vaccines.
They PUSHED the vaccines for POLITICS, not MEDICINE, and that, my friends, is STALINISM.
CDC LIED – PEOPLE DIED – and Rod Rosenstein's sister, Nancy Messonnier, has quietly LEFT CDC.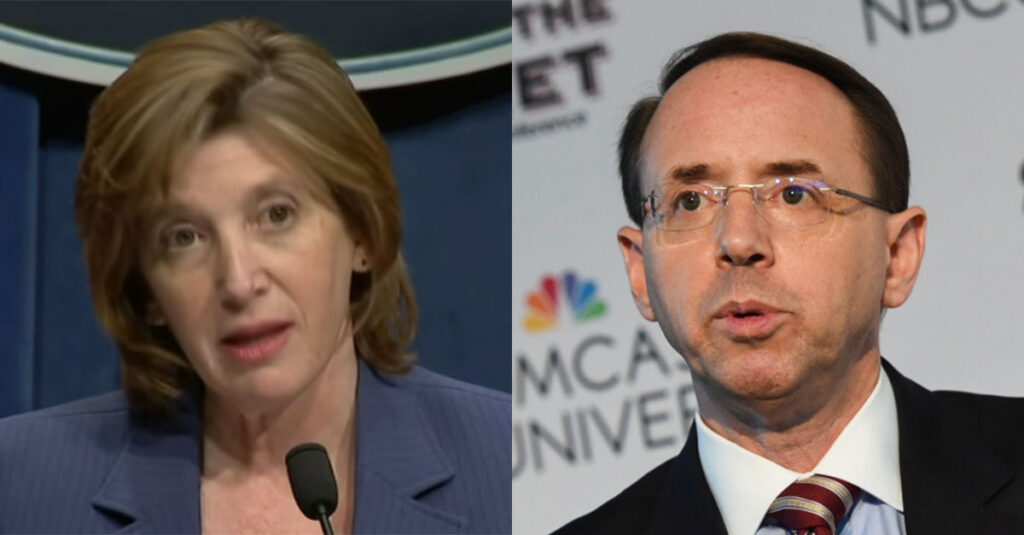 Yeah. DAMAGE CONTROL.
Trump is going to tout the BIG PICTURE – that the vaccine – (bad as it was, but don't say that) – worked. It was, by and large, like a mildly lethal form of cowpox would have been as a smallpox vaccine. Thanks to Democrats, big pharma, eugenicists, China, and a pantheon of allied evil, things were not as optimal as they would have been with TRUMP in the White House. But as far as what Trump was ABLE to do, it WAS optimal.
As Cthulhu likes to say, Trump pushed through the ambush, and it WORKED. The vaccines were never REQUIRED, except belatedly, by every smaller, devious, corporate-mediated and state-mediated means that the EVIL DEMS can think of. But the vaccines are still basically not required, thank God.
Now – that is only part of the context.
THERE IS A BIGGER CONTEXT. FAKE ELECTIONS.
You will see, Trump is headed STRAIGHT INTO THAT BATTLE.
Here is a secret. The other side will do ANYTHING to stop the undoing of fake elections, and in particular the unseating of Joe Biden. They would create a "whole 'nuther scandal" – a really big one – to distract from the scandal of fake elections. They would even push a phony conflict with China.
Are you getting the picture?
Good.
We are headed into a beautiful storm. Prepare to STORM-SURF.
---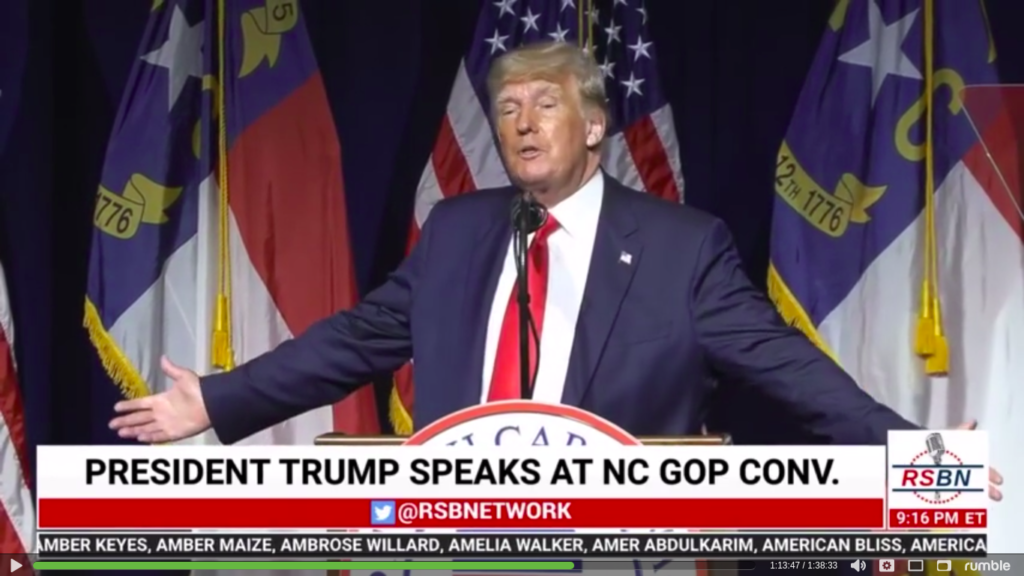 The Messages from Trump's Speech
I went BACK through Trump's speech, and took notes. You can READ those notes at the end, as an appendix.
What I will do here is present my biggest-picture impressions from looking over those notes.
---
Biden is destroying America – are we going to take this?
It was a simple question, but this is a message to YOU.
If YOU resolve that we do NOT get to the 2022 election without SOLVING the 2020 election – and I mean YOU REALLY RESOLVE – that THEY REALLY SOLVE – well, things could get very interesting.
I've made my peace. I'm ready. Are you?
Catastrophic inflation is coming – get ready.
We lived through it before, but we will live through it again.
WHY, you might ask.
Because inflation is a weapon of FEAR, and it's ALL THEY HAVE NOW.
Expect inflation. They are going to throw EVERYTHING at us to keep Robber Joe in the White House.
China owes US, and the world, trillions of dollars in reparations.
This is HUGE. Screw puny BLM reparations.
Do you know that they now have a way to image COVID damage to lungs? As in MY LUNGS?
Yeah. Wait long enough, and the TRUTH comes to YOU.
Now you know why I took a lesson from the Sioux and never gave up, and never relented from alleging WHAT THEY DID. And my CHURCHILL PAPERWEIGHT.
"NEVER, NEVER, NEVER QUIT."
100% tariff across all products from China needs to be imposed.
Trump noted that Biden has NOT removed the tariffs. Now Trump also notes that China will send it's stuff through other countries to beat the tariffs, and China Joe will use that to give China an out, but who knows.
But I think it's coming. If not soon, then soon enough.
Cancelling ALL debt to China by ALL countries is a down payment
This got huge cheers, and hell yes. DO IT.
Trump is king-maker – and he is using it.
Trump was reveling in his power to SHIFT THE BATTLE.
But at the same time, Trump emphasized that his endorsements are a WIN FOR THE GOP.
Wake up, RINOs.
Trump also sent some HINTS about running in 2024. Interesting.
Dems are not letting illegals in for voting – it's something else.
This is VERY intriguing. I'm still thinking about this.
Terror? Spies? Something is up.
Endless wars are ending, and even Robber Joe is going along with it.
Trump really spent a lot of time on this. He thinks its important. We are NOT going back to endless war.
We need to STAY on that message. They will ALWAYS try to come back with a WAR to snake us.
Critical race theory must be banned everywhere
This got massive cheers.
Critical race theory is DEMOCRAT POLITICS. It's CHINA politics. Get it the FUCK OUT. Of EVERYTHING.
School choice must be passed to get out of insane public schools
This just makes so much sense now. We need to CLEAN HOUSE to get this PASSED.
Prosecutorial misconduct will continue until November 2024
Do you have a plan if Trump is arrested?
You should.
You don't have to tell anybody what it is. You don't even have to tell anybody that you have one. It can be VERY subtle. But PLAN for how YOUR WORLD CHANGES – and how THEIR WORLD CHANGES – when they pull that final fuckage.
Make sure they RUE THE DAY for the REST OF THEIR LIVES.
The Arizona audit will be done in 3 or 4 weeks
Likewise, prepare.
Be prepared to NOT BACK DOWN. No matter what the Communist Democrats and CHINA do.
I'm not kidding.
THE DIAMONDS MUST BE RETURNED.
Zuckerberg and Facebook broke the law, including drop-boxes
Trump GETS the insanity of MAGIC DROP BOXES.
There is a reason magicians use what are essentially drop boxes. I have described how I witnessed this, when I dropped off OUR ballots at a Democrat-wo-manned drop-box. It was not pretty.
Zuckerberg knew this. He's EVIL. He's a LIAR. He's a CON ARTIST. He deserves JAIL.
After a nice fair trial that humiliates him before the world.
Expect to see things we have not seen before RE election & audits
Like I said, get ready. In a few weeks, things start getting sketchy.
Prepare to say FUCK YOU to the other side. We want JUSTICE.
The country, and many states, are not actually "50:50"
This is a powerful concept. There is NO WAY that half the electorate wants defunding the police, open borders, fewer jobs, sanctuary cities, and all these things Democrats are pushing.
The implication if clear. Democrats DEPEND on cheating to stay in the game in a winning way.
Trump even thinks some nominal blue states are not actually blue – and indeed, this would explain the massive cheating.
Our movement is far from over – it is just starting!
Yup. And if you look around, and see the WALLS FALLING, you know the truth.
We're winning. Slowly. Painfully. UGLY. But we're winning.
SMILE through the GRIT and the PAIN, because….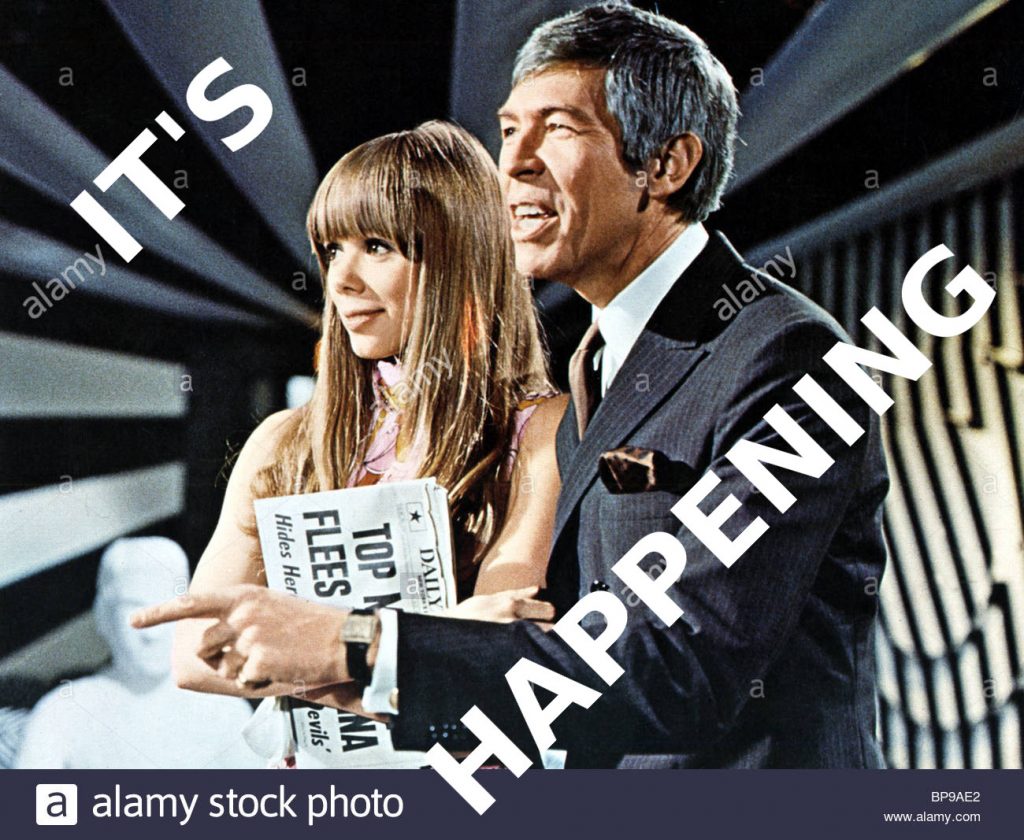 W
---
Appendix: My notes of the speech, re-watching it
America First – right up front.
Our country is being destroyed before our eyes.
Democrats are destroying America – BUT THEY STICK TOGETHER.
We're going to have a TREMENDOUS 2022 – just like 2020 (note hint about election fraud).
"We had a great election. Bad things happened, but we had a great election."
Lists off all the bad that Democrats are doing, including TOXIC CRT "and illegal discrimination into our children's schools". NEW ATTACK ON DEMS!!!
After the long list……"Now, you tell me – do we take this?"
He talks about the radical Democrats, but then gets a misspelling on the teleprompter, at almost exactly 5:00 minutes.
"Together, we're going to defund our freedoms….." at which point he STOPS using the teleprompter – something is wrong.
He goes into a little spiel where he says both "defend" and "defund" a few times, and IMO he was sending a message about the misspelling back to the crew – then he talks about how bad things are, and that we're going to see how bad things are – it's clearly very repetitive – looks like there is some kind of PROBLEM with the script or the teleprompter and he is stalling.
It's FIXED in under a minute, and he moves on.
Next, big kudos from Trump to Lieutenant Governor Mark Robinson. Then an endorsement for Virginia Fox. Then thanks to David Rouser. Then Dan Bishop (big cheers). Then Richard Hudson. Then Madison Cawthorne (lots of Trump compliments). Then Greg Murphy. Then very nice thanks to Ted Budd.
Then – Deb Meadows and Mark Meadows – and an interesting tale on the dynamic there – SHE being a Trump supporter before HE was.
Then a Trump "age well" statement – 2022 is going to be a banner year for North Carolina Republicans.
He then goes into an extended spiel about how, together, "we" and "you" (NCGOP) pushed back against a "blue North Carolina" destiny and turned it red.
He mentions the NC GOP senator who was just added, and predicts that there will be 2 or even 3 new GOP House members (presumably from NC) in 2022, and that we're going to take over from Pelosi.
Then he mentions that we will be adding a Senator from NC, and winning the state in 2024, to big cheers.
Then, he makes subtle references to us seeing things like we've never seen before, in rejecting Joe Biden and the radical socialist Democrats – vague but interesting.
Then, in the process of inviting up Lara Trump (Eric's wife and NC native), he mentions that Baron is now 6 feet 7 inches at 15 years old!
Lara lets us know that she is NOT running for the Senate seat, but that PDJT will be endorsing who IS running for it, AND that she is not ruling out a future run, but that this is a family (child-raising) decision. She also hints about 2024 being "3 and 0" for Trump/Republicans – thus implying a possible Trump run in 2024.
Then Trump segues into a somewhat surprise announcement of his endorsement of Ted Budd for the Senate seat, and invites Budd up to the microphone. "Complete and total endorsement."
Afterwards, he comments about how he surprised Budd just before the speech with the news, and also mentions the press in the back, and chides them a bit.
After this a BIG defense of how he made a big bet on the vaccine, and WON – not only saving many lives, but also ending the crisis.
Next, he moves to the border – how terrible it is now – how GREAT it was before Biden destroyed it.
Trump notes that THOUSANDS of MS-13 were removed – and how he had to fight to get the countries to take them back.
But now, he switches gear and talks about the ASTOUNDING 1000% increase in illegal immigrants at the border thanks to Biden.
"Nobody ever thought they could do this much destruction to our country so quickly."
"They've been abolishing ICE through agency directives." – this is a killer argument.
"But the border is just the beginning of the Biden disasters." (PLURAL)
Trump then goes into the economic stuff, contrasting American energy independence with gas prices. Among the boilerplate, he makes a prediction that "inflation will cause a catastrophe in the near future".
Wedged in there – a reminder about the success with therapeutics against the pandemic.
Trump then goes into an extended recounting of how badly the employment situation is now, under Biden – how all that the Trump administration worked for is being wasted away – even quoting the New York Times.
He goes through a litany of disastrous Biden policies – just blood-boiling stuff – and then comes the switch….
"AND THAT BEGINS WITH STANDING UP TO COMMUNIST CHINA….."
He then tags China with inflicting 16 TRILLION DOLLARS of damage onto the United States with COVID.
(Which gets interrupting applause when he calls it the CHINA VIRUS.)
Interesting point – Trump states that without the vaccines, we would have had a "1916 Spanish Flu number" of fatalities.
Then he goes to the lab origin point – the big TOLDJASO. This is then followed by lots of clarification about his relationship with Fauci, and Fauci's love of the media. But then Trump points out how Fauci kept calling things OPPOSITE OF TRUMP, including border closures and masks – noting that Fauci said "no masks" at first, but then became a "radical masker". Trump also joked about adding goggles and then "let's wear them for another 5 or 6 years" – clearly what the Dems wanted.
"But Fauci has perhaps never been more wrong, than when he denied the virus and where it came from."
And that is when he drops the big one.
REPARATIONS.
Huge cheers and applause.
"China must pay – they MUST pay."
More huge applause.
Trump then calls for an immediate 100% tariff on all goods coming in from China. (And Trump notes that Biden hasn't taken the tariffs off, either.)
Trump notes that not only would the tariffs bring jobs back to the United States – China would stop building its military.
Trump then notes that he had no desire to do trade deals with China after the virus. He takes pride in the deal they did for the farmers, but says he just didn't care about a deal with China after the virus.
He mentions reinvesting the tariff money in bringing back jobs and factories from China and elsewhere, and gets into a one-sided "talking" conversation with a furniture maker in the audience. Trump tells the guy to "stay tuned" because they were planning to "bring it all back". IMO, this is where things are going, once the FAKE ELECTION is taken care of.
Trump then says that China needs to be presented with a BILL from the world for 10 trillion dollars, which he says is a very low number.
Then another kicker. ALL COUNTRIES should collectively cancel all debt to China as a DOWN PAYMENT.
And RIGHT THEN is when he goes after this administration being TIMID with China, and "frankly, corrupt", mentioning all the Chinese money going to Hunter Biden.
After a long recounting of Biden family corruption with China, and the press and social media hiding it for the election, he mentions IRAN.
Then North Korea. At this point, it really seems clear to the listener that the Democrats are up to something with all this money they send to our enemies. Trump makes a great joke about how he was able to deal with Kim Jong Un.
Trump keeps talking about Biden's foreign policy nightmare, including criticizing Israel while it was under attack from missiles….. FROM IRAN. No mincing of words here.
Trump then segues into the TRAVEL BAN.
It will be lifted off, even after Trump won in SCOTUS. Then Trump talks about legal refugee admission caps going up – first 700% – then later 2000% (incredible!) – but then Trump makes a FASCINATING point.
"I don't know what they're doing [Democrats]. They don't need them for voting. People say they need them for voting, but they don't need them – they cheat so much for the voting, you don't have to go through this process, OK?"
Something to think about.
Trump goes into a great comparison about how the press doesn't report on Biden actually falling on the steps up to the plane, versus how they reported on him walking "gingerly" down the ramp at West Point.
He even jokes about "maybe that was a booby trap", but (this is me talking) we know that's no more possible than the teaching of critical race theory at West Point.
Trump then goes into stories about all the positives of his administration on military matters, including Germany and NATO. South Korea – making them pay.
Space Force – then ending the "endless wars" – then talks about wounded vets. Then he goes into the story about the bodies coming back. Definite tear-jerker. He spends a LOT of time on this. A LOT of time. He gets to the climax about the mother jumping on the coffin while it's being carried, and segues that into WHY – these coffins coming back from "these places where so many mistakes were made – where we shouldn't be", and it just finishes it, on how they're coming home now.
"And we haven't lost one single soldier in Afghanistan since January of last year – not one single soldier has been lost."
Then Trump notes that Biden has NOT stopped bringing the soldiers home – even questions whether stopping it would be possible – but finishes by saying he's honored that they're continuing to bring the soldiers home.
And then Trump gets into a very interesting section about bringing the soldiers home – "and we have other things to possibly get ready for" and then "we have to be respected as a military power" referring to "other bigger countries", and then "they will take advantage of us, and you know what I mean by that".
It all sounds very interesting, but just a HINT of what might be going on.
He then gets into a long section about what the Democrats are trying to take away from us. BIG APPLAUSE for RKBA (the right to keep and bear arms).
Next, he gets into Democrat indoctrination, and gets MASSIVE applause about BANNING critical race theory in schools.
BAN IT IN SCHOOLS.
BAN IT IN WORKPLACES.
BAN IT IN OUR STATES.
BAN IT IN THE FEDERAL GOVERNMENT.
AND IT SHOULD BE DONE IMMEDIATELY.
Then Trump notes that Democrats are trying to pass legislation to spend billions of dollars giving phony academic credits to students for going to protests. (Note – this is STRAIGHT OUT OF CHINA).
Then, Trump makes a HUGE link here, to SCHOOL CHOICE.
"If government-run schools are going to indoctrinate children with radical ideas, then Republicans must immediately pass legislation (basically school choice to get out of government schools)".
"TO OPT OUT OF THE INSANITY"
Trump then gets into a really good and long section about the perversion of justice, and the weaponization of the law, using in part the fishing expeditions against him, including particularly within that, the handing of the attack to the radicals in New York.
"Prosecutorial misconduct."
Then, a load of "where's Durham?"
"Has anybody seen Durham?"
Talking about the Democrats:
""All of this for nothing. It's a shame."
But then at the end…..
"We'll never let it happen again."
And then, after some more about the New York prosecutors….
"They won't stop until November of 2024."
This is where Trump gets into the election fraud in a HUGE way.
"The 2020 Election HOAX."
And then he gets into the Time Magazine "confession".
"They had to brag about what they did."
Big cheers about people SEEING THE FRAUD.
Absolutely NO backing down.
Trump says the Arizona audit will be done in 3 or 4 weeks.
He talks about other states, and how they're looking at it, too.
"Zuckerberg broke the law." AMEN!!!
Followed by an interesting recounting of Zuckerberg and his wife coming for dinner at the White House.
Then Trump gets into one of the absolute best arguments he has ever made – that there is NO WAY the country is divided "50:50" on stuff like open borders, sanctuary cities, defund the police, and other issues like that.
This is brilliantly putting a disturbing thought in people's minds. Let them "solve the problem", because we know how it will solve.
Fake elections make all kinds of sense.
He then comes out and basically says that he does NOT believe the results of "some of these elections where Democrats have the advantage". He argues that some of the blue states "just aren't blue". It's VERY powerful.
"There is something going on, and we have to be very, very careful with our election process, because I don't believe that we are a 50-50 nation."
He then makes a great point about not only dead people voting, but dead people APPLYING to vote.
This is where he slides into one of his greatest lines, about how with stolen elections and open borders, we could have a dictator. But then….
"I don't even think Biden is the dictator. If anybody knows who's running that operation, could you let us know? Because I don't think it's Joe, but who the hell knows? Maybe it is."
Back to the prosecutorial misconduct. And then:
"I'm not the one trying to undermine American democracy. I'm the one trying to save it. Please remember that."
"We all know what happened with the election – and we can never, ever, let that happen again."
Trump then goes into election integrity, and how important it is. He takes Biden's attack on election reforms as "un-American", and flips it right back on China Joe.
"Joe Biden called these common-sense reforms un-American, but the thing that is really un-American is an election scam."
What's interesting is that Trump puts CHINA at the top of the list of nations "happy" about the election theft. He mentions RUSSIA next, and then Iran, and he then puts them in order, with China at the top, and Iran next.
He then states that if HR1 passes, there will never be another fair election in our country.
But then, after going through a litany of needed reforms, including protection of poll watchers, Trump absolutely NAILS the "drop-boxes" and ZUCKERBERG.
"And we cannot have drop boxes paid for by Facebook and Zuckerberg – where, by the way, massive numbers – 95, 96% of the vote, is for Joe Biden – doesn't happen."
Trump then wraps up on election reform.
"Our movement is far from over – in fact, it is just getting started."
He then goes into his end speech – WE WILL FIGHT FOR – family, jobs, made in America.
You need HIS WORDS.
https://www.rev.com/blog/transcripts/donald-trump-speech-transcript-at-north-carolina-gop-convention-dinner-june-5
Here in North Carolina, across the country, the Republican party will continue to fight for strong families, safe communities, and secure and sovereign borders. We will fight for more jobs, lower taxes, and pro-American trade deals that result in more North Carolina workers, forging more products, stamped with beautiful, beautiful phrases, but in particular made in the USA, Mr. Furniture Manufacturer. We will shut down outsourcing, bring back our supply chains, crack down on trade cheaters and violators, and ensure that America, not China, dominates the future of the world. We will protect innocent life. We will defend our glorious Constitution and we will uphold the Judaeo-Christian values and principles of our nation's founding.
Donald Trump: (02:28)
We will break up the big tech monopolies, reject left-wing cancel culture, restore free speech in America, and demand free, fair and honest transparent elections. We will strengthen our military, support our great police, and always take care of our amazing veterans. Do you know that we got a 92% approval rating with respect to the VA? They rated us 92% approval rating. It's never been anywhere even near that number. Very proud of that. With the American pride that fills our souls, we will teach our children to love their country, honor our history, and always respect our great American flag.
Donald Trump: (03:23)
Tomorrow marks the 77th anniversary of one of the most epic military trials in the history of the world, the allied invasion of Normandy on D-Day. As we remember this incredible achievement, let us summon the spirit of generations of Americans before us who gave their blood, sweat, and tears for our beloved country. All of us in this room inherit the legacy of the selfless patriots who won the battles, crossed the oceans, forged the steel, made the breakthroughs, climbed the summits, these great, beautiful summits, tamed the frontiers and seized the victories that built America into the single greatest nation in the history of the world. That's where we want to keep it. That is our magnificent American inheritance, and there is nothing like it anywhere in the world, and there never will be. Let us go forward tonight, moved by their sacrifice, motivated by their example, inspired by their resolve, committed to their values and more determined than ever to make America prouder, freer, stronger, and greater than ever before. Thank you, North Carolina. God bless you, and God bless America. Thank you very much. Thank you.